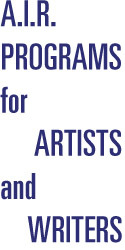 BOMB Magazine has been publishing conversations between artists of all disciplines since 1981. BOMB's founders—New York City-based artists and writers—created BOMB because they saw a disparity between the way artists talked about their work among themselves and the way critics described it.
Today, BOMB is a multi-media publishing house that creates, disseminates, and preserves artist-generated content from interviews to artists' essays to new literature. BOMB includes a quarterly print magazine, a daily online publication, and a digital archive of its previously published content from 1981 onward.
BOMB Magazine is a print quarterly publishing in-depth interviews between artists alongside artists' essays, literature, and portfolios. Subscribe today.
BOMB Daily publishes exchanges on artistic practice including interviews, literature, portfolios, and essays.
The BOMB Archive is a fully searchable and relational online library that provides access to the ongoing history of dialogue generated by BOMB since 1981. With funding from the A.W. Mellon Foundation, BOMB has made all of its content—over 7,500 primary cultural documents from the past 37 years—available for free.
The Oral History Project is a series of interviews that documents and preserves the life stories of NYC-based, African American visual artists.
ART
Tina Barney, Miyoshi Barosh, Ross Bleckner, Cecily Brown, Adam Fuss, Joe Fyfe, Jeremy Gilbert-Rolfe, Stuart Horodner, Anthony Huberman, Judy Hudson, David Humphrey, Roberto Juarez, Shirley Kaneda, Deana Lawson, Zoe Leonard, Nell McClister, Josiah McElheny, Saul Ostrow, Bruce Pearson, Lucy Raven, Legacy Russell, Clifford Ross, Amy Sillman, Nick Stillman, Mimi Thompson, Terence Trouillot, Kara Walker

ARCHITECTURE
Stan Allen, Carlos Brillembourg, Deborah Gans

FILM
Liza Béar, Clinton Krute, Nicholas Elliott, Leon Falk, Bette Gordon, Carlos Gutiérrez, Andrew Lampert, Craig Lucas

PERFORMING ARTS
Jon Robin Baitz, Lauren Bakst, Jenn Joy, Ralph Lemon, David Levine, Richard Maxwell, Amber Power, Mac Wellman

MUSIC
David Byrne, Anthony Coleman, Keith Connolly, David Grubbs, David Krasnow, Lawrence Kumpf, George Lewis, Alan Licht, Mike McGonigal, Marc Ribot, Ned Sublette, Julia Wolfe, C. Spencer Yeh, John Zorn

LITERATURE
Ammiel Alcalay, Esther Allen, Robert Antoni, Deborah Baker, Madison Smartt Bell, Tom Bolt, Carmen Boullosa, Amina Cain, Ryan Chapman, Edwidge Danticat, Mónica de la Torre, Deborah Eisenberg, Veronica Scott Esposito, Brian Evenson, Daniel Flores y Ascencio, Roxane Gay, Francisco Goldman, Kimiko Hahn, Matthea Harvey, John Haskell, A.M. Homes, Gary Indiana, Patricia Spears Jones, Chris Kraus, Rachel Kushner, Ben Lerner, Jonathan Lethem, Tan Lin, Phillip Lopate, Jaime Manrique, Patrick McGrath, Mary Morris, Caryl Phillips, Robert Polito, Francine Prose, Daniel Shapiro, Christopher Stackhouse, Lynne Tillman, Colm Tóibín, Frederic Tuten
ORAL HISTORY ADVISERS
Sanford Biggers, Thelma Golden, Kellie Jones, Mickalene Thomas, Carrie Mae Weems, Stanley Whitney, Jack Whitten

CONTRIBUTING PHOTOGRAPHERS
Adam Bartos, Sarah Charlesworth (in memoriam), Sally Gall, Nan Goldin, Ben Handzo, Elliot Schwartz, William Wegman
Betsy Sussler
Glenn O'Brien
Michael McClard
Mark Magill
Sarah Charlesworth
with Liza Béar as adviser
Cary Brown-Epstein
Rosemary Carroll, Co-Chair
Jennifer Clifford Danner
Michael Coffey
Robert Dowling
Natalie Frank
David Humphrey
Rachel Lee Hovnanian
Heather M. Johnson
Jeremy Larner
Adam McEwen
Betsy Sussler
Lybess Sweezy, Co-Chair

Paul Cantor
Michele Oka Doner
Eric Fischl
Klaus Kertess, in memoriam
Frances Dittmer, in memoriam
Andrew Fierberg
Nicole Klagsbrun
Jane Rosenblum
David Salle
Carolina Sandretto
Mickalene Thomas
Madeline Weinrib
Where can you get a print copy of BOMB? BOMB is available at independent bookstores and newsstands across North America. You can subscribe or buy individual issues direct from us.
You can also purchase digital editions of BOMB through our partner 0s & 1s.

If you're a bookseller or newsstand interested in stocking BOMB please email Ted Dodson our Circulation Director.