A selection curated by Marcia Bassett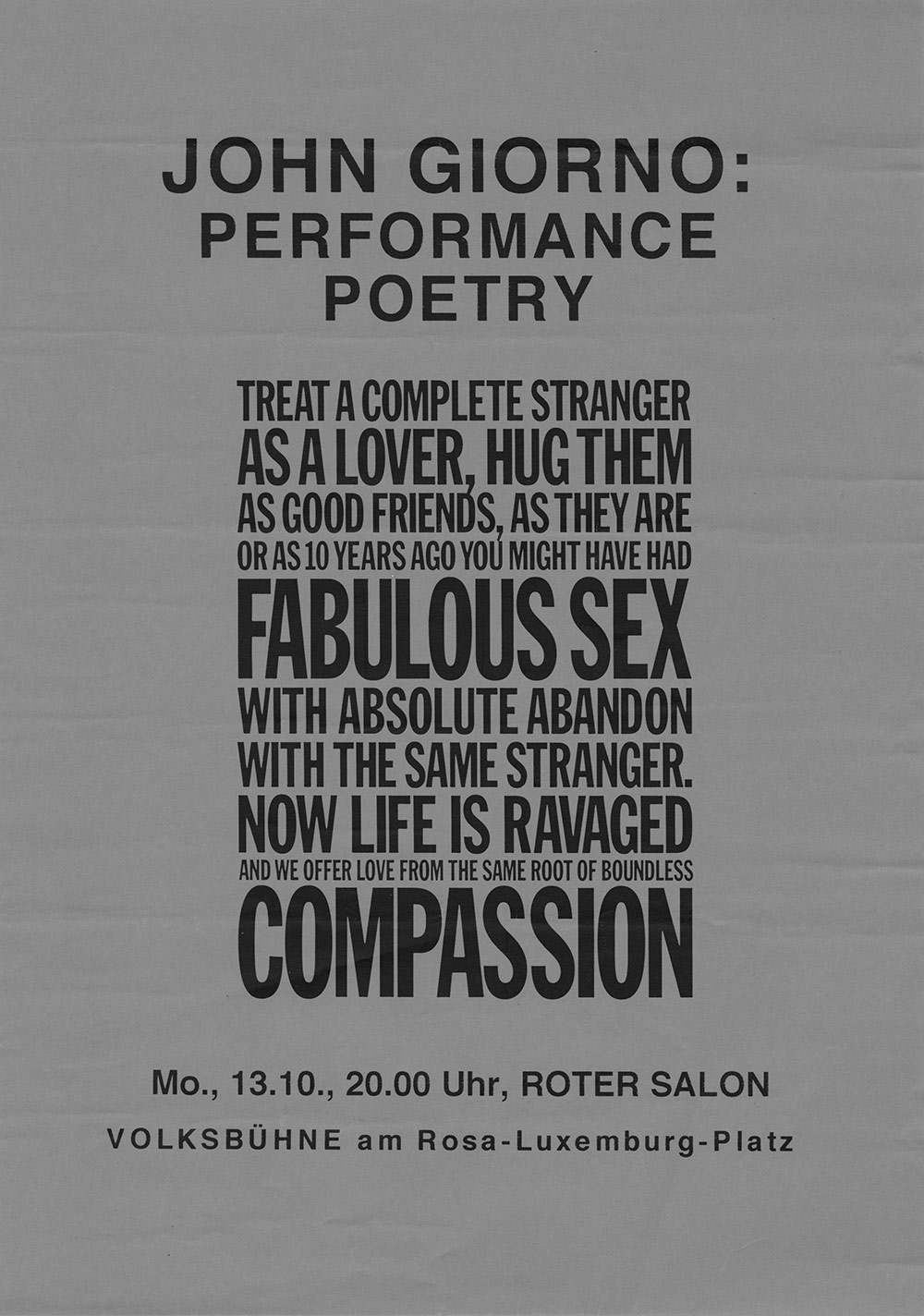 Poster for John Giorno: Performance Poetry, at Roter Salon Berlin, Oct 13, 2008.
Spanning more than six decades, John Giorno's archive collection reveals a stunning breadth of artistic endeavor and an astonishing network of relationships. Giorno attributes his early awareness of the importance of archives to his associations with artists Andy Warhol, Robert Rauschenberg, and Jasper Johns, and writers William S. Burroughs and Allen Ginsberg. The archive collection holds Giorno's entire body of published work, including rarely seen publications and thousands of photographs, fliers, interviews, and collected ephemera. As a whole the collection is a gold mine of resources, providing extensive insight into his work, life, and activities. It holds a complete record of his nonprofit collective, Giorno Poetry Systems; Dial-A-Poem logbook records and scrapbooks; documentation of his early light and Moog synthesizer–tape experiments, which John coined Electronic Sensory Poetry Environments; his first Consumer Product Poems, silkscreened on everyday objects; and original artwork for book jackets, posters, LPs, and AIDS Treatment Project fundraising events. Prominent names of Beat, pop artists, poets, performers and practitioners of experimentation, and innovators of new art forms appear throughout the archive.
As a musician, artist, and archivist, I had the honor of working with John's collection from 2013–15, overseeing the arrangement of his archive for the exhibition Ugo Rondinone: I ♥︎ John Giorno at the Palais de Tokyo in Paris. Here I present just a few of the pieces that caught my eye in the process.
—Marcia Bassett
All materials courtesy of the John Giorno Collection, John Giorno Archives, Studio Rondinone, New York City.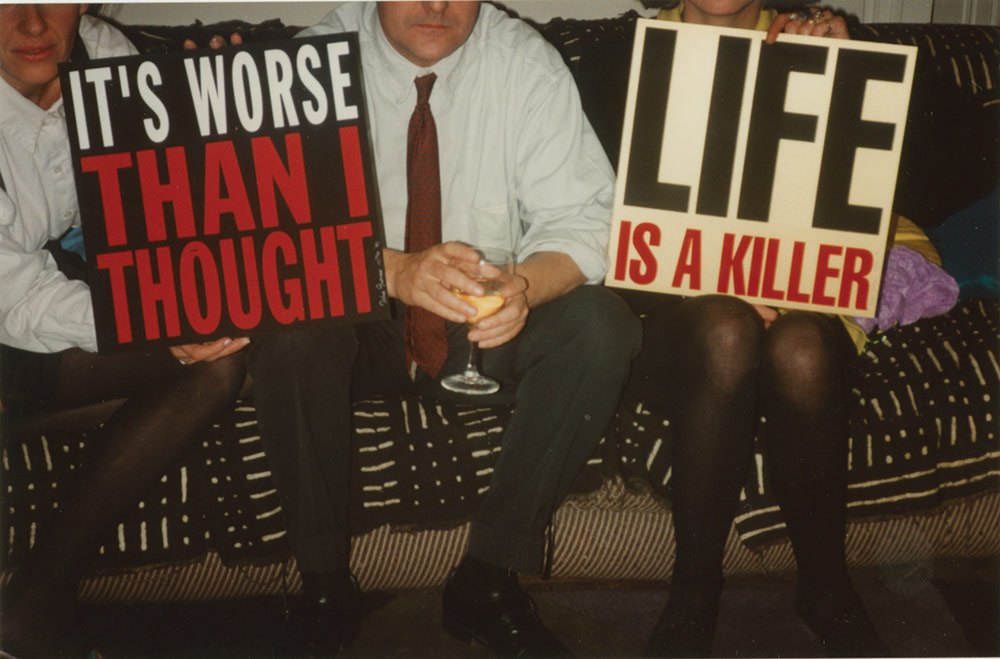 It's Worse Than I Thought / Life Is a Killer, photograph with Bernard Heidsieck and friends, Paris, February 8, 1992.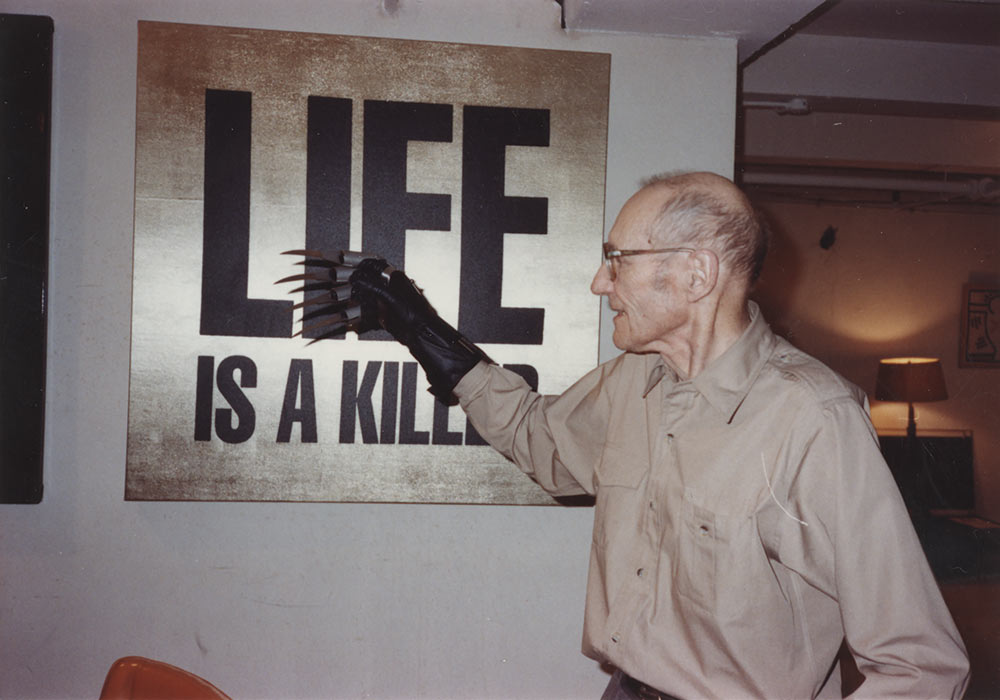 William S. Burroughs with a claw-hand glove in front of Giorno's Life Is a Killer poem painting at the Bunker, New York City, September 1989.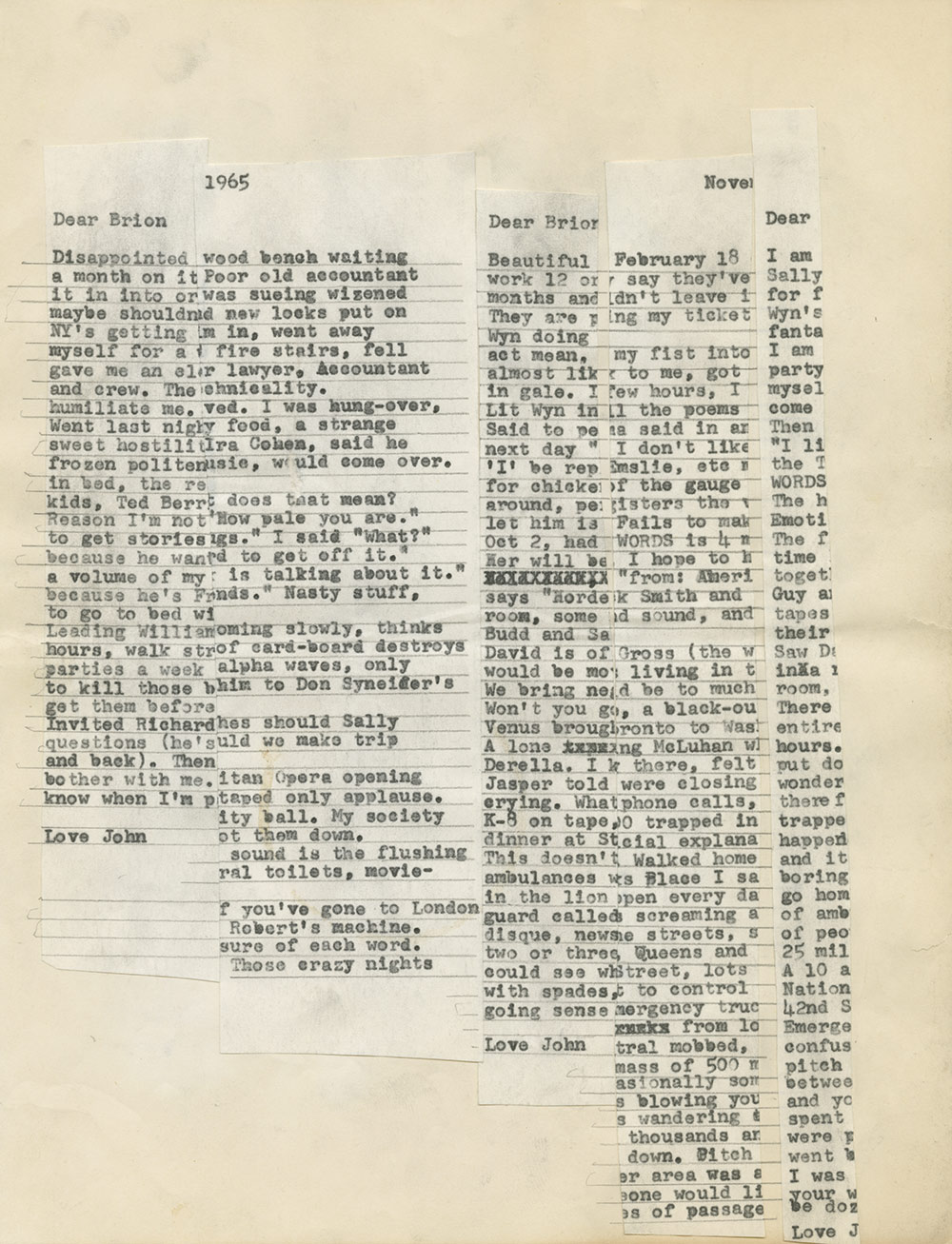 Multiple typed letters to Brion Gysin reassembled into a cut-up, 1965.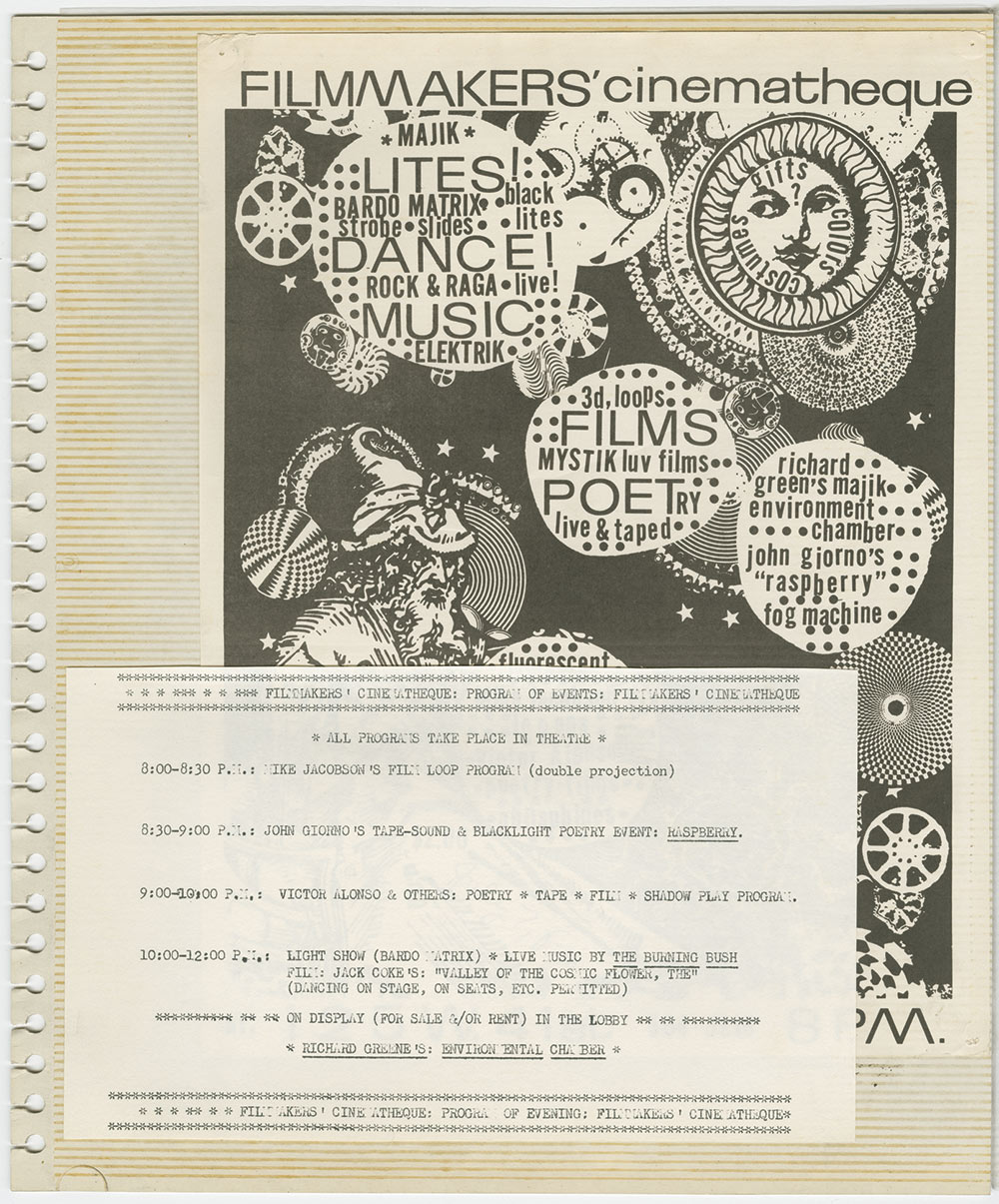 Page from one of Giorno's hand-assembled scrapbooks.


Self-portrait of Giorno, ca. 1966–69, photo-booth strip.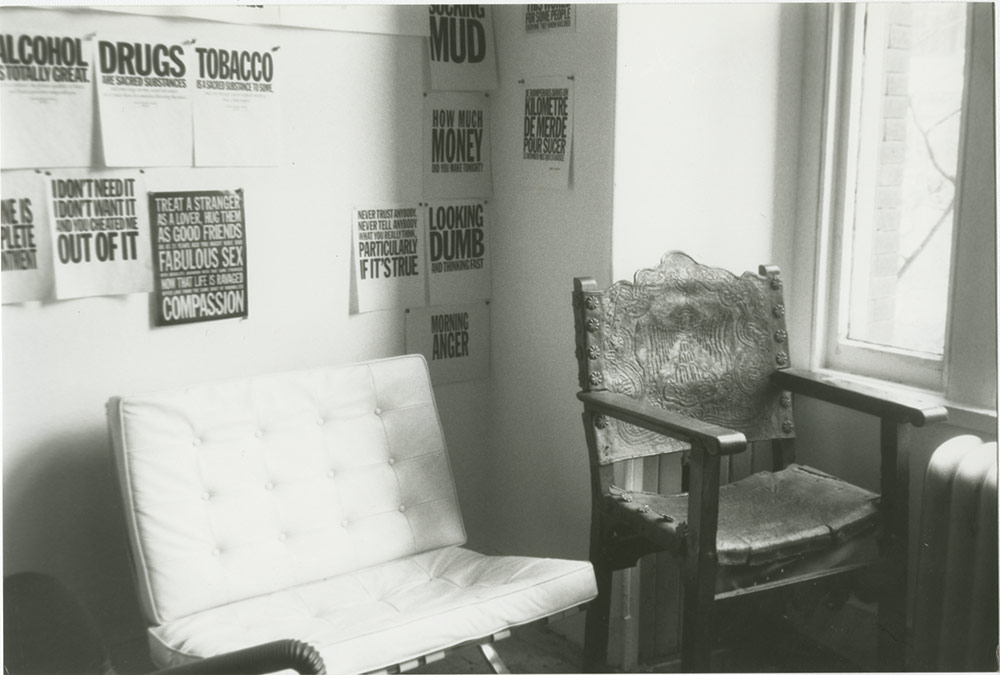 Poem prints on Giorno's studio wall at 222 Bowery, NYC, October 31, 1998. Photo by Beth Wilber.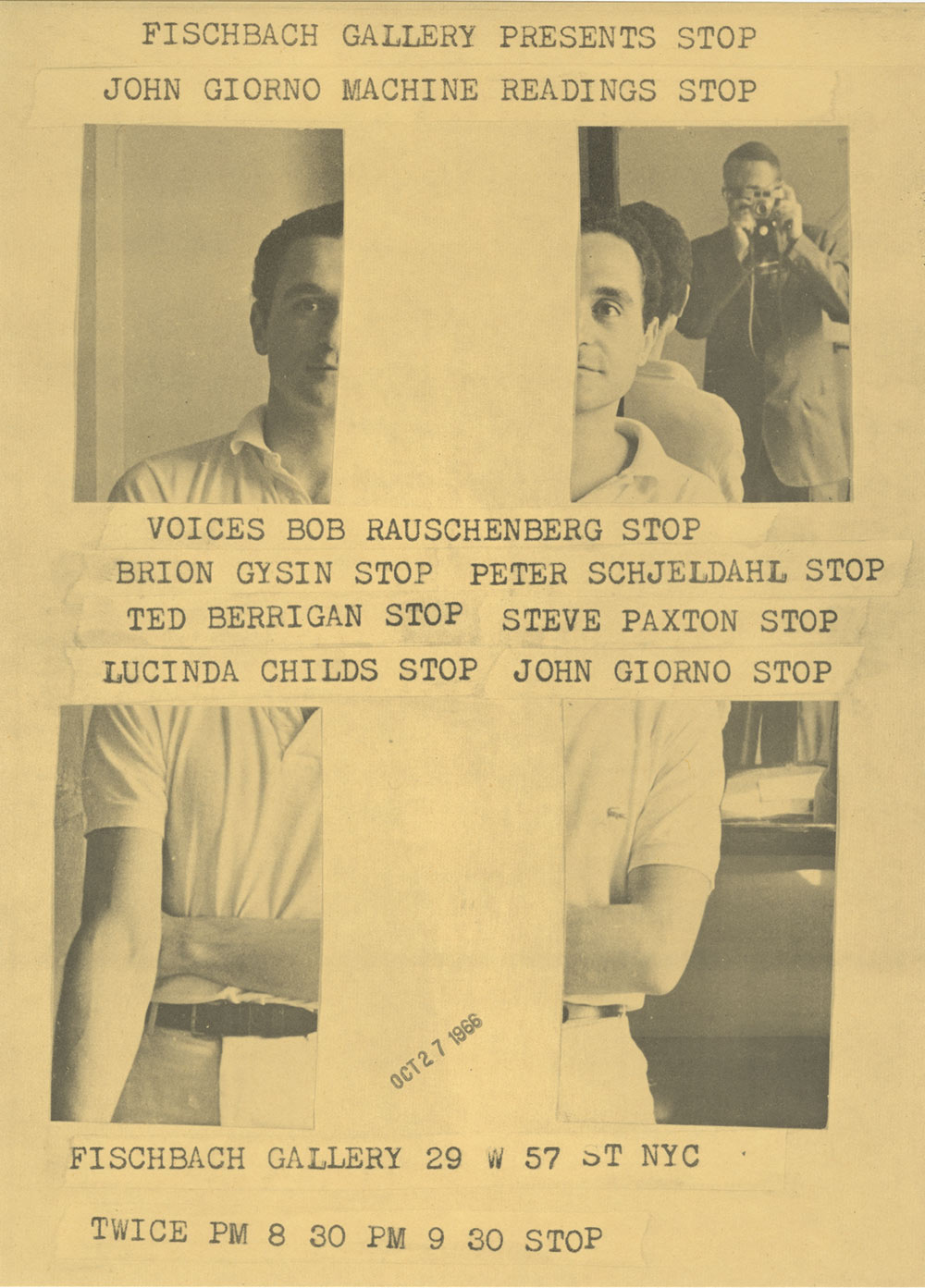 Flier for John Giorno Machine Readings Stop at Fischbach Gallery, October 27, 1966. Photo taken at the Chelsea Hotel by Gysin (reflected in the mirror, holding the camera).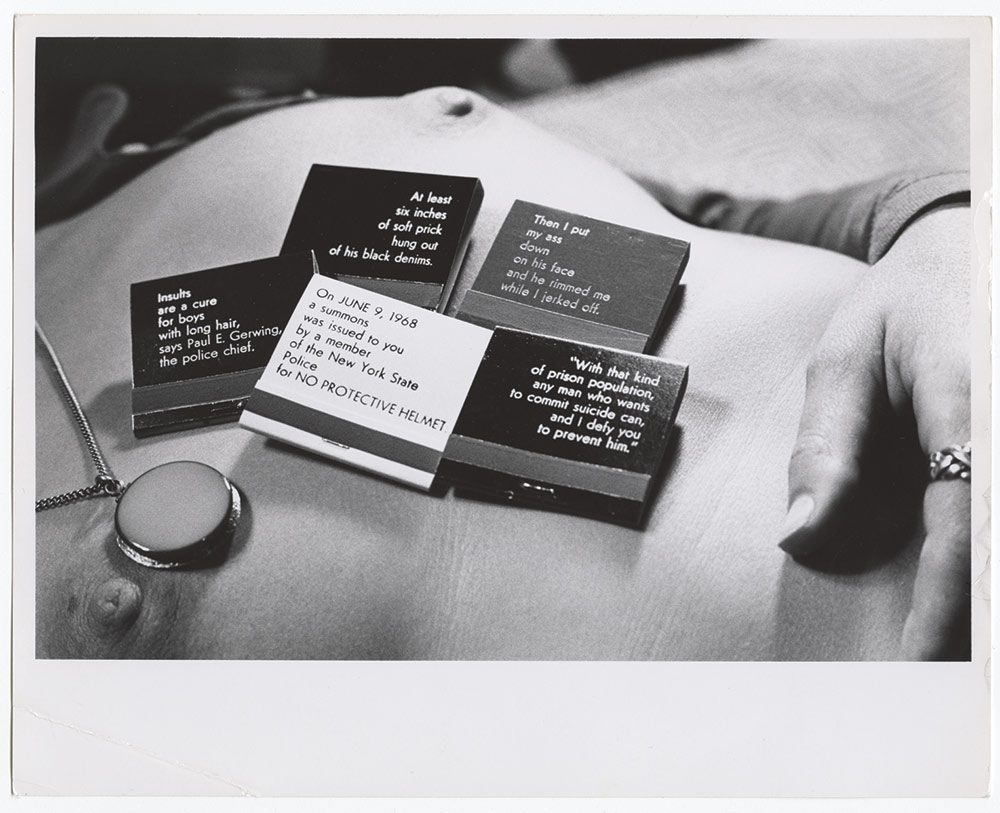 Promotional photograph of Giorno Poetry Systems' Matchbook Poems from Giorno's series of Consumer Product Poems.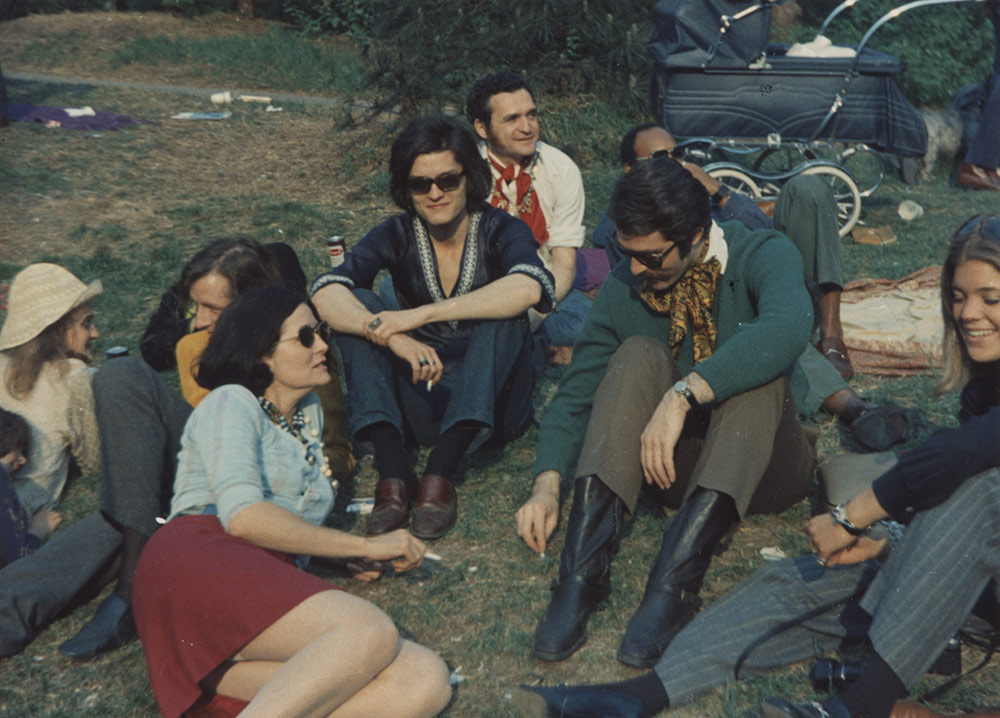 Joe Wimple, Giorno, Sally Chamberlain, and others on LSD in Central Park, spring 1968.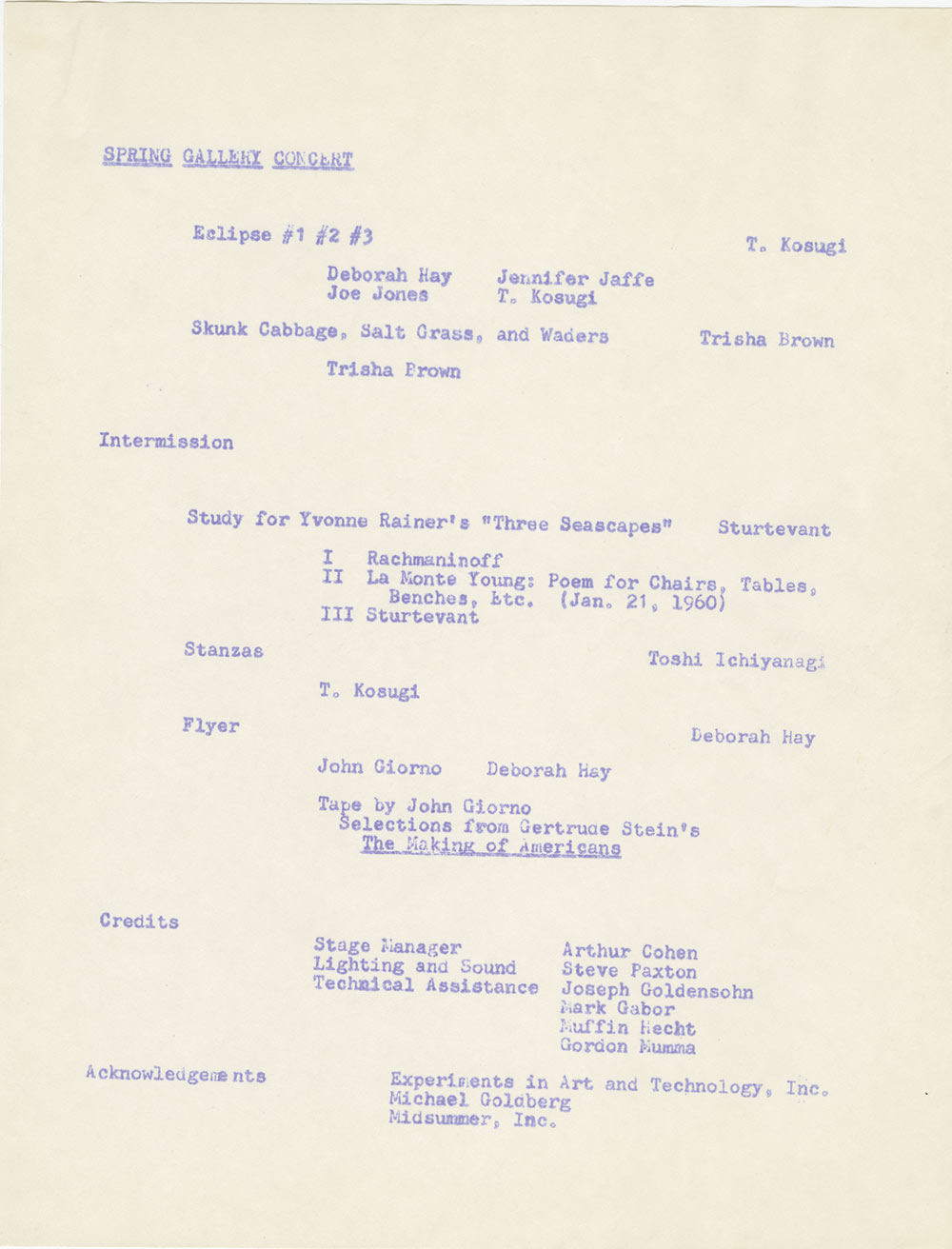 Mimeographed typed flier for Spring Gallery Concert 1967, presented by Experiments in Art and Technology (EAT), NYC.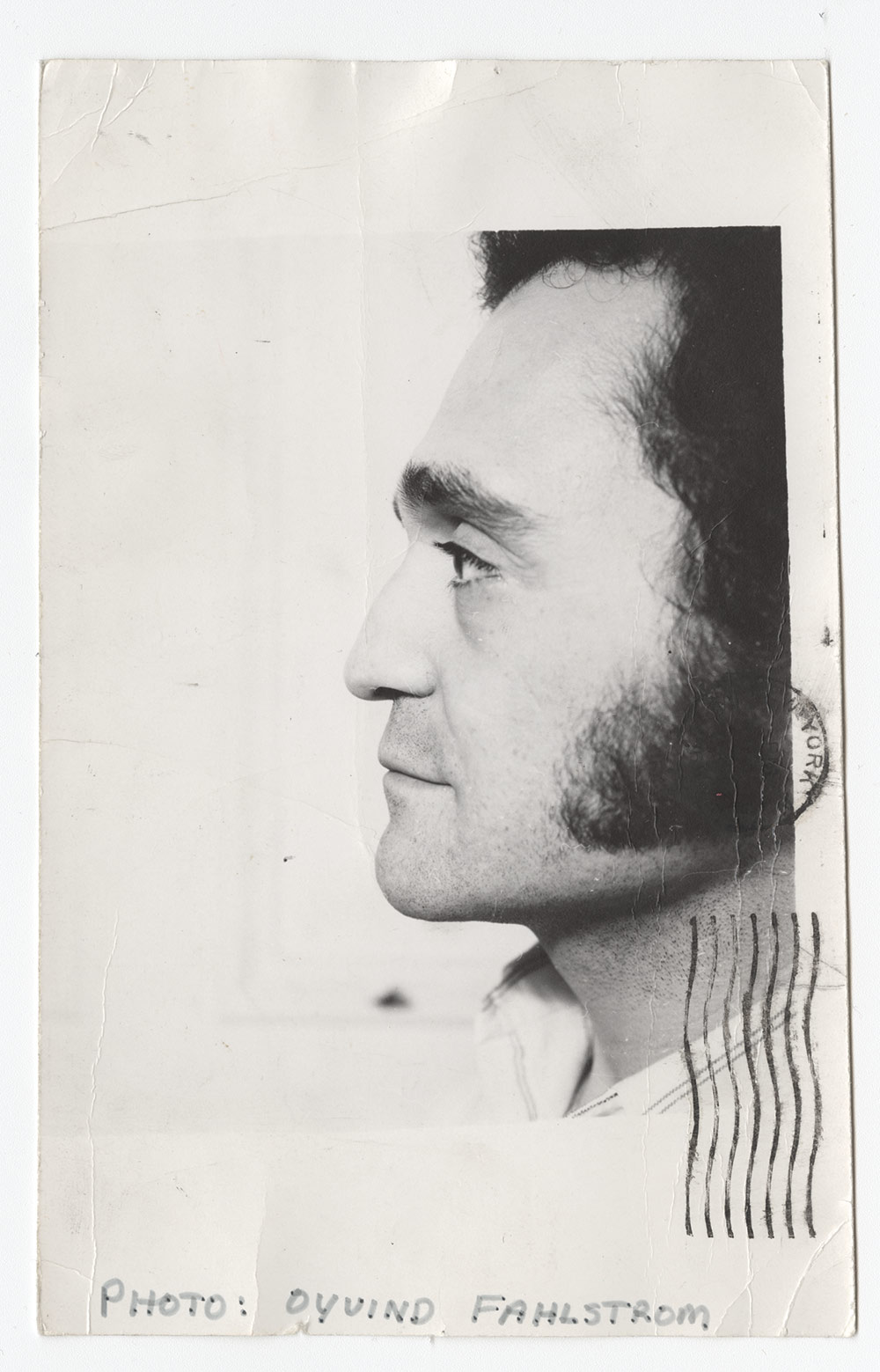 Portrait of Giorno by Öyvind Fahlström, April 13, 1968.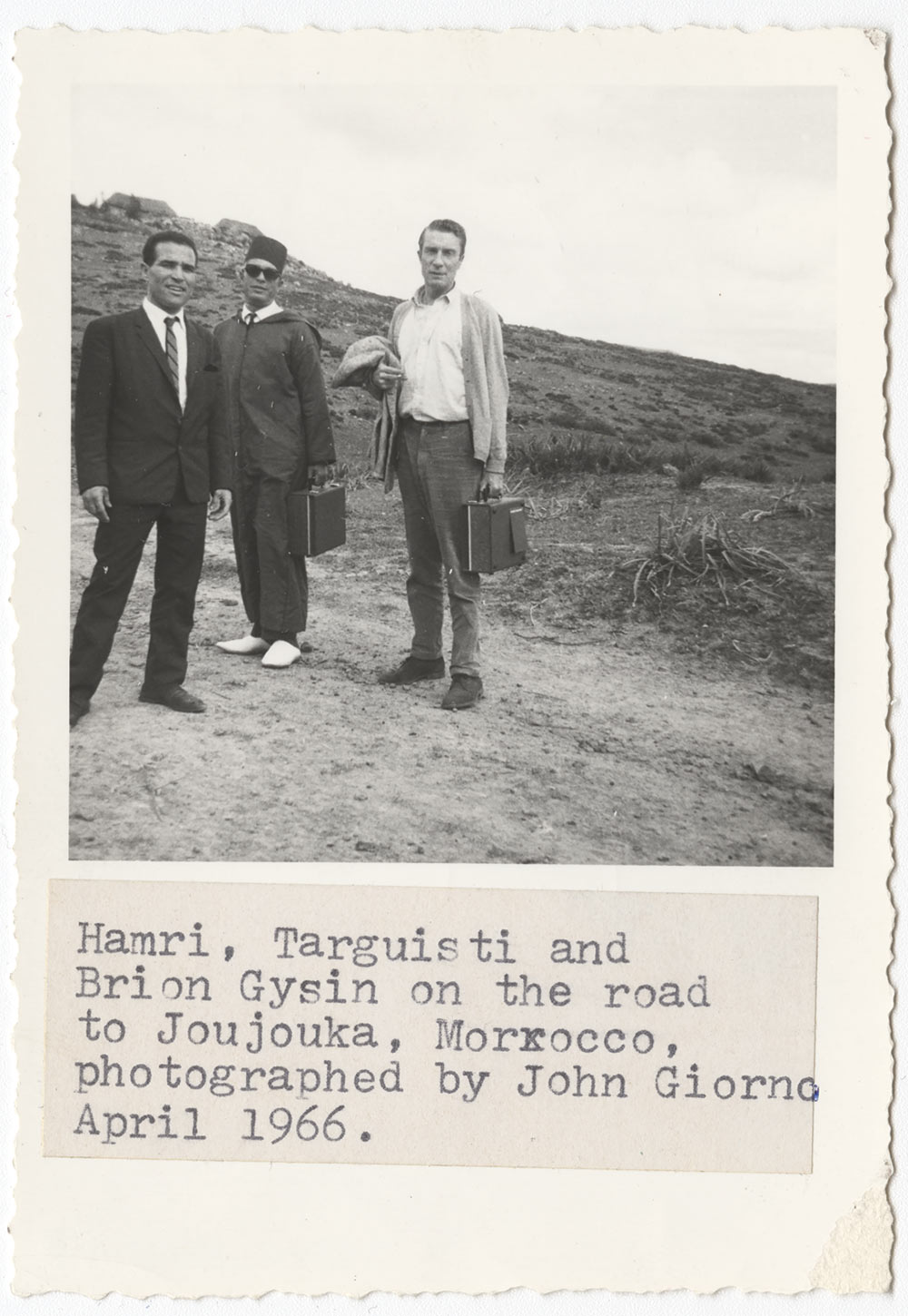 Hamri, Targuisti, and Gysin on the road to Joujouka, Morocco, April 1966. Photo by Giorno.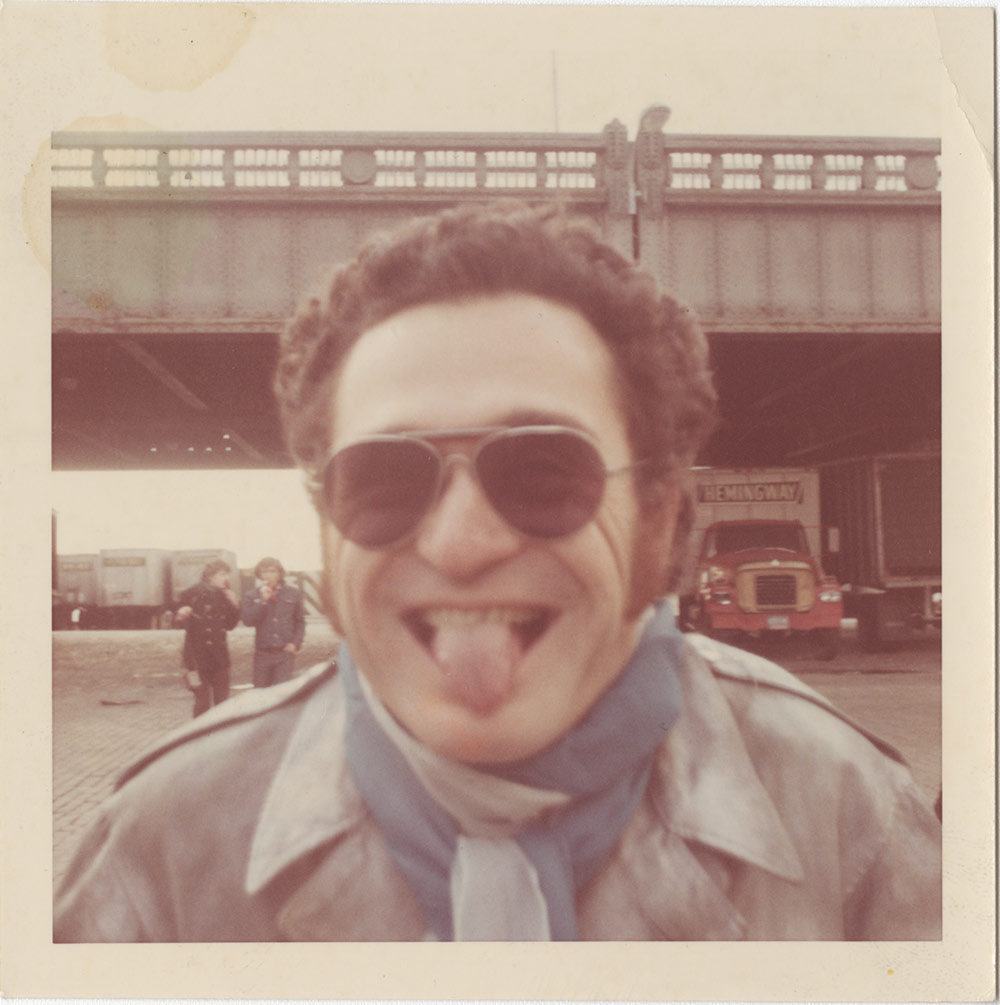 Polaroid of Giorno, May 1969.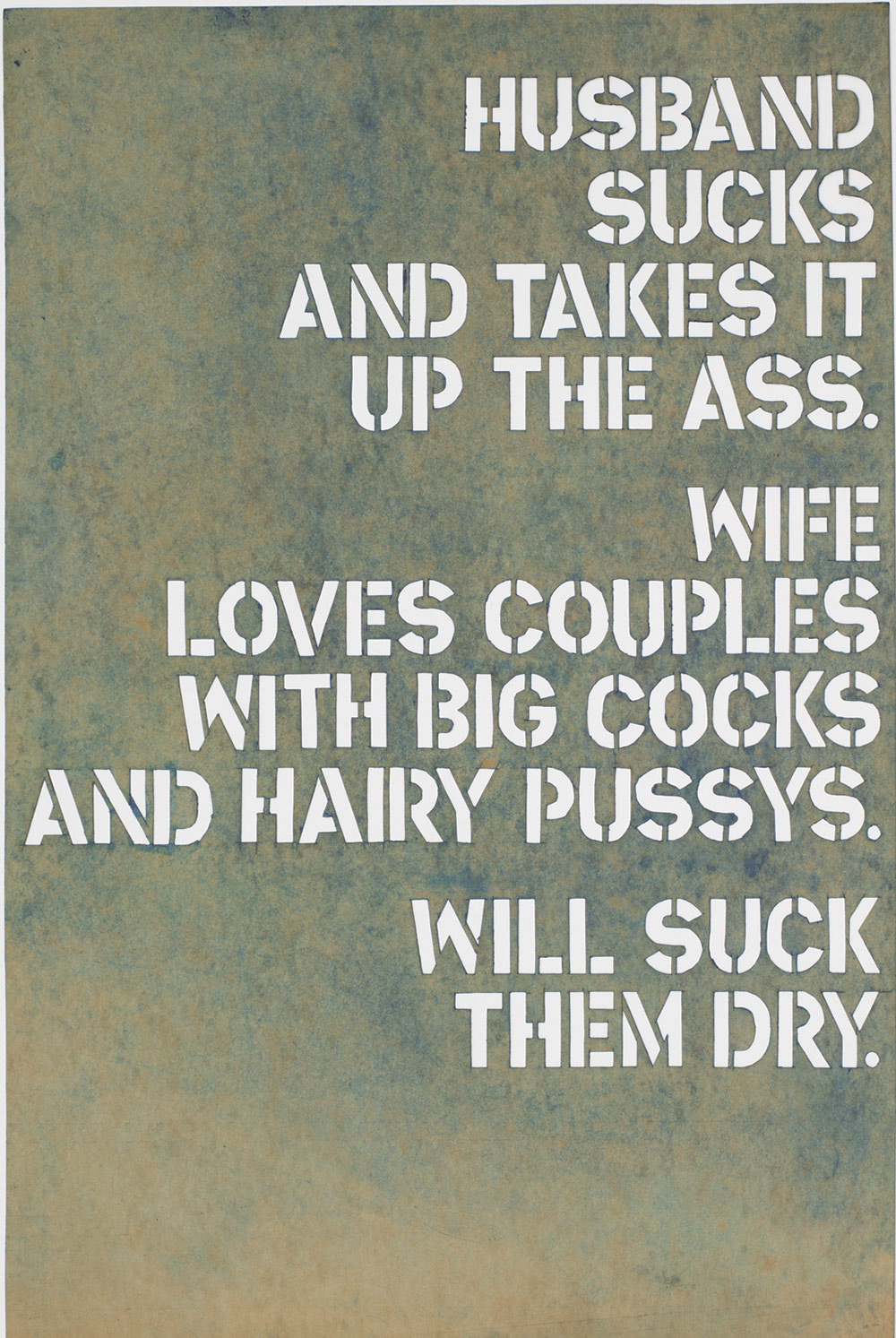 Stencil for "Window Curtain Poem: Will Suck Them Dry," 1969, from Giorno's series of Consumer Product Poems.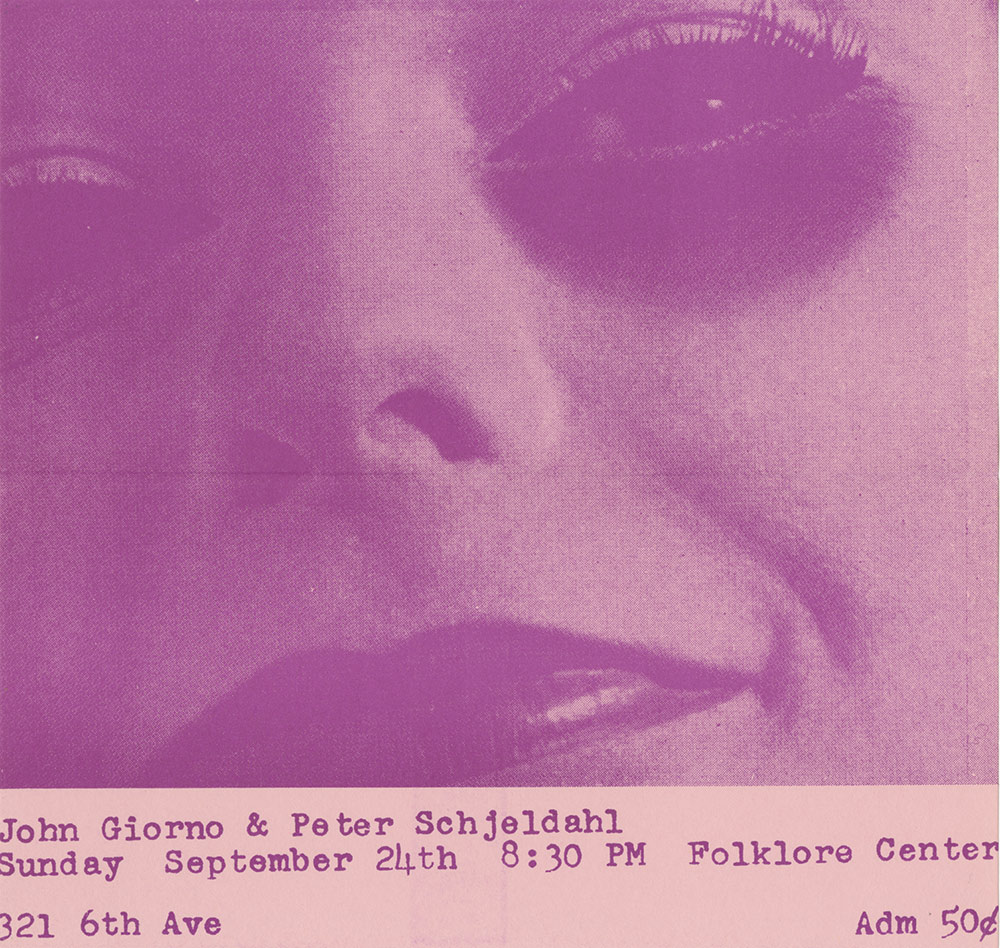 Flier for John Giorno & Peter Schjeldahl at the Folklore Center, NYC, September 24, 1967.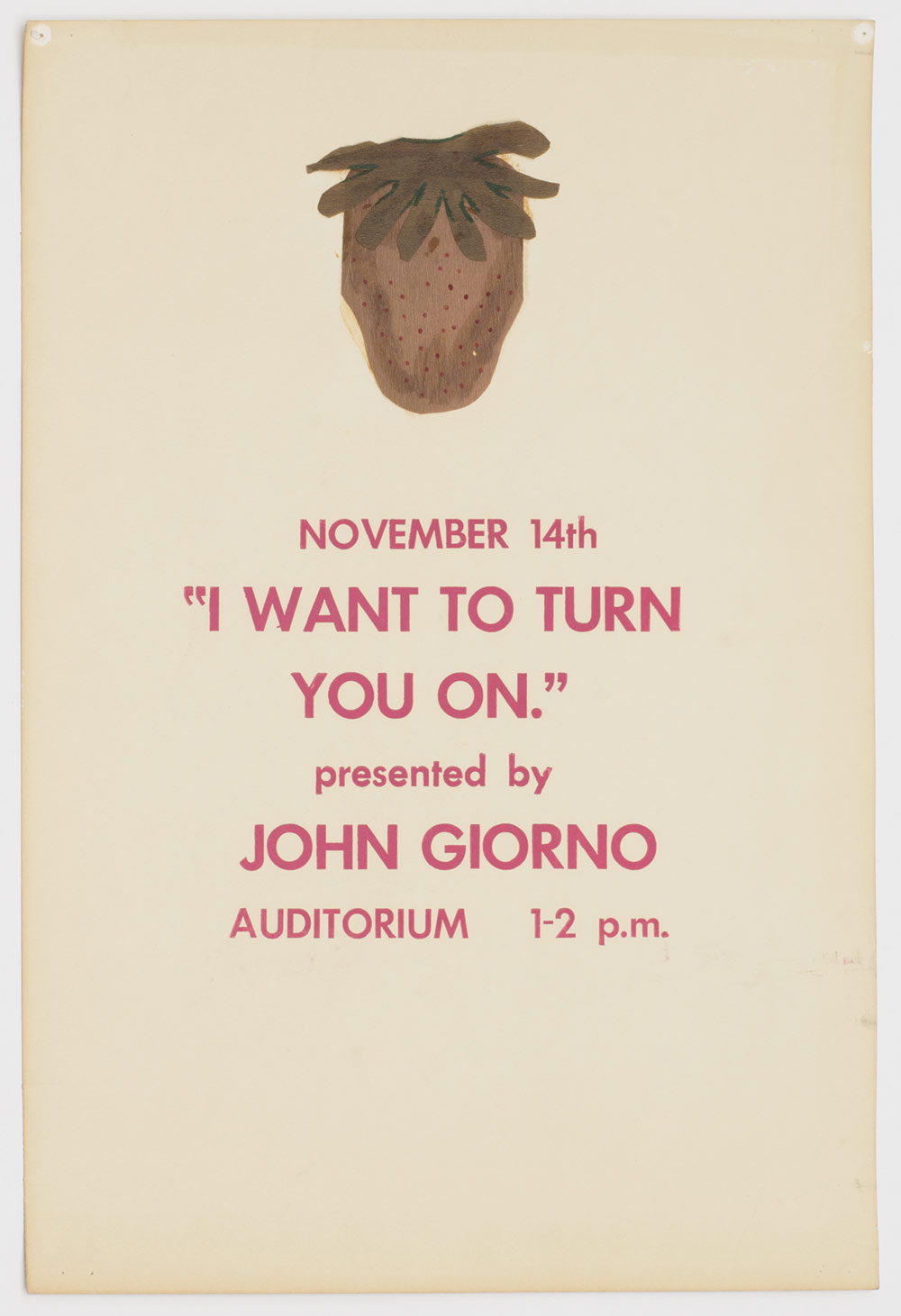 Poster for Giorno's performance I Want to Turn You On at Fashion Institute of Technology, NYC, November 14, 1968.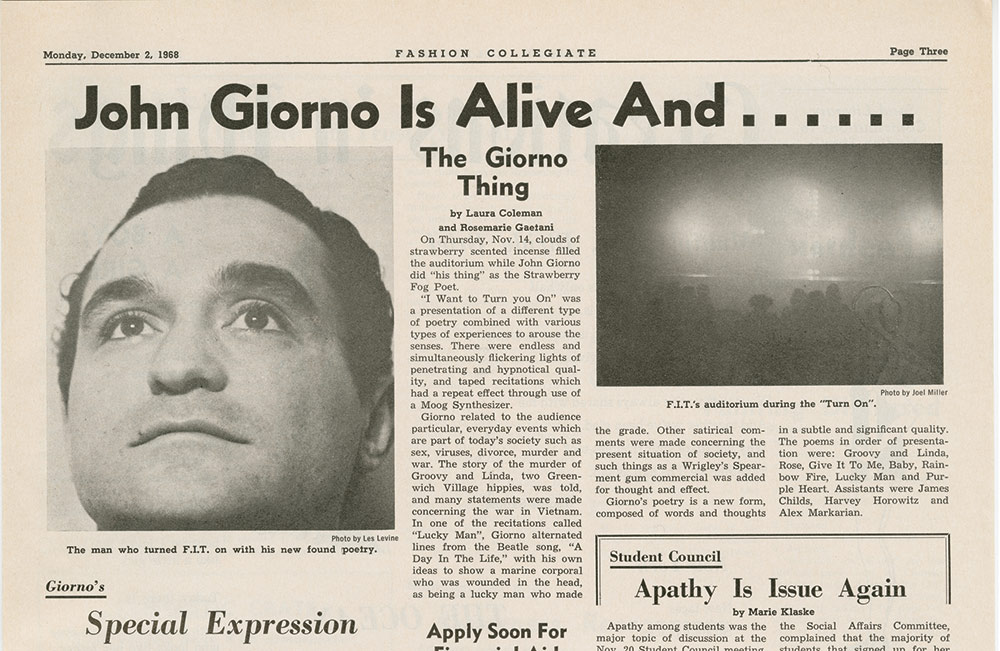 Review in Fashion Collegiate, December 2, 1968.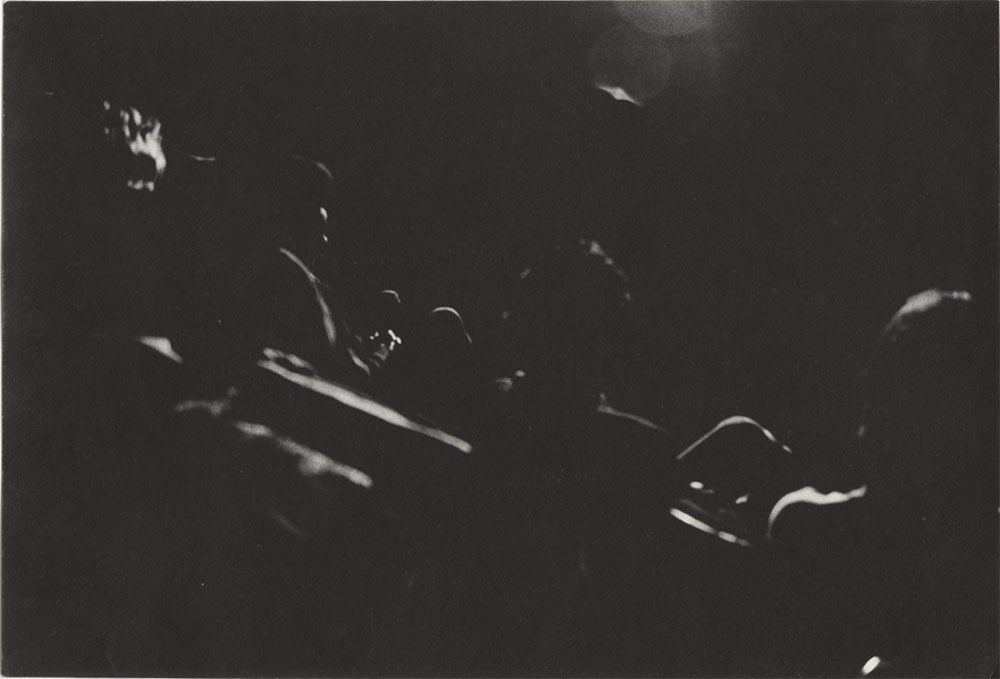 Electronic Sensory Poetry Environments, performance of Chromosome at the School of Visual Arts, NYC, November 17–19, 1967.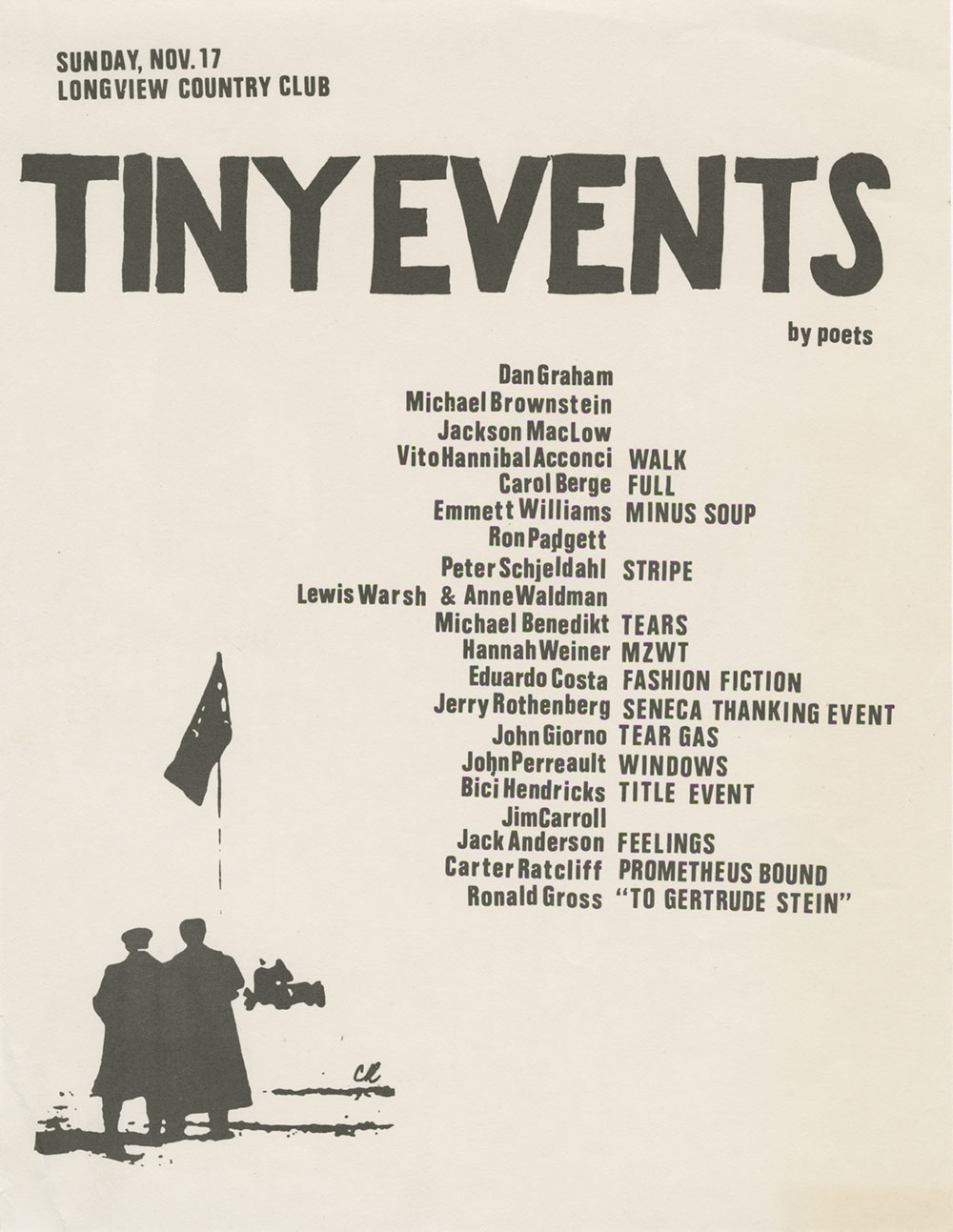 Flier for Tiny Events by Poets at Longview Country Club (annex to Max's Kansas City), NYC, November 17, 1968.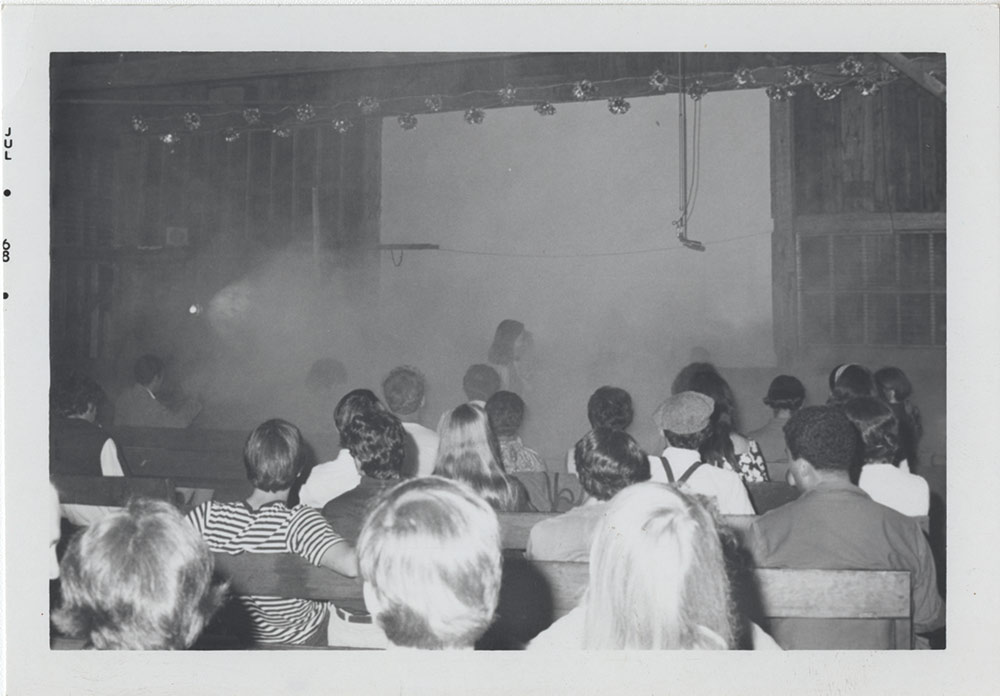 Johnny Guitar performance at Skowhegan Summer Art School, ME, 1967.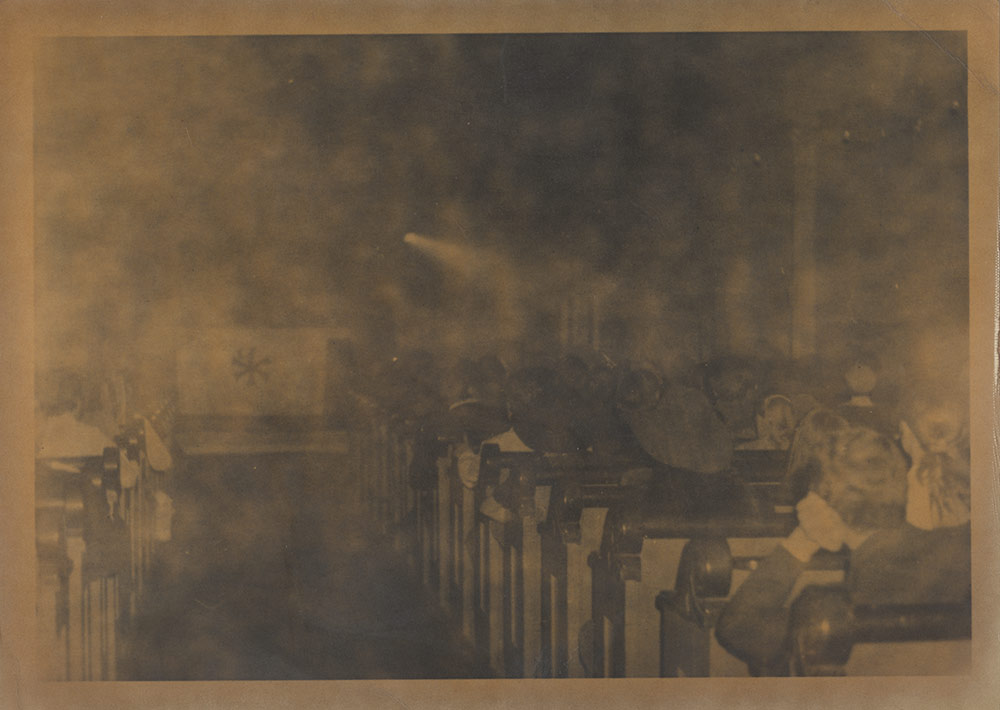 Johnny Guitar performance event at St. Mark's Church-in-the-Bowery, NYC, April 2, 1969.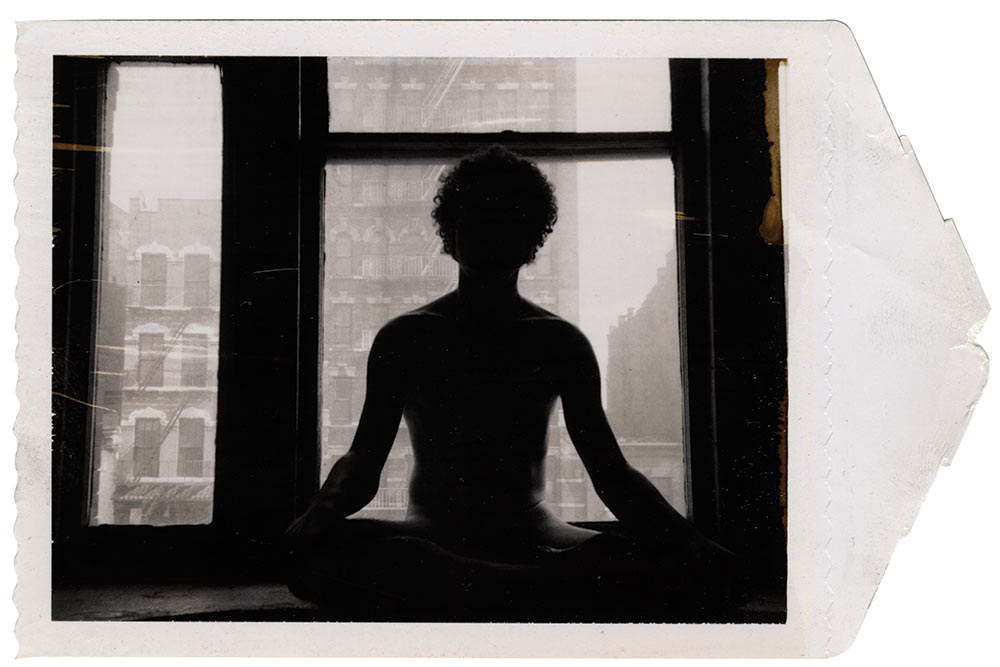 Giorno in lotus position, 222 Bowery, NYC, ca. 1969–70.

Letter to William S. Burroughs on Giorno Poetry Systems letterhead, February 7, 1971.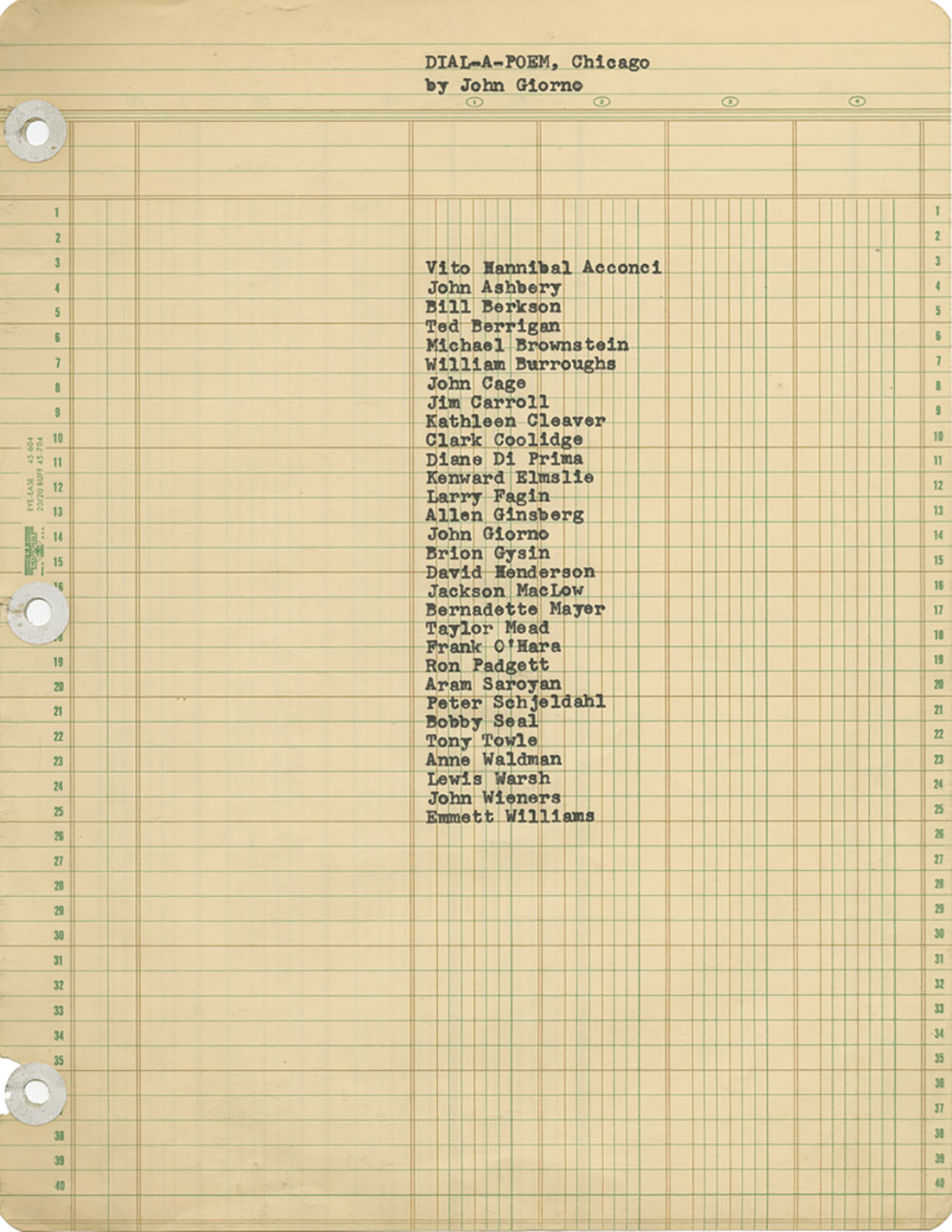 Page from Dial-A-Poem logbook record, 1969.

Photo shoot for The Dial-A-Poem Poets LP, NYC, 1972.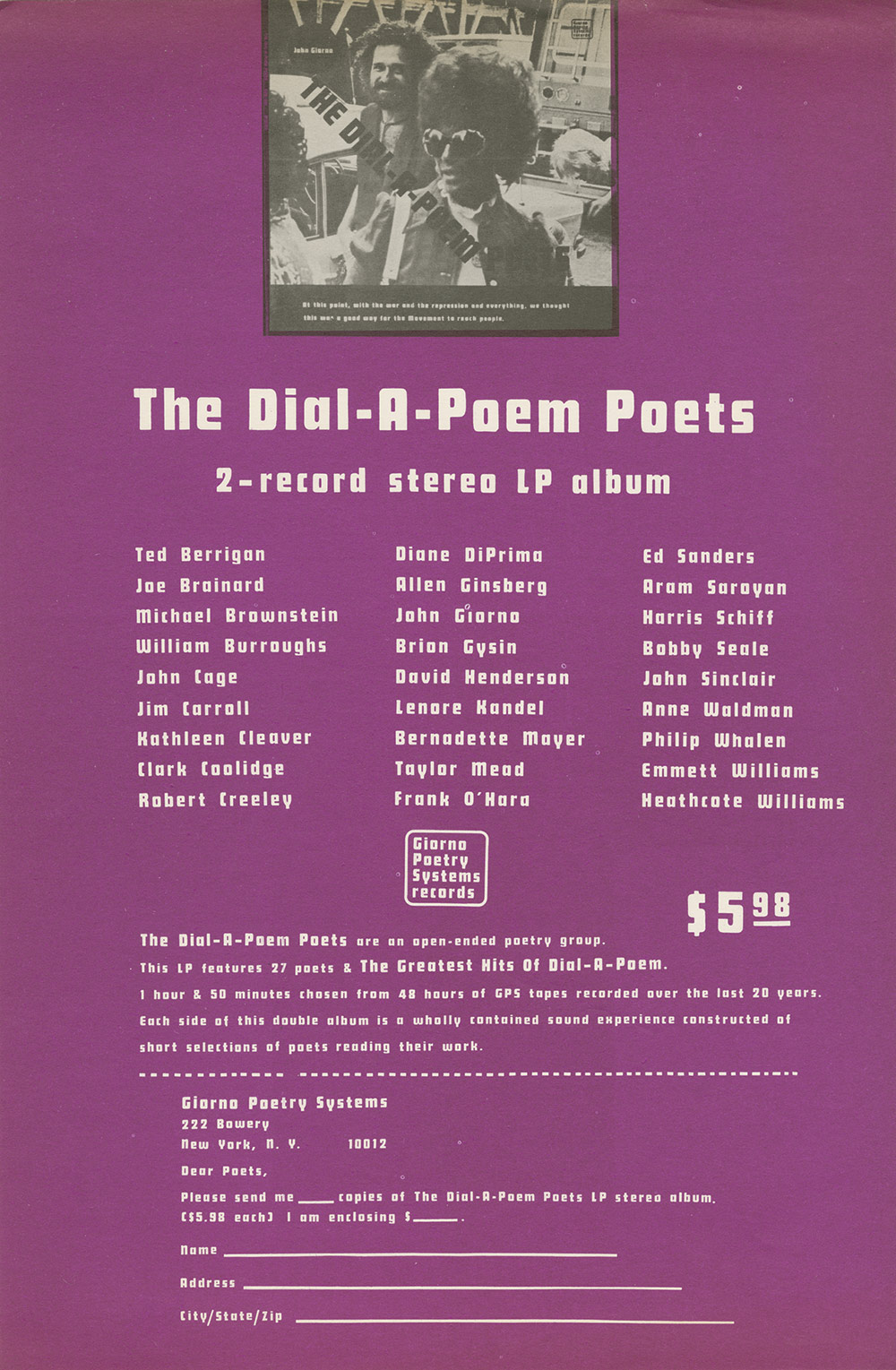 Poster for the two-LP set of The Dial-A-Poem Poets released on Giorno Poetry Systems, 1972.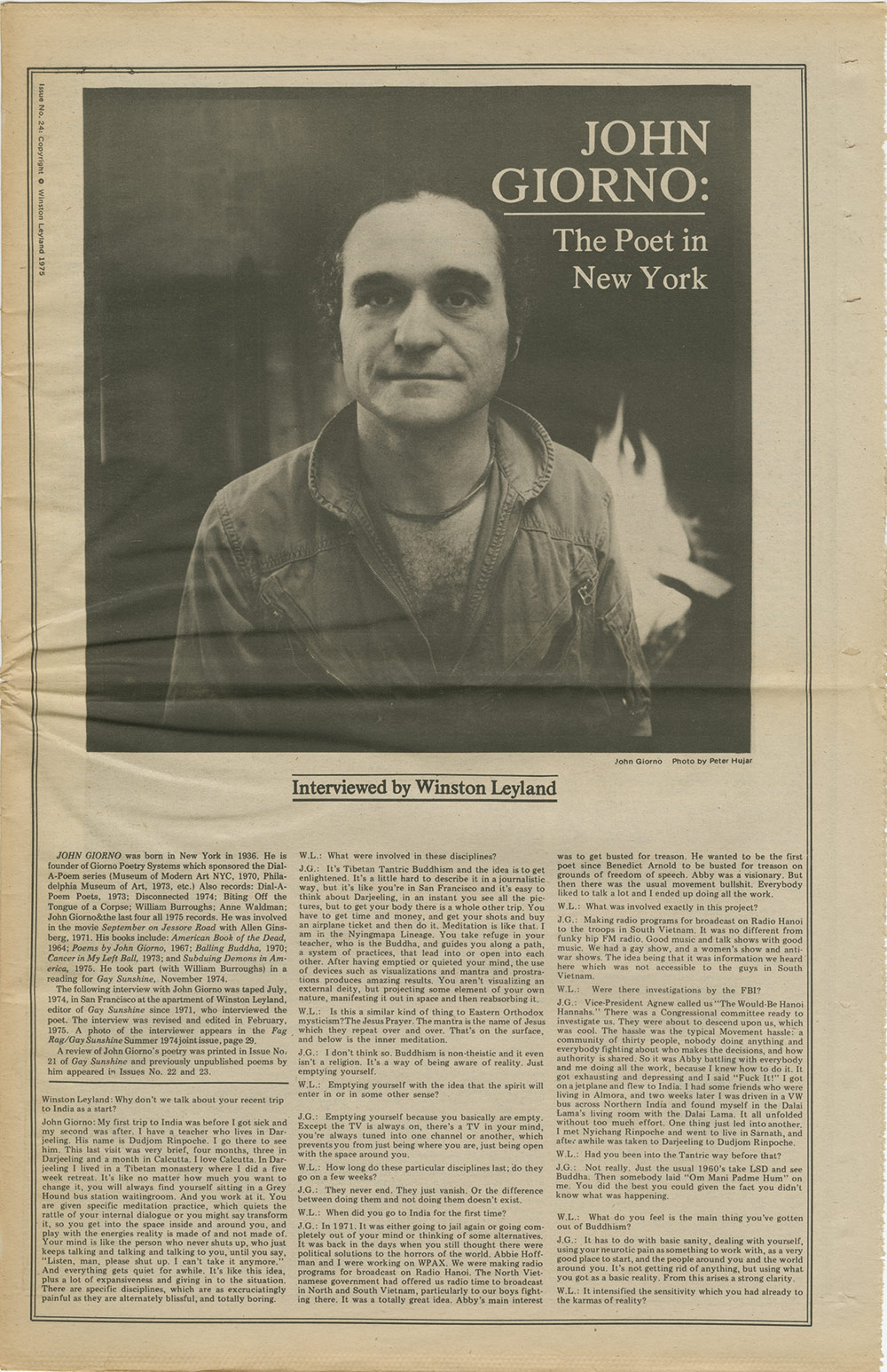 Title page from Gay Sunshine, issue 24. Photo by Peter Hujar.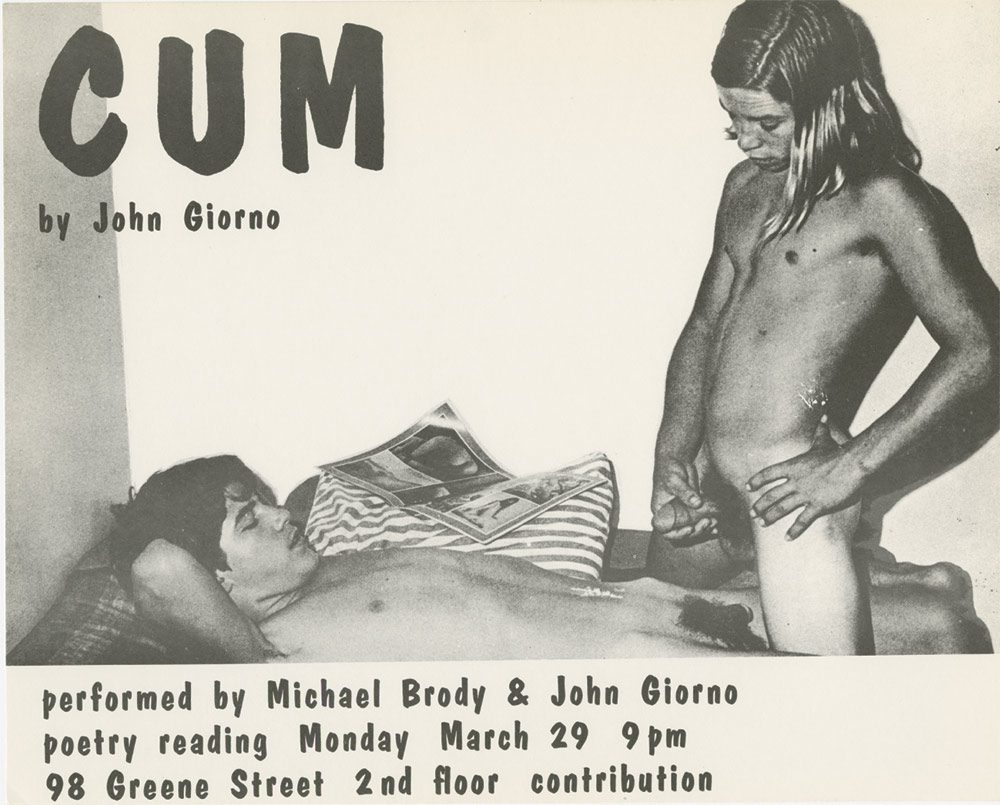 Flier designed by Les Levine for CUM, performed by Michael Brody and Giorno at 98 Greene Street, NYC, 1970.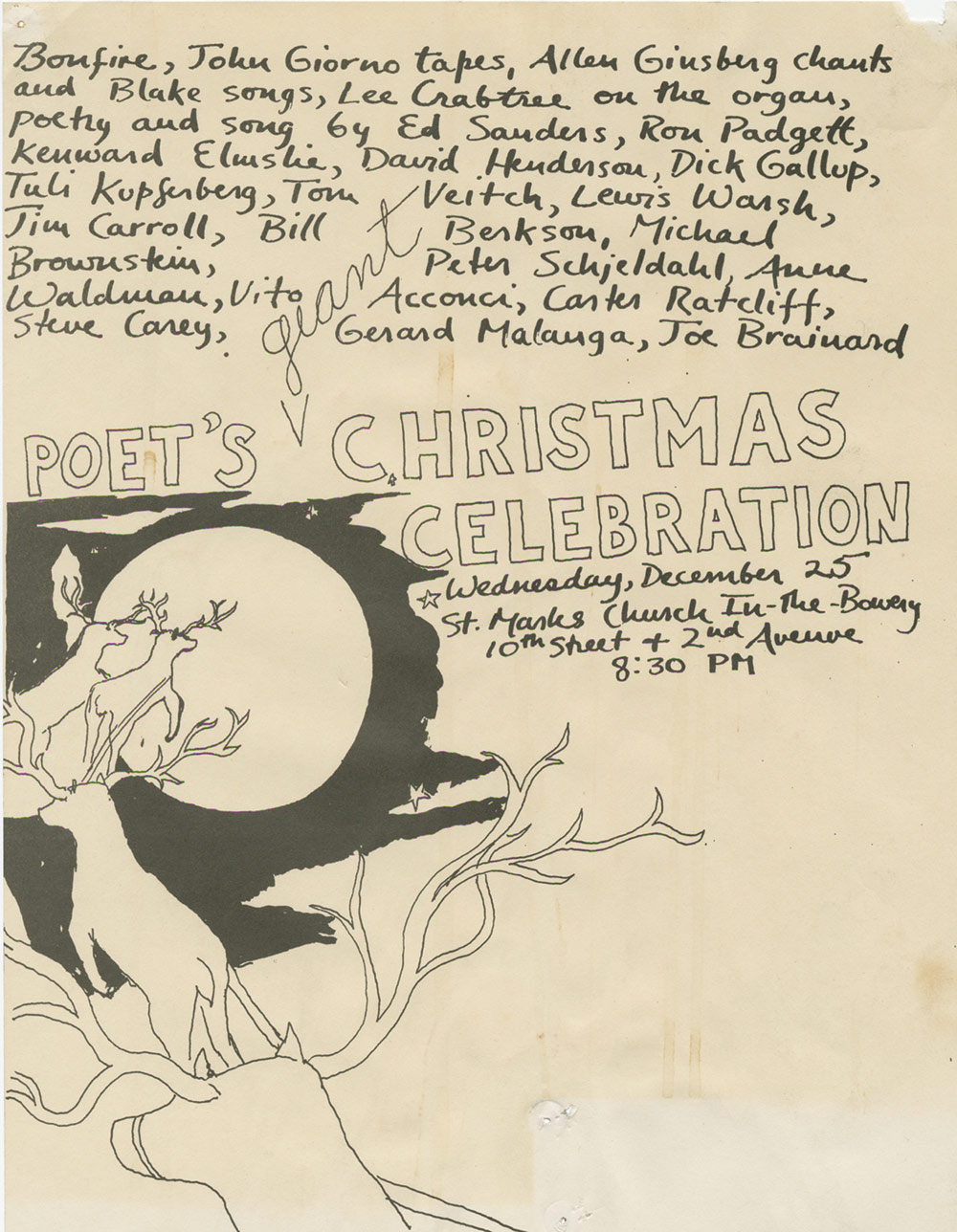 Flier for the Poet's Giant Christmas Celebration at the St. Mark's Church-in-the-Bowery, December 25, 1968.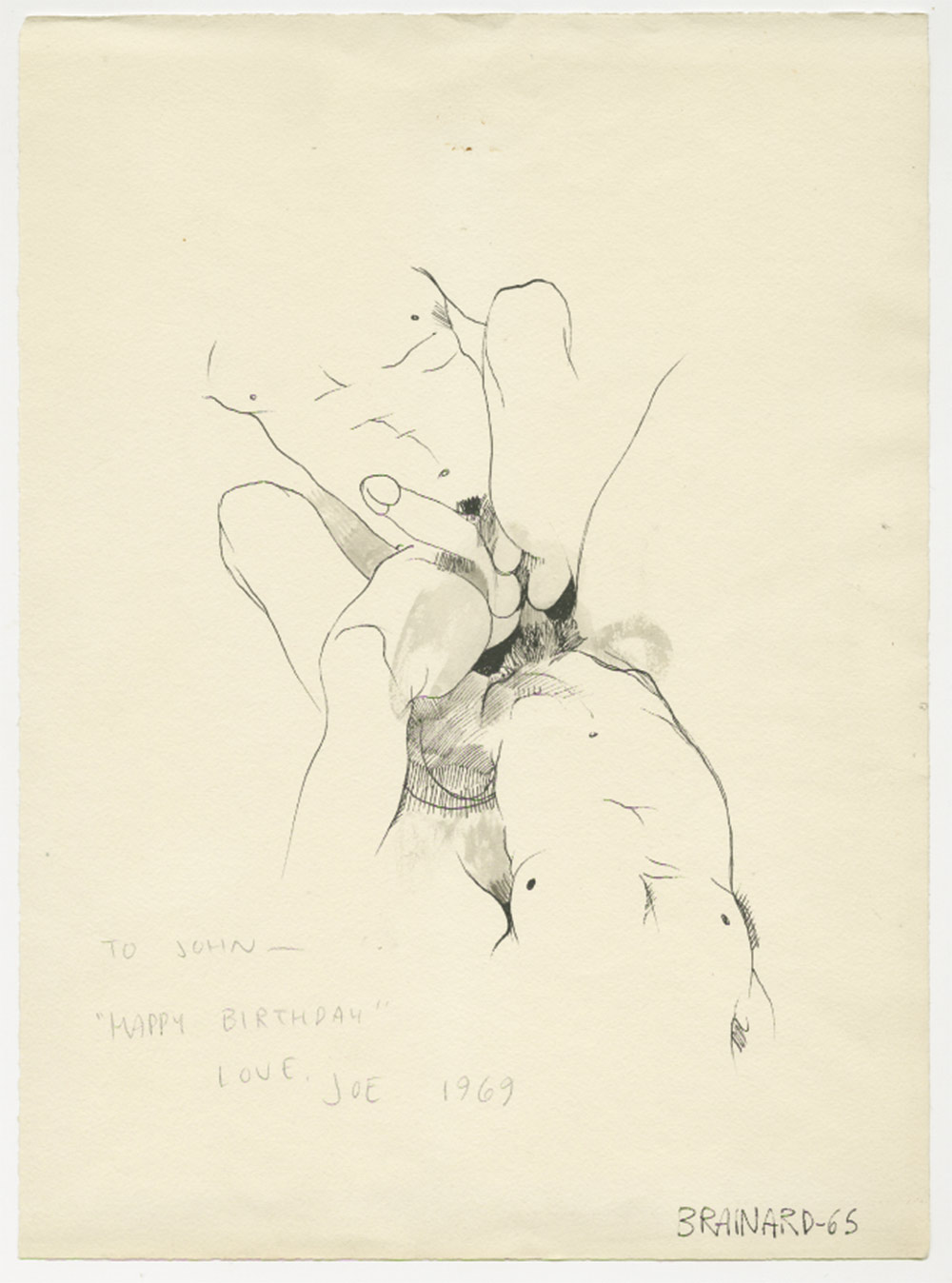 "Happy Birthday" drawing for Giorno by Joe Brainard, 1969.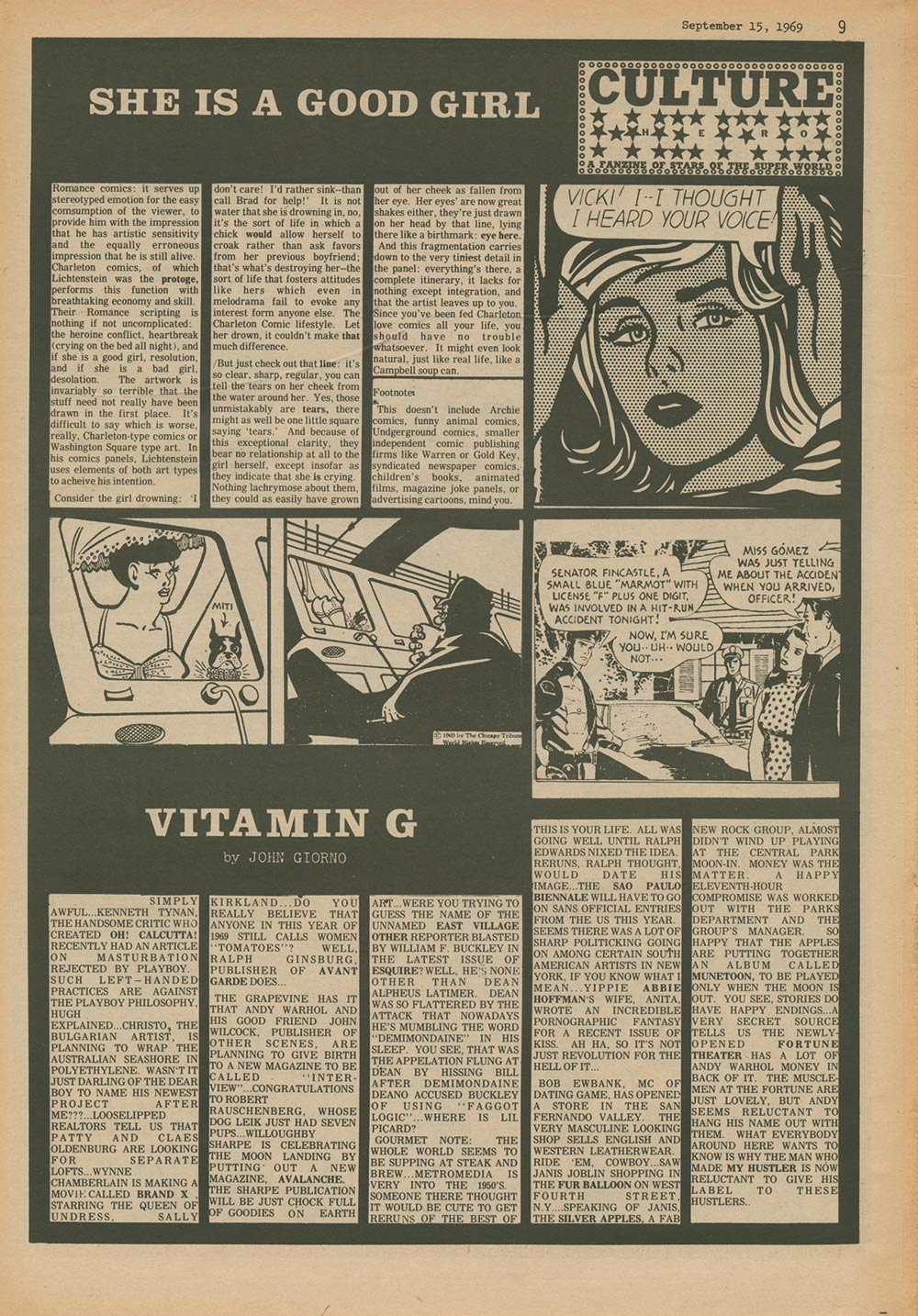 Vitamin G, Giorno's short-run gossip column, published in Les Levine's Culture Hero, September 15, 1969.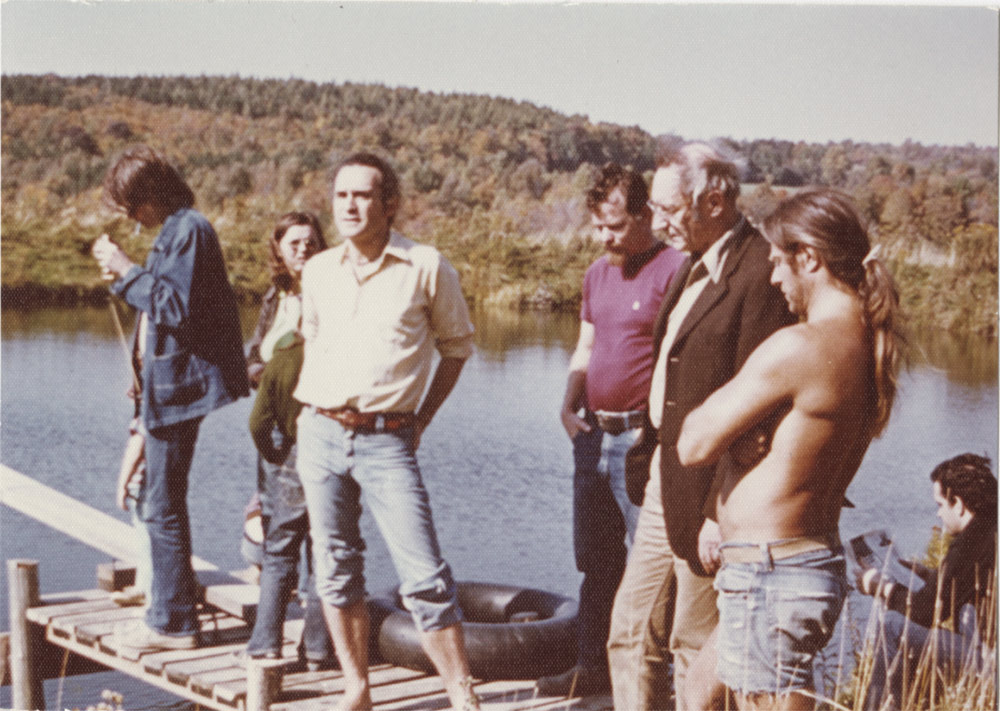 Giorno, Charlie Plymell, Burroughs, James Grauerholz, and others at Allen Ginsberg's farm in Cherry Valley, NY, 1970s.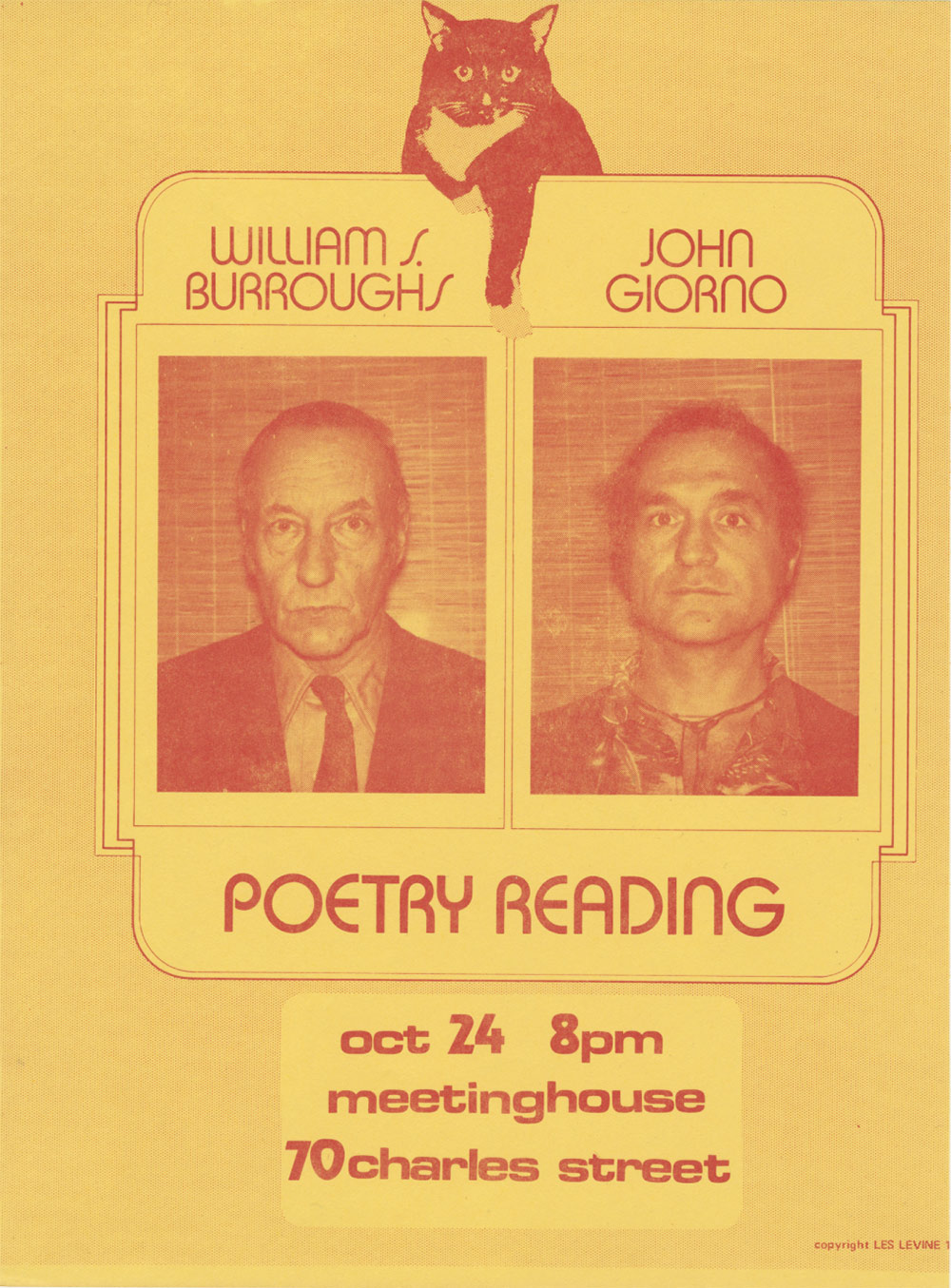 Flier designed by Les Levine for William S. Burroughs / John Giorno Poetry Reading, Meetinghouse, 70 Charles Street, Boston, MA, October 24, 1974.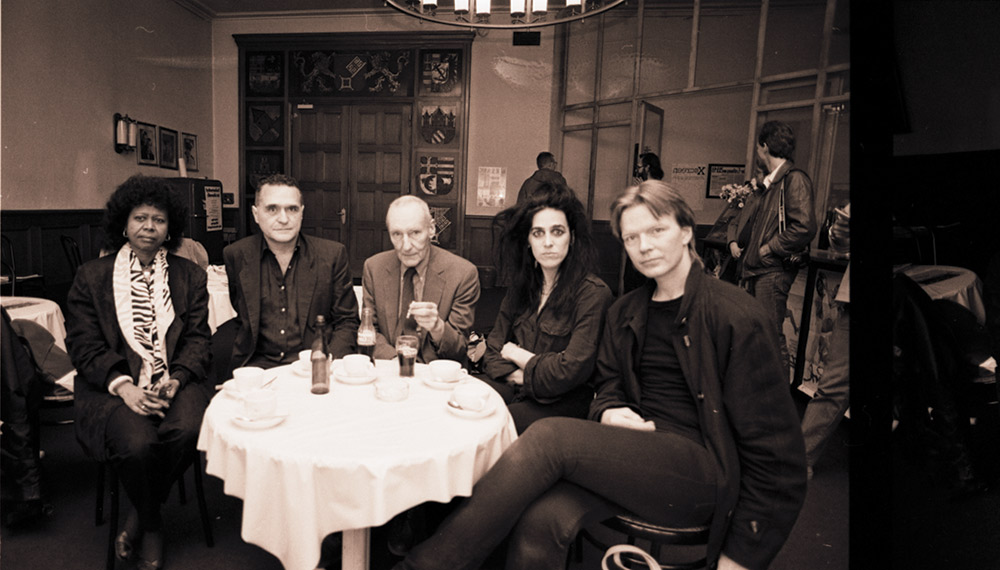 Jane Cortez, Giorno, Burroughs, Diamanda Galás, and Jim Carroll in a restaurant, Bremen, Germany, May 7, 1986. Photo by Jochen Mönch.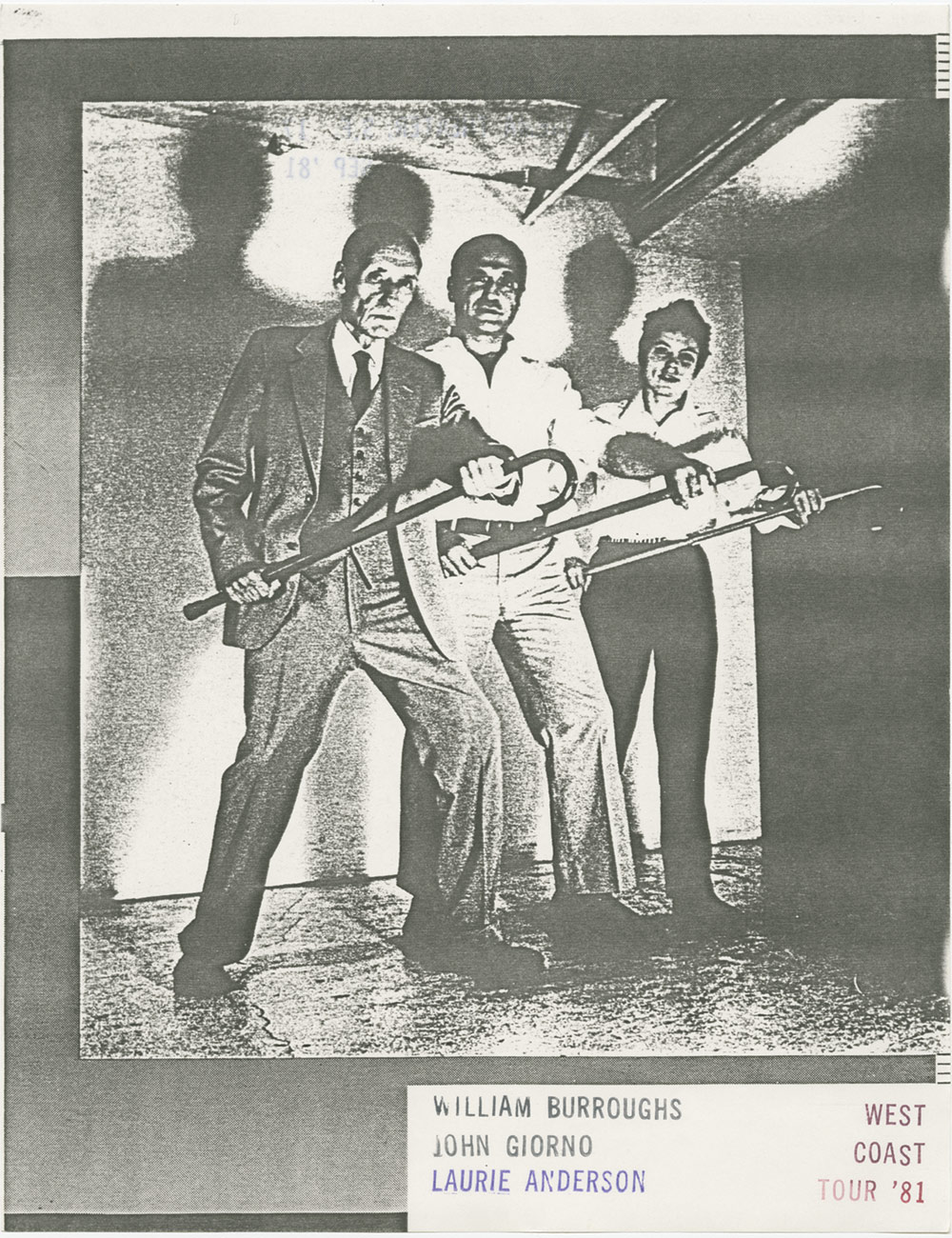 Flier for Burroughs, Giorno, and Laurie Anderson, West Coast Tour, 1981.

Flier for the Nova Convention Revisited, Lied Center, Lawrence, KS, November 26, 1996.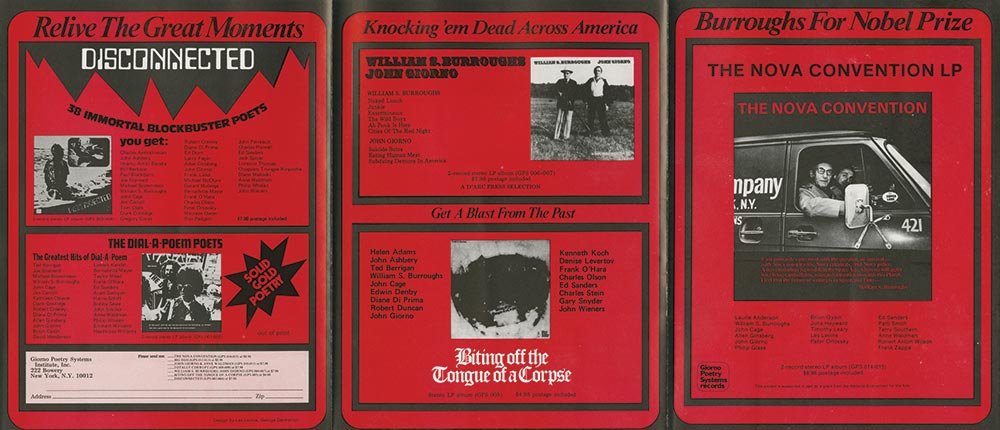 Giorno Poetry Systems trifold mailer, 1979. Designed by Les Levine and George Delmerico.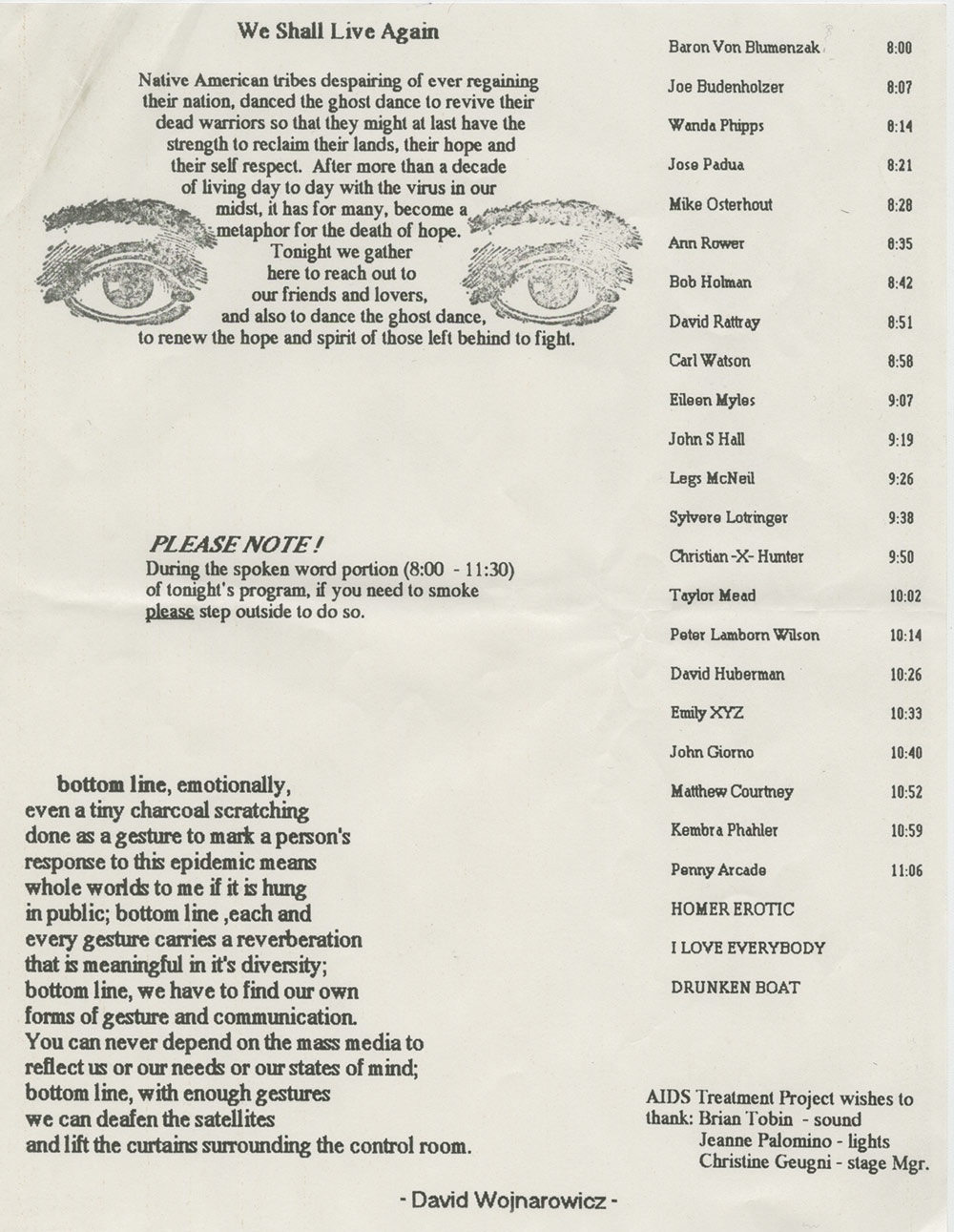 Flier for We Shall Live Again: Benefit for AIDS Treatment Project, text by David Wojnarowicz, September 1987. The AIDS Treatment Project provided funding for artists living with AIDS through the early 2000s.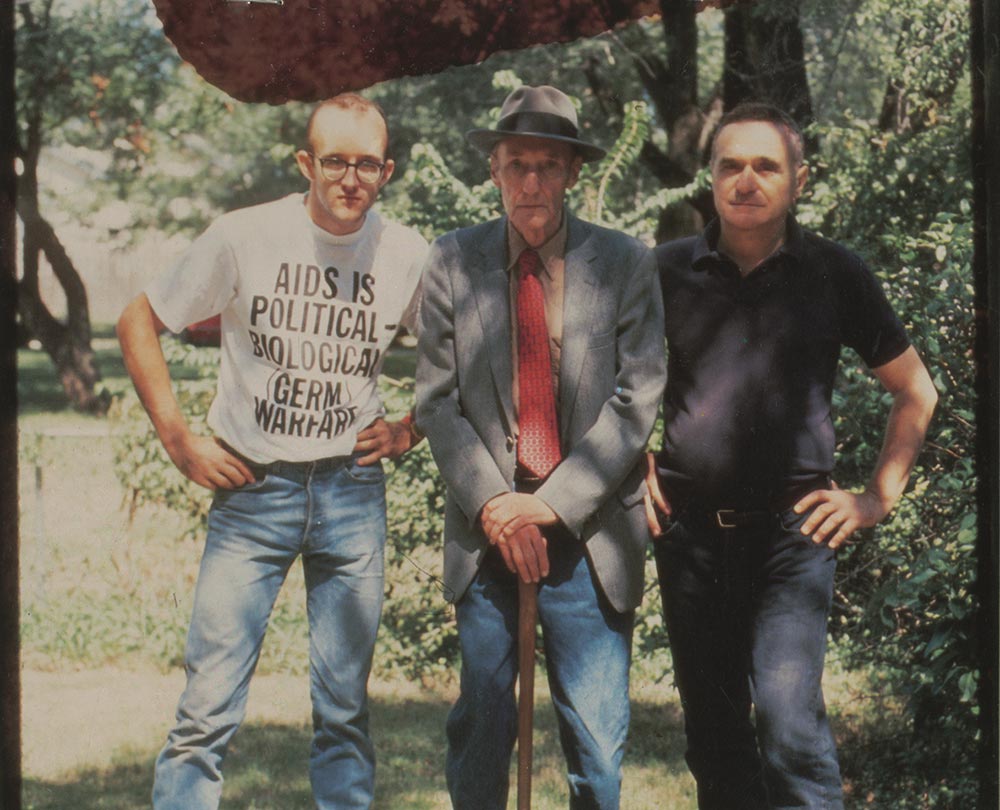 AIDS Treatment Project artwork originals: Keith Haring, Burroughs, and Giorno, 1991.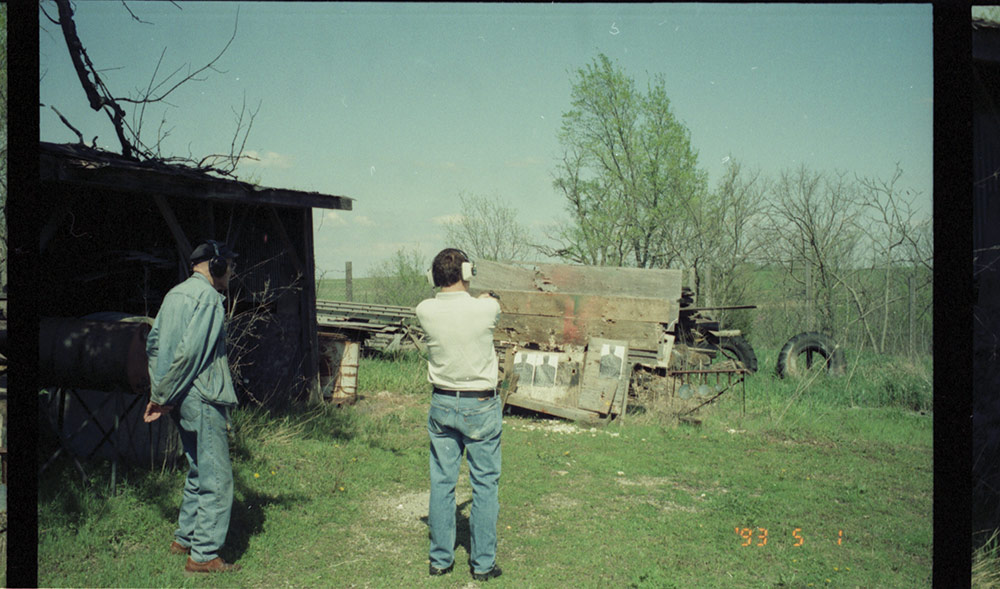 Giorno shooting at targets with Burroughs in Lawrence, KS, May 1, 1993.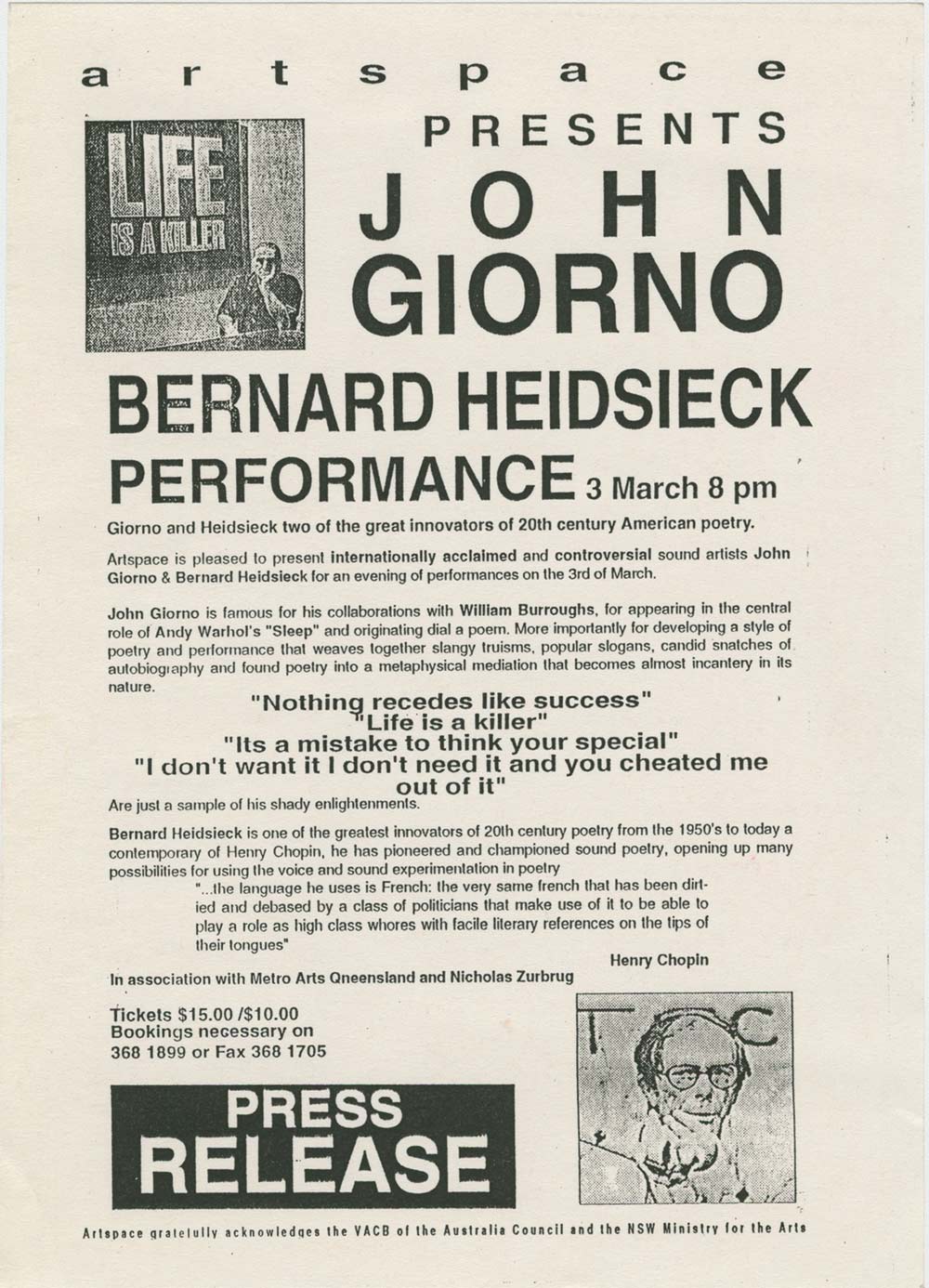 Artspace Presents John Giorno and Bernard Heidsieck, Queensland, Australia, March 3, 1995. Flier from Around the World Tour, 1995.