I scrape the snow or shovel the driveway before I go
casual flip of car on lawn spats abut fender's sis
this sinner usta be a winner such a shame oh poetry
if I grew up in this country little by little
upstate is tough; able to resist unreal drift of mythmaking chaos
Or all at once held in place by dull topos
next to me a new face again read her with her
body or face framed kinesthetic junket hopping train outta here
against depression incandescently delivering hours of wisply presence clouds point
floats a scrim a mechanism enabled by my will to
Take rebel aim now and layer nature, living research, harmonize
just lungs to take in art world flocks 'tween times
in light meant written room so changing is the house
born same as the child the generalized bedrock geology of NY
write zombie-slapped while outside grows older still thinking "you?"
*
Solvent as cure, proteins suspend in air the house surrounds
the story begins in the middle part with an honest start
who has seen the wind Flossie never knew storming through
maybe we woke up in Niagara Falls with a hangover
creature moon on the hood throwing rainbows' slickering mists
The naive belief that it will all be so great
as if cadence or pigment could lift the unholy terror
my dear still sky high at 7 a.m. sci-fi fields of OH
fades and flattens slouching south an other west not without
pen chants, pines, for shine the dominion wide mouth special
Winter curvature greens memory, the lake, shuttered in ice
unmask diligent collaboration with co-feeling the "we" of we must think
and in thinking a life we must feel naturally whole
sad clown+mother stands out against the sky, hidden behind foliage
silence in the eye at street-level gravel norm implores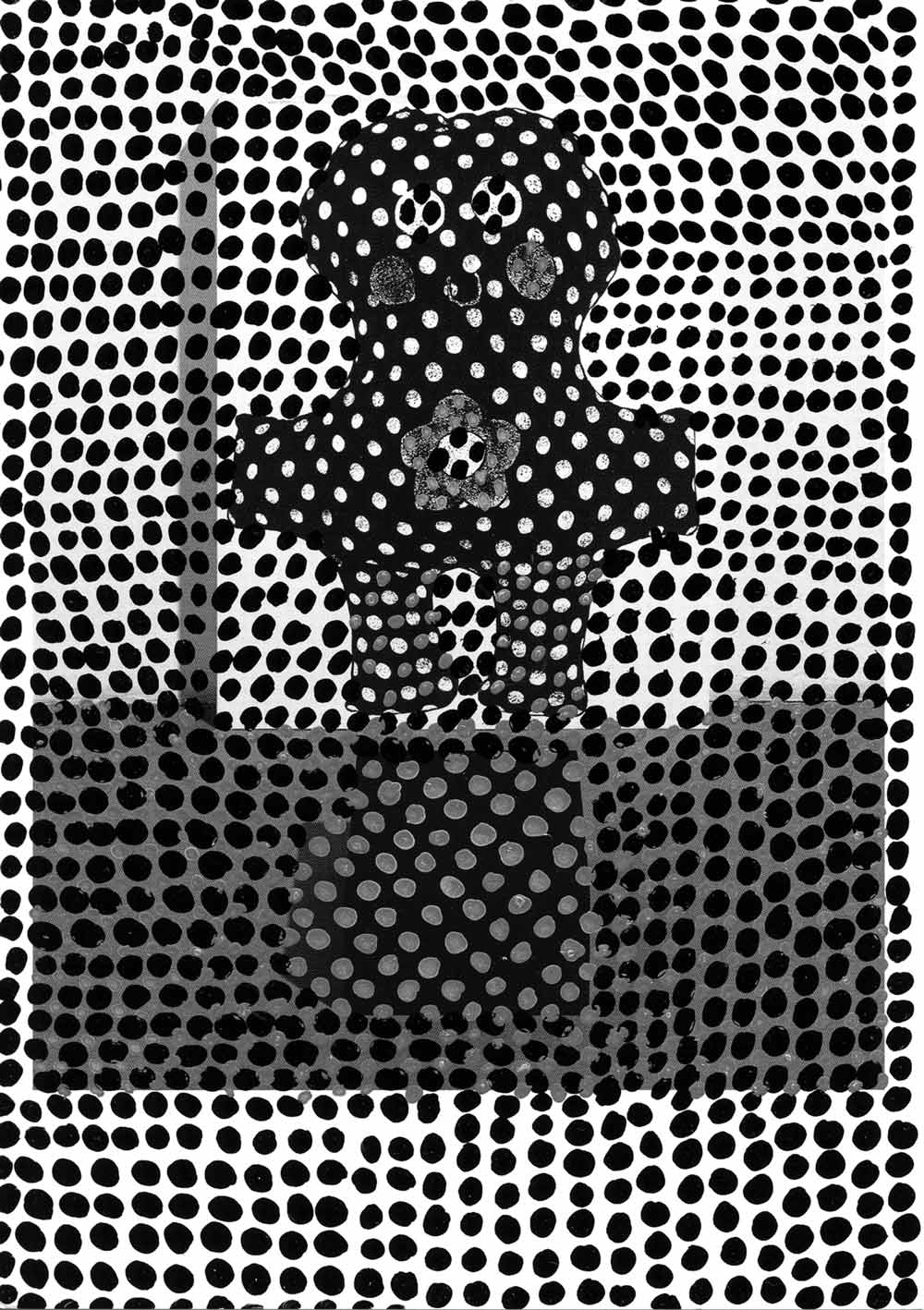 Jean Foos, Morphology 101, 2014, black and silver metallic Sharpie on postcard, 4 × 6 inches. Reprinted with permission from the book Canonball Lagoon published by Ragged Sky Press, 2014.

Activating the call, touchingly unasked, she is born in San Francisco
scalene angles map birthplace erosion—landlocked, marine, or limnologic
transcribe this undraped delight dissolve here new stow hinge mind
hasp lock as transducer pantomime against eerie sky in grays
and now this heart and crane—what is it? Our own

Woke up in Rome without my lines fearless young American
summer's play thoughtless hand brush away gurl recalculated postcard hue
code acts to primp garden exposures all fonts off
made with words and not be anaconda patriarchy eaten alive
square off gendered stroke for shapes piled alone inked spine

Mark the text dreamspace around midnight musically into the streets
blue impala rumbles up la strada forged icon impugns
Dear Translator, painter and her poets won't workpose bleak candy
cobblestone turbulence tips head toward home oh longing she said
reader atoms open, form boiling salted water ready for elbows

*

My paints tender prey hobble brush, rags, city of memes
three women glean a field they stray question abundant distance
down stairs past statues a sight line queues for parity
sunlight smear backup or delete until death ray work part
fragile solstice mix with tints to pull forward our agenda

Spry at gravest moment I slip through myself below or up
our platform our penury our palette our heads under the bus
simultaneously hack this drive and fish with stat-sucked bones
frankly tinctures of the dead betrayal of our normative exist
lame debt martyr peons arrive at dawn to work until nightfall

Or peonies, heads bent, bounded fragrance steady on the tongue
draft of dates around ankles, mysterious alley of the Moon
canvas-stretched dark plotted my path void of regional harness
autobiography is an impala, it switches between grazing and browsing
returning the them in us to the roadside cum savannah

Jessica Grim has published several books of poetry, including Vexed (/Ubu Editions), Fray (O Books), and Locale (Potes & Poets Press). She lives and works in Oberlin, OH.

Melanie Neilson's new full-length collection, Palmyra Pieces, is out this winter from theenk Books. She lives in New York City.

Grim and Neilson cofounded and coedited Big Allis, a journal published from 1989–2000 that focused on innovative writing by women.