Thursday, September 15, 7:30pm ET

Issue Project Room, 22 Boerum Place, Brooklyn, NY 11201
Cuba's most celebrated science fiction author Yoss is also its most notorious literary rocker: He's the lead singer and harmonicist for the Havana death metal band Tenaz.

Join us for an evening of Cuban sci-fi and metal classics at this special Brooklyn Book Festival Bookends event.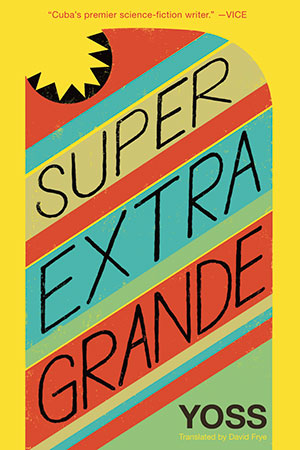 Co-hosted by Restless Books, BOMB, and Issue Project Room, the event will include a discussion between Yoss and novelist Paul La Farge about Havana's literary culture and metal scene, after which Yoss will be joined by a full band to perform his favorite metal classics.

Books, merch, and BOMB issues will be for sale, and discounted drinks will be available at the bar. Entry includes a copy of Yoss intergalactic space opera Super Extra Grande and a drink ticket.
ABOUT YOSS
Born José Miguel Sánchez Gómez, Yoss assumed his pen name in 1988, when he won the Premio David in the science fiction category for Timshel. Together with his peculiar pseudonym, the author's aesthetic of an impentinent rocker has allowed him to stand out amongst his fellow Cuban writers. Earning a degree in Biology in 1991, he went on to graduate from the first ever course on Narrative Techniques at the Onelio Jorge Cardoso Center of Literary Training, in the year 1999. Today, Yoss writes both realistic and science fiction works. Alongside these novels, the author produces essays, reviews, and compilations, and actively promotes the Cuban science fiction literary workshops, Espiral and Espacio Abierto.

ABOUT PAUL LA FARGE
Paul La Farge is the author of three novels: The Artist of the Missing (FSG, 1999), Haussmann, or the Distinction (FSG, 2001), and Luminous Airplanes (FSG, 2011); and a book of imaginary dreams, The Facts of Winter (McSweeney's Books, 2005). He is the recipient of a Guggenheim Fellowship, the Bard Fiction Prize, and fellowships from the New York Foundation for the Arts and the National Endowment for the Arts. He was a fellow at the Dorothy and Lewis B. Cullman Center for Scholars and Writers at the New York Public Library in 2013-14. He lives in upstate New York.
Thanks to our partners:

Tags: