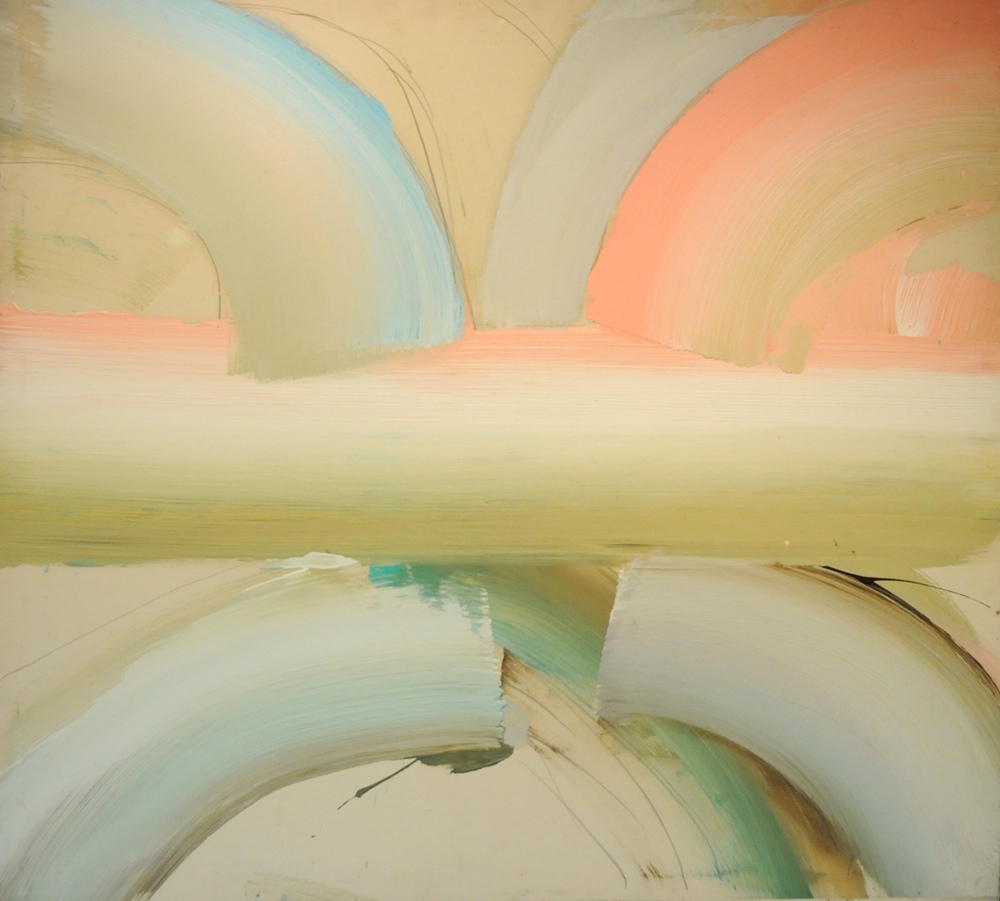 Edward Clark, Paris Series, 1993, acrylic on canvas, 66 1/2 x 70 1/2 inches. Image courtesy of G. R. N'Namdi Gallery, Chicago.
Jack Whitten Let's get back to Paris after the war.
Edward Clark I loved Paris. Even the bad times. I remember, being there with Beauford Delaney. One time, I passed the Café Dôme, and there was some American who reminded me of Otto Preminger. But it wasn't Otto. And he was buying paintings. He didn't care about whether you had showed or not, if he liked them. All the men were around. It was unbelievable. He was buying them, in cash. A hundred dollars then—you could live for one month, if you had the GI Bill. You could live for one month in Paris. You could pay your rent. You could go to the movies one time with a woman. He was giving like, one hundred, two hundred, three hundred. So I thought of Beauford, who was my best friend. I went to his hotel and I said, "Come on, man, this guy, he'll probably like your paintings." Beauford took two small paintings and we walked down to the Dôme, and he was still there. All the guys were there. They said, "Oh, yeah, that's Beauford." No one brings up race. And the other guys were cutting, going the other way. They've been there a couple of hours. The American's sitting at the table, and we sit down. He had a lot of paintings he'd bought. And he said, "Let's see what you've got." Beauford had two paintings. He looked and said, "How much do you want?" I think it was two hundred dollars apiece. (Imitates the sound of gunfire.) He bought them just like that. We're sitting down, at the café, near the back. And the mistake of our lives . . . we should've left then. "Well," he said, "What do you want to drink?" And Beauford liked cognac, so he ordered a cognac, and we're sitting there, and he's feeling good. The guy's got the paintings. The money's in Beauford's pocket. I'm feeling good, because I knew what I'd get out of it: we were to go to a restaurant—one called Carbaise. And they had gateau de riz. Not every café had that, rice pudding cake. I could just taste it. I knew that was where we'd go later on at night. We're sitting there, and Beauford's feeling comfortable, and all of a sudden the waiter comes. In those days, they didn't even have paper receipts. They had saucers stacked up, and they knew instantly how much the bill was. They trusted people enough not to steal the saucers. All of a sudden they come and ask for the bill—and the other people are gone. And when he went into his pocket, he didn't have the money. And he said to Beauford, "Oh, God, I'm sorry about this, but could you give me the money back?"
Jack Whitten: Evolver opens at The Aldrich Contemporary Art Museum, Ridgefield, CT in 2014. A retrospective of Whitten's work will be presented at the Museum of Contemporary Art, San Diego, CA in Fall, 2014.
BOMB's Oral History Project, which documents the life stories of New York City's African-American visual artists, is launching on BOMB's website this winter with monthly releases: Wangechi Mutu by Deborah Willis, Edward Clark by Jack Whitten, Gerald Jackson by Stanley Whitney, Jeanne Moutoussamy-Ashe by Kalia Brooks, Melvin Edwards by Michael Brenson, Terry Adkins by Calvin Reid, Adger Cowans by Carrie Mae Weems, Kara Walker & Larry Walker, and more.
BOMB would like to thank its Oral History Advisory Panel—Sanford Biggers, Thelma Golden, Kellie Jones, John W. Smith, Mickalene Thomas, Carrie Mae Weems, Stanley Whitney, and Jack Whitten—for curating such an exciting roster of subjects.
Major support for this project has been provided by The Andy Warhol Foundation for the Visual Arts with The New York City Department of Cultural Affairs in partnership with the City Council, The New York Community Trust and the Dedalus Foundation as well as the A G Foundation, and Toni Ross.
Tags: