Word Choice features original works of fiction and poetry.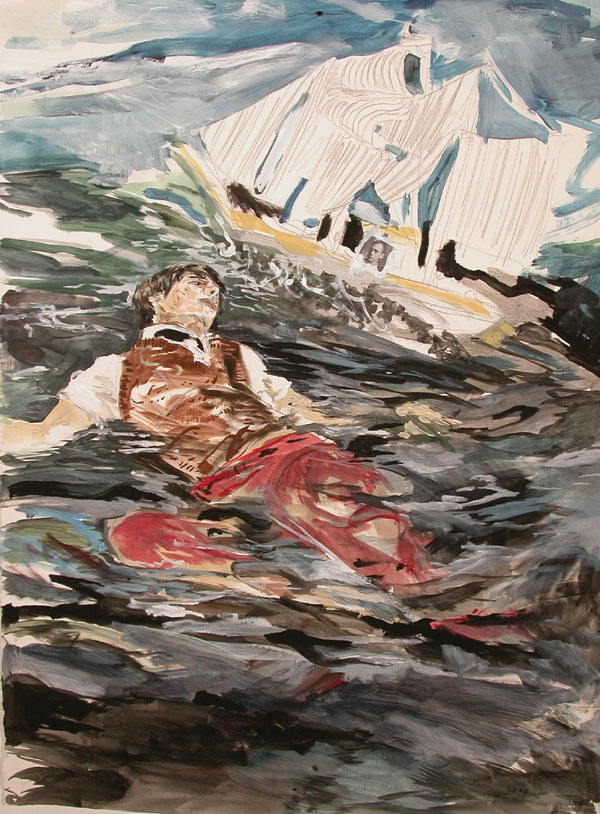 Hernan Bas, Floating in the Dead Sea with Ghost Ship Pirated by Hedi Slimane, 2003, water-based oil on paper, 30 × 22".
Krill tell me I'm such a rotten cloud to ask for help. But, hell, they gave me sweet sixteen bushels and said get 'em black and white and cored. Did they mean rotten rotten? Krill go all AVE AVE, praising the praise-giving mechanism. There's more to Krill, you see, than partying. (You don't see.) And if I treat Krill as twisters, I can send them back to the molten big band they came from. Juvenile tuna reach speeds of 50 mph as they proofread venture capital. All this in the saltiest of waters. Treasurer, for his part, is dream-based. Still, sexuals need a surface. Sweet sixteen bushels. I'd have laid eggs there, too, had these elemental restraints—gifted to me by Treasurer—not been so compelling in their own right. Apart from the group dynamic of aspen, all Krill ever want was brown apples. Krill, you've chosense madnez. If I had an octave for every bushel that found true love . . .
Sweet sixteen bushels have gone untouched. For a change Krill seem happy. About this or something else, I'm not sure, but something's going on [sixty gongs] I can't attribute simply to our terrifying overlap. Juvenile Tuna could care less about clouds, (m)(e) in particular. Krill are such sweethearts for asking me to co-sign on rancid parallel universe. Okay, I can take my rot to the bluest of cartographers and be repackaged as Malta, but I'll always be my own personal agenda. Speeding isn't a problem for Krill. It's the orange lights. Mysteries are left open on their back. If it weren't for my testimony, they'd never have come into their trove of lubricant. Forgive me, Treasurer, for helping Juvenile Tuna crash your coronation. And on top of that for not staying in rhythm. Krill glare. But it's how we do with this glare that suspends my sculpture garden indefinitely. I hope our stay has been pleasant.
Krill say you have to hand it to the Germans, and while I see eye-to-eye with them on other polished fictions, I don't want to regret any ancient forests. At least Krill are from the center, right? I'm too young for this, but it can provide excitement equivalent to a horse race at any gathering without the necessity of going to the track or of cleaning up after the horses. My cloud act is falling to pieces around me, and the naïveté we had suppressed up until this point is now on speaking terms with my big stain on the Rockies. What should we have as east?
I don't know what God I asked to piss on me. Krill call on me to look dark, whatever. Sweet sixteen bushels are in good enough shape to walk me through the perfume aisle. Krill, as aromatic specimens, won't vote. Krill have been hoarding. My Belgian counterpart licks itself clean the way North Sea pinches my cheek. So much history, never enough roux.
Elections are fixed like dogs and, like dogs, bring great joy to their owners. Krill want to know which essay to mount. Shadows of leaves. In my forgiving cloud-tongue I have a sphere to put this in. And that concept sings. Sings all afternoon. Krill don't have ancestors. That's what makes them so sharp. Klepto Krill? Let's hope. They could raid. I could rain. I have eyes and Krill love mash. Realmeanwhile, tri-toned Treasurer shuffles bills with his feet, affecting a longest coastline grin.
Those with family in the red for photo day know declaratives when they see them. Krill want in. I don't know how I got dragged into selling back to Krill their own sworn statements, but that gives you an idea of how much the world has changed as a result of my non-action. I asked the Treasurer directly if the sweet sixteen bushels were time-stamps, but I went unmet in the nude. I could've been there for Krill. To devour their closest competitors. Five thousand additional piers.
Future incarnations of my outliers won't have a lisp and this encourages me today to both distill and congregate freely. You can't hedge elemental data without hitting someone you've implicitly entrusted your genitals to. I knew I shouldn't have given up on dance, not before a radical survey of Treasurer's apartment's psychologized landing. I wish, dear Treasurer, to be clean enough to cry into. I thought of you when the thyme entered my body.
Thibault Raoult's most recent publication is Communist Couplets (Projective Industries, 2013). He lives in Athens, Georgia, where he edits RealPoetik and plays in Historic Sunsets.
Tags: