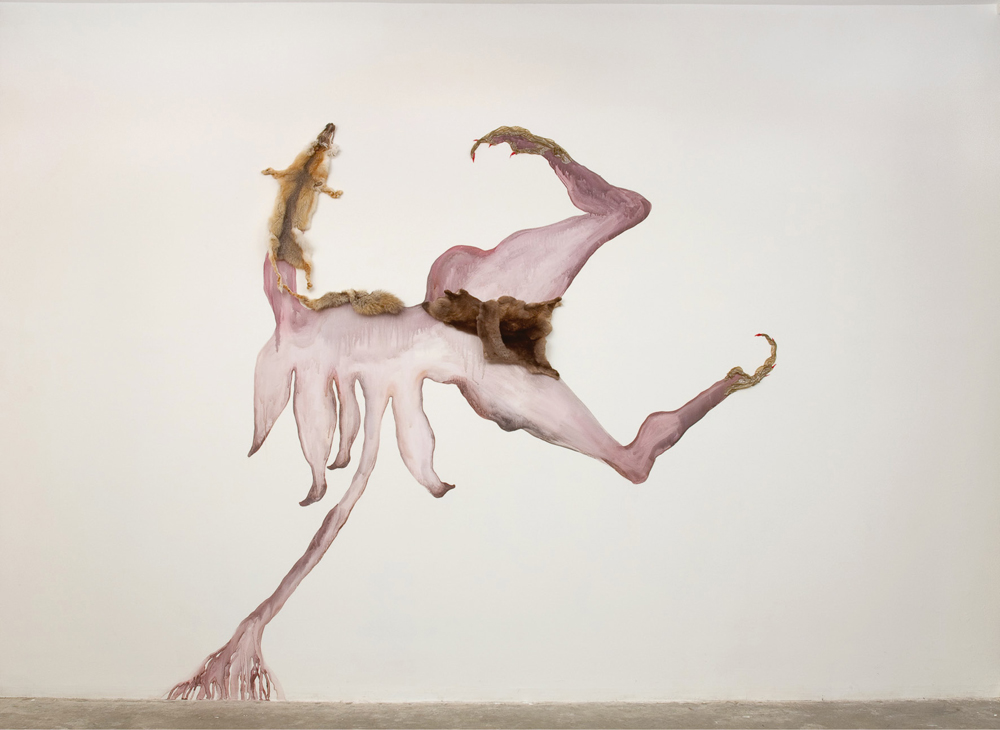 Wangechi Mutu, Foxy Lady, 2008, mixed media installation, 93 x 104 inches. Courtesy of the artist and Susanne Vielmetter Los Angeles Projects.
Wangechi Mutu Around 2002, I began making a lot of work on Mylar—collage works, always focused on these subjects that were female, somehow transforming into or from cyborgs or chimeras of animal, plant, and human mixtures. These were sort of mythological creatures: in pose, in action, in dance, caught in motion in their worlds. During that period, there was a lot of use of fashion magazines and fashion poses in my work, but they were tweaked and distorted just enough that you understood where the imagined figures came from. These creatures as I'd created them obviously were not something that would ever be found in their publications of origin. I've since moved into other ways of representing the body, but at that time it was a lot of taking these posed, very fictional females and extracting meaning out of them.
Deborah Willis So what kind of research do you conduct on these references, these female subjects? Do you use Vogue or other fashion magazines or National Geographic?
WM I do use Vogue a little bit, as a place to find the material. I absorb the information in there pretty quickly; it's not that deep, and it's all seasonal. But I do love using those magazines—the type of paper, the type of photography, the scale of bits and pieces in there, the jewelry, the eyes, the animals, are perfect.
When I am tackling a new project, I research things deeply. For example, the present project I'm working on is a video work called Nguva. Nguvas—water women—as they're called in Kenya, are female, fish-like creatures. Sirens, essentially, that have both a terrestrial and an aquatic existence. I don't know what sirens or mermaids do elsewhere, but in our part of the world, Nguvas live in the ocean, but also come out and pretend not to be sea creatures. They trick people. They are able to find human weakness and utilize it to drown people, to drag men into the ocean. They're frightening and powerful because sometimes you are unable to distinguish them from humans. In fact, that's where their power comes from, because a weak character might be convinced by this woman, by her face, her features. And then, before you know it, you're walking out into the wilderness and into the water with her.
—Deborah Willis, PhD, is an art photographer, scholar and professor at New York University/Tisch.
BOMB would like to thank its Oral History Advisory Panel—Sanford Biggers, Thelma Golden, Kellie Jones, John W. Smith, Mickalene Thomas, Carrie Mae Weems, Stanley Whitney, and Jack Whitten—for curating such an exciting roster of subjects.
Major support for this project has been provided by The Andy Warhol Foundation for the Visual Arts with The New York City Department of Cultural Affairs in partnership with the City Council, The New York Community Trust and the Dedalus Foundation as well as the A G Foundation, and Toni Ross.