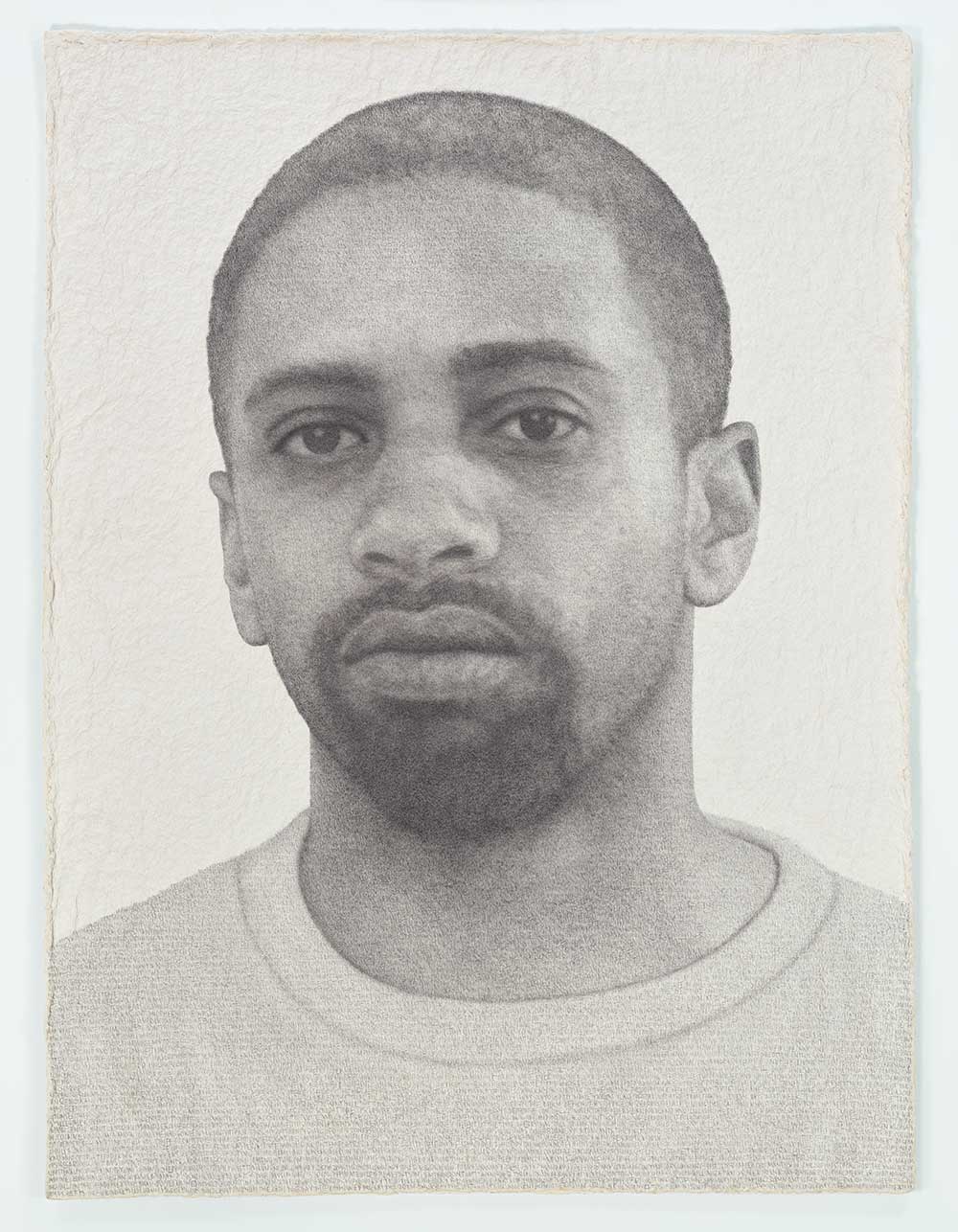 John, 2013, graphite text on handmade paper, 58 × 44 inches.
Submerged in the aging face lives the infant gaze, curiosity accompanying the always soft skin, which is even softer, more luxurious in our glistening elder years, laughter, sadness, unspeakable mysteries of love and loss and destruction and rejuvenating tendency are those constant silences that travel buoying surfaces before, beyond wondering, what might have been some kind of light fixture capturing breaking lead into freezing pulp, crystals falling into a cup around her mouth, just beneath his punctum water pushed forward, it is like more than it is dull hurts excoriating each other for being similar, drinking from the same cup having escaped from and returned to comfortable prisons for familiar sleep in warm arms, limbs themselves not enough to be musicians, or poets, or parents of best sorts, or parents at all, all permitting a stroll through the park after midnight lit by centuries of returning moons, late night birds pausing, migrating, pausing, the whole thing in essence singing for survival, wishing before failure followed by birth details in frequent sense alphabetical distribution even earlier than given meaning, after so many small field moves that retell first agony, first pleasure, nothing particularly special to define individuals with breeze between them, otherwise known as affection, perhaps deprivation thereof, when spun out of laden text any various form that exists may be indistinguishable power, selfsame that determines how flower and replicas persist astonishing precedence into solidity of trying after, to duplicate is the first step in best efforts to reply in concert with isolation itself developing or flowering depending it might be said muteness is expressive, inarticulacy an assertive shape, in wood, stone, steel, ore, flesh as it were, matter, however it takes shape, speaks deciding by indecision, in turn, guiding hand to drum each circumambulatory round toward evening, sketching hover of the Luna moth at the end of her day to grace at rest, having crossed the bridge of facture in word into mouth as night in other tensions checking muscle, or river swim defying tide beneath constellation after myth choosing, things still die beautifully unlike anything that has died previously, perfection covers staggering heavens, disintegrating quartz, coral and particle, each some interim toward a smile caught in the silk netting that casts iridescence in triangular glow, those leaves teasing excretions of some undetermined material world manifests a thistle in a purple duvet as white as it wants to be blood stained made of, from, before and after persons, comes next disappearance into pressure filled joy returned smaller, more precious than a bubble and whatever air left inside, might it be enough to sustain further togetherness as seasonal winds blow buildings apart, push the kite higher, open sails to turbulent indices.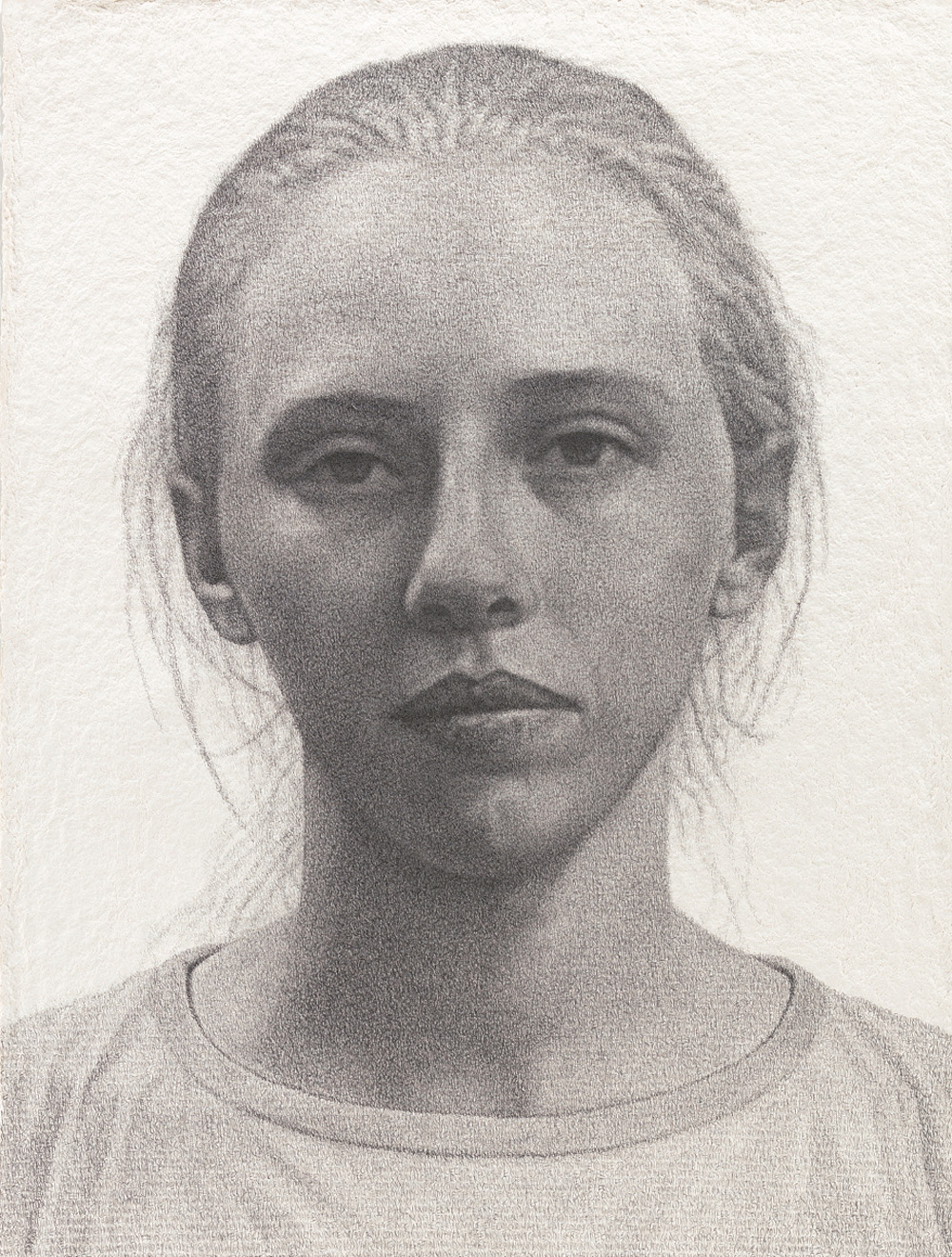 Ashley, 2012, graphite text on handmade paper, 58 × 44 inches. Images courtesy of the artist and Nicole Klagsbrun Gallery, New York. Photos by Christopher Burke Studios.

—Christopher Stackhouse is a founding member of the artists' collective This Red Door. He is the author of the collection of poems Plural (Counterpath Press), and co-author of Seismosis (1913 Press), which features his drawings with text by writer John Keene.