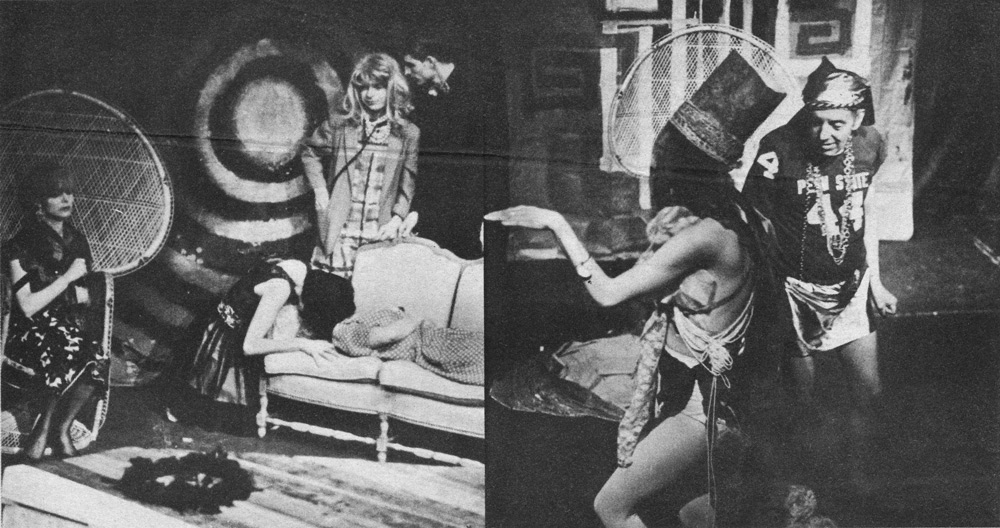 Gary Indiana's Phantoms of Louisiana. Photos by Elinor Vernhes.
Starring: Mary Lemley, Sharon Niesp, Donald West, Allen Frame, Vicki Pederson, Betsy Sussler, Patrick Fox, Taylor Mead, Michael Ableman, and Gary Indiana.
Sets: Ross Bleckner, Mark Tambella
Music: Evan Lurie
A play inspired by strange events at the La Luisane, the Chelsea of Paris, written on the train from Paris to Frankfurt, set on the island of Mestizo off the coast of Louisiana.
Author was "inhabited by voices." On one level, a farce of Southern Gothic cliches: dripping Spanish moss, hints of incest, mysterious deaths, rampant passion. On another, a rupture of theatrical conventions, the intrusion of a rewrite of Salome as a collective hallucination by the characters—a play which finally disassembles its own premises in the penultimate scene.