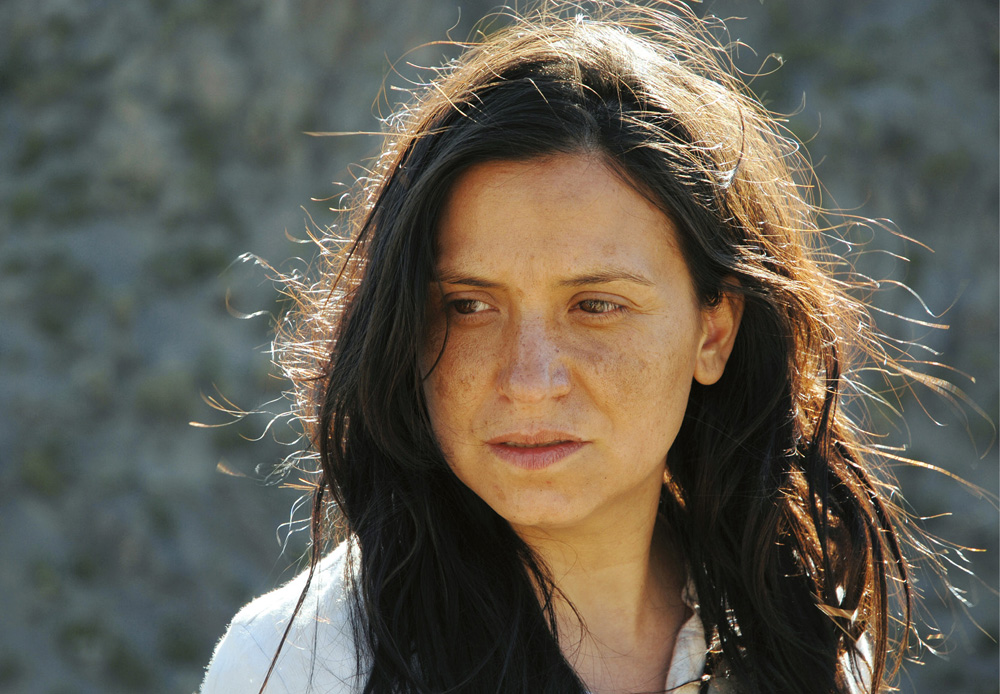 Francisca Gavilán as Violeta Parra. Courtesy of Kino Lorber.
Andrés Wood's film, Violeta Went to Heaven, brought me back to a decisive moment. I am 14 and I am crossing a threshold. I am walking down a hallway at my aunt Lola's house on Manuel Montt Street in Santiago de Chile. As I'm crossing this threshold, I hear a shriek, a voice that sounds like nails on chalkboard—such a violent thing, as if emerging from unimaginable depths. So I ask, "What is that?" "La Violeta Parra," I am told. La Violeta Parra! The world opened up before me at that very moment. I discovered all the poetry and all the sounds of the future hidden in those sounds of the past—in Chile's buried culture, so out of sight that I'd reached 14 without ever encountering it before. I speak from that shriek ever since.
Violeta Parra is our avant-garde, the master of three realities. A being in three combined auditions. I want to go there, I want the abyss. Between people's spoken language and the radio's official Spanish, the schooled Spanish of the upper classes. There it is: the syntax of truth in the abyss. A sonic aesthetics. Dissonance. The creation of the Americas. A way of being knowledge, conocimiento, not conocimiento but con cimiento, with a foundation.
A voice tuned by centuries of being out of tune, by not hitting the nail on the head. That is where the sound is. The entryway is the mistake, what's a bit off, coonchadetumaadre, that's how genes are renewed—through error.
The pre-Columbian peoples, masters of the ear, are not gone. The pre-Columbian peoples are now you and me, all of us here, pure and mixed, still tuning our ears to a dissonance, to the chasm between one sound and the other, the campesino singers are there, serving the Pachamama, life and death, hearing the abyss at the edge of our own voices. To hear is the music of the interaction between the act of hearing and what is being heard. What is there—between the noun and the adjective—is the living verb, the exchange of all life's forces. The trace and the sign. The po-ethics, the ethical poetics of of the Americas.
Violeta Parra, I am speaking to you, ire filled with love: "Unco un co un co uncorá un corazón manso un corazón manso un co son cco tú tú tú tú tuyo. Un co son cco tú tú tú tú tuyo uhhhh uhhhh uhhhh uhhhh en vida en vida en vida." A gen a gent a gentle heart, your heart, your gentle art, a beating heart.

— Cecilia Vicuña is a Chilean poet, artist, and filmmaker. Spit Temple: The Selected Performances of Cecilia Vicuña, edited and translated by Rosa Alcalá, is just out from Ugly Duckling Presse.