Back-dated art works, Picasso's frustration, and the transnational creation myths of Abstract art.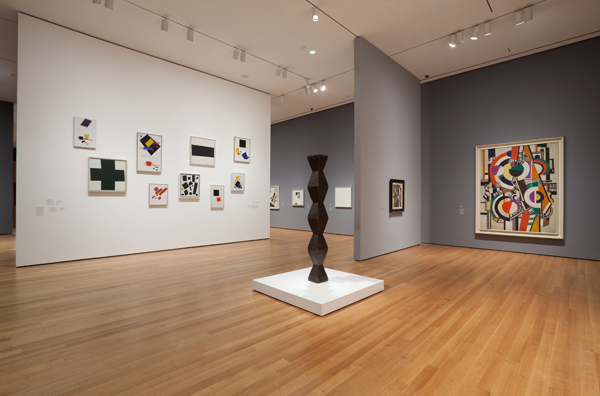 Exhibition view of Inventing Abstraction, 1910–1925. Photo by Jonathan Muzikar. Photo courtesy of The Museum of Modern Art, Imaging and Visual Resources Department.
According to Gabrielle Buffet, her husband Francis Picabia invented abstract art in July 1912 on a drunken drive across France with Claude Debussy and Guillaume Apollinaire. Mix equal parts artist, composer, and poet in a car at the dawn of the modern age, let it bump around for a while, then throw the doors wide, and out pours a brand new cocktail of color, space, and time.
Of course, Vasily Kandinsky might have begged to differ—and he did. An often-told anecdote has it that the Russian-born painter and critic had stumbled upon Abstract art as far back as 1896. One evening, just after arriving in Munich, Kandinsky saw one of his own paintings leaning on its side in his unlit studio. He couldn't make out the subject of the work in the darkness, but the forms and colors before him nonetheless struck him—an event sparking the revelation that "objects harmed my pictures." Despite this epiphany, it took Kandinsky nearly 15 years to bring an abstract painting into the light of day, so to speak. It is perhaps more illuminating that this story started going around in 1913, just as the same lightbulb seemed to be switching on in everyone's head.
Everyone, it seems, wanted to be associated with abstraction's creation myth—and some went to extraordinary lengths to secure their positions, including going so far as to backdate key artworks as proof of their having been there since the very beginning. For example, an untitled piece from 1913 by Kandinsky was given a new birthday in 1910; Robert Delaunay's Soleil, Lune, Simultante 2 (Sun, Moon, Simultaneous 2), which was originally shown by the artist in 1913, was reassigned to 1912, as well as Le Premier Disque (The First Disk). The Russians seemed particularly sensitive to their own role in the development of abstraction, with pieces by Natalia Goncharova, Mikhail Larionov, and Kazimir Malevich all receiving reverse facelifts to suggest that their works were anywhere from two to five years older than they actually were. Given the geographic and political barriers at the time faced by these Russian artists, one might understand their insistence that they receive a handicap when it came time to assigning credit for what Leah Dickerman, curator of the Museum of Modern Art's Inventing Abstraction, 1910-1925 exhibition, calls the "greatest rewriting of the rules of artistic production since the Renaissance."
Abstraction is now so central to our conception of art that it's hard to imagine a time before the idea of an abstract artwork. But until 1911, it was impossible for artists and the public to let go of the long-held notion that art is supposed to describe things in a real or imaginary world. So, when examples of nonreferential artworks started popping up about a hundred years ago by the likes of Kandinsky, Picabia, Robert Delaunay, František Kupka, and Fernard Léger, observors didn't know what to make of them. With such unexpected and dazzling glimpses into the Fourth Dimension, these early exhibitions in the so-called real world were felt almost immediately. Within five years, other artists from across Eastern and Western Europe, as well as the United States—Hans Arp, Vanessa Bell, Sonia Delaunay-Terk, Arthur Dove, Goncharova, Marsden Hartley, Paul Klee, Mikhail Larinov, Malevich, Franz Mark, Piet Mondrian, Hans Richter, Wyndham Lewis, and more—were producing abstract artworks. Things happened so suddenly that comparisons with the past were impossible.

Morgan Russell. Synchromy in Orange: To Form. 1913-1914. Oil on canvas, 11'3″ x 10'1½".© 2012 Peyton Wright Gallery. Photo courtesy of Albright-Knox Art Gallery / Art Resource, NY.
Inventing Abstraction, which runs at MoMA until April 15, 2013, explores abstraction as both a historical idea and an emergent artistic practice. But while it is tempting from a historical perspective to nail down just who "invented" it, the story of the movement's sudden proliferation may have something more to say about the nature of innovation itself. Abstraction was not the inspiration of a single artist working in isolation, rather it was, according to Dickerman in her introduction the show's catalogue, "incubated, with a momentum that builds and accelerates, through a relay of ideas and acts among a nexus of players, who recognize and proclaim their significance to a broader audience." Indeed, the central tenant of the exhibition is just how much the phenomenon of abstraction was the product of ideas moving between artists and intellectuals working in different media and between far-flung places. If abstraction was "invented," it was "an invention of multiple first steps, multiple creators, multiple heralds, and multiple rationales," says Dickerman.
From its start in the years immediately before World War I, Abstraction was an international phenomenon. With less-restrictive passport regulations and increasingly porous borders, people were traveling internationally more than ever before. And when they weren't traveling, the availability of telegraphs, telephones, and radios kept them in touch and up to date with cultural and scientific developments across Europe and the Atlantic. Within the art world, specifically, the notion of a borderless avant garde was fed by the flourishing of artistic and literary journals—in Paris alone, some 200 "little reviews" of art and culture were being published in the decade preceding the war.
Accordingly, Inventing Abstraction takes a transnational perspective. Surveying key episodes in the movement's early history, including works made across Eastern and Western Europe and the United States, the exhibition explores the relationships among artists and composers, dancers and poets, in establishing a new modern language for the arts. It skillfully brings together a wide range of art forms—paintings, drawings, printed matter, books, sculpture, film, photography, sound recordings, music and dance footage—to draw a rich portrait of this moment that brought us that hopelessly frustrating question: "Yes, but what does it mean?!"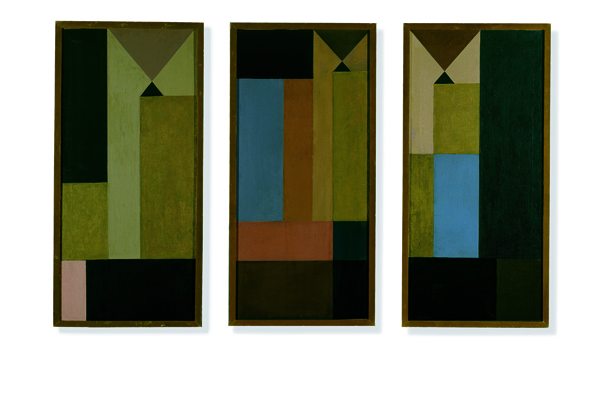 Sophie Taeuber-Arp. Untitled (Triptych), 1918. Oil on canvas on board, three panels. Photo courtesy of Kunsthaus Zürich, © ARS, New York/ProLitteris, Zürich.
Above the entryway to the gallery, visitors are confronted with the central question of Kandinsky's seminal theoretical text On the Spiritual in Art, which first appeared in 1911: "Must we not then renounce the object altogether, throw it to the winds and instead lay bare the purely abstract?" It's almost a cue to brace oneself before entering the gallery, which isn't a bad idea when one is about to step into a whirlwind of color, space, and time.
Of course, one can't confront art at the beginning of the 20th century without first paying respect to Pablo Picasso, represented by the starkly Cubist Girl with a Mandolin from 1910. A rare flirtation with total abstraction for the Modernist master, one is left with a sense that he wasn't particularly serious about it. And Picasso was the first to admit it, announcing at the time: "There is no abstract art. You always have to begin with something"—a statement which appears on the painting's label. In the end, Picasso pronounced the painting unfinishable and so too his experiment with abstraction.
With Picasso out of the way, visitors are free to move on to Kandinsky. Without himself realizing an abstract painting in 1910, Kandinsky had described Picasso's early foray into abstraction as, "splitting the subject up and scattering bits of it all over the picture," an effect that was "frankly false" but nonetheless an auspicious "sign of the enormous struggle toward the immaterial." According to Dickerman, "Kandinsky could theorize abstraction before he was capable of doing it. Picasso, on the other hand, was dissecting the mechanics of identification, when he came to abstraction, he was horrified by it." But things came together for Kandinsky after attendng a performance of composer Arnold Schoenberg's Second String Quartet on January 2, 1911.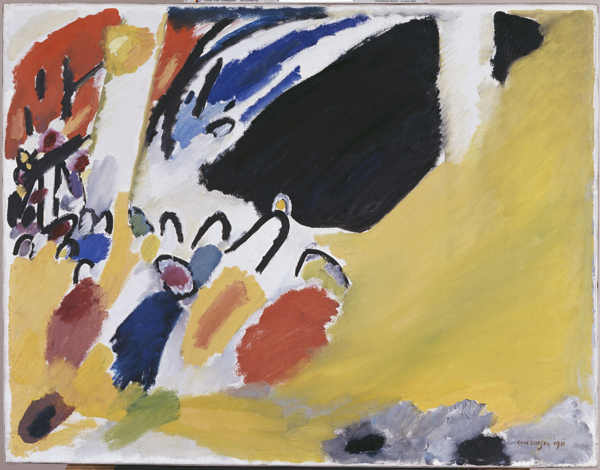 Vasily Kandinsky. Impression III (Concert), 1911. Oil on canvas, 30 7/8 × 39 9/16 inches. © 2012 Artists Rights Society (ARS), New York/ADAGP, Paris. Photo courtesy of The Städtische Galerie im Lenbachhaus, München.
Impression III (Concert) depicted Kandinsky's first encounter with the Austrian composer's pioneering atonal compositions. Two sketches for the painting, though with figures and instruments clearly visible, demonstrate that Kandinsky was depicting neither the particular concert he had experienced that fruitful evening nor a particular composition; rather, the pictures portray his overall impression of a musical performance. The dominant contrast of the picture is apparently the clash between two color masses: black (the piano) and yellow (the audience). Completely lacking in depth, the yellow is bold, a typically "worldly color," as Kandinsky described it in a letter to Schoenberg. Black, on the other hand, "is the most soundless color to which any other, including the weakest one, would therefore resound more powerfully and more precisely. . . Bright yellow contrasted with black has such an effect that it appears to free itself from the background, to hover in the air and to jump at the eyes."
From there, the pace and progression of the show suggests that as soon as Picasso and Kandinsky helped work through the initial theoretical kinks, abstraction gained viability as a movement. The 400-odd works on view include numerous paintings—a majority from outside the museum's collection—as well as stained glass, needlepoint, film, sculpture and illustrated books. At once open and intimate, the layout reveals a panorama of works of varying scale and media installed in different galleries, giving the impression that the ranging artworks are part of a single rich moment or narrative. The effect can only be described as dizzying.
A bit down from Kandinsky, visitors encounter Sonia Delaunay-Terk and Blaise Cendrars's stunning text-image collaboration La Prose du Transsibérien et de la petite Jehanne de France (Prose of the Trans-Siberian and of Little Joan of France, 1913) The book, illustrated in loose and sensual geometric shapes of blues, yellows, orange, and black, features a poem by Cendrars about a journey through Russia on the Trans-Siberian Express in 1905, during the first Russian Revolution, printed on an abstract picture by Delaunay-Terk. Cendrars himself referred to the work as "a sad poem printed on sunlight."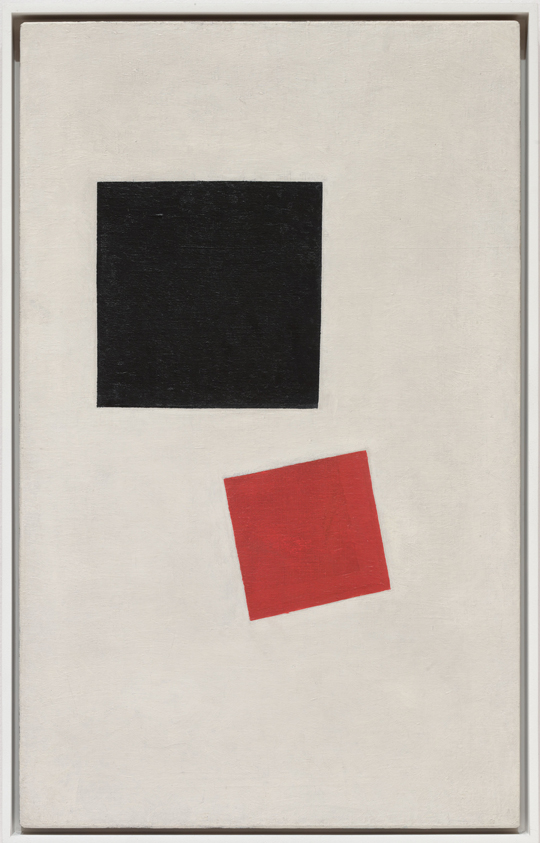 Kazimir Malevich. Painterly realism of a boy with a knapsack color masses in the 4th dimension, 1915. Oil on canvas, 28 × 17 1/2 inches. Photo courtesy of The Museum of Modern Art, Imaging and Visual Resources Department.
Pushing on, the grouping of Marcel Duchamp's broken glass painting, To Be Looked at (from the Other Side of the Glass) with One Eye, Close to, for Almost an Hour (1918), his kinetic sculpture, Rotary Demisphere (Precision Optics) (1925), the wooden objects of his 3 Standard Stoppages (1913-1914) and his oil and pencil on canvas Network of Stoppages (1914) demonstrate the Frenchman's vaunted range. In these quirky works, it's as though meaning is excised from the objective world. For instance, in 3 Standard Stoppages, Duchamp challenges the French metric system as an intellectual construct rather than an universal absolute by undoing the metric standard through a random placement of three meter-long threads. In Network of Stoppages, he complicates that idea, by reproducing each one of the three threads three times and positioning them in a diagrammatic arrangement on a previously used canvas (a sketch for his ongoing The Large Glass). By painting over the threads and the images of a female figure and a somewhat mechanical drawing from the earlier work, the visible and semivisible layers oppose three systems of representation: figurative, chance, and the diagram, which maps the world without picturing it.
The Russian wall, a tribute to the earth-shattering 1915 exhibition 0,10: The Last Futurist Exhibition of Painting, where Malevich introduced geometric Suprematism to Petragrad, and so the world, is a show in and of itself. Dickerman and assistant curator Masha Chlenova went to great lengths to bring together the original works to recreate as close as possible the original wall, including the iconic Painterly realism of a boy with a knapsack color masses in the 4th dimension, White on White and Self-Portrait in Two Dimensions. Placed opposite French-born Romanian sculptor Constantin Brancusi's oak Endless Column, version 1 (1918), consisting of a single symmetrical element, a pair of truncated pyramids stuck together at their base, then repeated to produce a continuous rhythmic line that suggests infinite vertical expansion, it offers one of the most arresting views of the exhibition.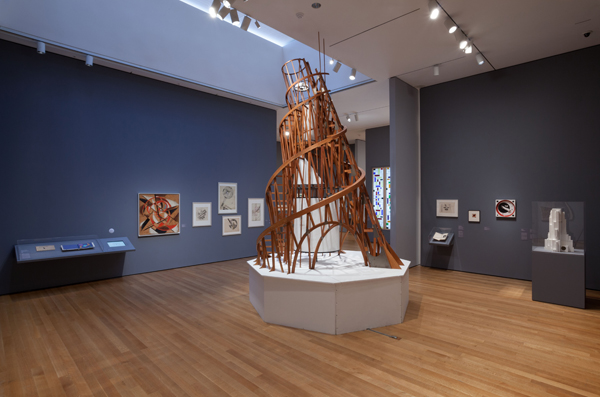 Exhibition view of Inventing Abstraction, 1910–1925. Photo by Jonathan Muzikar. Photo courtesy of The Museum of Modern Art, Imaging and Visual Resources Department.
And just around the corner looms a model of Vladimir Tatlin's staggering Monument to the Third International (1920) a work whose original-yet-unrealized plans called for a structure taller than the Eiffel Tower and made out of steel and glass to show the transparency and modernism of the new Soviet party. Still, anchored confidently among El Lissitsky's cathedral-like Prouns, MoMA's scale model, itself is a soaring temple to the future, and a near-religious experience to behold, which could be said for much of the exhibition itself.
In many ways, Inventing Abstraction is a sequel to one of the first and most famous of the types of exhibitions for which MoMA is so well-known: the pioneering Cubism and Abstract Art show mounted by Alfred H. Barr Jr., the museum's founding director, in 1936. Barr's show covered some 50 years, from Cézanne to Surrealism. Dickerman's is tighter yet also more ranging, including early dance films and recordings of poetry and music into the galleries. Another difference is that she also included American artists (Hartley, Morgan Russell, Arthur Dove, Georgia O'Keeffe, Paul Strand), and increased the numbers of British and Italian artists and women.
Dickerman also places new emphasis on abstraction as a collective endeavor that emerged simultaneously across several art forms, from artists and intellectuals who knew and influenced each other. The story of the origins of abstraction is about relationships, of collective participation. The network through which abstraction spread is suggested in a diagram, made with a nod to the famous chart that appeared on the cover of Barr's catalog for Cubism and Abstract Art. Visitors are confronted with Dickerman's own diagram before they enter the Joan and Preston Robert Tisch Exhibition Gallery. Vectors link individuals who knew each other, suggesting the unexpected density of contacts among the movement's pioneers, by turns casting shadows and throwing light upon those who claimed to have invented abstract art.
Kevin Kinsella is a writer and translator (from Russian) living in Brooklyn. His latest book, a translation of Sasha Chernyi's Poems from Children's Island, is now available through Lightful Press.
Tags: