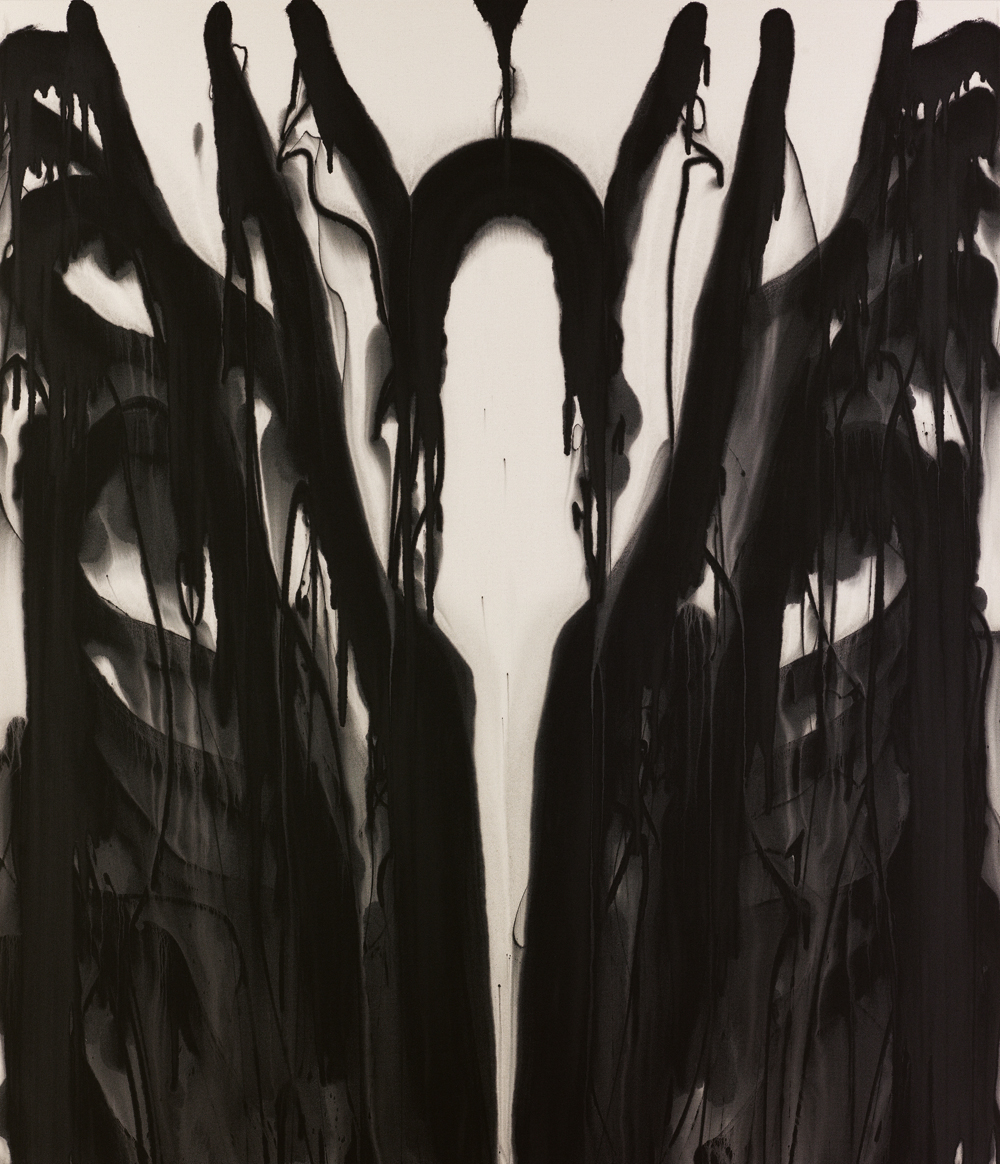 Number 192, 2010, acrylic on canvas, 84 × 72". Images courtesy the artist and Steven Sclaroff, New York City. Photos by Tom Powel Imaging.
In the 1970s there was a little record shop in Claremont, California, where Christopher Deeton grew up, that somehow included in its stock a steady supply of LPs by new German bands. (The shop eventually evolved into the Rhino Records label.) At a time when few Americans were listening to German experiments in drone-based electronic music, Deeton became obsessed with the early recordings of bands such as Can, Neu!, and Kraftwerk. This was long before technology made nearly every type of cultural production, past and present, available in a few clicks of a computer mouse. Back then, it was a matter of patient searching and blind luck; you sought out the things you needed, but you were also shaped by the things you stumbled upon.
I suspect that Deeton's passion for German electronica grew out of his experience as a teenage bicycle racer in the US and Europe. His time racing in Italy, Holland, West Germany, and Belgium opened his eyes to European culture, while the sensation of racing itself made him especially susceptible to the motorik rhythms of Neu! and Kraftwerk. (The krautrock-bike racing connection was subsequently made clear when Kraftwerk released their song "Tour de France" in 1983.) The other resource that Deeton stumbled on—after he "retired" from racing (at the age of 19) and was supporting himself by working at a bike shop in Claremont—was the art section of the local public library. There he began to systematically absorb everything he could, poring over book after book of art history, constructing his own archive of images and visions, from old masters to abstract expressionism. As he was informing himself about the art form he was committing himself to, there was one crucial contemporary element that was missing. "No one ever told me that painting was at an end," he recalled to me recently. Claremont also offered Deeton another important resource: José Clemente Orozco's mural Prometheus at Pomona College. I wonder if Deeton's deep faith in the power of painting was influenced by the fact that this epic fresco was the first major work of art he ever saw in person.
Maybe Orozco's depiction of the fire-stealing god also planted seeds for the bilateral symmetry that dominates Deeton's recent work. Eliciting beautiful tonal nuances from black paint alone, Deeton uses symmetry not to riff on the legacy of Morris Louis, but to devise a new iconography and a new technique—despite appearances, his arcing bands are not poured à la Louis but laid down with a paintbrush. Evoking the mirroring structures that pervade the natural world as well as suggesting the more remote symmetries of particle physics, Deeton's paintings unfold like butterfly wings and loom up like Gothic gates, at once pulling the viewer in ever deeper and marking the magical frontier between two realms. The latest in a long line of artist-alchemists, he sees his paintings as the result of "discovery" rather than "invention"; they are, he says, "the physical manifestation of something that exists elsewhere."
— Raphael Rubinstein is a New York-based poet and critic, and professor of critical studies at the University of Houston.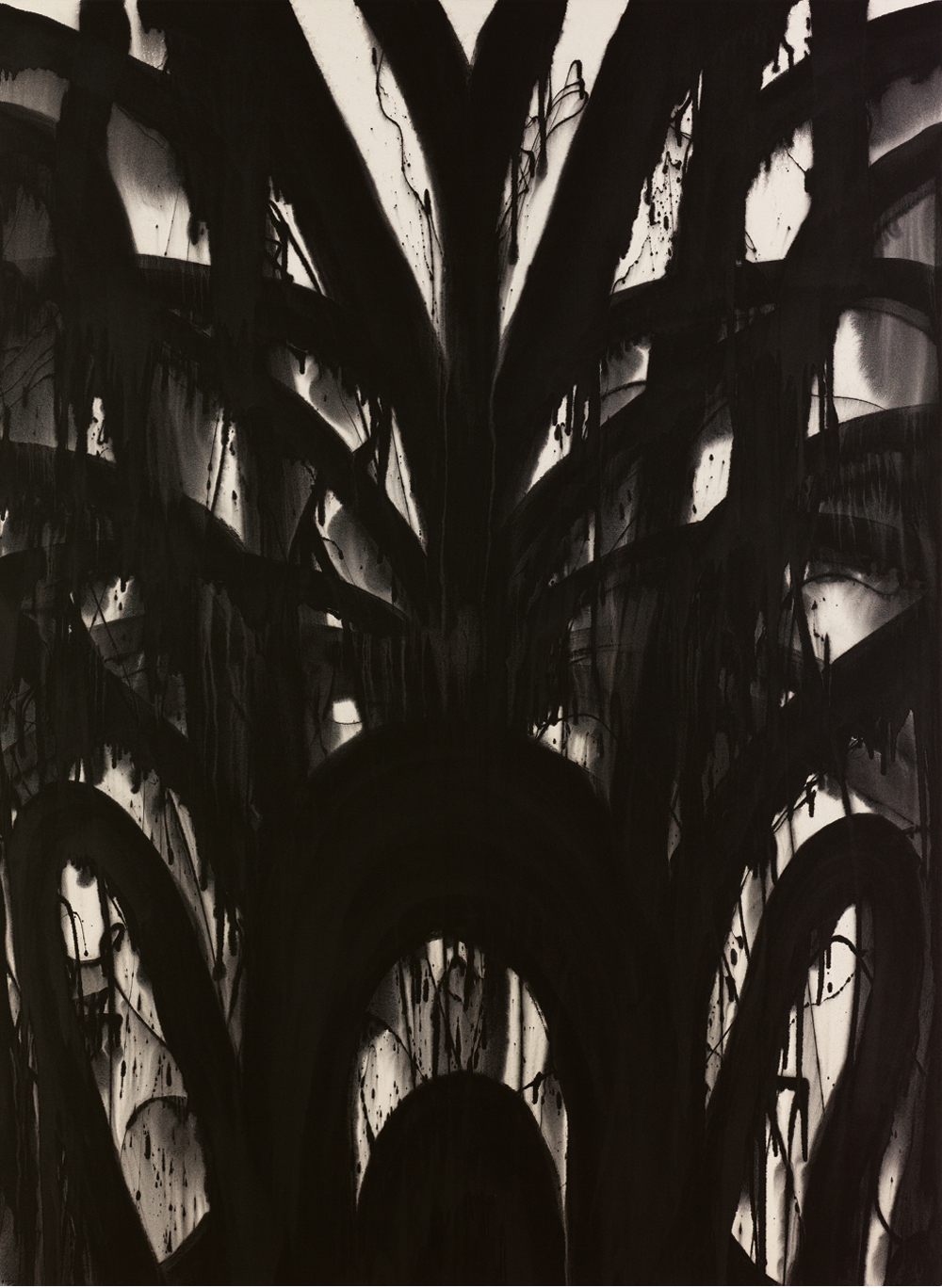 Number 178, 2010, acrylic on canvas, 108 × 80".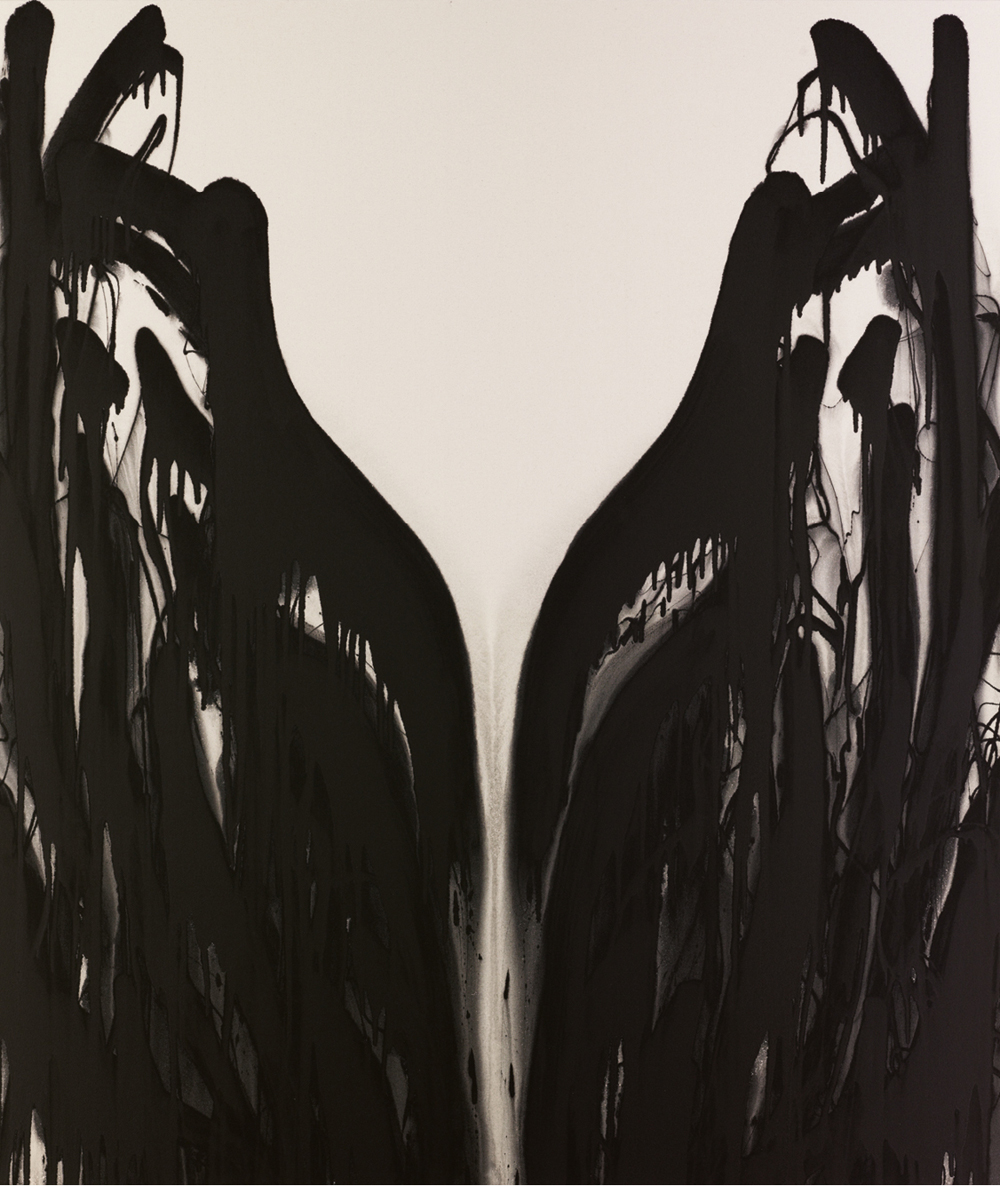 Number 193, 2010, acrylic on canvas, 84 × 72".