Sit . . . stay!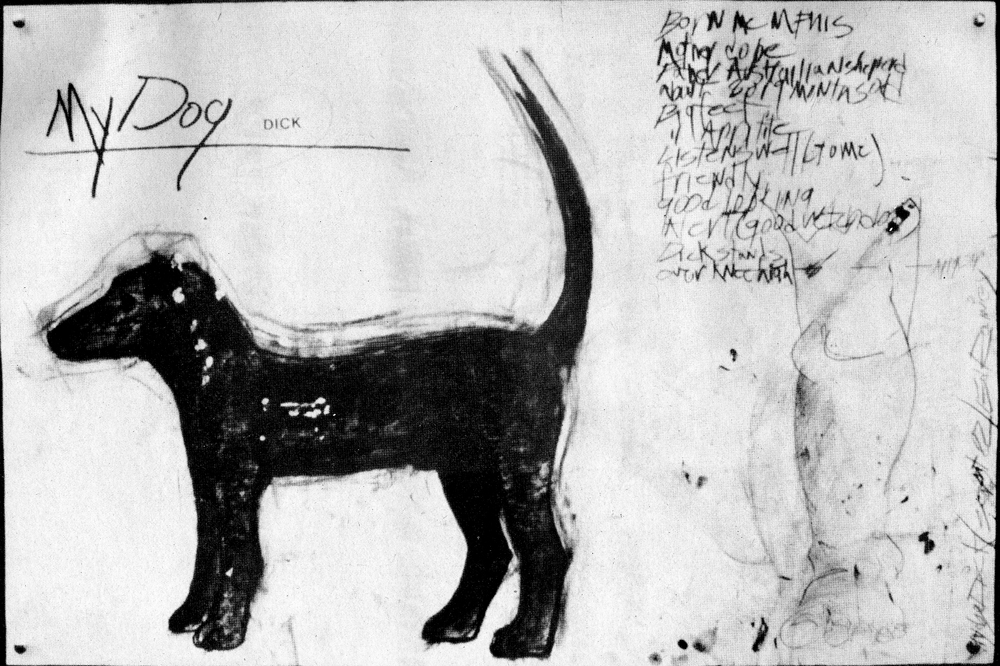 Ed Rainey, My Dog Dick, mixed media on paper, 24 × 36". Collection Damon Brandt.
FRIDAY
Camera master, Christopher Sullivan, is in the house! The Film Forum house that is. Snag a seat next to the man himself at the 6:30 screening of his latest film, Consuming Spirits –A hilarious, spooky, animated dystopia, 15 years in the making.
Keep your tails wagging––the highly anticipated adaptation of Jack Kerouac's On the Road is playing at the IFC Center, tonight! Get there early and catch director Walter Salles in-person introduction.
SATURDAY
Take a wild ride– Desire![A Varsouviana] plays tonight at Less Than Rent Theater. Adapted from the journals and plays of Tennessee Williams, this indie play is "a heart-stopping, pill-popping remix of Tennessee Williams's sexiest play." For more info click here.
Kick back this Saturday and discover emerging poetry and hip hop talent at the legendary Nuyorican Poets Caf?. Words: Hip Hop & Poetry Showcase has featured in the past Willie Perdomo, Reg E. Gaines, Danny Hoch, Saul Williams, Suheir Hammad, among many more!
Is the notion of the artist salon relevant today? Pati Hertling answers and tells you why via New Museum's on-going public forum event Propositions. Don't miss Hertling fascinating account detailing its continued relevance today. A must for all artists!
SUNDAY
Be like your favorite four-legged pooch and fetch a deal: it's two films for the price of one at Film Forum. Check out the screening of Claude Lelouch's A Man and a Woman and My Night at Maud's from the ongoing Jean-Louis Trintignant series. New York Program Director for the Academy of Motion Picture Arts & Sciences, Patrick Harrison will introduce the films.
You deserve a treat! How about a dance party for an awesome cause? Come join the fun at Santo's Party House featuring Ick Ralph, S & M (Shannon Cane & Matt Connors), Spencer Sweeney, Matthew Higgs, and many more. Proceeds will benefit Hurricane Sandy stricken non-profits, The Kitchen, Printed Matter, and Primary Information. Doors open at 9 PM.
Wind down your artsy weekend at home and check out Aaron Brookner's restoration project–the 1983 Howard Brookner film, Restoration of Burroughs: The Movie .