Barbara T. Smith takes us on a journey through her life—from 1950s housewife to 1970s radical feminist, and on to her current work at age 81.


Birthdaze Sequence, 1981. Photo courtesy of Daniel Joseph Martinez.
I've known the work of Barbara T. Smith for decades. In 1978, she performed in my downtown LA loft as part of an evening of performance sponsored by the feminist organization Double X. Recently, she's come back on the scene with a substantial show at Maccarone in NYC in 2008, an installation of videos included in the recent WACK! Art and the Feminist Revolution show at PS1, and, as part of the Getty's Pacific Standard Time, a provocative show at UC Irvine called The Radicalization of a 50's Housewife. The Getty show emphasized how inseparable Barbara's work is from her life, and included family photos, taped interviews, reconstructed artworks, and documentation of previous pieces. The exhibition was incredibly moving, a wrenching portrait of the courage and evolution of a determined woman artist coming of age in the Los Angeles art scene of the 1960s.
The beauty of the young woman in the photographs at the Getty was startling. This was Barbara T. Smith, a self-described isolated Pasadena housewife with three children. Eager for adult conversation during the day, she had begun to volunteer at the local art museum in Pasadena, which just happened to be one of the world's most avant-garde venues. Walter Hopps was at the helm, mounting a retrospective of Duchamp, and the first large-scale American pop art exhibition. Smith found herself flooded with ideas, and then began to realize them. These ideas were the genesis of ambitious, intellectual pieces that redefined the art of the time. Barbara trusted her instincts, her friends, and the resonance of a spiritual awakening that struck her suddenly and vibrantly in 1960.
None of this was easy; there were enormous and painful consequences to the changes Smith was making in her life. Her marriage ended in a scarring divorce, a nightmare scenario in which just the fact that she was a female performance artist was enough to malign her character and capacity for motherhood. Barbara lost custody and didn't see her daughters again for 17 years. Still she moved forward, more deeply into her work.
Barbara is now 81. I interviewed her in her home in Venice, CA, which she has just sold. The place was full of positive vibes, bright colors, and young roommates who clearly look out for the artist.
Mary Jones Preparing for this interview, I noticed that younger artists know more about you than older artists.
Barbara Smith That seems to be true, over the past two years I've been in eight or nine shows sponsored by the Getty, and young artists have come up and told me they've studied my work.
I started making art very late. I was already 38 years old when I went back to grad school in '69. I'd already been married for 17 years and had 3 children. I'm basically a generation older than my peers.
MJ: Can you talk about the spiritual awakening you had in the '60s. Did it happen in one day, in one instant? I'm amazed at how much you trusted and acted upon the experience.
BS: It's not like I could have possibly done anything else, because I was taken over—flooded with art ideas and a completely different way of seeing—and a feeling of extraordinary gratitude, so much so that it's hard for me to remember how I used to see. It was amazing.
It was a consequence of the psychotherapy that I'd begun, in part after suffering from post partum depression. I had a great therapist. He was a feminist! Most of his patients were highly educated women who lived out in suburbia and were completely isolated, like in a culture prison of some kind. He gave me Betty Freidan and Simone de Beauvoir to read, philosophers like Alfred North Whitehead, and theologians, too. It was really profound, and we'd talk about the ideas in the books. Then we went into the experiences of my life and it was revelatory, seeing your own life and how it has been constrained, and the cognitive dissonance that comes up when your upbringing confronts the reality that you're in and it doesn't compute. It was very challenging and went on for a couple of years. My father died suddenly three weeks before my first son Rick was born. A simultaneous birth and death. I felt so much conflict. My father had been the cause of my psychological trauma and I'd never straightened anything out with him, and I knew it was a problem.
MJ: You've said in previous interviews that he attempted to control your life.
BS: There were fights about a boyfriend that I had, and [my parents] broke me down and sent me off to Pomona college, which was a great school, and I'm lucky that I went there, but it was to separate me from my boyfriend. I was seriously depressed my first year, and I also got involved with the man I married, while all of this stuff was hanging in the background still unresolved.
During my marriage I'd make a Christmas card every year that we'd send out to everyone. Once I made a drawing of my daughter Katie followed by three poems that I wrote, very short, almost like haikus. They had very little to do with Christmas. I wrote the words "I will be who" in the last line of one of the poems. That started something. I found myself writing and I couldn't stop. I realized, there's a whole story writing itself in my head and it's like a fable, an allegory of my life. I knew this was important. I went to my shrink right away and he had me read the poem to him. He was sitting with his back to me. When I finished, he turned around and he was crying and he said, "analysis terminated." From then on everything changed.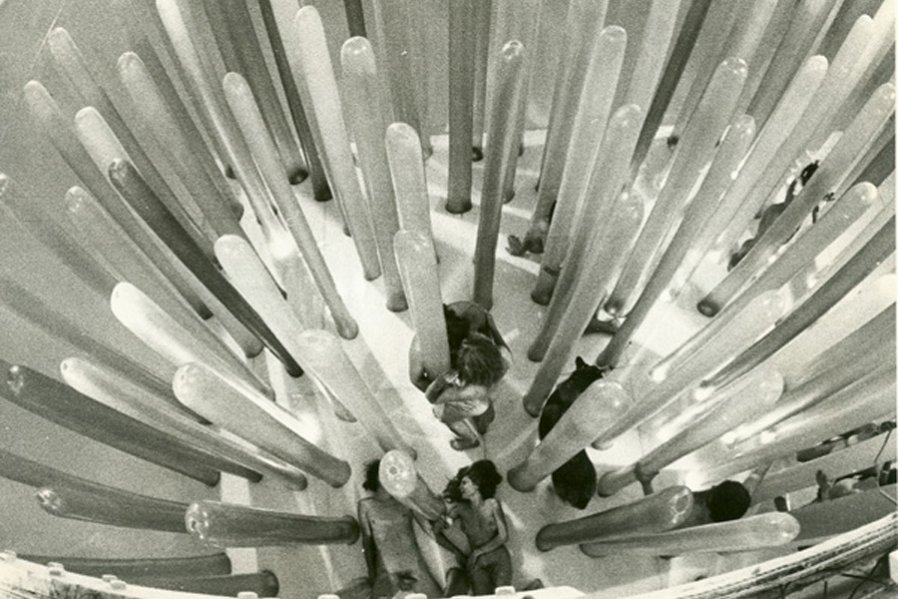 Field Piece, 1971 (overhead view at Cirrus Gallery). Photo courtesy of Boris Sojka.
MJ: This gave you enormous courage?
BS: No! It had nothing to do with courage. It was a phenomenon and I simply saw reality differently. I was amazed by how everything is in order. Everything. And I was awestruck by the simplest things. I remember seeing the red curbing, which had been recently painted; I was stunned by the beauty of the red. It brought tears to my eyes.
By this time I'd begun working at the Pasadena Museum. I had this great education. I'd already been writing essays for the local newspapers, and had seen all the great shows that were happening, and I fell right into the most avant-garde place I could possibly be at the moment. Walter Hopps and Tom Leavitt were showing things that were not seen anywhere else. The first pop art show in the world was there; I met Duchamp at his show there. I met other artists to whom I didn't have to explain myself.
MJ: It was very striking to me how beautiful you were. I thought of Hannah Wilke and Carolee Schneemann, other beautiful women whose work using their bodies was controversial, even among feminist critics at the time.
BS: I feel that the men around me had a double standard. For example, Carolee talks about Allan Kaprow being a fan of hers, but he talked to me about how she was just using her body. It was fairly dismissive. And for Hannah Wilke, the same thing. Carolee used her body as a repository of a great energy vortex—she used the word vortex—of the creation of reality, truly. This energy comes from this powerful feminist body that is the source of everything.
I wanted to make an intellectual and spiritual statement: my body is the vehicle, but it's totally innocent, it has nothing to do with being seductive. I think that's really important. There is an innocence about a person, a whole person, who happens to have a female body and happens to be sexual, spiritual, physical, everything, and that's my body.
MJ: How would you describe this to a young artist starting out today?
BS: Everything is in tremendous flux, and is being reevaluated. From one point of view, I can't believe I did what I did. I was following this trajectory of spiritual insight, transformation, and the calling that came from that experience. This led to some of my earliest pieces, like the xeroxed books done at home, before my divorce. Part of it was play, an investigation of a medium that was new. It was compelling to work with this big machine in my house. I thought, I'm not telling the artwork something, it's telling me that I'm dealing with something profound with my children: it's as if I'm saying goodbye to them.
MJ: Did you know on some level?
BS: I didn't want to know. I was changing so rapidly, and my marriage was inflexible. At the Pasadena Museum I was being recognized as someone who could talk the language, and it was so rewarding. I went back to Chouinard for a year because I thought my ideas were interesting, but I didn't want to be self-deluded. I wanted to study for a year and test my ideas.
MJ: It's well known in your biography that your divorce was very bitter and that you didn't get to see your daughters again for 17 years. I was also terribly sad to learn that you lost your son Rick to AIDS in 1997.
BS: Right.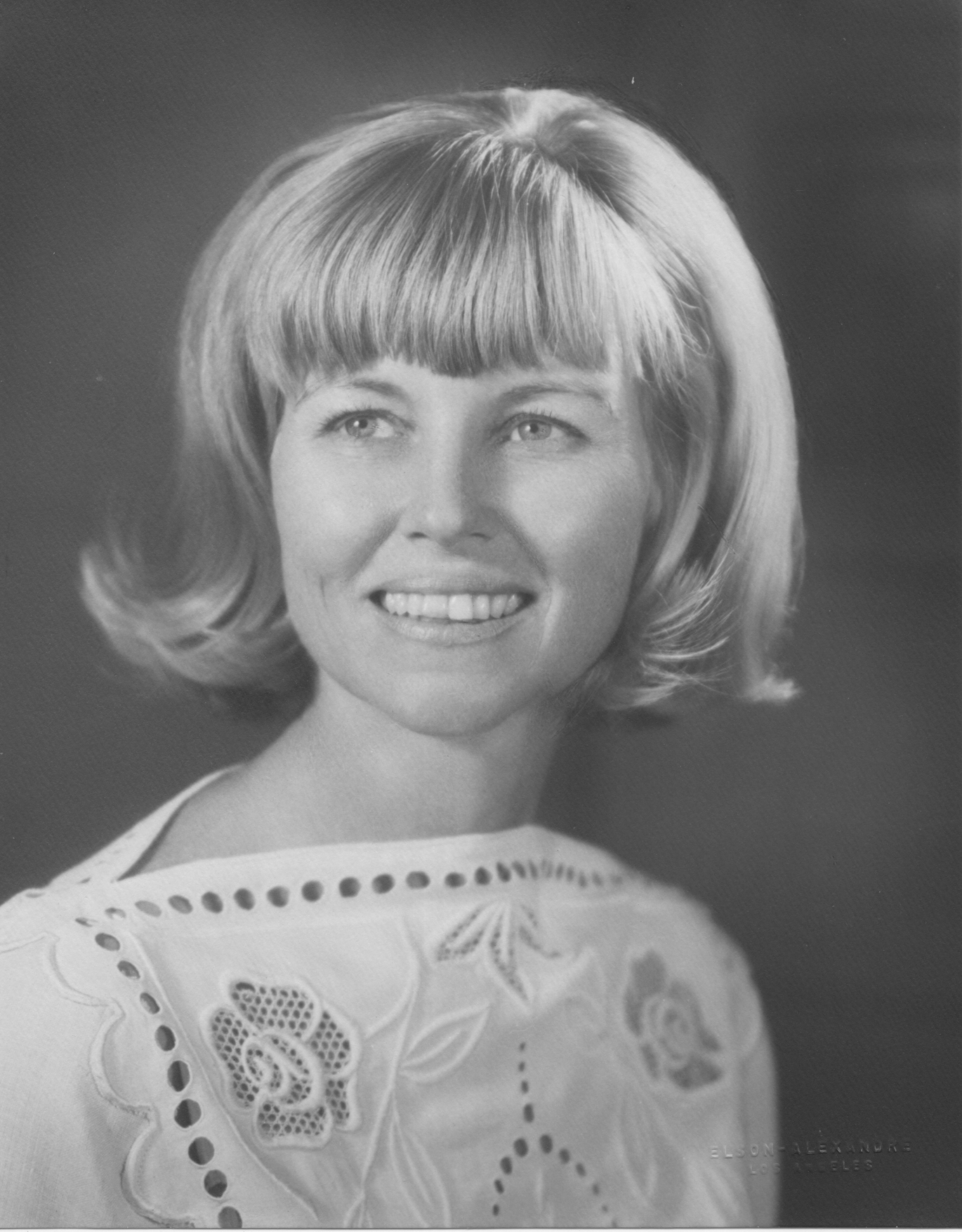 Barbara T. Smith around the time of her marriage, 1951. Photo courtesy of the artist.
MJ: I'm impressed by the stark contrasts of the roles men and women have played in your life. For example, all of your teachers were men, your psychologist was male, the judge in your custody case, and your mentors, were often influential men. Yet your early black glass paintings were rejected by your former colleagues, the docents at the Pasadena Museum, a group that was all women.
BS: I knew them all, and I knew that in no way could they understand these paintings. I was so hot to make these perfect paintings, and I wanted them to be so beautiful. They are various nuanced shades of black, with glass on top; they're very reflective, like mirrors.
As soon as the female jury left my studio, I went into a rage and began to smash a large piece of plate glass that I'd used to test my paintings into hunks. As I was doing it, this phrase came into my head: "Julie you will live forever." Julie's my daughter. I don't know why it happened, but I suddenly saw my Field Piece.
MJ: I saw the Field Piece as phallic. But I also felt you were creating an Eden, a place of innocence, or a place without shame.
BS: But it's not phallic, it's grass! No one ever sees it that way! But everyone teased me about it being phallic.
MJ: It bothered you that it was read that way?
BS: Oh yes! I can understand that reading, and now I can laugh at it. For me, it was about infinity. The black paintings were about framing literal reality and reflection; the Field Piece was about something else. Grass grows everywhere, you can't stop it, and the sun shines on it evenly everywhere. To capture that power I made the piece very big—about the size of this room—and barely manageable.
MJ: You put all your alimony money and your divorce settlement into this piece. You gave it everything that you had, and more.
BS. Yes. I started it in '68, and it took four and a half years. I remember sitting in my studio and a bunch of the guys were there, and I was talking about all the ideas I had. They told me that I couldn't just do everything, that I had to choose one thing and ride it out, the way Larry Bell or Billy Al Bengston were able to follow an idea laterally, to use every permutation before moving on. I decided to take on the biggest, hardest idea I had, and that was the Field Piece. In a way it was arbitrary, but once I got into it I thought I'd never get out. Bruce Nauman came over and said, "Oh man, why didn't you just go have this fabricated?" That had never occurred to me! The piece was shown partially at F-Space, in full at Cirrus Gallery in '71, and at the Long Beach Museum in 1972.
All this time other things were going on. I sold my house. I was moving in and out of various studios and doing performances. It was like starting a factory, working on the Field Piece. I had to employ and pay people. It took a whole year before we could even figure out how to get the parts to separate from the mold. But I just kept on. It would have been terrible to quit. My husband, who was supposed to pay me about $700 a month, stopped paying me soon after the divorce. I had gotten half of our investments too, and I was selling them in order to fund this thing. Finally I had no money at all, and no energy. I was completely exhausted. This was right around the time of the Art and Technology Show at LACMA in 1971.
MJ: Were there any women in that show?
p(a). BS: No. I made a proposal for the Field Piece, but they didn't deal with it.
MJ: Birthdaze touched on three stages of your life and work. Can you talk about this?
BS: I'd been living in a studio in downtown LA trying to write a book. This was right after my mother died, and I had been taking care of her. I needed to get away, and I took an invitation to stay in a house in the Altadena foothills. I'd been involved in Buddhism and meditation, and had been teaching in the masters program of the Humanistic and Transversal Psychology department at Redlands University. The entire faculty was taken to workshops out in Sky High Ranch in the Lucerne Valley, led by Brugh Joy, who was known for his spiritual and transformational work. I'd been there twice, for a week or two each time, and had these dynamite spiritual experiences, huge breakthroughs.
Up in Altadena, I started to work with his colleagues, Jack Zimmerman and Jacquelyn McCandless. Jacquelyn picked up on the fact that one of my gifts—and one of my problems—is that I don't have many boundaries. That's one of the reasons I've had problems in my relationships with men. I don't know if you know chakras, but if you do, mine are wide open.
I'd gotten involved with a man, a car mechanic who'd been hustling me, and I was turning 50 and he was 35, much younger than me. But we had this incredible experience on a sexual level, way more than anything that I'd experienced before. My entire body was energized. It's hard to describe, but it was completely amazing. Basically, we had the kind of energy that Tantra is about.
Hearing me talk about it, Jacquelyn had a dream. A lot of her clients were men who were sexually functional but were only lust driven, and locked in. They needed a hit, something to take them to another level. She suggested I do tantric rituals with these men. She thought I could initiate them to another level. (In Tantra, the initiator is frequently a woman.) It was a serious challenge and, in principle, a great idea. I actually did the ritual with several clients, the first person being a psychiatrist. It was a wonderful time, and I set up this beautiful ritual, kind of like the one you saw at the exhibition, "The Radicalization of a 50's Housewife." At the time I was in a state of transcendent love. I was in love with everything, and that's necessary for a tantric ritual: you can't objectify and you can't grasp. It's a total gift, and it's detached. Around my birthday, I had a chance to be in a show. I was going to be 50, a landmark birthday; the good news was that I was having great sex, and on a completely different level! Like the Feed Me piece: not only was I in charge, this time I was the initiator, the teacher—a spiritual, sexual teacher.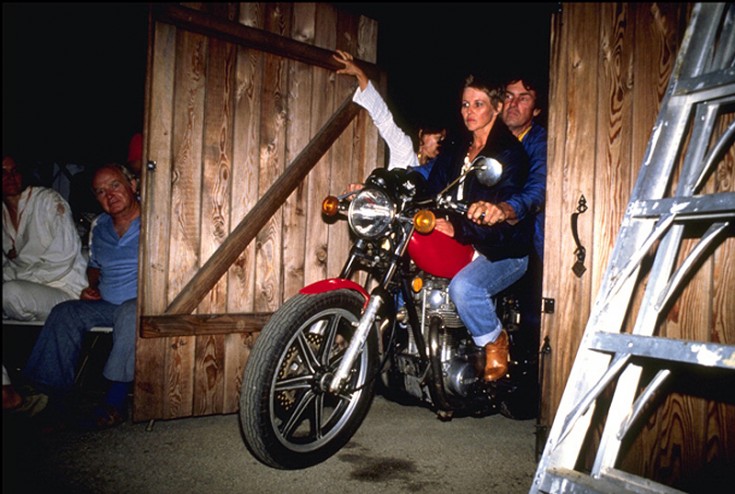 Birthdaze, 1981 (Entrance, Second stage). Photo courtesy of Daniel Joseph Martinez.
MJ: How did you choose Vic Henderson as your partner for the piece?
BS: I could only think of two men who had performance experience and weren't in a relationship, because this is challenging to a relationship. Both men agreed, and I was very touched by that. Vic had more time, so I chose him. Vic and I spent a long time preparing: we went and camped out in Joshua Tree for a while and did some energy work together for a while, and then just before the piece we fasted for five days.
MJ: How did you use your personal history in this piece?
BS: This was a culmination piece. There are three stages. The first stage is about being conventional and married, trying to be a proper lady. I was wearing all the nice gloves and hats that had been my mother's. Then Paul McCarthy and Kim Jones start chasing me around with dildos and whatever. They're horrifying to me, to this proper version of myself, and I exit the space.
The second phase is about my involvement with two different kinds of men: Dick the motorcycle racer, a very physical man, and Allan Kaprow, this wonderful intellectual with whom I have a deep connection. Each lacked the qualities of the other that I needed. I couldn't commit to either type, and I was constantly being pulled back and forth. Working on the piece, I realized I had all these guys around who had dealt with the Vietnam war, like Kim and Paul McCarthy. They'd all had remarkable experiences, some beautiful, some brutal. I interviewed and recorded each of them and I began to see ideas of war and patriarchy affecting their lives, as they had mine. At Vromans bookstore in Pasadena, I happened to pick up a book about the lives of the saints, and reading about St. Barbara, I felt it was just like my story. It's basically about a father who wants to keep his daughter away from men, her escape, her trial and torture at a pagan court, and her refusal to recant.
So in the second part of the piece, I come in on a motorcycle with Dick. (The actual people from my life are in the piece.) There's a bed in the middle and I go back and forth between the two men who represent two kinds of relationships, and this text is going on about going to war and getting your legs shot off etc—things taken from my interviews, and the St. Barbara story. A gun goes off and I stop the piece. I don't want to play this game anymore. And then I go find Vic who's been there the whole time, watching in the background.
In the third stage, I bring four women and four men together to represent my idea that men and women can't change each other—that they must heal themselves individually. Then Vic and I go into the third room, representing the new stage I was moving into, where we engage in an actual tantric ritual. Women are chanting in the room and a film we've made ahead of time is in the background. The idea is that it's a vertical spiritual relationship. In spiritual lore it's called "as above, so below" so that you get into harmonious alignment with the way things are on higher energetic planes.
MJ: It seems that this show was off the bell curve in terms of feminist performance of the time. Did you feel it was understood?
BS: I don't know. There was all manner of response. Emily Hicks wrote about it for Artweek magazine, and one outraged reader cancelled their subscription. But I could understand why some were completely floored by what I'd done.
But I didn't have much to say about feminist politics; it was about my personal evolution, it was me integrating myself, and it had to have a result. I never again got into a polarized relationship, or was pulled between two men. So it must have been real.
MJ: Are there any other major pieces that you want to talk about?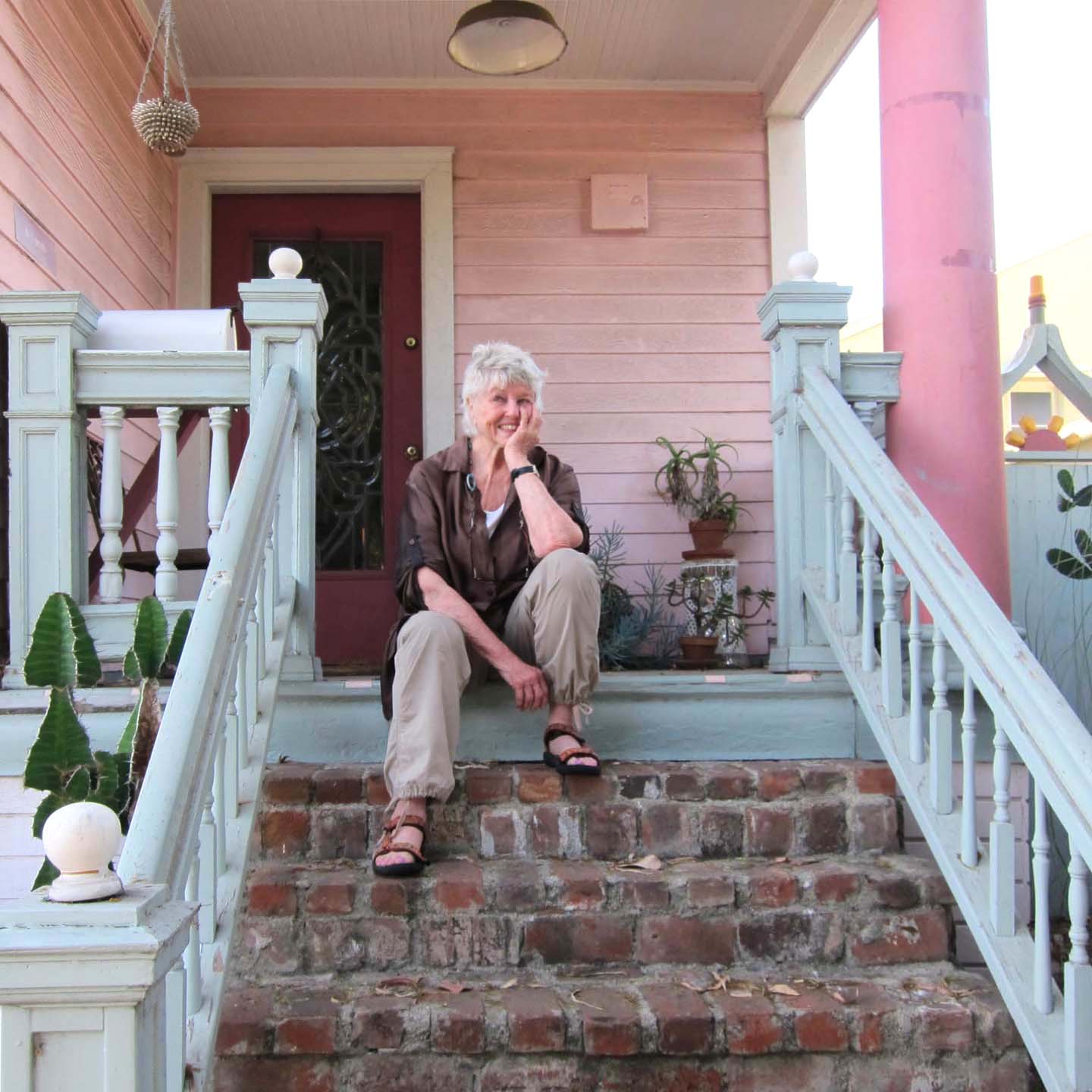 Barbara T. Smith at home, 2012. Photo courtesy of Mary Jones.
BS: In 1990 I began a piece with Roy Wolford, The 21st Century Odyssey. Roy was a scientist at UCLA, and was involved in the Biosphere 2 project. I was going to travel around the world creating performances, and Roy would have a video phone inside the sphere, where he would be sealed in for two years. We would triangulate events. I'd be Odysseus and he'd be Penelope, as he was the one trapped at home, and I was the one out gallivanting around the world—the one who was being taught a lesson.
And I definitely was. I couldn't believe I couldn't get any funding, it seemed like such an interesting piece to me. Roy put up $30,000 and I went into debt for this piece. This was before all the technology that's commonplace today. I had to take all this complicated electronic equipment with me, that I hardly knew how to use, and all this equipment made up half of my luggage. I traveled for five months, from India to Nepal, Thailand, Australia, and Hawaii, and spent all of the money.
Then I had to make some money to continue. I came home and gave some lectures. I made hardly anything, but enough so that I could go on to Europe. I couldn't go to any more third world countries, because now I had to stay with friends. We went to England, Germany, and Norway.
All this time I was involved with Roy, and we weren't getting along. I wanted him to be romantic; this was a romantic endeavor to me. When Odysseus gets back to Penelope, the gods stopped time for them to have two days of lovemaking. This did not happen for us. I spent six years and a ton of money, and I had a whole crew back here taking care of the house, and I had to face the fact that it wasn't working. In fact, verbally we'd already broken up, which meant that it became fake to pretend we were lovers.
Norway was the apogee of the piece. There's a part of The Odyssey where Circe sends Odysseus into the underworld to meet his dead ancestors, and in Norway I thought, That's what's happening to me! I'm in my own ancient past! (My family is Norwegian.) I learned about their gods, like Odin, who ties himself up to the tree Ygdrasil, the Cosmic tree. We finally get to this big ash tree, and they tie me to it. It's a whole episode with different characters, but what's going on for me, and this is very painful, is that I have to give up control of this piece. This giant two year long performance piece failed! And as they tie me to the tree I realize it's completely out of my control. That was the end of a part of me—the romantic idea that most women have about meeting this great person who's going to be the love of their life. It wasn't that the relationship ended. That idea is gone.
MJ: That's a good place to end. I'm going to take your picture now. This is for NYC. Don't smile.
BS: I'm definitely a California artist.
Mary Jones is an artist in NYC, a Senior Critic at RISD, and an adjunct professor at SVA.
Tags: