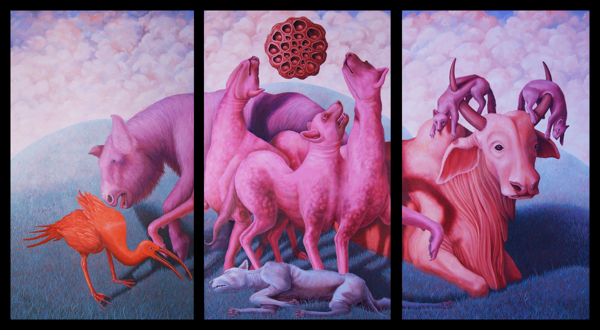 Evan Lovejoy, Papro, Zobro, and Ibos, oil paint on three canvases, 60 × 108 inches. Courtesy of the artist.
Vigil
Her body small
& fastens mine—


Her hands lick &
make flight,

No,

I want this precise…


Just now a Sunday.

I convey this self
into my elder self—


April now like June.

* * *

A key of divinity—

What rabbit trick
before the atheist.


At the Easter table
what preparedness.


(I believe) if light
creates—

Or milk
floods a mouth or…


Or when she stands
becomingly, ready

& walks her own
down an aisle, oh…

* * *

If there exists a god

(he doesn't)

I'm sure
to be properly cast

from this reverence—


A body's tooth has
risen to be known

(her first, her own).

Marvel the corridor
my girl will thumb.


So far, an infancy.
Carnival
The robin veers her
path—

Early worms
& birds jog sideways.


My daughter learns
her second tooth—


Her months number
five—
Perched chest
the curiosity, if ever.


Menagerie of hearts,
hers & mine & ours.

* * *

But later the pigeon,
crumpled thing limp
at the curb—

True,
I worry what happens
now, once I'm gone.


How gently I might
put the glass down.


Grounding, ground,
grounded more or
less...

(Much less.)


Under what authority.

* * *

Under rain relinquished
long enough for a walk.


Yes, we do a swell job
ignoring one another.


After all—

the music
heard inside the tent
belongs to our mouths.


How do I undo these
things—

Any one of us
could drop all our coins.


A current or a currant.


O this shooting gallery.

Michael Robins is the author of two poetry collections: The Next Settlement (University of North Texas Press, 2007) and Ladies & Gentlemen (Saturnalia Books, 2011). He teaches literature and creative writing at Columbia College Chicago.
Evan Lovejoy is an oil painter, printmaker, and drawer from the United Kingdom who has been residing in south Florida since 2001. He has worked in varying capacities with artists such as painter Janaina Tschäpe, installation artist César Cornejo, and painter Gale Fulton Ross. Find more work by Lovejoy here.