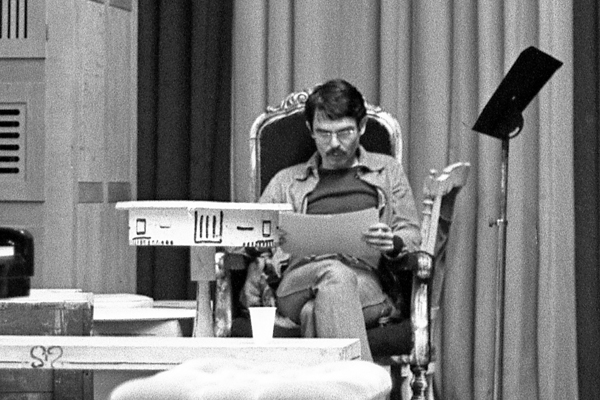 ​
Photo by Guy Schraenen. Courtesy of Alga Marghen.
Alga Marghen, 2012
Although the dematerialization of the artwork inevitably led conceptualists to deal in and with words, in the North American and European contexts conceptual art and poetry seldom overlapped—the works of Marcel Broodthaers, Robert Filliou, and Vito Acconci being notable exceptions. Luis Camnitzer has written that in the Latin American context, however, conceptualism was "a movement that forced literary sensibility and experience into the visual arts," one in which the use of tautology, a strategy commonly favored by their North American counterparts, promoted "imagination more than analysis."
The late Ulises Carrión (1941–1989) is perhaps Mexico's most important conceptual artist. Although he eventually became involved in mail, video, and performance art—in addition to making books and running the bookshop and exhibition space for artists' books and multiples Other Books and So in Amsterdam—, his early body of work was situated precisely at the intersection of conceptual art and poetry. Unless you're an avid follower of artist-book culture, you've probably never heard of him. Prior to a retrospective at the Museo Carrillo Gil in Mexico City in 2002, only a handful of people in literary circles knew of Carrión for his competent but unexceptional short-story collections La muerte de Miss O (1966) and De Alemania (1970).
Carrión broke with Mexico as abruptly as he rejected literature. One day, after relocating to Amsterdam in the early '70s, he decided to distance himself from literature and give away all of his books. Yet it was his passion for the book as object that prompted him to toss out his library—comprised of "old books"—and write the 1975 manifesto "The New Art of Making Books," in which he extols the virtues of the book as a three-dimensional medium and convincingly refutes the idea of its being an accidental container of literature: "A book is not a case of words, nor a bag of words, nor a bearer of words." Arguing that if in the "old art the writer writes texts [ . . . ] in the new art the writer makes books," Carrión urged writers and artists to take advantage of the possibilities that new printing technologies such as the mimeograph had to offer, to bypass the market, and to form alternate distribution networks by fostering communities of likeminded practitioners.
A propos of words, Carrión wrote in a typically anti-literary essay: "Printed words are imprisoned in the matter of a book [ . . . ] This sounds better in Spanish, where 'printed' is impreso and 'imprisoned' is preso. I don't regret that loss. Playing upon words is a typical lyrical device and therefore I reject it." This quote would make you think he shunned playing with words, though that is exactly what his sound poems do, while avoiding semantics and resorting to tautology, with a twist. In his books and sound poems—recently reissued on vinyl by Alga Marghen after being released on cassette tape in 1977—he liberates words from the burdensome task of functioning as "mouthpieces for the soul" and conveying the author's unfathomable intentions. For him, "the author has no other intention than to test the language's ability to mean something."
After listening to sound pieces such as "Three Spanish Poems," uttered in Mexican child speak comparable to Pig Latin, you can't but help but wonder if the poet's tongue didn't have the last word: "Sipi quieperepes ipir apa Mépexipicopo tiepenepes quepe topomapar epel aviópopon. Tiepenepes quepe copomprapar upun bopolepetopo ypy tiepenepes quepe epestapar apa tiepempopo epen epel aeperopopupuepertopo . . . "("Ipif youpu wapant topo gopo topo Mepexipicopo youpu hapave topo tapake apan aiparplapane. Youpo hapave topo bupuy apan tipickepet apand gepet topo thepe aiparpoport opon tipime . . . ") Gibberish? I'll give you a hint. Imagine Cage saying: "Ipi hapave nopothiping topo sapay apand Ipi apam sapayiping ipit apand thipis ipis poepetry apas Ipi neepeed ipit."
—Mónica de la Torre is a poet and BOMB's senior editor.