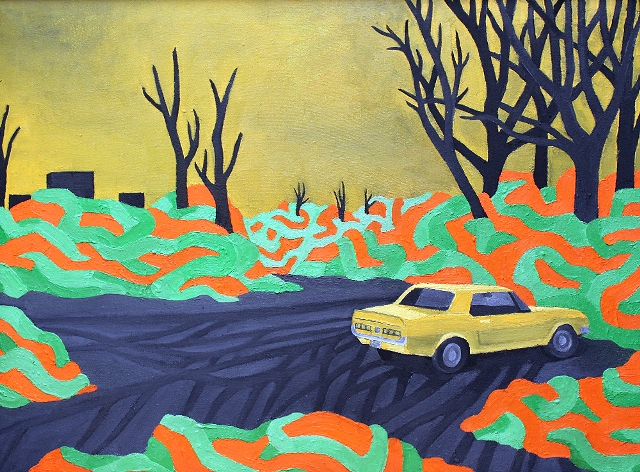 KellyAnne Hanrahan, Garbage Painting #22, Chapter 3, oil on canvas, 30 × 22 inches. Image courtesy of the artist.
A LETTER HOME
I've arrived in a new city where nobody's parents have died.
Family picnics are enormous:
grandmothers knit the dynasty crest into quilts
great grandmothers run across the lawn playing hoop and stick games
the oldest ancestors bash in
the heads of boars for the barbecue and moan together in contentment.
All their children know exactly what to do
and move in endless waltzes.
Here the people speak only in witticisms
and laughter is a form of currency.
They've turned the cemetery plots into community pools
and scatter the childless under the trees like family pets.
The new citizens are not callous.
They have built memorials out of timber, soil and fisherman's nets,
rain-scented body wash and corrugated marble but what always happens next,
a black horse that marches out of their hands and out of their hands
and out of their hands.
CURRENT
I buy flowers within reason or standing
just outside it to the side of the building
not merely a matter of tension or struck
by a slack that we felt moved or worked
to suspend what we failed to mention
I slept in the middle of the bed but
remained calm through the entire
process it was like night and incredibly
efficient we learn very quickly
we're doing just fine arguing in
a frenzy of ambulances fanning
lights with live updates embedded in
one system or another with more head-
lines still crossing the wires to suggest
I loved you well when cities a tenth
my size have left more durable treasure.
Ashley Toliver's work can be found in Third Coast, Caketrain, DIAGRAM, and elimae. A Cave Canem fellow, she splits her time between Portland, OR, and Providence, RI, where she is a second-year MFA candidate in Brown University's Literary Arts Program.
KellyAnne Hanrahan is a graduate of the School of the Art Institute of Chicago, and has spent time at home and abroad exploring circus freaks, comic books, and the accumulation of waste throughout one's life. She also runs her own illustration design firm. More of her garbage paintings can be found here.