Kevin Kinsella discusses the current exhibition on view at the Radiator Gallery, This Is How My Brain Works, which offers a keen curatorial selection of collage art by various artists.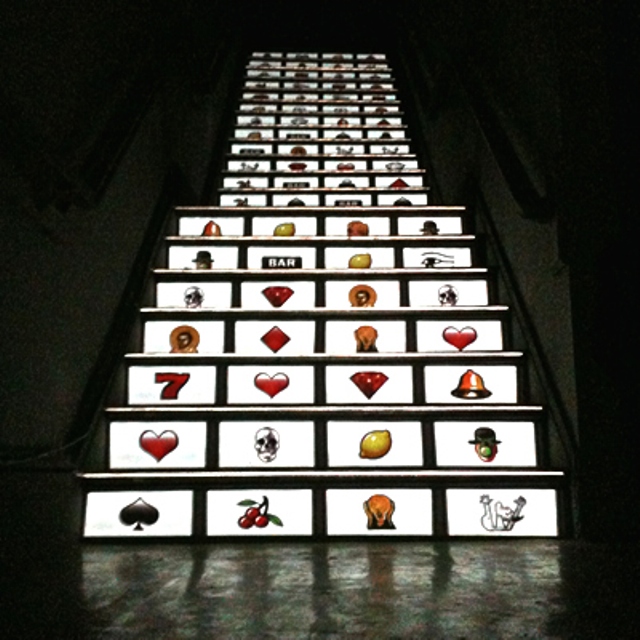 Maximus Clarke, SLOTS, digital projection with sound.
Bells and whistles aside, early slot machines were simple gambling devices with reels that spun when a lever was pulled, resulting in a pattern of symbols when they stopped spinning—and hopefully the clatter of a few coins dropping into the till. Over time, they got a bit more sophisticated. Nowadays, slots are high stakes affairs. And while the bells and whistles remain, the rules of chance have long been refined.
In most 20th-century slot machines, numbers representing symbols are assigned to stopping positions and entered into a random number generator to control the payout odds of each position. While the owner could tweak the odds a bit, Lady Luck was still either with the player or against him. Today, computers inside the machines allow their owners to assign a different probability to each symbol on every reel allowing any odds to be set. While you might think that you just missed a jackpot, odds are, you weren't even close. The inherent randomness of chance and risk is mitigated by deliberate checks—or filters. Still, you were this close to beating the house. Sure you were.
Now, at Radiator Gallery in Long Island City, Queens, the stakes just got higher. In "SLOTS," multimedia artist Maximus Clarke employs the metaphor of the slot machine to consider randomness in the life of the artist, only the payout isn't anything like a deluge of coins; rather, it's Western culture itself. The piece, a projection-mapped video installation, is a part of This Is How My Brain Works, a group exhibition organized by first-time curator Michael Lee that examines the practice of collage in media ranging from works on paper to artist books, photographs, sculpture, textiles, and video. According to Clarke, collage is a practice that can extend across any and all media and "SLOTS," which questions whether there's a set of steps that the artist can credibly climb to achieve significance, or if it's just a game of chance, a "digital, multimedia embodiment of that practice."
In addition to the traditional and recognizable iconography of slots culture—Lucky 7's, hearts, and diamonds—Clarke employs images of a Roman coin depicting the profiles of the emperor Constantine and Sol Invictus, the infant Christ by Giotto, Leonardo's Vitruvian Man, Edvard Munch's Scream, a detail from Picasso's Guernica, Magritte's man in the bowler hat, Warhol's Marilyn, and Damien Hirst's jeweled skull. Also thrown into the mix are quotes from cultural sources (Yeats, Tarkovsky), biblical references, (the story of Jacob's Ladder from Genesis), even the mundane (an excerpt from a patent description for a kind of slot machine: "the machine must be perceived to present greater chances of payoff than it actually has, within the legal limits under which games of chance must operate."). And if that wasn't enough, with "SLOTS" projected onto the stairs leading into the Long Island City gallery, visitors, too, become unwitting participants in the collage. As they ascend toward or descend from the exhibition, the staircase itself becomes a virtual Jacob's Ladder with ghostly textual passages drifting along the stairs and across their bodies: "And he dreamed that there was a ladder set on the earth, and the top of it reached to heaven, and behold, angels were ascending and descending on it."
And just like the stopping points on a slot machine, there is something both random and deliberate about collage art in general. Often, when disparate materials, textures, and images are combined by design, a virtual sense of wonder is evoked, as though an image or fragment of text could not have possibly been arranged for effect. Rather, one feels that it is simply fated to be there. The deftness of the collage artist's hand in the work makes all the difference. Conversely, a ham-fisted approach can cause the elements comprising a collage to separate as easily as oil and water.
Whether utilizing materials excised from magazines, pilfered from someone else's recycling bin, downloaded from the Web, or picked up from the street, the sixteen artists included in This Is How My Brain Works share a love for material with a history—its cultural memory, its physical degradation. And it is through this lens that curator Lee defines collage as a working method still very much alive at the beginning of the 21st-century, but also as a manner of processing information either willfully or uncontrollably. "The current generation of collage and assemblage artists is conversant in the standard and accepted history of the form as modernist paradigm par excellence," says Lee. "While this history obviously informs artists in this show, they have an advantage over their predecessors in contextualizing this working method as pre-modern far more easily due simply to their place in time."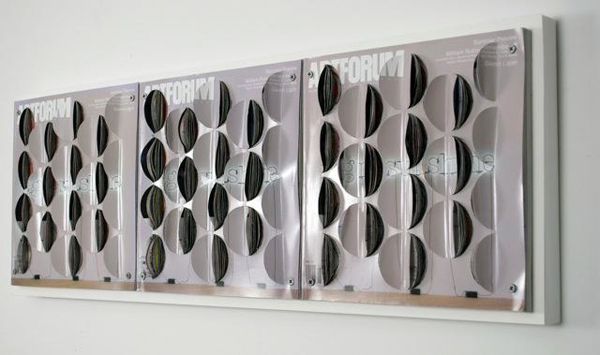 Francesca Pastine, Artforum 42, Triple Negro Sunshine, Unsolicited Collaboration with Glenn Ligon, Artforum magazine, wood, matte board, Plexiglass, screws
While all the pieces included in the show may not be as complicated or as hi-tech as Clarke's "SLOTS," others are equally nuanced. When Francesca Pastine, whose contributions to the exhibit include "Artforum 37, Unsolicited Collaboration with Kara Walker" and "Artforum 42, Triple Negro Sunshine, Unsolicited Collaboration with Gleen Ligon," began using Artforum magazines as a medium for her work in 2008, she noticed that they were familiar fixtures in her friends' homes. "Apparently, because of their glossy nature nobody wanted to throw them away," she says. Intrigued by their square format, she seized upon how thick the issues were, pointing to how bloated the art market had become. By cutting, bending, and otherwise digging her way through them to reveal a "visceral topography of art trends," Pastine creates so-called "unsolicited collaborations" with the magazine and the cover artist. By using only an X-acto blade and her fingers, says Pastine, she keeps the inherent character of the magazines intact. "In this way, they retain their association to what they are: carriers of information that have been handled, earmarked and scuffed over time."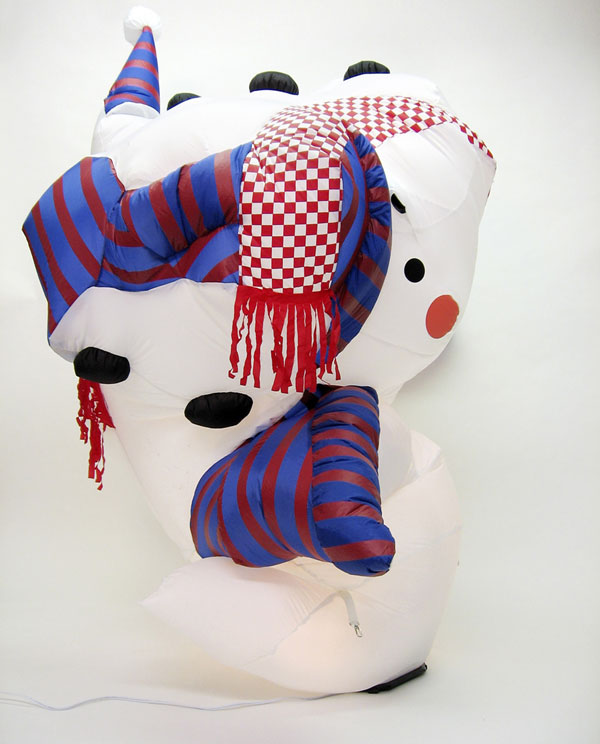 Floto+Warner, Snowman, inflatable lawn ornament.
But just when you think you have a handle on the trajectory of the pieces on display, the husband and wife team Floto+Warner literally blows up the notion of collage altogether with their playful Snowman?, an inflatable lawn ornament. The work, part of a larger series consisting of large-scale lawn ornaments ranging from Santas, snowmen, and reindeer to mascots of sports teams, is an extension of a photography project documenting holiday yard installations. Struck by the simultaneous joy and sadness evoked by the decorations, the couple decided to create their own.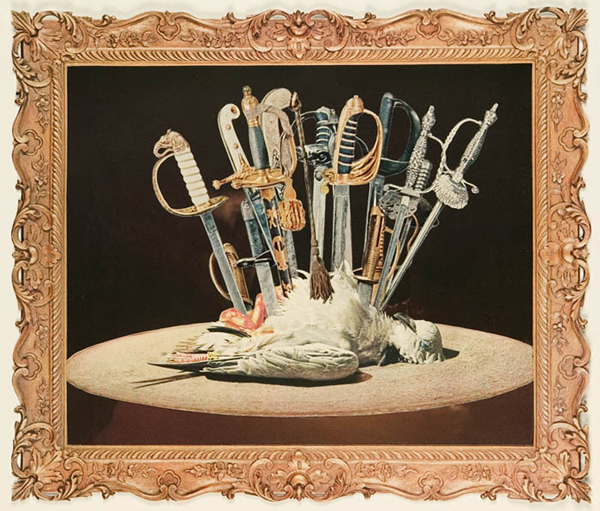 Javier Piñon, La Muerte De La Paz, collage on paper.
Other standouts, include Javier Piñon's La Muerte de la Paz and The Oracle, Natasha Bowdoin's Body Song (pencil, ink, and gouache on cut paper), Leslie Siegel's Where We Live 2 (marker and pen on found print media mounted on panel), Andrew Mount's Style Guide (a tie-dyed T-shirt printed with a Soviet-era image of Stalin on a wooden hanger), and Brian Belott's Books 1, 2, and 3 (mixed media assembled in found book binding).
This Is How My Brain Works, which runs until September 30, 2012, offers a cohesive survey of collage art through its many interpretations, and Michael Lee deserves credit for successfully pulling off a wide-ranging survey of such visually diverse yet conceptually complementary works. Not unlike a gambler lured to the slots room by bells and whistles and promises of fortune, the gallery visitor's "synapses begin to fire upon seeing this new/old thing well before a fully formed idea congeals in their heads," says Lee. "This is what art is all about. Collage highlights this fact."
This Is How My Brain Works, curated by Michael Lee, will be on view at the Radiator Gallery through September 30 and features artists Donovan Barrow, Brian Belott, Natasha Bowdoin, Maximus Clarke, Flot+Warner, Sara Klar, Todd Knopke, Michael Lee, Elisa Lendvay, Abraham McNally, Andrew Mount, Ryan Sarah Murphy, Francesca Pastine, Javier Piñon, and Leslie Siegel.
Kevin Kinsella is a writer and translator (from Russian) living in Brooklyn. His latest book, a translation of Sasha Chernyi's Poems from Children's Island, is now available through Lightful Press.
Tags: