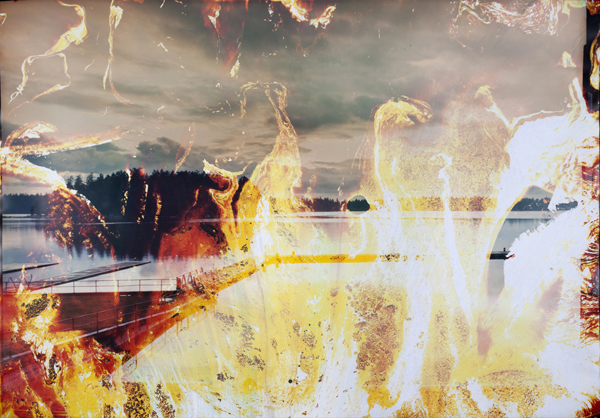 Matthew Brandt, American Lake WA C8, 2011, c-print soaked in American Lake water, 46 × 64 inches. Image courtesy of the artist.
WHAT IS GOOD APPEARS, WHAT APPEARS IS GOOD
I pull the knife from my throat, walk into
heavy sands, seas, a long line flashes,
rises and warns, or we see to put it off.
A spider hung by its own or some other's—
that works with I'm present for it
in the basement, changing fuses or shelving
boxes, empty, flattened. Is there a private
revolution not worth attention? Since
my cup's not smaller. Since a cat encircles
my legs. Since I get all human on the couch
with maturation, slip the door into baby
a little bit more. There's no metaphor in
memorizing the state capitols, or it's probably
rank behind my ears—would you
scratch them in the middle–school parking lot?
Recovery's not a fetish, but a bliss I'll go
sick for. Staggered the alleyway,
or staggering, a knife down my throat, I
couldn't bother in line, in a summer stale
with winds that unwind May, April.
I'd rather work again. Sweat moving, not
pools around unshaven neck fat flexed for
the sound of trees, the life
of the trade. While what won't come about,
the cat turns her head in, sleeps a bit longer
in a place where she knows
we can find, but it's better if we have to try.
TO MOVE THE CROWD
not where we went,     but set, set forwe bore, we    bore, satwhere we went,           came, we camethen did, dug,  poured, mixed,prayed, and set, we     flowed, borne,stained, mauled,          we crowded,cried, slaughtered,       slainas if poured,    cried as ifsat, keep         should we hear howwe came cast and left,            urged, criedwe art come, cam'st   we slept, then fell,as we sought, we bid remember aswe heap, we set         then as we swung,came not where         we beat, nor knew,spoke not to stand,     leave, stepped, said shaltto lose we came         to lie as we mean
Samuel Amadon is the author of Like a Sea and The Hartford Book. His poems have appeared in The New Yorker, A Public Space, Ploughshares, American Poetry Review, and elsewhere. He teaches at the University of South Carolina.
Matthew Brandt was named one of tomorrow's "brightest stars" by Forbes in the article "30 Under 30: Art & Design." Brandt's work is included in the collections of the Armand Hammer Museum, Cincinnati Art Museum and the Los Angeles County Museum of Art. He was born in California in 1982, and received his BFA from Cooper Union and his MFA from UCLA. The artist currently lives and works in Los Angeles.