Gillian Sagansky talks with gallerist Jack Chiles and curator Pati Hertling about their collaborative project on the Bowery, which features artist-designed signs.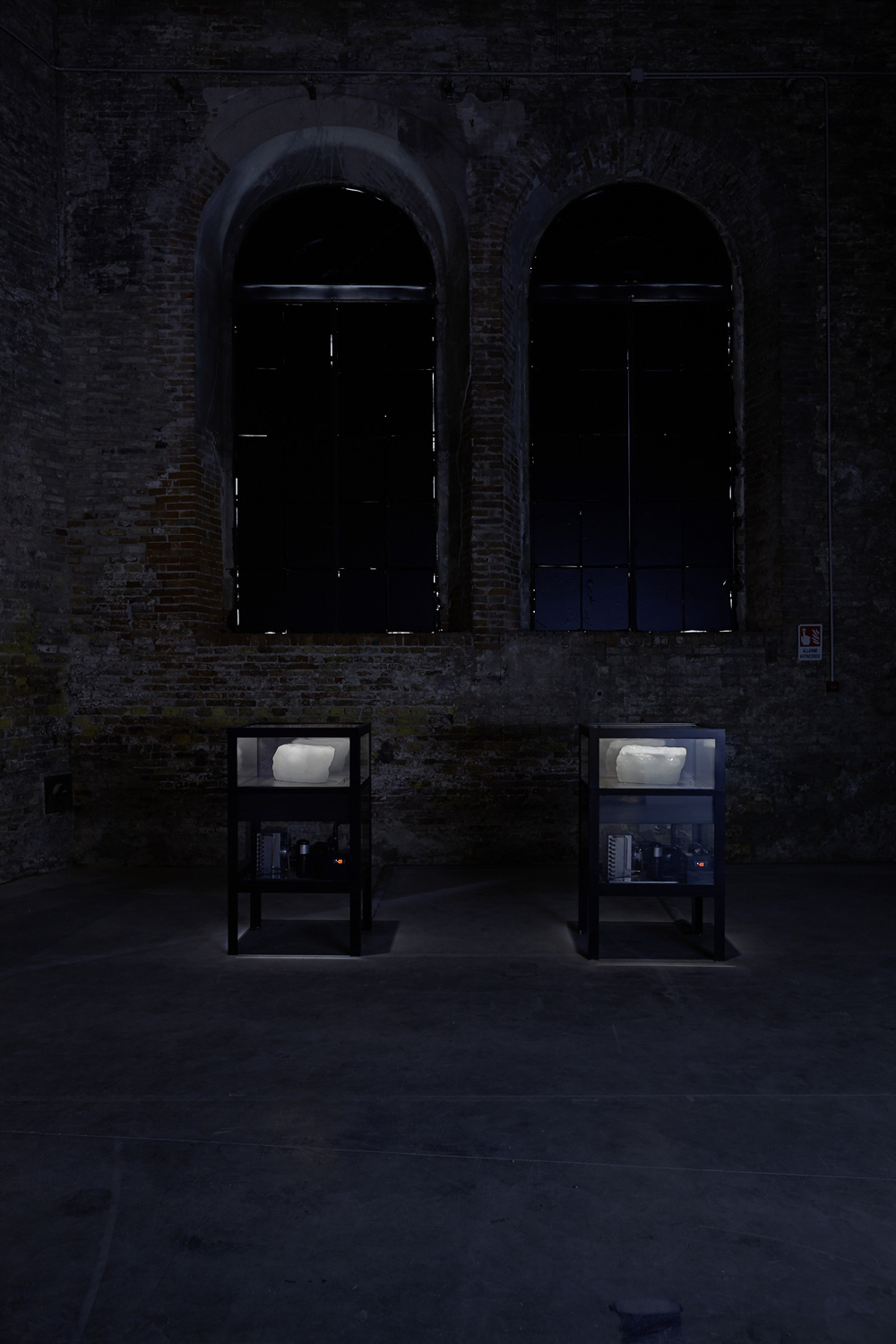 Sign by Das Institut + United Brothers. Photo courtesy of Anaelle Weill.
The Jack Chiles Gallery occupies the top two floors of a three-story federal townhouse which dates back to the 1790s, making it one of the oldest buildings on the Bowery. Jack Chiles, who is British-born, has teamed up with curator Pati Hertling to present the most recent edition of the 208 Bowery Sign Residency project at his gallery. Every few months the pair chooses a different artist or group of artists to take over the advertising space which consists of one large sign that spans the width of the building (measuring 16 by 4.5 feet) and a light box sign that projects at a right angle from the building (measuring 5 by 3 feet).
The duo launched their sign residency project in July with a dinner catered by famed Mission Chinese, and chose the New York-based collectives United Brothers (consisting of Ei and Tomoo Arakawa) and Rirkrit Tiravanija (German artists Kerstin Brätsch and Adele Röder) to kickstart the project with two original signs. The collectives wrote a haiku on the large sign in commemoration of the Fukishima catastrophe ("B Personal/Sun in the Sky Blocked/Radiants Cost. A Tanning Haiku by Das Institut & United Brothers"), and used the lightbox to advertise their upcoming shows in Japan. The current artist in residence is the highly acclaimed Thai artist Rirkrit Tiravinija who has transcribed the English words "Freedom cannot be simulated" across the larger sign and "Time not waiting" (which translates into "Don't waste time") in traditional Chinese characters on one side of the lightbox and in contemporary characters on the other side.
I met with Jack and Pati on the first floor of the gallery. Their personalities complemented one another—Jack is bubbly and witty with a charming British accent, while Pati is more contemplative and soft-spoken. We discussed the motivation for the sign residency and explored the relation between their site-specific project and the environment in which it resides.
Gillian Sagansky How did you guys meet and how did you end up collaborating on this project?
Pati Hertling We met through a mutual friend, Thymaya Payne, who's a film director in Los Angeles.
Jack Chiles Originally I wasn't able to commit to using both floors of the gallery for myself. I needed to sublet one floor so I put it on Facebook. Thymaya showed Pati the Facebook advertisement and then Pati contacted me since she was looking for a space as well.
PH I heard that Jack had this great gallery space upstairs so I contacted him and explained what I wanted to do.
JC I remember mentioning to my ex-boyfriend at the time that Pati was interested and it turned out he had heard of her. He goes, "That fabulous woman Pati is a lawyer and throws salon-type events." Then in January Pati did a couple of events in the upper space which were both very successful. Maybe too successful. There were, like, a hundred people. After these events we decided to do some fundraising so Pati could set up a residency and continue doing projects here on a regular basis. We did a fundraising dinner which was catered by Mission Chinese. We were trying to put on a show since people were buying tickets to come and eat here. We had a dinner upstairs for thirty people and filled up the space with tropical plants.
GS How did you end up collaborating with Mission Chinese for the sign launch?
JC A friend of mine, Amelia Telc, is one of the chefs who started the restaurant with Danny. I was always interested in interior design, and when they were designing the restaurant it was really in a state and Amelia asked me if I'd like to help them design the interior, so I gave them some help in exchange for a dinner rather than a fee. So Danny did the dinner for the sign launch. It made sense as well given Rirkrit's history of performance with food and his Asian heritage.
GS So you guys share this space?
PH The agreement is that I have it a couple of times a month.
GS What was the motivation for the sign project? Was it the first time you guys really collaborated together?
PH It was Jack's project.
JC The sign project was the second time we collaborated together. Originally it was my project that I invited Pati to join because I thought she'd have interesting suggestions for artists to participate in the project. The motivation for it was the fact that when I leased the top two floors, the ground floor was still vacant and the landlord was looking for someone to lease it. After being here for a month or two he leased it to the business who owns the store next door.
A little over a year ago I came back one day and found the business that was leasing the ground floor was renovating. When I came back some time later I found they had covered the whole building in signage advertising their shop that read "Chair Table Booth." People started asking me, "Where's your gallery?" The door is already unassuming (a gray graffitied door on the Bowery with the numbers partially painted over), and now my gallery was covered in "Chair Table Booth" signage everywhere. It was so difficult to find that I had to start telling people it was the "Chair Table Booth" building.
I was talking to the landlord a few weeks after and mentioned how covering the entire building with "Chair Table Booth" signage is misleading for my business. He said, "Well the signs on the second and third floor are for you to use." It was always in the back of my mind that it would be interesting to use the signs for something but when he said that I could, that was when the idea for the whole sign project came about. I began talking to artists about it but they wanted too much time to plan their sign. They were talking about October 2012 and I was thinking October 2011. I was really ready to get the ball rolling. So I went to Pati and asked her if she knew any artists that would be interested in doing a sign in the next month, and she suggested the artist Kerstin Bratsch who has a collaboration with Adele Roeder called Das Institut. Das Institut also works with United Brothers. I wasn't familiar with their work, but when I investigated it further I really liked what I saw.
GS Pati, you have a reputation for provoking discussion through imaginative and inventive methods—
JC and PH (laughter)
GS —in the best way possible! I was wondering what kinds of discussion you were trying to promulgate with this sign project. It's a really interesting exploration of the function and use of space, which is something you seem to regularly explore in your work.
PH As much as we curated it and carefully planned which artists we want to approach, it's up to the artists to use the platform however they want with whatever message they want to convey. But it's definitely something both Jack and I are interested in. We want to put something out that has content, not something that is just decorative. The first sign commemorated the Fukishima catastrophe. Tomoo Arakawa (part of United Brothers) owns tanning salons in Fukishima. It's a very weird coincidence and could be read as problematic that it's called Blacky's (laughter), but they did a haiku for the sign which was beautiful.
GS I found it really interesting that United Brothers and Das Institut actually used the signboard as an advertising space. I was wondering what your reactions were to that?
PH It's actually part of their practice to play on things like this. They've done posters that have suggested ad campaigns and have made advertisements for their own shows. That's why I proposed them to Jack— I thought it would be interesting to see how they would play with the space.
GS So you have to be familiar with the artists' work to understand the sign . . .
JC Yeah and even then, people who know Das Institut have to figure it out.
GS What is your process for choosing the artists? Why [Rirkrit] Tiravinija?
PH We chose Rirkrit based on the space. It's a social space, a hybrid space, not an exhibition space. Rirkrit's like the father of art-as-social-engagement. But how do we choose our artists? We think about the work of the artist we're considering and I don't think every artist would work. People that work with language are most interesting for these signs. I don't know if a painter would work. I think it would be kind of difficult and too abstract.
GS To an extent though, isn't Tiravinija's Chinese lettering abstract? Yes it's language, but it's indecipherable to the majority of the people who pass it.
PH Yes, but given the neighborhood, there are plenty of Chinese people who pass it and can understand. The sign is playing with old and new Chinese. People who speak Chinese will be able to get that.
GS What went in the ad space before you guys took over?
JC More "Chair Table Booth" signs! I wanted to order the signs in time for our fundraiser so people would see them. On the day of the dinner they're putting the signs in and suddenly the "Chair Table Booth" people next door rush out into the street and they're like "What the hell are you doing?" Our landlord never informed them that we were putting in signs. What ensued was an insane scenario in which the police were called. We went through this negotiation process until they finally allowed us to put one sign up but wouldn't allow us to put the light box sign in. It turns out the "Chair Table Booth" people who currently own the ground floor used to rent this floor too and had actually erected the lightbox. The second we started using it they wanted it back.
GS So how did you guys end up getting the rights to use the signs?
JC It ended with them erecting yet another sign. There's definitely an interesting symmetry now . . . (laughter)
GS Can you tell me a bit about the space itself? It's incredibly unique.
JC As Pati said, it's more of a hybrid space than a gallery. I knew I wanted to use this space less as a gallery space and more as a social meeting place where work could be shown but also as a place for people to work and socialize. We have a lot of dinners here. Right now Pati's working with a poet/artist who is starting a poetry workshop here once a week. We want to use the space for social activity rather than an empty gallery space. So in that sense it really does have a more hybrid function. It's not your typical white cube gallery.
GS In addition to Pati's poetry project, what else do you guys have planned for the fall?
JC We never really plan anything very far in advance. (laughter)
PH We have a couple of people in mind for the sign project who want to participate, but it's kind of premature to say right now . . .
GS Understandable. What are you guys working on independently from the collaboration? Pati, are you still working on your Evas Arche und der Feminist conversation series?
PH I stopped that last year because I felt I had to redefine everything.
GS In what way?
PH Just because it was going on for 5 years. It became imprecise. There were just a lot of little things I didn't like. So I started my series Bulletin Board in Jack's space, which is supposed to be a little more conversational. I want to show work that engages people in discussion, but it doesn't have to necessarily be art. For the launch of Bulletin Board I held a screening of an Ulrike Meinhof film and then had a discussion. I also did this performance on March 11th for the Fukishima anniversary. Of course it's a performance but it also raises awareness. This poetry workshop is nice because there is this history of poetry on the Bowery. So it's a good continuation.
GS How about you Jack? Any upcoming projects?
JC During Fashion Week I'm doing a one-week installation upstairs with the designer Telfar Clemens who is collaborating with Ryan Trecartin and Lizzie Fitch. Ryan is shooting videos of Telfar's collection and Lizzie is making a mobile store. They're basically taking up a residency upstairs. It's going to be an ongoing series of video presentations and stylists and buyers can come view the collection. After that on September 22nd, I'm opening a solo show with the artist Stephen Lichty which will most likely be open for four or five weeks. Then I'll probably do a show with curator Agatha Wara, and then new signs in October!
GS How long do you think this sign project will go on for?
JC As long as it can! It's a really interesting platform for artists to use. As far as projects with this level of visibility go, it's relatively easy and relatively inexpensive to produce. I just bring high-res PDF's to the sign production shop (which is just around the corner) and they make it in one to two weeks. It isn't a huge amount of administration or bureaucracy involved in producing them which makes it easier for us to do.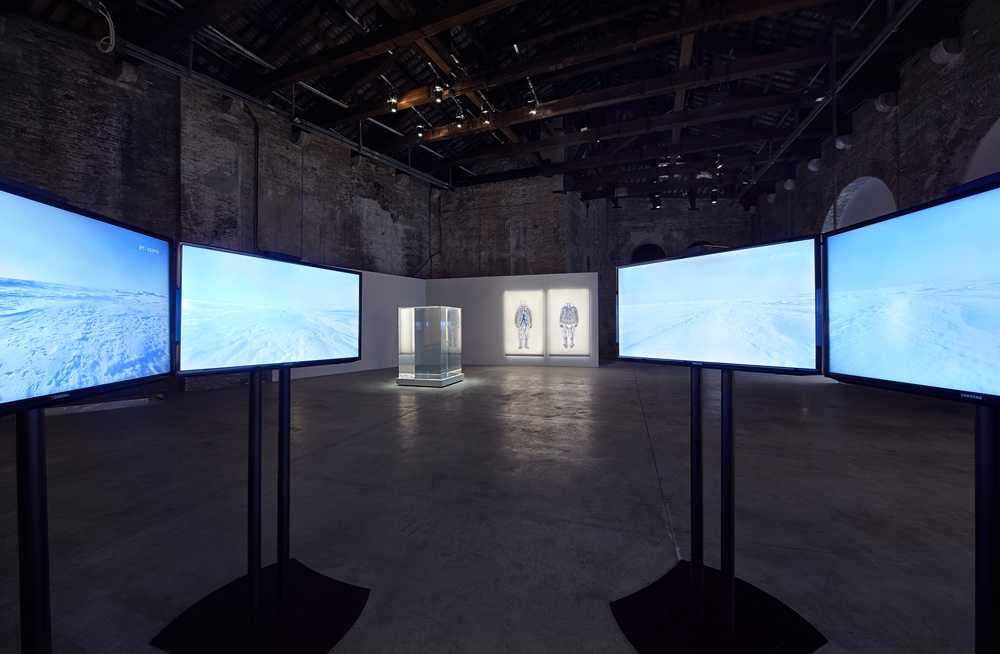 Sign by Rirkrit Tiavanija. Photo courtesy of Amanda Dandeneau.
Gillian Sagansky is an artist, writer, and DJ based in New York City. She graduated from NYU's Gallatin School in May of 2012 where she studied Modern Art and Philosophy.