Word Choice features original works of fiction and poetry. Read three poems by Eric Gudas, with art by Summer Wheat, selected by Jozeph Herceg.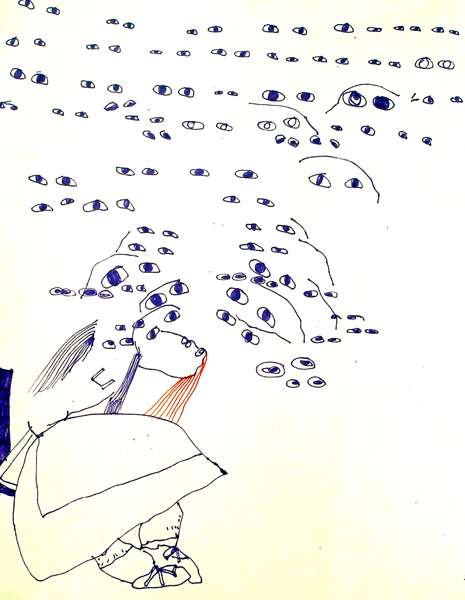 Summer Wheat, Audience, pen and ink on paper, 12 × 9 inches. Image courtesy of Pierogi Flat Files.
End of Summer

Spiderwebs stretch
across my bicycle's
rusty spokes—no,
they sag,
long since abandoned by their makers.

Lentils for esoteric
uncooked recipes
settle in their plastic bags
at the back of the cabinet.

Well-thumbed mystery novels
pile up by the bed,
obscuring Ovid and Rilke.

The ink of ambitious
to-do lists fades
on the page:
Learn Latin
and how to sew on a button

Subjects of unfinished sentences
languish, verbless.

Daddy Milk
"You're my little baby,"
Laura croons, cradling
my head against her chest.
"You want mama milk?"
I nod; she lifts her shirt
and I lean in, almost touching
her pink skin—under which,
at other times, I can feel her heart
thrum against my hand—
and make little mock-sucking-
smacking sounds as we both laugh.
"Other side!" she hollers
and I clamber over her
to nurse again. "You have to stop
now," she tells me (the way her mother
tells her) soon, "it's starting to hurt!"

*
Laura's first hand-sign was "milk":
a squeezing fist like milking a cow.

One morning, as I sat next to her
on the couch with my shirt off,
she pointed at my nipple and squeezed her fist
as she looked at me laconically.

*
Lying between Alyssa and me
after story time, Laura grins:
"I want daddy milk!"
Nuzzling up to me, she bites
my chest through the t-shirt,
giggling. "Ouch, that hurts!"
"Other side!" she laughs.

"What does daddy milk taste like?"

"Sour."


At the Festival of Books
At the Festival of Books my wounded ego limps along behind me
like Gollum or Kreacher the house-elf—impotently malevolent, decrepit, vengeful,
barely able to keep his tattered, drooping loincloth on. A chain stretches between
the fetter attached to my ankle and another fetter that encircles his neck
so that each step I take jerks him closer to me, his Adam's apple
chafed by the fetter until he almost chokes. He must long to run ahead of me
so fast I lose my footing and fall face-first on the sidewalk—
then he can drag me along behind him as I cry for him to slow down. He won't.

On the lawn that faces the poetry stage he lunges at poets who've risen higher
than I,
reaching out to scrape his nails on their faces and backs before I pull him back.
When my old teacher approaches my ego screeches and shows his rotting yellow
teeth; spittle flying
from his mouth he snarls, "Why have you forgotten me?" then abruptly kneels at
my teacher's feet,
begging to be lifted up. "I'm sorry sorry sorry!" In one hand he holds another length
of chain
with which he now proceeds to flail his own back so hard I shudder with each
blow. Then he hands the chain to me.
As we shuffle through the crowd he leers at college girls in their springtime shorts
and tank tops,
tongue lolling from his mouth to lick their breasts and asses. His diaper-like
loincloth
has no pocket to hold the key that unlocks these fetters; and if I ever had the key
I've long since lost it.
No one else but me can see him, my dirty Snuffleupagus, my twin, eternal
nemesis.
Eric Gudas' poems, book reviews, and interviews with American poets have appeared in The American Poetry Review, Crazyhorse, The Iowa Review, The Southern Review, and other journals. His book Best Western and Other Poems, winner of the Gerald Cable Book Award, was published in 2010 by Silverfish Review Press. He holds a doctorate in English from UCLA, where he currently teaches writing and literature. He lives in Los Angeles, where he is completing a book about the life and writing of American poet Eleanor Ross Taylor. For more, visit his website.
Summer Wheat was born in Oklahoma City, Oklahoma. Her paintings and sculpture writhe and laugh and beg and can be seen in a solo show beginning November 2012 at Valentine in Queens, NY. She has exhibited work in Brooklyn, Boston, and Mexico City, and was a 2010 Triangle Arts Association resident. More of her past and present work can be seen on her website.