197 Madison, 2012, acrylic on canvas, metal, rope, digital print on vinyl, and PVC, 96 × 120 × 3 inches.
I don't think New York is a melting pot at all. Nothing melts here, it all just stands out like a sore thumb.
— Robert Rauschenberg
After my recent visit to Wendy White's studio, I kept mulling over her description of the cladding of a building being like one giant paintstroke comprised of all the various layers of a building's facade revealing elements from the past and the present simultaneously—the facade being the sum total of a variety of architectural details on a building as well as the various spots where designers, signmakers, and graffiti artists all vie for our public attention.
In Chinatown, NYC, where Wendy White lives, new signs go up over outdated signs, new awnings are installed over old ones, graffiti is painted over, windows become walls, additions are built, architecture is modified, buildings disappear . . . White has become a connoisseur of these visual shifts.
Her large new painting series, Fotobild, offers stage-sized glimpses of gritty, elegant vistas—like the images that flash by while riding the subway or zooming down an interstate, these are pictures made from what White almost sees.
Lately she has taken hundreds of "almost photos" using her camera phone, building a glimmering, throwaway documentation of her surroundings. In 197 Madison, one of her photos, writ large, is used: a deli sign chock-full of meaty sandwiches spilling over their plates. If you look carefully, you see that the sign is covered in city crust. All of this should repulse, but White infuses the image with a stylish pink and yellow fade. I am both drawn in and repelled, thinking simultaneously of fashion ads styled in well-conceived colors and scary fast-food menu photos.
The deli-inspired panel sits on top of another canvas featuring reversed letters and numbers that float in a field of spray-painted marks. I attempt to decipher the text, wondering if I am reading cent, scent, center, or Centre (Street). Is this a tale about American consumption, an ode to the well-built sandwich, or an image reflecting White's fascination with the layering and cladding in downtown Manhattan?
These multiple possibilities, not to mention the riddles that consistently show up on the canvases and her wry humor and interest in play, are just some of the pleasures of White's work. In 2006, I remember seeing soccer and tennis balls fastened onto her paintings and nearby sculptures. During my recent visit to her studio I got to see a piece from her Shatter Ball series. Punning on painting's distressed surfaces, the canvas is overlaid with a sheet of Plexiglas boasting a decal of a baseball smashing glass. Her 2012 series So Athletic mixes photos of her own Adidas sneakers with sculptural frames of painted wood whose grooves emulate the sneaker's signature stripes. The stripes extend from the paintings and travel around the gallery. Wendy White's paintings are theatrical panoramas in which movement, transition, text, color, photography, design, and construction mix together, expressing her intense interest in, quoting her, "being in the world."

— EJ Hauser is an artist in New York City.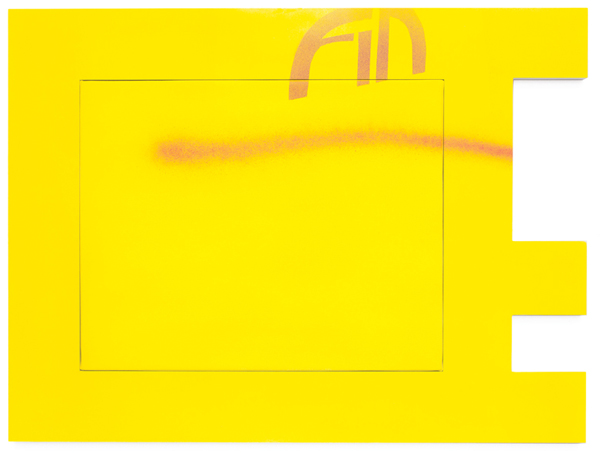 Fin, 2012, acrylic on canvas and PVC, 24 × 32 inches. Images courtesy of the artist and Leo Koenig Inc., New York.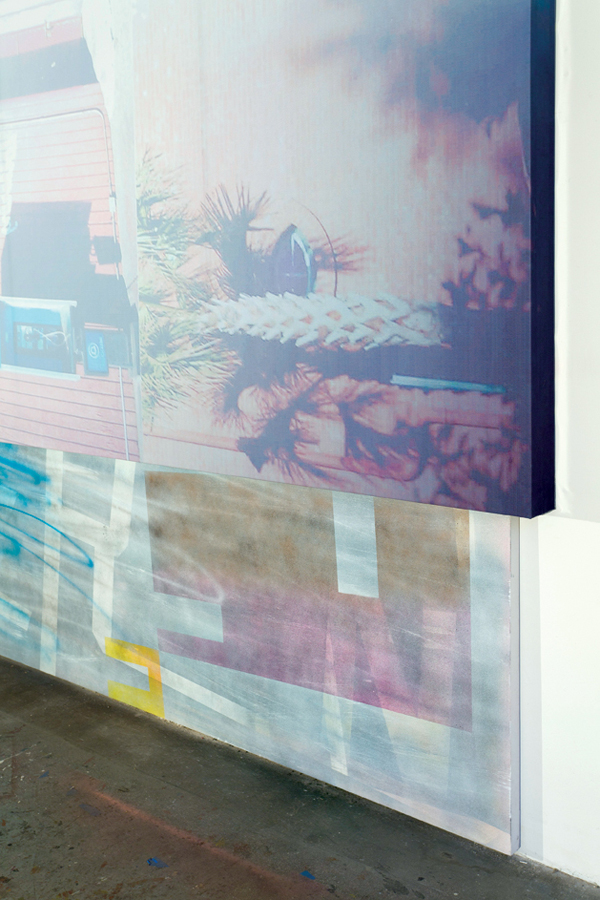 El Rocko Lounge (detail), 2012, acrylic on canvas, metal, rope, and digital print on vinyl, 103 1/2 × 139 × 4 inches.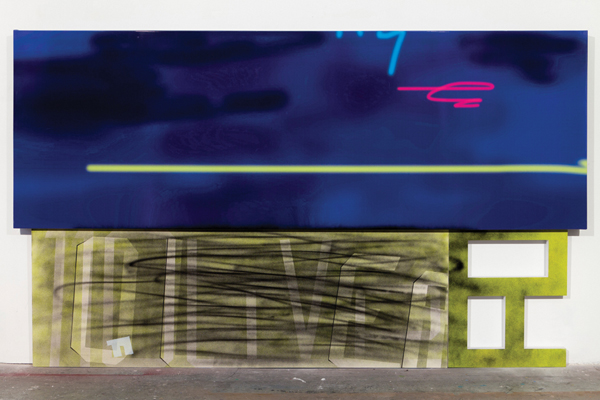 11 Oliver, 2012, acrylic on canvas, metal, rope, digital print on vinyl, and PVC, 73 × 120 × 4 inches.