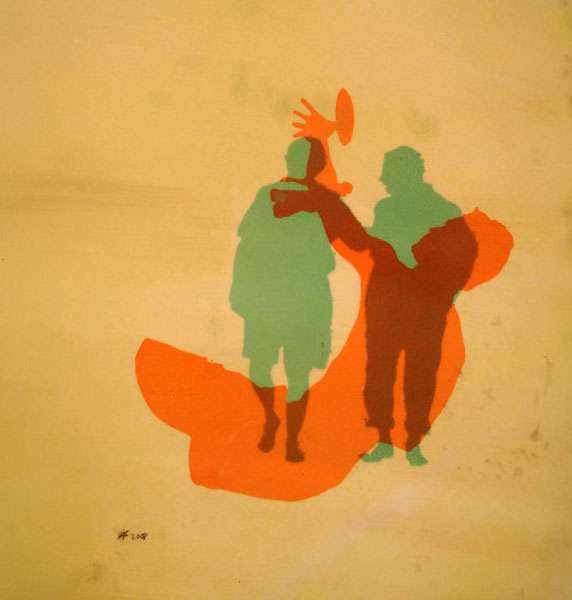 Adam Simon, Frisbee Stroll, acrylic on mylar, 9 × 8.2. Image courtesy of Adam Simon and Pierogi Flat Files.
A Song Called Theodicy
after Cyrus Console

Why violence likes to get
unconcealed occasionally,
nightlong, & break some vessels.
You mean, the long drawn?out
second take of the tunnel scene?
Or the scene where a child's
encounter on the film set
gets everybody behind
the camera to crying?
That's not the wound
we thought long for—
Nor even the one we knew
we might have to defend.
The coils of the springs
of the theodicy of being.
Because evil's a bad measure
of what's happened here
& even violence can sound
pretty easy in the right mouth.

A Song Called Curtains
Now, stripling, where'd you learn
to loll a cold satellite
down to the night beach like a kite?
Sew the curtains
into a semblance of shade.
Stammer through the winter/spring ruin
with a bad song in your ear
clocking you like a punisher.
I don't want to worry
the crawlspace into
an infinite fire.
Julia Guez on the pleasure and pain in Henri Cole's book of poetry Touch.
A Song Called Aperture
The road started its druggy pull
& I wanted it to work me.
Then what did I think could be meant
By the phrase what fucking rids us of—
That it could be some?
That it would?
That it's a reprieve?
That we could fathom the starlight
& know what to do with our selves under it,
eating tangerines with our Maker's?
That's not the rhythm's aperture—
Nor the stroke of the wrong key
In the lock, it's not the pathway
To freedom or even longing.
What I'm on about isn't accessibility
In those terms, it's that a poem's
Spun from an inherited hex, a visitant
To muddle the words out through you.
Joshua Marie Wilkinson's recent and forthcoming books are Selenography (Sidebrow 2010), Swamp Isthmus (Black Ocean 2013), and The Courier's Archive & Hymnal (Sidebrow 2014). Born and raised in Seattle, he lives in Tucson, where he teaches at the University of Arizona and works as an editor for Letter Machine Editions and the poetry/poetics site The Volta. You can read BOMBlog's two-part conversation with him here and here.
Adam Simon is a painter living and working in Brooklyn. He recently had a solo exhibition at Studio 10 in Bushwick. He is also known for various public projects, including the Fine Art Adoption Network. For more by Adam Simon, visit his page at Pierogi Flat Files.