On a quiet street in Long Island City sits a modern-day oracle, a play space and pilgrimage mecca for a new group of creative intellectuals.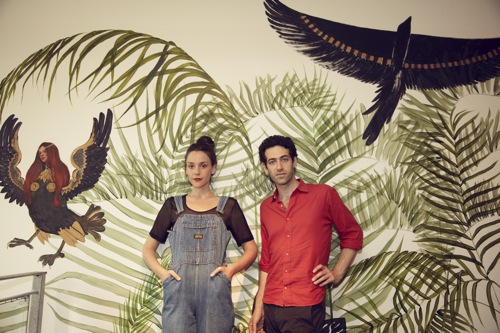 Jenna Gribbon and Julian Tepper. All photos by Annie Powers.
Jenna Gribbon and Julian Tepper admit they leave their building, a pre-war brick affair in Queens, only occasionally. And it's for good reason. The couple lives above their latest endeavor: The Oracle Club (TOC), a members-only workspace that is more oasis than office or studio. Gracefully situated with Victorian-era Texan steer horned furniture, tall potted palms, and plenty of paintings by Gribbon, the space has an easy elegance that makes visitors feel as if they're in a more magical version of home.
A typical day finds Gribbon and Tepper slipping back and forth between the club and their apartment above, shared with Silas, their one-year-old son. Tepper, whose debut novel Balls comes out in July, often rises at 4 a.m. to write in the TOC's library. Jenna, a painter, works most days in her sunlit studio on the club's basement level.
TOC's carefully curated environment, the making of which Tepper describes as a "meditation," is just a backdrop. The real essence of TOC is in the work that happens there. Writers, artists, and other "extraordinary" people gather at TOC to work, mingle, and learn from each other. Members pay monthly fees for various levels of access. Artists have a dedicated studio and locker access, while writers use the library, and salon members drop in for meetings in the salon. Non-members can attend classes like collage or ballet (TOC has a discrete barre and antique mirrors for hazy self-monitoring) or visit for special evening events ranging from a recent informal recital by pianist Harriet Stubbs, to an exhibition by photographer Alison Nguyen.
I recently spoke with Gribbon and Tepper about their inspiration for TOC, their plans for its future, and the space's distinctly "not-a-gallery" approach.
Nora Clancy Where did the name "The Oracle Club" come from?
Jenna Gribbon It just seemed like it had the right mystique. I like the idea that this place is a predictor of the future. You can come here to find out what is the future by looking, talking to people, and seeing what they're making.
NC I'm interested in your son and how you envision his future, growing up here.
JG He loves TOC. If we walk by the club and he doesn't get to come inside, he cries. I think it's going to be a really special thing to grow up around. How wonderful it will be to be surrounded by talented people who are engaged. And to grow up around so many books is a nice thing, too.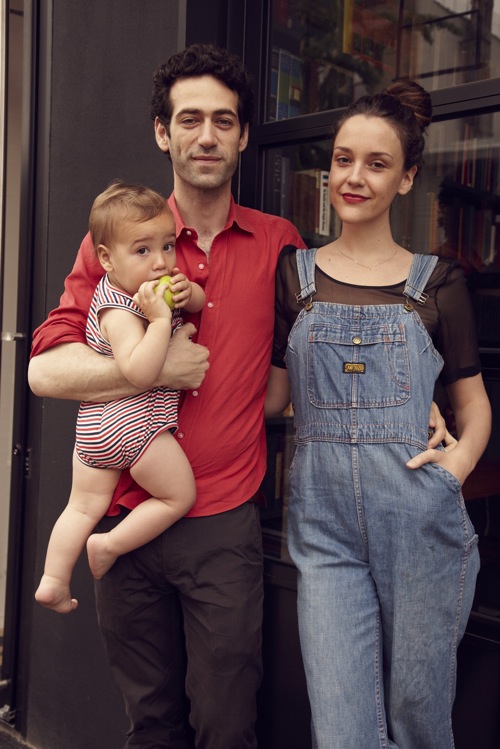 The Gribbon-Tepper trio.
NC That brings up your incredible library. How did you build the library? Was it meditated?
JG It happened pretty quickly. Our philosophy was to take any book that was interesting. There weren't certain subjects, necessarily, that we were seeking out.
Our friend Matthew built the bookcases and helped us find a lot of the books. He's very passionate about libraries and a lot of the books are from his collection. The painting in the library, over the red chair, is of him. He has a big presence here. It's kind of a dream come true for him because he loves collecting books but he doesn't necessarily want to own them or keep them to himself.
NC I love the idea of being able to glimpse another person's personal collection of books.
JG A collection of books should be shared. We're having a shelf built that's going to be for displaying a revolving collection that comes from someone who has been asked to participate. They will share their collection of books for a month. We'll have someone interesting, maybe people will know of the person, and you can browse their books. That's coming soon to TOC.
NC Tell me about TOC's intriguing collection of horned furniture.
Julian Tepper Growing up on 94th and Lex, we were pretty much allowed to do anything. My mother was fairly liberal. But you couldn't touch this horned furniture. It was the one thing you couldn't touch. Then when we started TOC, something changed in her. She said, "You're going to need the horned furniture." People are definitely touching it now.
NC So it was a childhood fantasy to one day have free range with the horned furniture?
JT I don't know if it was a fantasy, but it was the one thing we weren't allowed to touch. "Don't sit on my horned furniture. You're not allowed to look at it."
NC It's very unique.
JG It's from Texas, circa 1870.
NC How did your mother happen upon the pieces?
JT She always wanted furniture just like this. She went out and she found it, back before the Internet.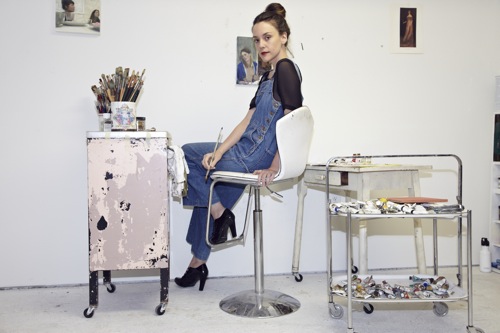 Jenna Gribbon in her studio at The Oracle Club.
NC That's impressive. Do you think she planted the seed at an early age for you to eventually have the whole endeavor of TOC?
JT She's a very creative woman. But really, this is an unusual coming together of circumstances.
JG I think it was more of just a natural coming together. I'm a painter. He's a writer. We live upstairs and it was the thing that made sense to do when we started to consider the possibility that we could do something with this space.
JT My friend owns this building. He was going to start renting this space commercially. We just woke up one morning and looked at each other and said, "We're starting The Oracle Club downstairs. That's it!" We thought, "We want to do something. What will we do?" And a couple conversations later, this is what we came up with.
NC So it's a hybrid live-work space?
JT We live upstairs. This is sort of our extended living room, which we want it to feel like for everyone—each person's extended living room.
NC How does the name The Oracle Club relate to your vision for the space? "Club" has the connotation of exclusivity, or an old-school feel.
JG We wanted it to be membership-based, and we are both very drawn to traditions; we love those old New York clubs.
JT Like the National Arts Club, Century Association, the Harvard Club—any of them. They need a little help (laughter), but they are all pretty great. They have all the makings for something wonderful, but there's no pulse in those places for one reason or the other. I think what they're missing is artists—working, specifically. A place like the National Arts Club, it's beautiful. If there were artists working inside? It would be amazing.
JG Not even just having to work there, but having artists who are actually engaged in making work. Even if they're not actually making it in the space, if there's some discourse that has anything to do with art.
JT Which there once was, I'm sure.
JG In my experience, I've never gone to the National Arts Club and heard people really discussing art. I don't know what its function is now.
NC So TOC is form and function.
JG Yes. We really wanted this place to provide a service for talented, interesting people. And for it to be an affordable workspace. It's not going to exclude you because of the amount of money that you have.
JT We're really trying to figure out how to make this place free. It's our main goal.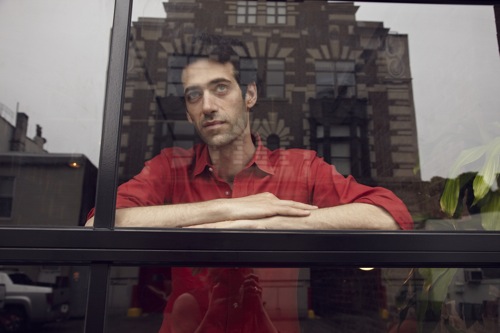 Julian Tepper.
NC I am interested in what your goal is, from an owner's standpoint. Is this an organization that you want to see grow?
JG We just want to make an extraordinary place where extraordinary things can happen. We're trying to figure out other ways that the space can make money so that we can offer the memberships for free or almost-free. So we don't have to take money from the artists.
NC Almost like a residency?
JG Exactly. It would be a lot of mini-residencies. And also the way it's set up right now, with the division of the artist-member, the writer-member, and the salon-member, if it were free, you wouldn't have to be assigned one particular space or another. Everyone could use the studio if they needed to. In order to pay the rent, we need to get a certain amount of money from people who actually want to work in the space. We're talking about maybe using the place for film shoots or something like that, just finding other ways for the space to make money other than memberships.
JT Or a really wealthy New Yorker. I know there's one out there! Come on, we don't need much to make this place stand.
NC I'm really interested in the work that goes on here. You're both artists—Jenna, a painter, and Julian, a writer. Has the work that happens here and your exposure to TOC influenced your own work in any ways?
JG I'm very inspired by social interactions and social situations, and a lot of my work has to do with those things. The series of paintings I'm working on right now is called "Convivial." I'm doing groups of paintings that belong in a room together. They're spaced around the room so that the people in the paintings are interacting with each other. Jean Cocteau (he's a favorite artist of mine) inspired certain elements of TOC as a space. I like his work a lot, especially his film work. He embodied the artist-as-social-being. I always loved that about him; he was surrounded by interesting people. You can't really separate his work or his life from his social circle. To me, it is exciting to create a place where I can enliven the social space around me and make my work. It's easy to be isolated as a painter. It's nice to create a situation where I am not isolated and neither are the people who chose to come here.
JT I write. More literally, Jenna is about aesthetic. The way the library looks, the way this whole place looks, the paintings on the walls, everything. It's a different medium [for her].
JG The goal of making this place beautiful is to make a nice place for people to be, but also for it to feel like you are in the home of an artist, which is a really special feeling. It's very different than being in a place that's been beautifully designed by an interior designer, where you can imagine every coffee table has been drawn into the plan. Artists are very sensitive to their environment. They want to be in a place that makes them comfortable, but that is also inspiring. So the idea is to draw them in with a beautiful place, a little oasis in the city.
JT By nature of providing a studio space that's affordable, you have the chance to free people up a little bit so that maybe they can work a little less because their studio is cheaper, and maybe they have more time to participate in what other people are doing.
NC Do you observe the members of your club actually doing the socializing that you hope might happen?
JG So far that has happened randomly. Once we have more members, the idea is that we'll have gatherings in the evenings—group discussions of work. But the mass of people hasn't been large enough to make that happen yet. Maybe in a few more months.
JT There also has to be spontaneity. You just strike up a conversation.
JG We are going to have an open-mic-style event for writers. Anyone can come and read and get a little feedback if they want.
NC That idea of "spontaneity" was sort of the moral-of-the-story in your Gossip Girl episode.
JT I'm glad someone finally pointed it out to me!
NC Blair was trying to force a literary salon to be the talk of the town, but it just didn't happen.
JT As she's wont to do.
NC I think that you're looking to create it organically here.
JT Definitely.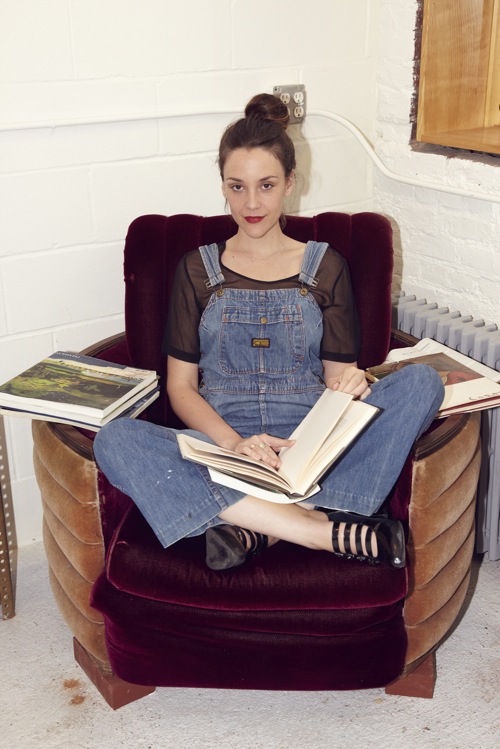 Jenna Gribbon in her studio at The Oracle Club.
NC How did your appearance on Gossip Girl even come about? What was it like to portray yourselves on TV?
JG They just kind of wrote us into an episode. They saw the piece about us in The New York Times, and wrote us in. (to Julian) How did you feel about portraying the TV-version of yourself?
JT It was fun, but I had no sense of portraying myself. It was acting. I'm not an actor and neither is Jenna.
JG We didn't write those lines. I'm not actually "as Queens as acrylic nails."
JT I am a die-hard Upper-East-sider. They knew.
JG We're not as snobby as that in real life. (laughter)
NC I was intrigued by the ballet class you offer. It seemed unique from the other events and classes you have.
JT A friend of ours is a phenomenal dancer, and he lives in the neighborhood. He was over here before we moved in. We talked about the possibility of teaching a class. It started like that.
JG I've always loved ballet and when we envisioned the space we always thought we would bring in dance in some way. I think he is going to perform sometime next month. I've always loved the idea that we'd be having a party and there would be a surprise dance performance that moves through the space. He has some ideas for more avant-garde ballet performances for this space.
NC Do you have plans for a culminating show of the work done in the any of TOC classes?
JG We have talked about putting out a book of the collages people made. People have made a lot of incredible collages. And we've toyed with the idea of, at some point, TOC having its own press—Oracle Books.
NC What a great idea. I enjoyed the recent exhibition of photographer Alison Nguyen's work. Are installed shows also an element of TOC?
JG It wasn't an element that we set out to have at first. I never wanted any aspect of this to be like a gallery. [Alison] knew that it's absolutely not a gallery, and still wanted her show to be here. She prefers that. She was particularly interested in having her show not in a gallery.
NC What's different about TOC versus a gallery?
JT The objective, for one. A gallery is a business that subsists off the sale of artwork.
JG We need those people to do that job, but I never want to be in that position. I'd much rather be on the artists' side. I think in this endeavor, we are safely on the other side of the desk.
NC What have you learned so far about being "on the safe side of the desk"?
JT Even as we're talking about making the place free, we discuss how flexible this idea is, and it continues to reveal itself daily. The first thing was to make this place. Make it, and hope people would start showing up at the door wanting to come work here. Every day we discuss what's going right and what's going wrong, how to make it better.
Sometimes a good idea comes, and then we go for it. We don't overthink things. A lot of it has been a meditation. Not really thinking too hard, just going for it.
To view more of Jenna Gribbon's work, click here.
To learn more about Julian Tepper's new book, Balls, click here.
Nora Clancy is a writer, educator, and library enthusiast. She is a graduate of Macalester College and has a Masters in Library Science from the Pratt Institute.