Kristin Dykstra on Watchword, Forrest Gander's translation of Pura López Colomé's Santo y seña.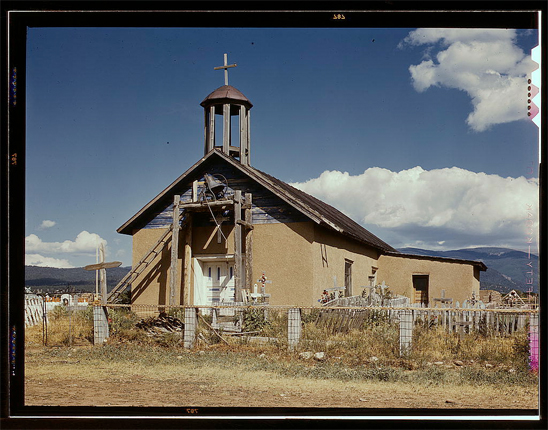 Russell Lee, Llano de San Juan, New Mexico, Catholic Church (LOC), 1940. Courtesy Library of Congress.
For some readers, the pleasures of the 2012 release Watchword will derive from translator Forrest Gander's English renditions of the poems, which showcase the striking work of Mexico's Pura López Colomé. For others the pleasure will lie in the gaps between languages in Wesleyan University Press's attractive bilingual edition, in those places where you find provocation: poetry in its still-potential state between voicings.
López Colomé describes her collection—called Santo y seña in the original Spanish—as a strange journey. The winner of Mexico's prestigious Villarrutia Prize, the book moves through three sections. Opening with a walk "on the roof of hell," Watchword ends with "a leap / of the five senses / towards memory's /threshold." The collection embodies a quest for identity: its first poem is entitled "Who Are You; What" ("Quién eres, qué"), while its final poem opens with partial conclusions.
Soy recuerdo de enramada
tal vez de arbusto.
En cambio tú seguirás siendo
una mujer que emerge
a diario
desde sus cavilaciones,
cubriendo su solidez de roble
con un velo de seda
pegado a la piel.
(from "Allée Marie Laurent")

***
I'm all memory of branches,
or brambles.
Whereas you
keep emerging
day by day
from your deliberations,
covering your oaky solidity
with that silken veil
you pin to your skin.
The quest also conjures a confrontation with mortality—many of its images subtly evoke the poet's struggle with cancer.
Aiming to capture the book's visionary conflation of instant with eternity throughout this journey, Gander matches López Colomé step for step. In practice this often means matching her poems stress for stress.For example, the pieces of one brief subsection, "2. Belleza, una verdad" ("2. Beauty, a truth"), trace Gander's recreation of emphases in López Colomé's lines. He makes subtle use of both expansion and contraction to generate the poem's movement:
Y se las ingenia uno
para ubicuo ser
ante umbrales

umbras

certidumbres, reciedumbres, costumbres
abiertas
a la vista.

***
And so you find a way
to stay present
to thresholds, penumbras

umbras

affirmations, consolations, adaptations
come
clear.
Gander's strategy of splitting umbrales into two terms in English is an expansion that would not occur to all translators in the genre of poetry, where it's so much more common to trim the motions of Spanish down into a more sparing English version. This moment appears to reflect his determination to capture some of López Colomé's original sound structure (penumbras/umbras) while also communicating an integral part of her vision regarding threshold spaces. That gesture also works on another conceptual level. His strategy of doubling terms is true to López Colomé's interest in the way "a hidden meaning would exfoliate into multiple meanings"—it's probably no coincidence that she too is a translator (Poet's Afterword, 149).
Still, it could be said that Gander's doubling of the word is not much of an expansion after all. "Ante umbrales" has five syllables in the Spanish, while "to thresholds, penumbras" only ups that number to six; and what is more important, each version has two principal points of stress. Throughout the book, Gander has often selected phrasing that echoes the pattern of emphasis in the original lines. It's not very useful, then, to paint this edition as a longer Spanish original placed alongside a more compact English poem; instead what makes this translation so powerful is the dynamism Gander derives from the meeting of urgencies with pause.
Other details within the sample poem similarly represent translation strategies in the larger book. In terms of sound quality, Gander may have preserved the echo in "penumbras / umbras" but also shifts to a different set of affinities in the following phrase, where three terms echoing "-umbres" in Spanish switch to a series of "-ations": "affirmations, consolations, adaptations." His willingness to switch up sounds allows him to evoke López Colomé's plays of assonance and alliteration, a delight in language as such, which creates depth by brightening the darkness of pain. With the degree of personalization, where the subject in Spanish is an impersonal "uno," Gander has chosen "you," avoiding the often awkward "one." His choice pushes the tone over to a more intimate stance in dialogue, which works well again near the poem's close:
Por ejempio,
lo que el hado
en virtud de otra persona
logra en uno.

***
Consider, for example,
what fate,
by virtue of someone else,
might draw from you.
Watchword includes a short commentary by López Colomé in which she flags her lifelong preoccupation with boundaries between formal and informal language. Reading her Spanish-language version reawakens a bit of that tension. "Pasa" ("Come on in") is the title of one poem, and yet there is a tangible restraint throughout her book. Gander's English version of poem seems oriented toward drawing the reader in just a little bit more throughout the text. In those four lines, for example, he adds an injunction: "Consider"—a call to the reader which is not openly articulated in the Spanish. It is his second expansive gesture in just one page of poetry. While the doubling of each term remains a minimal intervention, and one reflecting the spirit in which the Spanish can indeed be read, it's still an interpretive gesture from Gander that not everyone would make in this genre.
With these delicate amplifications we can see him skirting a boundary he delineates in his introduction to the book. Gander observes that López Colomé's poetry has hermetic qualities, but he seems to want to let us in. He takes time to emphasize the personal nature of the poems, particularly their relationship to the lived experience of illness, and highlights the way their "musicality and syntactical tensions adjust to create, not merely describe, emotional situations." His careful set of choices in the act of translation complements this attitude, allowing him to heighten the warmth in English even as he retains the discipline of López Colomé's movements.
Of course, for every gain in translation there are losses. For example, López Colomé refers indirectly to Mexico's Virgin of Guadalupe in these lines from "Los viejos almacenes" ("Those Old Grocery Shops"):
Creer que la poeía es encantamiento
que se rompe sólo por conjuro propio
para hacer llover,
para retratar la fragrancia
de las rosas en la tilma,
para dar con el aurum non vulgi
The reference is to the sacred image of the Virgin on the tilma (cloak or robe) belonging to "El Indio" Juan Diego. According to legend he encountered the Virgin at Tepeyac on various occasions in 1531. Asking that he convince the community to build her a shrine, the Virgin eventually sent him to pick flowers, which he carried in his cloth. The flowers offered proof of her miraculous appearance, because they had appeared out of season—but when Juan Diego opened his tilma to show his flowers to the bishop, an even greater miracle appeared. The fabric contained a portrait of the Virgin, surrounded in a golden radiance. This is the portrait displayed today at Mexico's world-famous basilica, a mecca for tourists and pilgrims alike, second only to the Vatican in its draw for the Catholic world. Gander's translation captures the beauty of the flowers and communicates the power of writing in relation to their fragrance, and its rhythm is effective. Yet it dispenses with a whole other level of power, the link to the Virgin's iconic portrait, when he renders "retratar" (to portray, depict, paint a portrait of) as "stir up":
To believe poetry is an enchantment
yielding only for a real spell
to make it rain,
to stir up the fragrance
of the roses that brushed a poncho,
to recover the true gold, the non vulgi
The translation produces effective poetry, and using a reference to portraiture might not convey significantly more information to an uninitiated reader. Perhaps only a translator's essay would do this. Gander does point to the fact that López Colomé includes references to institutional spirituality in this book but pulls back from parroting its languages, conjuring spiritual experience in her own voice. But a good bilingual display should provoke precisely this kind of meditation: if a translator chose a different strategy, could this passage emphasize more of the profound spiritual power López Colomé invests in her original? Unlike a monolingual presentation that presents a finished, closed appearance, a bilingual edition creates a new door allowing readers to enter the poetry, a space between the two visions. The best of these editions reach out to people who enjoy being intrigued and challenged, seducing us into re-imagining the poems in our own terms.
Kristin Dykstra is a 2012 NEA Fellow for Literary Translation currently working on the poetry collection Catch and Release, by Reina María Rodríguez. She co-edits the magazine Mandorla: New Writing from the Americas / Nueva escritura de las Américas with Gabriel Bernal Granados and Roberto Tejada, and she is Professor of English at Illinois State University.
Tags: