Mira Schor talks Miss Marple, Philip Guston, and big dreams.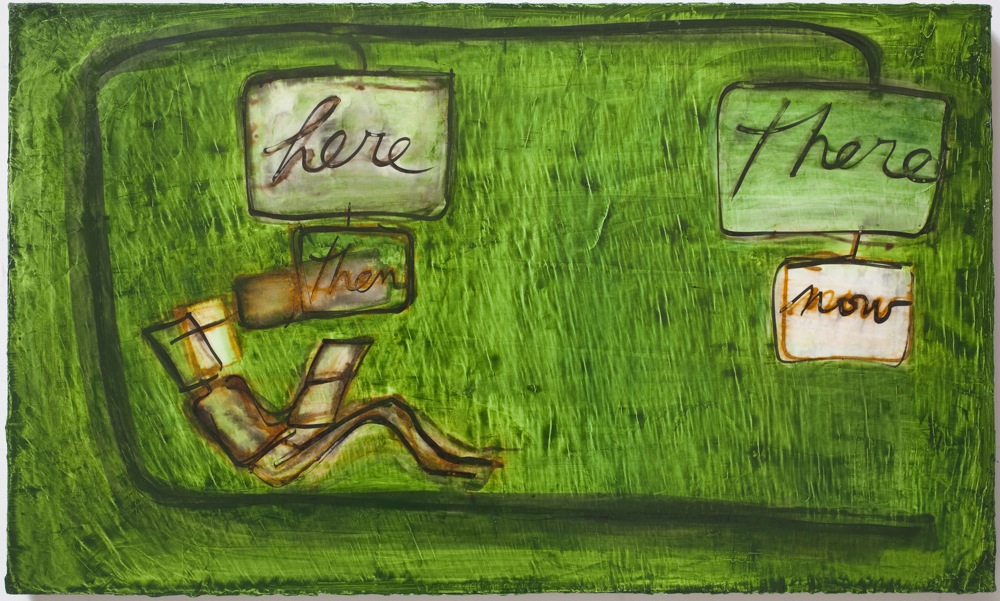 Mira Schor, Here/Then, There/Now, Ink, oil, and gesso on linen, 18 × 30 inches, 2011. Courtesy of the artist and Marvelli Gallery.
Mira Schor's recent show at Marvelli Gallery, NYC Voice and Speech, brings the viewer into the private, contemplative world of the painter at work—not so much with brush in hand, but with the mediation of ideas through language. Mira has pursued this subject for decades, through both her painting and writing. Feminism has been at the center of both pursuits, and her work combines this intellectual inquiry with an insistence on the female body as progenitor. To me, her work represents some of the best aspects the F-word exemplifies. It is fiercely personal, often confrontational, and demands that she observe the world through the lens of her own experience. I interviewed Mira in her home on the Upper West Side of Manhattan.
Mary Jones The figure that has recently emerged in your work made me think of Guston's late paintings, and his cartoon-like representation of himself—observing himself in the studio painting, smoking, and eating. I thought of [the figure] as a feminine counterpoint to his: reading, thinking, and writing. Also like Philip Guston, you represent not just the pleasures, but also the anxieties of the studio: the feelings of mortality inherent to the situation, of vigilant awareness, and of never having enough time.
Mira Schor I admire Guston tremendously, and any resemblance comes out of a basic admiration for his work. It's a lifetime goal to paint at that level.
But I think that I got where I am on my own—artists always say that, don't they? Interestingly enough, last summer I was also reading Guston's complete writings and Morton Feldman's complete essays, so maybe the relationship becomes a little bit closer in the sense that I'm working off of his passion for painting. A passion for painting is part of your DNA, your goals as a painter. There are also certain things that I share with Guston because I'm a product of the time period in which Guston was working. My parents knew Guston when I was a child and I met him when I was six years old. Some of the ethos of painting as an existentialist practice and way of thinking is familiar to me. Also I think Guston began to do those works at a certain point of self-criticism; it was the last decade or so of his life and a moment of crisis. I certainly hope it's not the last decade of my life, but my recent work is the result of my mother and my sister dying, and my being the only person left in my family and the responsibility that puts on me—it's not just personal grief but historical grief. I'm the only one left to speak for an entire culture in a sense; I am that next generation of Holocaust survivors. Not immediate, but as close as there soon will be. And my parents were artists and that adds a whole other level.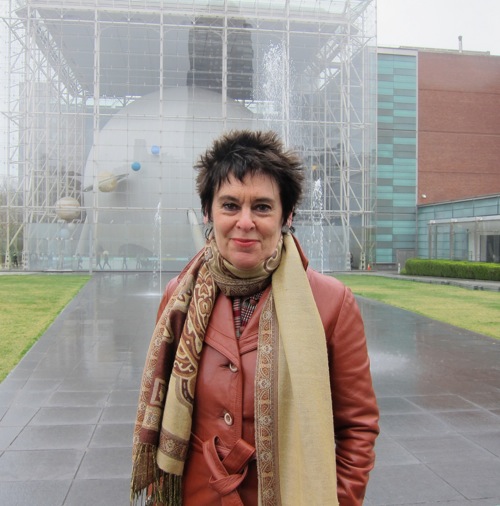 Mira Schor. Image by Mary Jones.
MJ You deal with some of this in the "Blurring Richter" chapter of A Decade of Negative Thinking. You create an equivalency between your family photographs of relatives murdered in the Holocaust and Richter's painting of a photograph of his uncle Rudi in the Third Reich. You analyze the technique of "blurring" as a personal and political convenience: blurring history, an abstraction of content better obscured. It was a bold comparison, but also tragic and insightful.
MS "Blurring Richter" is a very important essay to me; I basically compare my father's little painting of a Hasidic Jew in Eastern Europe at the turn of the century to Richter's painting Uncle Rudi, and I assert that Uncle Rudi won the art "war," even if the Germans lost World War II, and that's a big risk to take. I first presented the essay as a lecture at the College Art Association and my mother was in the audience. I was so glad she could see her own family photographs projected on a big screen to a huge audience but I also was terrified: it was one thing to present myself as a feminist—that doesn't seem like a big risk to me—but to come out as a Jew, and while talking about the artist of the moment was something else. But it seems completely right to me, and I think I'm honest about my father's work, and also I'm making an historical point. My work has influences that come from having parents who were artists with a European background. Both my mother and my father were painters but also jewelers; that their work was small and intimate has carried over into the way I view artwork. That's a difference between Guston and me. Obviously one huge difference is gender, and another could be a difference in relation to modesty, brutality, and intimacy. I think his works are very intimate.
MJ Your avatar is basically one big eye, whether it's a screen, glasses, a book, or a laptop. The body basically is there as a tripod is to a camera, to hold up the window into your world.
MS The point at which a woman is invisible but seeing is an interesting moment, and one that interested me even before I became a woman who isn't seen—a woman who's over forty, whom most people don't look at in the street anymore. I'm a big fan of English mystery stories and novels. I love Miss Marple as she was played (this goes back 25 years or so) by the actress Joan Hickson, who was a beautiful old woman in a way you would never see in movies today. Miss Marple is a little old lady with a mind like a trap and a completely unsentimental view of the world, but she's never suspect because she's this fluffy little old lady.
I'm a solitary woman. The body that I draw has very little sexual indicators and I'm looking, and I'm seeing, in a way that no one pays attention, but that doesn't mean that I'm not paying attention. I want to add about the figures in my work that early on I took pretty literally the feminist dictum, "the personal is the political." When I was working figuratively in my twenties, my work was all about being a young woman—about sexuality, beauty, and the body. Those are not issues that I'm dealing with now. I'm not a bleeding body anymore; blood filled toilets are no longer relevant to me, so the fact that I've always also been a thinker—like all bleeding bodies—is more central and has become the visible subject.
MJ Some of the figures are quite dark, especially in The Dreams of All of Us.
MS That series is really about Occupy Wall Street. I wanted to address the inspiration that it's sparked. The protesters sleeping in the park somehow represented this incredible generosity, almost a sacrifice for the rest of us. It parallels sleep with resistance.
Presumably you can stand in the park, but if you have a tent or if you start to sleep, you're breaking the law. The first drawing began with the figure sleeping, with dream bubbles containing the words "The Dreams Of All Of Us." The next two paintings take us through a dark night. I do end on a hopeful note though: in one of the last paintings the figure is awake. It's bright yellow and titled This is the Future, which is also a personal note for me, as I want to use more color in my future work.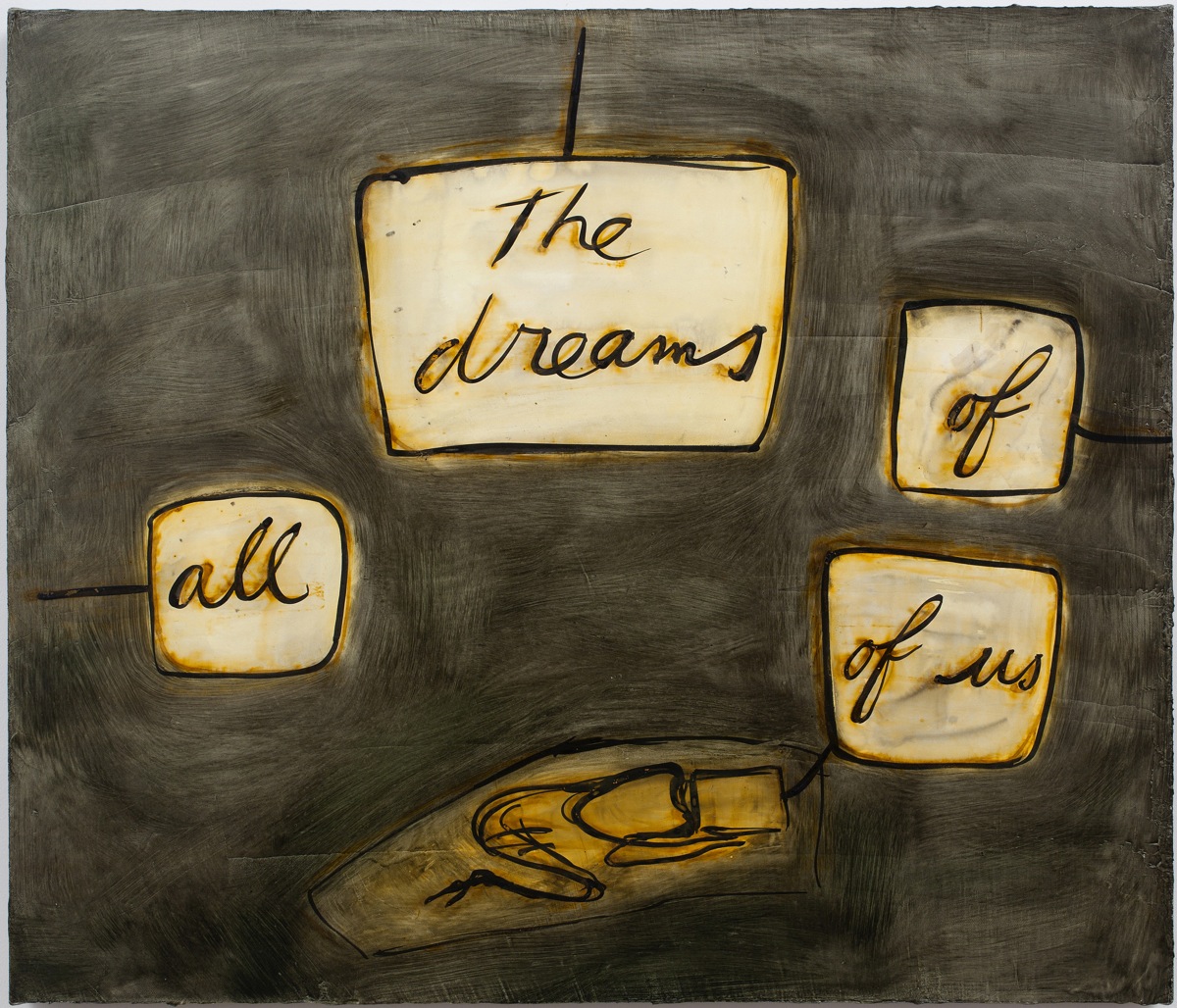 Mira Schor, The Dreams of All of Us, Ink, rabbit skin glue, oil, and gesso on linen, 24 × 28 inches, 2012. Courtesy of the artist and Marvelli Gallery.
MJ Teaching has been a formative part of your life and work. You've frequently written about it, and have mentioned you'd like to write a book about your experience teaching in New York City for nearly forty years.
MS I've seen a lot of changes that I think are important, going back to my own beginnings at CalArts where a kind of performativity was emphasized instead of theory. It was an experience-based education which completely doesn't tie in with the corporate world we live in right now. I don't think that the faculty had to do much work in terms of proving to a corporate structure that teaching or learning was taking place, they could just be artists and share that with the students. It was an atmosphere that fostered creativity. I don't remember having to take many classes as a graduate student. I didn't have to write a thesis; instead, I had a show. It was a very Fluxus-inspired moment.
The school opened in 1970 and I went in 1971. It was really the flowering of the ideas of '68. You had time to experience and absorb work. The demands on you were personal, political, and experiential, rather than professional in the sense of the art market or industry.
MJ You've described your work as a painter and writer as completely interrelated. Can you describe your process?
MS A lot of my work is done in the summer in Provincetown. I sit outside where I write thoughts in the margin of whatever book that I'm reading. I tend to select works that challenge being a painter, which last summer was the e-flux book What is Contemporary Art? and The Practice of Everyday Life, by Michel de Certeau. I'm writing in the margins, I'm writing in a notebook—although usually not exactly to the topic—and then I keep sketchbooks next to me, just empty notebooks and lots of ink markers. I try to draw myself without any skill, but with whatever I'm reading, hearing, and thinking. For example, in one piece I included the birds singing above me. At a certain point, I'll go inside and transfer it onto canvas or paper. I keep all the lines of what I do very open and very fast.
MJ Why do you think your work is becoming more personal?
MS I think my work has always had a personal dimension even when it has looked to theory or politics. I'm still doing that now, but I'm in a particular point in my life where mortality brings you up against it in a new way, and also the stranglehold of academic theory has loosened for many of us in the arts. There's a little book by Toril Moi, a major feminist theorist, called Life.After.Theory; on the cover is a great photo of a gigantic, close-up head of a praying mantis. That book, the title, and the cover epitomizes what a lot of people have been thinking, which is that this is the moment after a theoretical moment of about thirty years, when writings from the '60s and '70s were completely fetishized in contemporary culture. Now, there's so much work taking place which is much more fluid, and this is true for me as well. And the Web, Facebook, et cetera have created more immediate and less formal means of communication, for better and worse.
MJ You've recently edited the book The Extreme of the Middle, Writings of Jack Tworkov. He was a close family friend of yours and someone whose aesthetic philosophy you've described as formative to both your painting and writing. You also say your feminist background and critique of the patriarchal structure of the art world has influenced your analysis of his life and work. Can you say more?
MS Editing Jack's beautiful writings was a wonderful opportunity for me to revisit a formative period in my life: the New York art world I was born into. The influence of Jack's work and thoughts are an important part of that for me—the aesthetic ideology of the New York School, which totally influenced me in terms of my ideas about painting and art-making in general, yet which seemed to reject me once I started to do my own work, first with a pre-feminist and then a feminist vision that didn't conform to that ideology. It is a lovely irony that I ended up being the person to shepherd Jack's writings into print, and I think I brought a feminist point of view to my analysis to his writing and the canon of the New York School. I still operate in at least two worlds: a true believer of that particular vision of Modernism, yet an apostate, with a feminist point of view, colored by my slightly unusual familial art background. Modernism, Feminism, Hasidism! The debates that took place around the table when I was a child about New York versus Paris, American ugliness versus European beauty, high art versus craft all lurk under whatever are today's current debates over "What is contemporary art?" and other aspects of the political present.
Mary Jones is an artist in NYC and an adjunct professor at RISD and SVA.