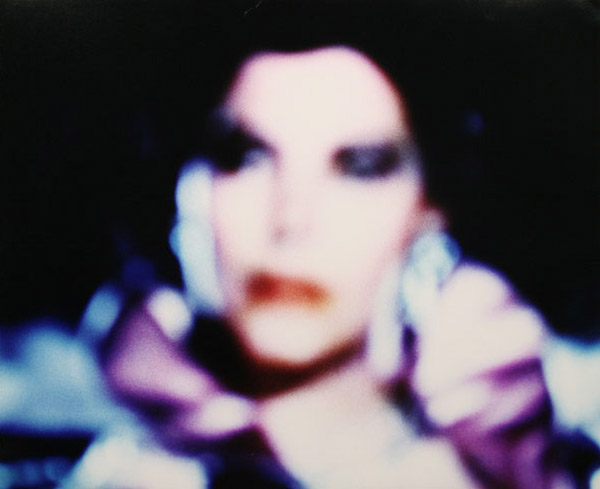 Coke O'Neal, Ava Gardner, c-print, edition of six, 19 × 24 inches. Courtesy of the artist and Pierogi Flat Files.
INNER RESOURCES
It feels good to love our country.
We must not say so. I'm divided by a love
of our millions of brilliant inventions
and how I'll dumbly sniff and rub each one
until I've figured out how I can use it for that
other thing. Just like a brilliant inventor I too
have a body so I know everything's invented
to pleasure a body. I was born to this country
and all of it was entranced by my tiny fingers
and then I learned where I could put them.
Before I was born there was sniffing and rubbing
and it formed a tiny unity. Already it was getting
too big to call by one name. It was becoming
a collection of purposes. Which is like calling the sky
a collection of purposes because stars exist.
This is why I write little notes to myself
reminding myself to take all the notes out
of my pockets before sleep. The notes say look
at the sky and when I remember to do it I feel
very American. I feel American when I want
to be able to rub up against what I'm pretty sure
is that planet. Planets exist. They hold the names
we gave them inside them like a breath. I need
to remember to look up the names of the planets
I'm seeing. I'm fairly certain of what I'm seeing.
It's too bright to be anything else.

I WILL MAKE A USEFUL MANUAL FOR MY TASKS AND HIDE IT
I don't owe anybody for the bad thoughts I think
or will think. It isn't right, the access this gives me
to everything. A person with actual access has access
to knives but not necessarily ways to make more knives.
To make more of anything one must go a long way
across a great distance, past symbolic trees and lush
ideas of desert, fences, all the way to where the blades
just glint up out of the land and are more or less ripe
for the plucking. More or less was never an actual
question. When there's more weather outside than
inside a building, the building's windows spring
big glassy tears. I don't see what good it does,
putting it this way. Ours is a history of a breathing
building letting people go to prove it breathes.
I'm at work in a building where I draw strange birds
to scale, where down the hall a man comes in every day
and remembers one day in December in his childhood
for a living until one day he doesn't. Sometimes the sky
just opens up. Not everything's allowed. Nobody,
for instance, cares very much for my singing voice
but I can spell daffodil however I want. I want to say
I see a great many possibilities for development around
the office, which I will call recognizing our potential,
which I will call daffodil, which is why you'll keep me
for as long as you can, like a pleasant taste at the end
of a meal. This new thing our building's about to be
about has many spellings I'll travel distances for.
Laura Eve Engel has work recently appearing in or forthcoming from Black Warrior Review, Colorado Review, Crazyhorse, Pleiades, the Southern Review, and other publications. [Spoiler Alert], a chapbook she cowrote, is available from Dzanc Books.
For more by Coke O'Neal, visit his page at Pierogi Flat Files.