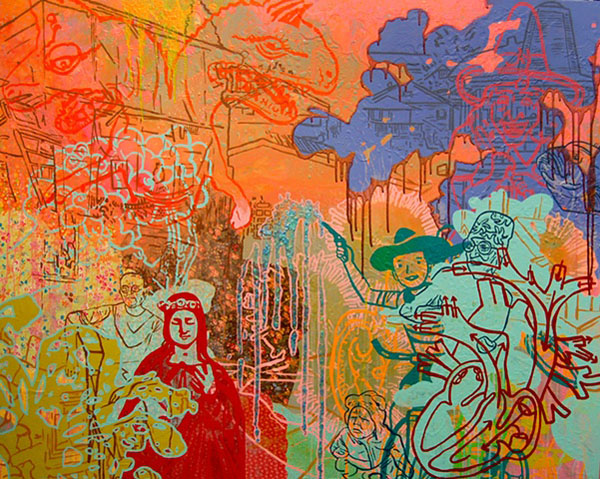 Jeanne Cassanova, In the wake of awake, 2007, acrylic, resin, glitter, and fabric on canvas, 36 × 48 inches. Courtesy of the artist.
Slogfish Ballet
It's another 5th Ave umbrella man
asleep in my car this time, another
shabby raincoat or shipwreck bluing
in the cold-twinkly morning stars.
Some folks enjoy living alone.
Others simply whistle the brisk
carnival through first light or birds.
With me, it's simple as a toy revolver
trimly gambled or the better cake
of a small jade Buddha. With me,
it's simple as laughing with the orange-
suited clean-up crews who piss against
the one-way glass. Anyone can scream
a fat train of rubies or shout like the man
selling vegetables. I'm inclined to
cock-a-doodle-do in these situations.
We all sober-up in the lighthouse where
bric-a-brac gathers in the elephant clouds.
Catalog for the Yardcar
Not the blue dress of the blind girl
hanging on the street lamp
like a rubber snake nor the dwarfish
pope playing "The Bird's the Word"
on the jukebox, not the turnbuckle
screwball of the hotdog man, his
Moose Lodge entourage covered
in mustard stains, not glass-eyed
peddlers eating crushed lightbulbs
nor Ready-Teddy with a confetti
cannon in the giddy-up garden,
not the measured breath of Shorty
Trombone clocking towards
the greenish moon of late-pressed
grapes nor Atrabilious Bellows
singing hallelujah with a butterfly
knife for a few slim customers
crouched beside the Oldsmobile.
Austin LaGrone, born in Baton Rouge, is the author of Oyster Perpetual, winner of the 2010 Idaho Prize for Poetry (Lost Horse Press, 2011). He teaches at John Jay College of Criminal Justice. He lives in an old leather factory in Brooklyn.
Jeanne Cassanova was brought up in New Orleans. Her childhood was steeped in a mix of Mardi Gras excess, Catholic guilt, the overindulgence of an Italian family, the richness of the French Quarter, and the awareness of fragility every hurricane season. She earned her MFA at the University of Houston, in 2008. She currently lives and works in the city that raised her.