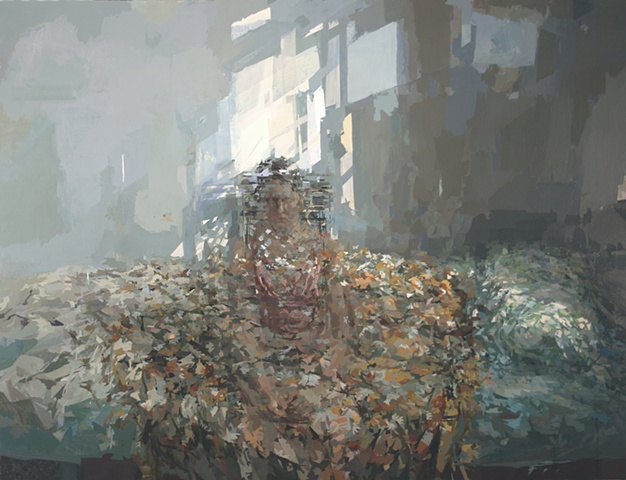 Stephanie Pierce, Faldum, 2011, oil on canvas, 46 × 60 inches. Courtesy of the artist.
RAIN UNDERWATER
Years, I've prayed the love
leave me—
even I remind me of you.
Whistle isn't sound
underwater,
silt-altar
gasping bloom.
Ages I've feared
myself alone.
Hold tight
crooked fishhook you.
RAIN LEARNING TO SWIM
Oak is every here
New things may sound wrong at first
A tree is a door
with open windows
Forgiveness you are sober in my paintings now
Once enlarged
the heart never returns
to its anatomical shape
Two wind-full umbrellas make love in the branches
A green bird
pausing in sunlight
to be seen
Jennifer Chapis has had poems in the New Yorker, American Letters & Commentary, Alaska Quarterly Review, Salt Hill, Colorado Review, the Iowa Review, the North American Review, and other magazines. A faculty member at New York University and co-founder of Nightboat Books, Jennifer lives in Brooklyn.
Stephanie Pierce received her MFA from the University of Washington and attended the Yale Summer School of Art. Her work has been shown nationally, including a recent solo show at Alpha Gallery, in Boston, and group exhibitions at the Henry Art Gallery, in Seattle; the Asheville Art Museum, in North Carolina; Steven Harvey Fine Art Projects, in New York; Space Gallery, in Portland; and Argazzi Art, in Connecticut. Stephanie's work was published recently in the New Yorker, and she currently teaches at the University of Arkansas.