Lori DeGolyer reviews Dixon Place's Brink showcase featuring works by Diana Crum and Katy Pyle.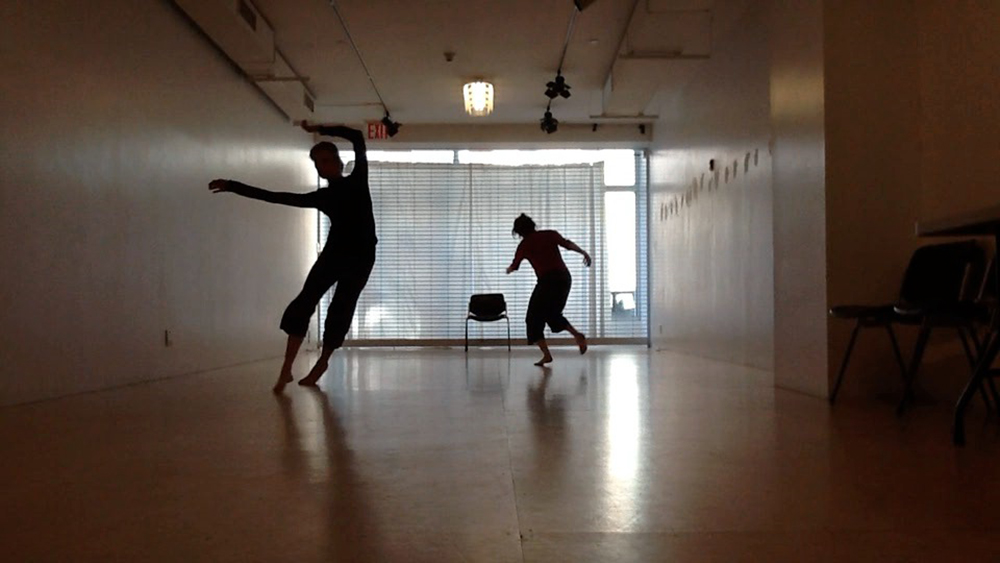 Photo by Diana Crum.
More than a snug experimental theater in Soho, Dixon Place is home to the voices of marginalized artists. Self-proclaimed as placing "special emphasis on the needs of women, people of color, youth, seniors and lesbian/gay artists," the theater offers a necessary space for local talent in the literary and performing arts. As part of their new dance series, Brink, the theater featured two works-in-progress by choreographers Diana Crum and Katy Pyle on February 28th and 29th—works that both explore and push traditional limits of dance, albeit from vastly different places.
Opening with a slow progression in duet form, Diana Crum's If I Tell Myself I Have Enough Time, Then I Can Be With You is a rumination on how space and time affect movement. Developed through "dancer-driven improvisations" with performers Erin Carins Cella and Kathy Wasik, the piece unfolds as a prolonged flooding of space that attempts to stretch the boundaries of physical confines. Paired with abstract projections and live galactic sounds generated by Peter Kerlin, the performers' movement appears foreign—unusual to practical patterns of human experience. With intentional mishaps in synchronicity and bodies that undulate between slow unfurling and rapid expansion, Crum examines control—in how long a movement can take and the way it manifests itself. The piece ends as Cella's and Wasik's limbs fall limp, moving on the floor like marionettes, where they eventually find harsh stagnation. An exploration of the nature of choreography, If I Tell Myself I Have Enough Time, Then I Can Be With You raises questions about movement that linger even in stillness.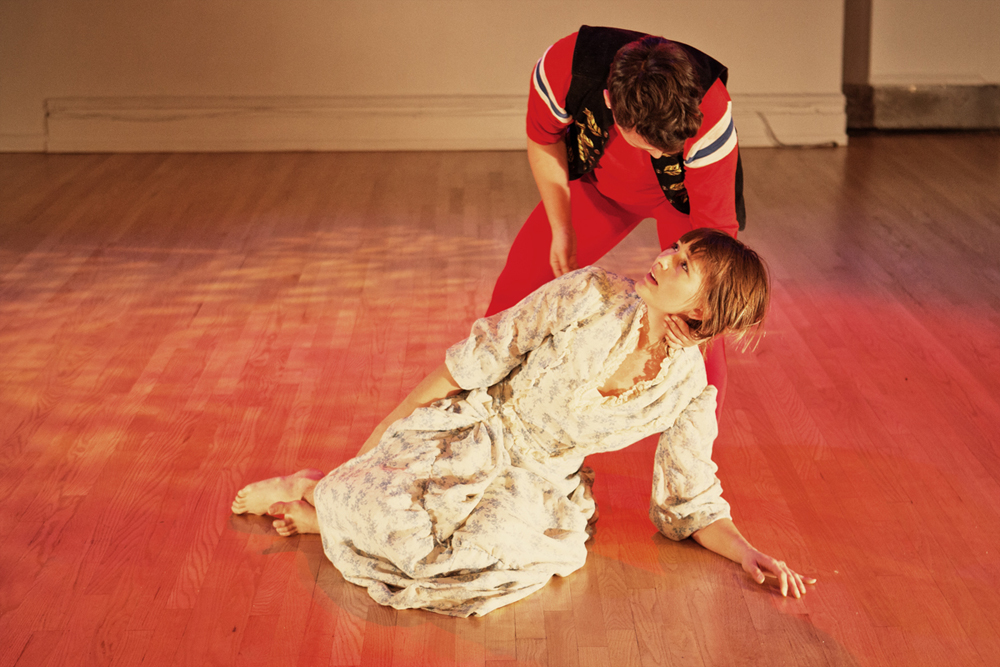 Photo by Christy Pessagno.
Following this performance was Katy Pyle's The Firebird, a queer satire of heteronormative fairy tales in ballet, most specifically Stravinsky's classic The Rite of Spring. Shown in three acts, The Firebird is narrative-driven, following a lesbian princess into the woods where she meets a red-and-black "tranimal" who is "part-bird, part-boy". Featuring courtship dances similar to the buff-breasted sandpiper—extending wings with astute confidence—and interpretive cunnilingus, The Firebird is anything but conventional. This piece is magnificent in its representations of gender, as a court of genderqueer princes dance gallantly in a garden—playing catch and packing their pants with apples—while a dominatrix-style sorceress in leopard-print controls them all. Mixing elegant movement with a dramatization that extends to humor, Pyle maintains the classical style of a ballet while her choreographic tone is charged, witty and pointed. Fully engaging and entertaining, The Firebird also holds weighty significance—as a wide variety of queer, trans and genderqueer performers reappropriate this classical form.
Shown in combination, Crum's and Pyle's works are a bit of an enigma. The curator's decision making is curious—though both pieces do challenge institutions, however literally and however abstractly.
Diana Crum will be performing in Emily Wexler's Subject Matter at the Tank on April 6-7, 2012.
Katy Pyle will show an excerpt of The Firebird for CATCH 50 at the Chocolate Factory on May 5.
Lori DeGolyer is a Brooklyn-based writer.
Tags: