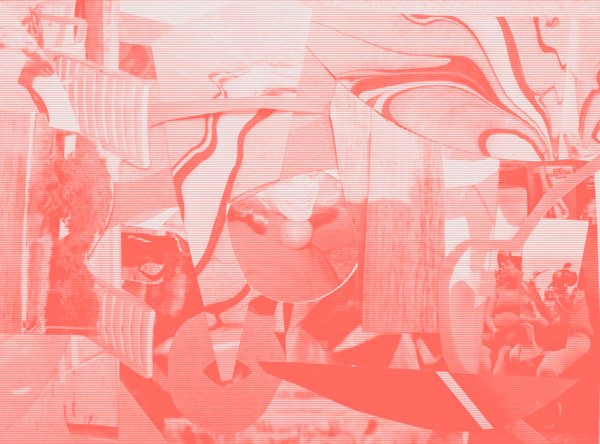 The city has turned so beautiful in its new season that being indoors is giving the woman a stomach cramp. From her desk, the woman can see the whole expanse of the parking lot. On the medians between parking spaces, white flowering trees fill the air with the odor of semen.
"My son's room smells like that all the time, now that he's hit puberty," says the woman's office-mate.
"They're a varietal of pear tree," says a person nobody likes, plunging a fork into a microwavable meal.
The woman listens to this conversation but doesn't participate, cannot look away from the window, where the western sky is dark and radiant.
At home, she does sit-ups for the first time in five months and plans to meet with her most exciting, least reliable friend. While they talk she dresses for adventure in two T-shirts and a pair of shorts under a long, light coat—no bra.
As she moves from one neighborhood into the next the woman's breasts flop painfully up and down. She reminds herself of a street dog that might be pregnant or nursing and in an animal way her eyes and mouth feel all-black, empty, hungry for input.
She goes to the liquor store to buy a pint of whiskey. This is not the kind of impulse she usually indulges and it gives her the feeling that there is nothing where her brain should be.
"You look like you don't feel so good," the man says when he takes her money, and he is wrong.
The woman puts the bottle in the inner pocket of her coat where it rests hard against her left tit: a reminder of her own adventurousness. She takes a swig here and there—between a pair of parked cars, in a stinky doorway, behind a telephone pole—and the alcohol burns all the way into her empty belly. The sound of the highway drones up, and the woman feels homesick for an imagined landscape that is perpetually warm and perpetually wild.
By the time she gets to the cafe, she is drunk and smiling, and the handsome staff treats her with brutal, exaggerated courtesy. She alleviates the moment by ordering an expensive drink and looking into her phone.
Though they are both nearly a half-hour late, her friend has neither called nor texted.
All the tables inside are crowded with people interacting successfully or working on their computers. Out on the patio the only empty chair is at a table occupied by a teenage boy who is so beautiful the woman is embarrassed by her outfit.
She pulls her coat close around her body and asks if they might share.
"I'm waiting for my friend," she says and though the statement is true it feels like a lie.
"I'm doing my math homework," says the boy. Up close, he looks too young to drive.
They sit in silence until the woman can't stand it.
"My friend is insane. She probably won't show up," she says, and she and the boy laugh together as though they are friends and it is appropriate.
Porch lights turn on up and down the street. The breeze sounds nice among the leaves but it carries a familiar bleachy stink.
White petals swirl around their feet. The boy sneezes and rubs his eyes until they turn red.
"These trees smell weird, right?"
"They're pear trees," the woman says too quickly, shifting her weight from one side of her bottom to the other. Her hands feel hot; the urge to urinate spreads from her bellybutton to her urethra.
A skinny person of indeterminate age scoots across the street and up the sidewalk in a motorized wheelchair. There's a beer can wedged between his thighs.
"I call that guy the Future," the boy says. The woman is moved by this, intuits between the boy and herself a kindred sensibility she can't articulate.
She wobbles to her feet.
"I have to go inside for a second. Need a refill?"
"I only ever drink the milk," says the boy.
The small bathroom smells like a barnyard because so many people have gotten piss on the floor. As she squats over the bowl and looks down, dizzy with feeling, the woman knows that's where she's going: down and under, flushed by a springtime wind.
"Why do you come here if you don't like coffee?" she says when she comes back. The streetlight dapples the boy's face with patches light like—what? Like milk, decides the woman. He must have been breastfeeding when she was in high school, maybe even college. She thinks about opening her coat to offer him a drink.
"I like being out, where other people are," he says and something inside the woman's body contracts like a fist. She looks at the cleft above his upper lip and decides it's the same size and shape as her own fingertip.
"Me too," she says.
Ari Braverman is from Iowa City and Denver by way of New Orleans. She was awarded a 2015 De Alba Fellowship from Columbia University and has stories forthcoming in the newest issue of Tammy Journal and at SmokeLong Quarterly. Her interviews can be found online at Antenna's Room 220, Electric Literature, and Guernica. She is an assistant editor for Conjunctions, and lives in Harlem, New York.
Tags: