Extracted from Donato's severe cycle of poems penned alongside a series of paintings by Carl Ferrero—both inspired by the work of Stanislaw Lem—these pieces read like carefully compressed bulletins from the shores of a destroyed orbital. Hard and ephemeral, alien and driving inward, they ply the dread of self as other, jockeying a yet unseen debacle, intoning the ineffable.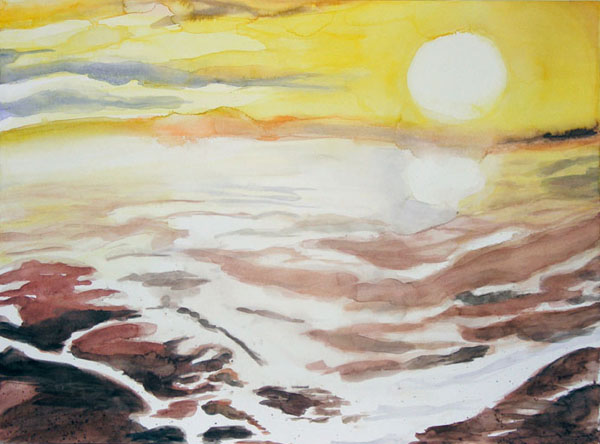 Carl Ferrero, See You in My Head, 2011, watercolor on paper, 22 × 30 inches. Courtesy of the artist.
In the Wake of Freezing You to Death
Last summer was cold.<br/ >
Worse: It did not stop.<br/ >
Finally, another thought<br/ >
Arrives in the shape<br/ >
Of a thought<br/ >
That plays out in the head.<br/ >
She thinks, 'I am in trouble again.'<br/ >
Leave but never go.<br/ >
In the Wake of Freezing You to Death
She thinks: 'I told myself the dead don't stay for long.'<br/ >
In the background, the hot blue<br/ >
Sun, or the shadow of<br/ >
Its rays, falls.<br/ >
Her weight is supported by blue, blue.<br/ >
Her pupils are contracted.<br/ >
These moments seem to have no meaning, but they do.<br/ >
In the Wake of Freezing You to Death
Shoulder as illuminated by the white fluorescent spot.<br/ >
Collarbone, as touched by the invisible heel of his palm.<br/ >
'Are we in love,' he asks. By what proof?<br/ >
If we are, he already knows.<br/ >
In the Wake of Freezing You to Death
Pale green-tinted consciousness.<br/ >
My hand, groping well beyond the body's surface.<br/ >
'I'm coming for you,' he says, eyeing my mind up and down.<br/ >
My body, searching for an answer, grows.<br/ >
Claire Donato has writing forthcoming in the Boston Review, LIT, and Evening Will Come. Her novella, Burial, will be published by Tarpaulin Sky Press this year. She lives in Brooklyn and is at work on several projects, including THE MELANCHOLY OF SPECIAL AMERICA, UnderAcademy College, and Noël, a novel.
Carl Ferrero was born in Vineland, New Jersey, a farming town, and now resides in Brooklyn. He has shown his work at Feature Inc., LACE, the Bronx Museum of the Arts, Artists Space, and many other venues across the US and Europe.