Fraught and ferocious, Demske's verse polemic risks annihilation with élan, breaching that tricky hold of the political poem, setting its satirical sights on the mechanics of war and entertainment, the ongoing orders of violence with which even our moments of quiet are infested. So here's to breaking such silence. Here's to undone investment.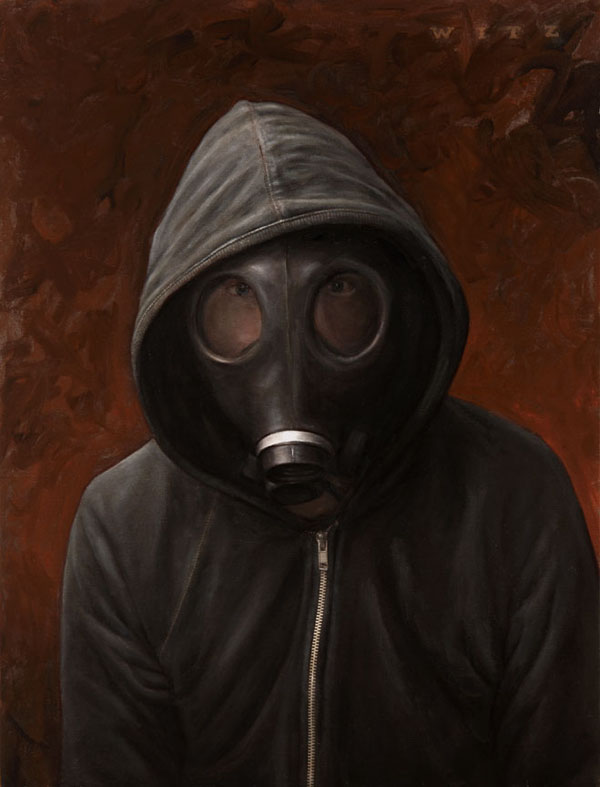 Dan Witz, Hoody Gas Mask, 2011, oil and digital media on canvas, 20 × 15 inches. Courtesy of the artist.
I'M HOT
"Fire is inspirational."
—Richard Pryor
For Jenetta
After Mims, ODB, Jeff Bezos & Danny Khalastchi
Because I'm on fire. Because I'm a church. Because I'm Richard Pryor. Because I'm Google search.
Because O snap, Branch Davidian Gideon, a real burner, cinder incinerate drunk tank caloric intake shake. And bake. And I helped.
I perpetuated the mythology. I forwarded the message. I researched the glottochronology, desperate for a great grandparent to blame. Awe shit!—I wrote a poem about "picnics" etymology, the practice of picking a nigger for lynching. The practice of coloring cluster munitions the same shade as aerial food drops.
Because I am stuck in the lotus position. Because I nuked the leftovers, back to the Stone Age. Because—opah, etc.—Lake Erie exploded. Because Michael Jackson and Pepsi and toasters and bathtubs. I'm hot. Because I'm fly, a fly, a 747 fly into a twin, I'm 808, I'm 212, I'm a kindle that spreads jungle fire like Amazon, consummates the info ecology. This is why comparisons are odious. This is why all explanations fail. Because it is real. Because it is real. Because coincidence is mythical as God. A tree falls in the forest and no one's around. It feels self-conscious, a stereotype. O koan, I'm hot because the Hilton's on fire. Because the conference center is burning! I'm the severed breasts of my warrior mother, an ambidextrous archer. And I am the shit the entrepreneurs have taken on her honor.
Because I have survived extraordinary violence. Because I'm sensitive, I'm passionate, spontaneous. You ain't. Because you not. An equation elementary as water. A formula of misinformation, a river that flows like mother's milk. Let me explain: because I drank the Molotov. Now I am the revolution. Because I myself am hell. Because I myself am the pollution wafting from the Iraqi National Library's ashes. I'm hot. Because I'm fly. You ain't. Because you not. This is why. This is why. This. Is. Why.
Nick Demske is the author of Nick Demske, chosen by Joyelle McSweeney for the Fence Modern Poets Series Award and published by Fence Books in 2010. He curates the performance series BONK! and edits the online venue boo: a journal of terrific things. He lives and works in Racine, Wisconsin.
Dan Witz was born in Chicago and attended Cooper Union in New York City. His work has been featured in recent solo exhibitions at DFN Gallery in New York, StolenSpace in London, Carmichael Gallery in Los Angeles, and White Walls in San Francisco. In 2010, a monograph, Dan Witz: In Plain View—30 Years of Artworks Illegal and Otherwise, was published by Gingko Press. Dan lives and works in Greenpoint, Brooklyn.