Millar's muscular poems mount expeditions into the wake of shrinking destinations, ruminant yet not quite mournful, jaded but glinting.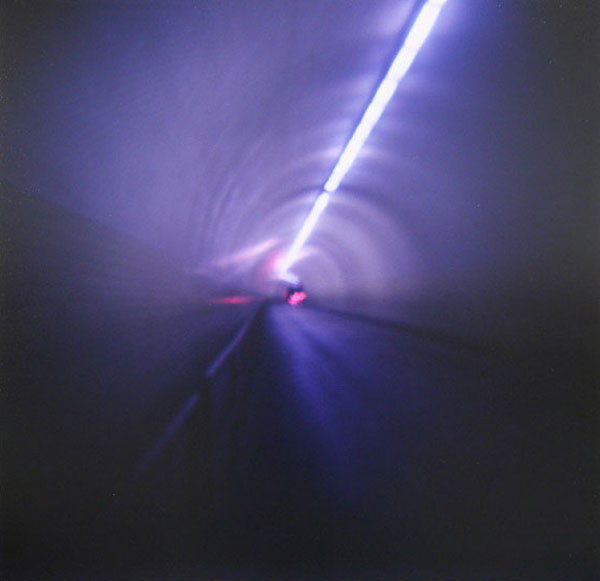 Nader Ebrahimi, The Tunnel, c-print, 16 × 16 inches. Courtesy of the artist and Pierogi Flat Files.
Car Music
Why don't you just say one of your prayers,
she sighs on the way to the airport,
passing through the Virginia hills,
something hidden and dazed in her look
like the singer's corrosive voice
smoldering out of the radio.
When we stop to stretch
in a grove of dark pines
she looks like she's trying
to remember something
standing beside the fender
and bending the wing-mirror over,
daylight the color of tapwater,
silver-gray like the sky.
I look okay in this type of light, she says
no one can see my crow's feet.
I can't decide if she's flirting with me
or trying to pick a fight.
What if I tell her I'm not afraid
of her midnight rages and vanities?
What if I give her these skinny violets
and say get back in the car?
Chapter 13
Hung behind glass in a brushed copper frame
in the bankruptcy lawyer's office
high above Van Ness Avenue
a giant photo of Rimbaud's face,
its shocked freckles and narrow eyes
staring venomously down at the chair
where I wait for my lawyer
holding a file of collection notices.
I have eighteen hundreds
to get him started,
no checks, no credit,
which he scans briefly,
looking tired and distracted
removing his sharkskin jacket.
I can hear the March wind outside
making its creaky metallic sounds
like a tow truck preparing to hook up my car,
I imagine the snows of my grandmother's shame
settling deeply around me. The lawyer
looks down through designer lenses
and a night-moth
rustles the window shade:
maybe the ghost of Rimbaud the profligate
waking up in the grass of a ditch,
on a whorehouse couch
or a tramp steamer,
throwing his arms open, lifting his face
trying to swallow the light.
Joseph Millar is the author of Overtime and Fortune (both from EWU Press), and Blue Rust (forthcoming from Carnegie Mellon). He teaches in Pacific University's MFA program and lives in Raleigh, North Carolina.
For more by Nader Ebrahimi, visit his page at Pierogi Flat Files.