Spaced-out and deft, Zawacki's sonnets set trajectories by which form irradiates form and the discrete or familiar gives way to luminous flux.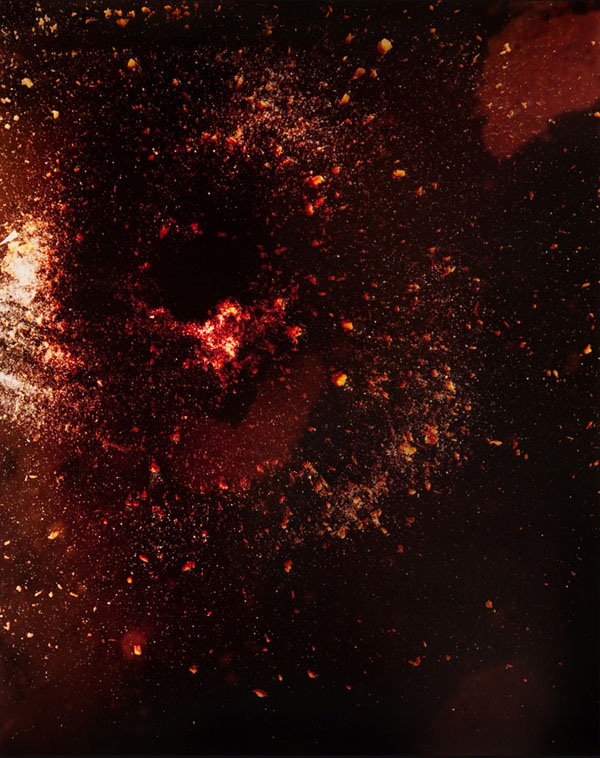 Meghann Riepenhoff, Redstar Imploding, 2009, unique chromogenic photogram (sand, polysobutyl methacrylate + sorbitan trioleate + dichlorodifluoromethane [silly string], snow negative), 20 × 16 inches. Courtesy of the artist.
BALLISTIC NYLON SONNET
Squall through the safsaf willow
Is why the tree is
Dodge dark, burn bright the
Anthracite air, arthritic
Branch : sine wave &
What's there
I have dreams & you're
In them
At hyperfocal distance the leaves :
1050 denier double weave
No thing ever in
My arms will ever break
– It's snowing
– What is it
LIMIT SONNET
Daughter & laughter—a letter
Apart
A part
Of terra firma & infirm
As a poppy reddens
In porch light
In frost
Whithersoever it's wired
Daughter is an
Edge, edge
A verb—
I knew you
Were you before
You knew
2.45 GHz SONNET
Snow as a hellbox of letters erased
Pas de doudou, pas de dodo
Winter & the promise
Of its pageant in the world
But rain is a radio signal, repeated
Synth patch : thunder
—a gunflower blooms—
Lightning : infrared
Cat's grin (an app for that)
Your white pajamas your
Noh play face
Bathed in the light of the microwave
Nothing
hurts
Andrew Zawacki is the author of the poetry books Errormirror (Mindmade), Arrow's Shadow (Equipage), Petals of Zero Petals of One (Talisman House), Anabranch (Wesleyan), and By Reason of Breakings (Georgia). Coeditor of Verse, The Verse Book of Interviews (Verse), and Gustaf Sobin's Collected Poems (Talisman), he also edited Afterwards: Slovenian Writing 1945-1995 (White Pine). He edited and co-translated Aleš Debeljak's Without Anesthesia: New and Selected Poems (Persea), and translated Sébastien Smirou, My Lorenzo, (Burning Deck).
Meghann Riepenhoff teaches at the San Francisco Art Institute. She has had solo shows at El Museo de la Ciudad de México and Duncan Miller Gallery in Los Angeles. Her work has been featured in Harper's and B&W and Color Magazine. She was selected as an artist-in-residence at the RayKo Photo Center and the Banff Centre for the Arts. She has lectured with the San Francisco Photo Alliance and the Headlands Center for Research, and has hosted workshops on the value of photography for at-risk youth.