Listen to a podcast of a selection of readings by the 2011 National Book Award finalists, recorded live at the New School on November 15, 2011, in partnership with the National Book Foundation. For more information, visit www.nationalbook.org.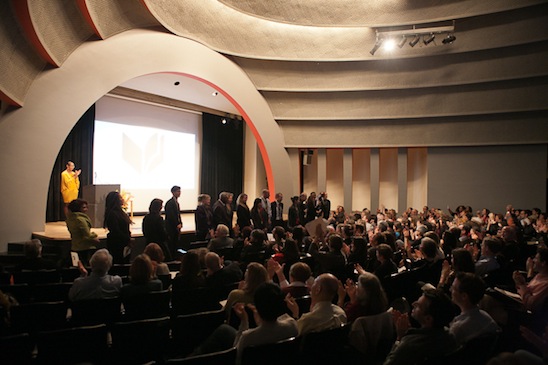 National Book Awards. Image courtesy of Beowulf Sheehan.
BOMB was out in full force for the national book awards this year, at the ceremony and the after party (which we co-sponsored!). This year's big winners were: Jesmyn Ward's Salvage the Bones for fiction, Stephen Greenblatt's The Swerve: How the World Became Modern for nonfiction, Nikky Finney's Head Off & Split in poetry, and Thanhha Lai's Inside Out & Back Again in the young people's literature category.
On the eve of the National Book Awards ceremony, the New School hosted a reading for this year's finalists, including Andrew Krivak, Téa Obreht, Julie Otsuka, Edith Pearlman, Stephen Greenblatt, Mary Gabriel, Zaheer Ali reading for Manning Marable, Lauren Redniss, Nikky Finney, Yusef Komunyakaa, Carl Phillips, Jill Bialosky reading for Adrienne Rich, Bruce Smith, Thanhha Lai, Franny Billingsley, Debby Dahl Edwardson, Albert Marrin, and Gary D. Schmidt. All equally brilliant, it is somewhat a shame there had to be winners—but thankfully it was down to judges to decide who this year's awards went to and not us. Check out BOMBlog's podcast of the finalists reading at the New School, and come to your own conclusions.
If the podcast doesn't appear above, try browsing BOMBsite with Safari or Firefox. Google Chrome users may experience some difficulties.
Tags: