Nick Hallett witnesses the collision of two individuated music universes. The result continues to play out during several events starting this month.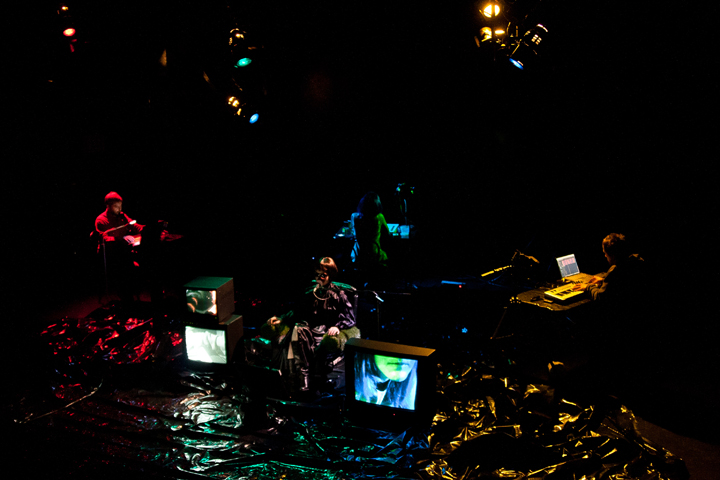 Robert Ashley's Automatic Writing, performed by Object Collection. Photo by Hunter Canning.
It seemed as if New York's cultural institutions—creatures great and small—made the collective decision to synchronize. The first weekend of November saw four rarely performed multimedia works by composers Robert Ashley and Philip Glass receive precedent-setting third party interpretations, ranging in scale from epic to guerilla. Fans of both artists were forced to make choices or plunge into all of it. Uptown, Glass and his ensemble debuted alongside the New York Philharmonic with the score to Godfrey Reggio's film Koyaanisqatsi (1981), while the Metropolitan Opera flaunted its 2008 production of the opera Satyagraha (1980), one would assume to cash in on the publicity. Downtown, Incubator Arts convened a weekend of Ashley's music at St. Marks Church, programming at its center a live premiere of the recorded work Automatic Writing (1979) interpreted by the group Object Collection. And then on Sunday, partially under the rubric of Performa, a new ensemble called Varispeed roamed around lower Manhattan enacting site-specific versions of the operas from Ashley's epic cycle Perfect Lives (completed 1983). What struck me was how four different masterworks drawing on two very active and long careers would end up being drawn from such a brief sliver, five years spanning from the late '70s into the early '80s.
There's no confusing Ashley and Glass—their respective everythings could not be more different. Ashley is a polymath who explores the shared space between music, language and media, while Glass tinkers with traditional harmony, rhythm, and psychoacoustics within a system he has been able to claim and proliferate as so completely his own. But shuttling back and forth between the shows in such an unexpectedly concentrated period made me start to see connections between these works and their creators. Two individuated musical universes began to morph into the vision of one supercomposer—perhaps named Rolip Glashley (but certainly not Philbert Ass)—and with each successive work, my weekend became an investigation into how two different artists frame the cultural signifiers of a shared moment.
Ashley and Glass have never been close companions, but their social networks aligned during the mid-1970s, when Ashley's partner Mimi Johnson and her Performing Artservices non-profit became early-on managers of the Philip Glass Ensemble. In 1975, Ashley interviewed Glass for his Music with Roots in the Aether video series (Ashley justified it as an opera). A saturated tape image reveals the two sitting on director's chairs in a bare white-walled studio, which soon crowds with spazzy fourth graders. The first half is intriguing shop talk, but towards the end, things get especially inspiring. Glass, warmed up and totally self-possessed, asserts the man behind his music in a way that could only happen composer-to-composer. A personal highlight comes when Glass describes his break from modern composition to align himself with the Moondogs and Partchs and Varèses—the "maverick" tradition in American music, to which Ashley adds, "all the people you respect." The video captures both on the precipice of the the career-shifting works reflected in last weekend's cultural offerings.
This video is also available on Ubuweb.
Both Ashley and Glass have remained largely self-produced throughout their careers. In Music with Roots, Glass doesn't foresee others performing his work—"I just don't want to suffer through those bad performances"—but his primary reason for limiting third party interpretation is economic: "If anyone could play my music then the likelihood of my being hired would be diminished." Koyaanisqatsi at Avery Fisher (for the first time, noted a critic or two) came off as a virtuosic concerto for his ensemble—flanked by the NY Phil, the Collegiate Chorale and Godfrey Reggio's foreboding imagery. Its debut amounted to a new kind of audiovisual program music, a drumroll into the computer age with a plea to the Baby Boomers to renew their sense of social responsibility. In 1975, on the precipice of Einstein on the Beach, Glass couldn't see this kind of politicking as part of his practice and spoke about it plainly in the Music with Roots interview. But Koyaanisqatsi and Satyagraha warmed him up to the idea that a work of music can embody messages of social change through theatrical and visual forms.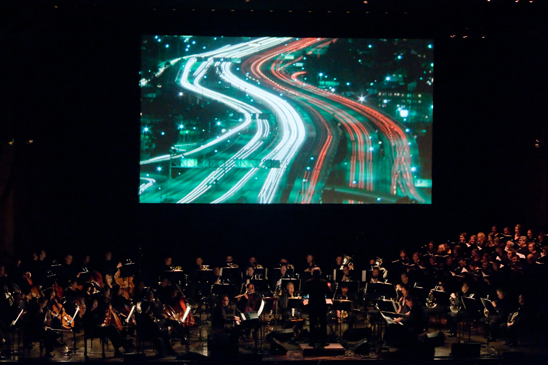 Philip Glass's Koyaanisqatsi, performed by the Philip Glass Ensemble, New York Philharmonic, and the Collegiate Chorale. Photo by Stephanie Berger.
Originating from the same time period, Ashley's Automatic Writing (and like Music with Roots, justified as opera) was composed for a recorded medium. Over the course of 46 minutes, barely audible electronic sounds and words are formed but not articulated. The effect is hypnotizing, on the verge of what we hear as music. Nurse with Wound's Steven Stapleton claimed it the only record he could listen to on acid. Object Collection's live interpretation remained absolutely faithful to the studio production values of the original LP, connecting its synthetic ambience with the ensemble's somewhat darksided approach to electronic music theater. Soft French syllables from Mimi Johnson's original performance were translated into gutteral German and brought into view through Fulya Peker's near dominatrix characterization. The only thing missing from the cyber-BDSM atmosphere of it all—complete with shiny black surfaces and CCTV—was the whip.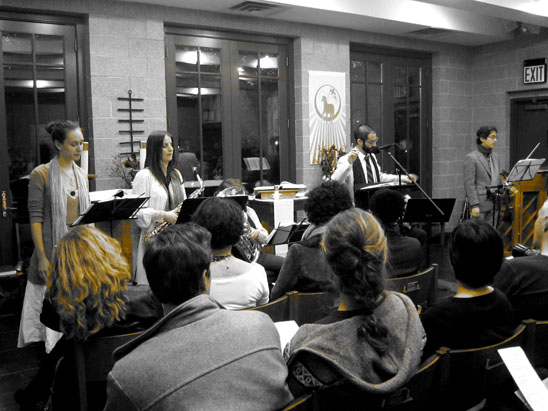 Varispeed performing The Church. Photo courtesy of Varispeed.
Varispeed's version of Ashley's Perfect Lives could not have been more different, mostly because the opera cycle was re-imagined as a 12-hour roving performance marathon, each episode in a different location around lower Manhattan. Without the ability to recreate any of the electronic sheen and video fanciness of the original, Ashley's text—which reveals his mastery of the American literary voice—became the springboard to a wide range of DIY interpretations. The Church at Trinity LES felt like like the Occupy Wall Street People's Mic by way of Wes Anderson. Dave Ruder's eager attempts at folksy evangelism were reinforced by Americana swells in the euphonium, piano, and violin, sending giddy surges through the crowd and causing Mimi Johnson—hands clasped in front of her face—to melt with laughter. It was nothing like the glossy Glass interpretations uptown, which continued into the next week at the Metropolitan Opera with encore presentations of Satyagraha, whose ultimate reward is the final tenor aria, predicated on the guilty pleasures of listening to an ascending scale over a deceptive cadence—"the technology of 18th and 19th century music" as Glass describes it in the Music with Roots interview—on a divine loop.
And for those that missed out on early November's happenings, there is more Glashley in the works. This weekend, The Kitchen and Performa co-present a new production of That Morning Thing, an Ashley opera from the late 1960s which includes some of his most widely recalled early compositions. And in early December, ISSUE Project Room presents Alexander Waterman's production of Perfect Lives in translation: Vidas Perfectas, carried out in close collaboration with the composer and members of his original creative team. Fans of early Glass can look forward to his 75th birthday celebration in February at the Park Avenue Armory plus the world tour of Einstein that rolls into BAM next September. These works represent a wider timespan in both composer's outputs, and luckily are all on different weekends.
Read Robert Ashley in conversation with Alex Waterman in BOMB 118, on newsstands December 15.
Nick Hallett is a composer, vocalist, and cultural producer. Follow him at @NickHallett.
Tags: