If a collection of seventy photographs, an installation, and a film prove one thing, it's that Patti Smith rocks much more than one world.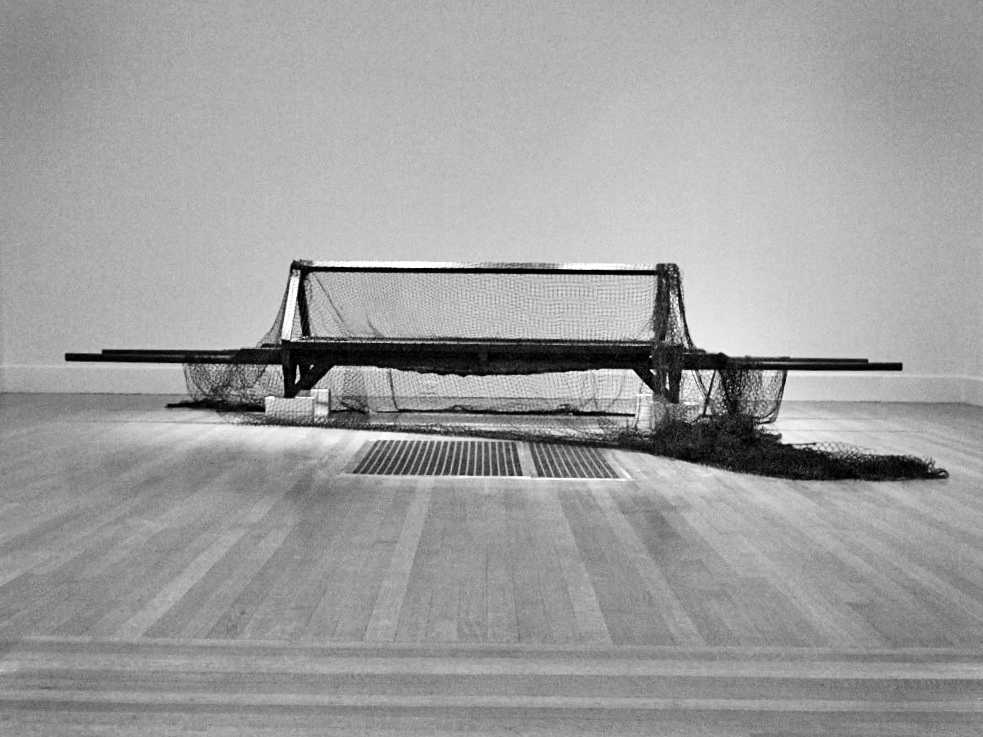 Arthur Rimbaud's Litter, installation by Patti Smith. Photo by Rena Silverman.
Even before conquering the literary world last year with a National Book Award for her memoir, Just Kids, it was hard to confine Patti Smith to one label. Descriptions of the "poet turned rock 'n' roller,1" "shamanistic poet, proto-punk-rocker and voice in the wilderness2," "singer and visionary,3" "poet, rock star, activist4," "influential poet and musician of the 1970's5," "godmother of punk6/6.a" (a big one) or to the New Yorker, simply, "singer and songwriter7," have preceded or followed her name since the launch of her debut album Horses in 1975. But now, with her new exhibition of photographs at the Wadsworth Atheneum in Hartford, Connecticut, it is simply impossible to call Patti Smith one thing or the other. She is, simply, an artist.
Curated by the museum's director Susan Talbott, Patti Smith: Camera Solo, which opened last week, features three rooms of Smith's photographs. One of the rooms is entirely devoted to Arthur Rimbaud: a recreation of the stretcher he was carried on, photographs of his possessions, a glass case holding books, and a drawing all paying homage to the 19th-Century French poet who, as Ms. Smith reminded us, would have turned 157 on October 20, the day of the exhibition's opening. There is also a fourth room, which shows and loops Smith's Equation Daumal, a 2008 16 mm and Super 8 film. A few glass cases of relevant paraphernalia are scattered throughout the exhibition: old cameras, older books, Robert Mapplethorpe's slippers, photo booth strips, the image from the cover of Smith's hit memoir Just Kids, which shows the Patti Smith and Robert Mapplethorpe of 1969, arms linked, draped in bohemian outfits, at a fair in Coney Island, celebrating their two-year anniversary. In Just Kids, Smith describes the photograph as the couple's "first real New York portrait."
All of the photographs are modest-sized, classical black-and-white silver gelatins printed from Polaroid positive film. Smith likes to keep the Polaroids and sell the silver gelatin prints in editions of ten. They are, without a doubt, very powerful images.
Besides a few photographs of actual people—her children, Jean-Luc Godard, a self-portrait, and a few others—the majority of these images constitute what curator Susan Talbott calls the "symbolic portrait:" Herman Hesse's typewriter, Bolaño's chair, Smith's father's favourite cup, Virginia Woolf's cane and bed. It is as if she were furnishing a home with these photographs for the ghosts of her favorite lives.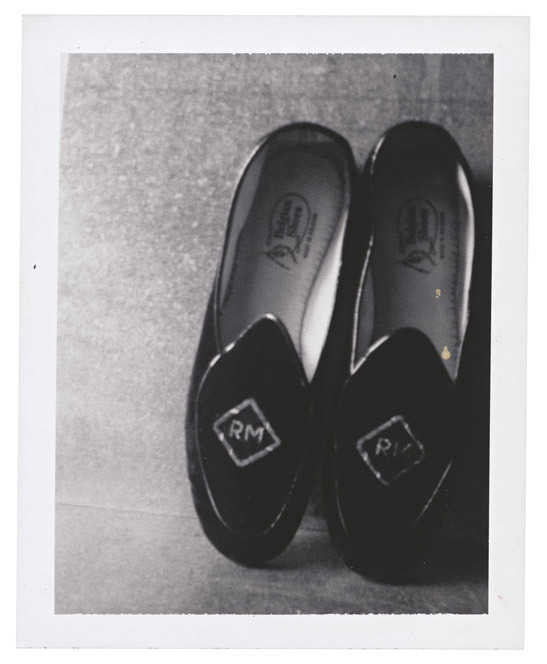 Patti Smith, Robert's Slippers, 2002. © Patti Smith. Courtesy the artist and Robert Miller Gallery.
One of the most remarkable photographs in the show is of Robert Mapplethorpe's "beautiful Belgium shoes," as Talbott called them on a press tour of the exhibition. Simply titled "Robert's Slippers," the photograph shows both shoes together, facing forward, toes down, hugging the right of the frame. From a distance, with that first blur of the eye, the two delicate slippers come together and form what looks like a Venetian mask. But, approaching the image, the image becomes clearer and takes on a greater meaning.
Perhaps it was the proximity of the shoes to one other and to the frame, but looking at this photo I thought of Patti Smith and Robert Mapplethorpe: their story, all the photographs of the two of them together. In some ways they were lovers, in other ways twins. To me, these slippers were Smith and Mapplethorpe, hugging a frame, hugging each other. Robert Mapplethorpe's actual slippers are also featured the exhibition, across from the photograph, in a glass case. They are deep and royal blue with a small diamond on each toe bordering the monogram RM, not in a fancy script, but simple, uppercase, slightly widened, sans-serif lettering. Mr. Mapplethorpe had the shoes made when he was dying and was confined to his home. The slippers made him feel presentable for visitors.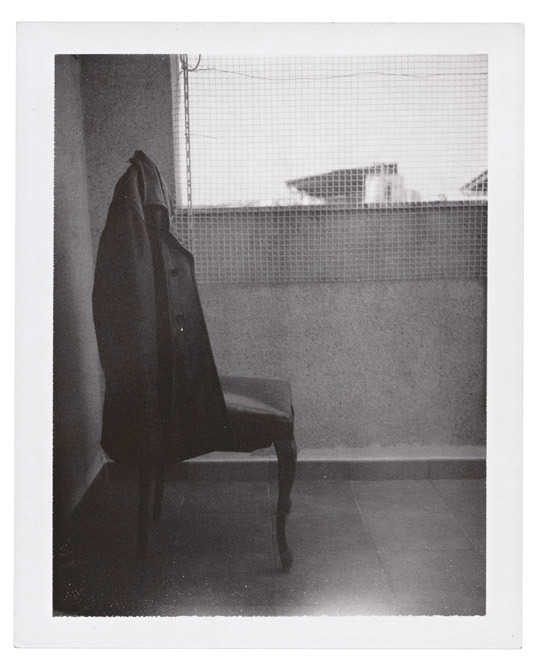 Patti Smith, Roberto Bolaño's Chair 2, 2010. © Patti Smith. Courtesy the artist and Robert Miller Gallery.
On the same wall hang another pair of beautiful images honoring the Chilean author Roberto Bolaño. Mr. Bolaño, who died at age 50 in 2003, could not live anywhere without his beloved writing chair, which Smith has photographed. She could not have captured the essence of this narrative more succinctly: a coat suspended off the chair on the left, the profile of the chair facing right, looking out at the absence of person, an empty space. For a moment we expect the writer to return to the room.
This is not the only symbolic portrait of a tragically deceased writer. In 2003, after performing a reading of Virginia Woolf's The Waves, Smith was invited to visit Monk's House, the Woolf's English country home. Woolf's famous "room of [her] own" was locked but Smith gained access. With only a few minutes allotted in the room and a small amount of Polaroid film to spare, Smith began to feel a bit of pressure to get it right. She turned the dial on her Land camera to the darkest setting and concentrated on the small, single bed where the author slept. As she told it during a Q&A following the preview, when the photo popped out of her camera, Smith was pleased to find a cross in the center of the bed formed by the shadows of the sheet's creases.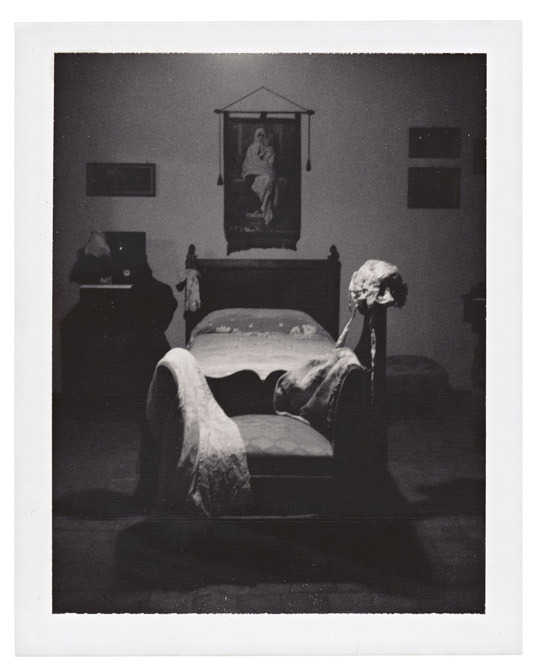 Patti Smith, Camera Solo, Castello Longhi de Paolis di Fumone, 2006. © Patti Smith. Courtesy the artist and Robert Miller Gallery.
In addition to photographs of Woolf's cane and the river in which she died, Smith placed a round rock in the glass case near Robert Mapplethorpe's slippers to commemorate the author's death.
"She tried to drown herself twice," Smith said of Woolf, as she walked towards the glass case, arms stretched, her hands deep in endless coat pockets. "The first time it didn't work because she kept floating," she said. The press group laughed, but I don't think Smith meant it to be funny.
Woolf is not the only historical icon to have had his or her bed captured by Patti Smith. Other images in the exhibition show Jim Carroll's bed, Victor Hugo's bed, and her daughter Jesse lying on her bed folded in angular composition around a wooden box and black glasses.
"I'm drawn to beds," said Smith. "We spend so much of our lives in bed. We sleep in bed, we conceive in bed, we make love in bed." Smith says she even works in her bed and of course watches Law and Order there, too. Then she added the most obvious thing that had somehow not yet occurred to me:
"We die in bed." She recalled visiting Keats's bed shortly after her husband passed away. She said that even though the bed had been empty for a century and a half, the place still "reeked" of human.
"You can still feel illness in the room," she said, scratching the top of her head.
Even Smith's photographs of graves, tombs, and her installation of Rimbaud's "litter," or stretcher—which she had commissioned from the Poet's drawing—can be thought of as forms of beds. In a room called "Une Saison En Enfer," after the poet's long poem, the strange object stretches across the floor. Draped in a mosquito net-like sheath, the "litter," a sort of palanquin, is a recreation of that used to transport Rimbaud from Abyssinia to France for medical care, where he died just months later at the age 37. On the surface of the litter, Mr. Rimbaud's last words are inscribed. In this way, the piece is a sick bed as well as a grave, complete with epigraph.
Smith takes photos alone, during downtime on tours with her band. She's not alone, however, in using her (already creative) day job as an opportunity for taking pictures. The photographer Elliott Erwitt used his Magnum assignments as a vehicle of transportation (literally and figuratively) for what he calls his "real" photos. And there was Brassaï, the photographer who first worked as a journalist in the '20s, taking photos only to supplement his articles. Eventually, Brassaï ended up dropping journalism entirely and is known primarily for his dreamy, surreal photographs of Paris.
And like Brassaï, Patti Smith takes a really good portrait of a city.
"If I visit a gravesite or an obscure or sacred place that most people will never see, offering a photograph is my way of sharing this experience with others," Smith told Susan Talbott. And for the rock star who has been in as many as 32 countries in 40 days while on tour, the options are vast.
Yet, for Smith the photographic process isn't about documenting her presence; rather, she finds it grants her the space and solitude to grieve. And yet, her work is not about death but rather the persistence of presence after death. She has a unique gift for seeing the life of a person in the face of his or her death. Rimbaud died 55 years before Patti Smith's birth but to her, he is very alive. "I've been celebrating Rimbaud's birthday for 47 years," she told us.
Smith said that taking photographs has helped her cope with death in her own life too. In 1994, just five years after losing Mapplethorpe to complications from AIDS, Smith's husband Fred "Sonic" Smith died suddenly of heart failure. Then, less than a month later, her brother Todd died.
"I was emotionally exhausted," Smith told Talbott. "I had our old Polaroid camera, a Land 100, and it occurred to me that I had enough energy to take a photograph," she said. "It made me feel of some worth as a worker."
If anything, Smith has remained much more emotionally intact than many of the literary figures she admires, perhaps because she found, through a photography, language for those times when words simply fail.
Rena Silverman is a cultural journalist who covers and photographs the personalities and politics behind the New York City art world. She lives in New York City where she maintains a collection of rare books on typography.
---
1. Rockwell, John. "The Pop Life; Patti Smith Plans Album With Eyes on Stardom." New York Times 28 March, 1975. Page 10. Print.
2. Holden, Stephen."Patti Smith in the Parlor, Still Raw and Rock 'n' Roll." New York Times 3 March 2008. Online.
3. Holden, Stephen. "The Pop Life." New York Times 20 July 1988. Online.
4. Chocano, Carina. "The Interiors of Patti Smith." LA Times. 17 October 2008. Online.
5. Strauss, Neil. "Poet, Singer, Mother: Patti Smith Is Back." New York Times 12 December, 1995. Online.
6. Iverson, Jeffrey T. "When Patti Smith Went to Paris." Time Magazine. 16 July 2007. Online.
6.a. Sullivan, Jim. "Beyond the Pop Orbit, Patti Smith Still Rocks Punk Priestess, 53, Wows Avalon." Boston Globe 3 Jun 2000. C1. Print.
7. Delano, Sharon. "Rock-and-Roll Diva." The New Yorker. 11 March 2002. Online.
Tags: