Feeling The Pinch? Soothe your economic anxiety with a podcast of BOMBlog literary all-stars, reading at the Fowler Arts Collective on October 21st.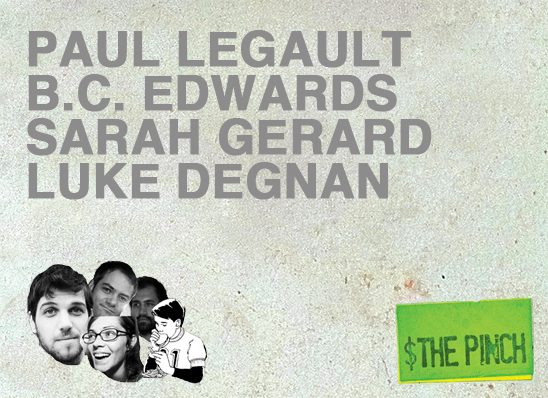 Listen here.
On October 21st, 2011, BOMBlog brought four writers to the Fowler Arts Collective in Greenpoint, Brooklyn. This reading took place in conjunction with the art show, The Pinch, in which three local artists share their attempts to articulate something about the value of art in a time of economic hardship. Listen to a podcast of the reading featuring writers Luke Degnan, Sarah Gerard, B.C. Edwards, and Paul Legault.
Paul Legault is the author of The Madeleine Poems (Omnidawn, 2010) and The Other Poems (Fence, 2011). He co-edits the translation press Telephone Books and works at the Academy of American Poets. Listen to Phoned-In #13 which features issue #1 of Telephone.
B.C. Edwards lives in Brooklyn. He is the recipient of the 2011 Hudson Prize put out by Black Lawrence Press which will be publishing his collection of short fiction, The Aversive Clause in 2012 and his collection of poetry From the Standard Cyclopedia of Recipes in 2013. His work can be found in Red Line Blues, The Sink Review, Food-i-Corp, Hobart and others. His short story "Illfit" is being adapted into a piece by the Royal Ballet of Flanders. He is also a Literary Death Match Champion and has the medal to prove it.
Sarah Gerard is a Brooklyn-based writer and contributing editor at Caper Literary Journal. Her work has appeared or is forthcoming in the St. Petersburg Times, The Brooklyn Rail, Word Riot, elimae, DOGZPLOT, and Prick of the Spindle. She was founding editor of the Studio Review and managing editor of the Homeless Image, a southeast regional street paper. She is an MFA candidate at The New School.
Luke Degnan was born in Irvington, NJ and is the son of a fireman and a philosophy major. As the BOMBlog's Books Editor, he created and curates Phoned-In, a poetry reading by phone podcast. See Luke's poems in elimae, Juked, Meat For Tea, and West Wind Review, among other places.
If the podcast doesn't appear above, try browsing BOMBsite with Safari or Firefox. Google Chrome users may experience some difficulties.
Tags: