In light of the politically empowered movements that have risen across the globe during this turbulent year, George Scheer explores the role of the artist becoming a catalyst for broad social change and questions the purpose of integrating politics with creative forms.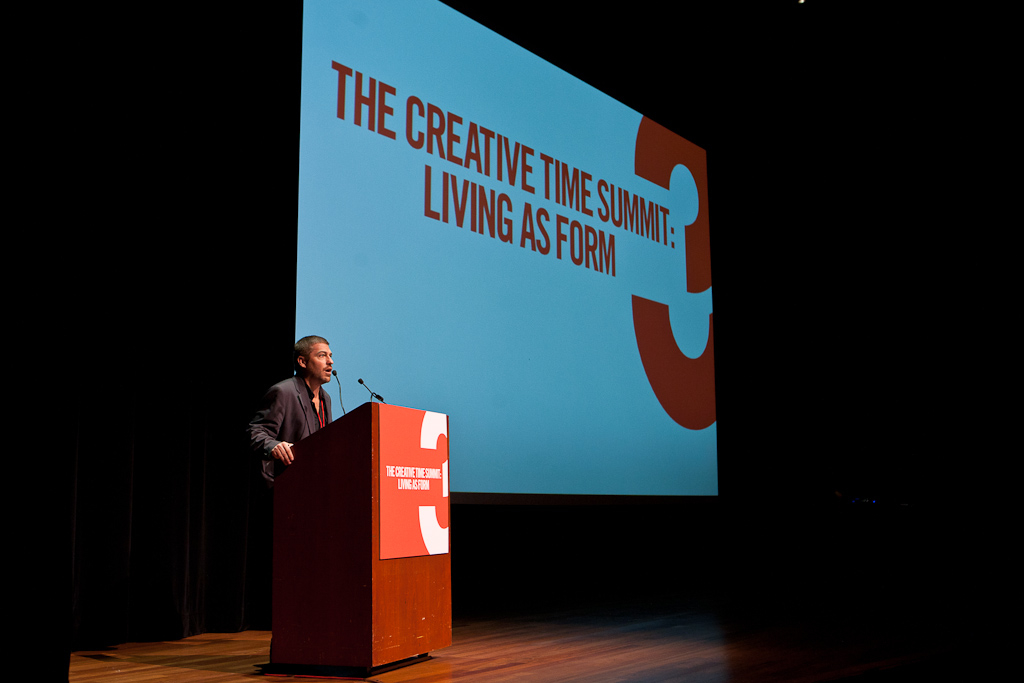 Creative Time Chief Curator Nato Thompson at the 2011 Creative Time Summit at NYU Skirball Center. Photograph by Sam Horine, Courtesy of Creative Time.
Social, participatory, and engaged art practices, critically imagined, must eventually grasp their political foundation. These art forms, which take cultural production as their interest are an implicit part of a Political project—big P— by framing living practices as a ground for world-making projects. They articulate the boundaries and intersections of living persons congregating, communicating, corporatizing, and collectivizing. However they go about it, these artists and their projects set the stage for an emergent context, a field of possibilities, a potential to constitute relations—the Political as form—big P. As social practitioners and cultural producers we literally conceive, in our poetics, new Political imaginaries.
The third annual Creative Time Summit, Living as Form, presented by public arts organization Creative Time and curated by Nato Thompson, was held on September 23 at NYU's Skirball Center for Performing Arts. The Summit offered a broad (and at times scattershot) survey of socially engaged art practices on a global scale. Approximately 32 presentations, each held to eight-minute segments, provided a flip-book of contemporary practices, activist exploits, and creative interventions into civic, private, communal, and political realms. The summit marked a continued commitment to these art practices—which remain under-recognized and underfunded—and a witness to their global perspective.
Living as Form, Living as form! Living AS FORM. This chant and performative warm-up, lead by Los Angeles collective My Barbarian, accentuated the central premise of the summit: how life as a plane of experience, action, and existence can manifest itself as an artistically productive form. Paul Virilio, a theorist of urban speed and war, proclaims in his book Speed and Politics (1986), "stasis is death, the general law of the world." If socially engaged artists situate themselves among living practices, then our formal, aesthetic tendencies in some way count to accelerate or decelerate life, for or against "death." How socially engaged art accentuates movement—think: performance and revolution, similarly—determines the horizon for a salient political discourse in art and life.
However, art and other disciplines have made politics barely thinkable in aesthetic terms. More importantly, they have neglected to produce a proper vocabulary to do politics aesthetically. Socially engaged artists are encouraged into this sloggy mess of localized factions, incorporated powers, and segregating beliefs. However, they arrive ill-equipped with their "artistic license" to strategically compose many, particular voices, related styles of comportment, and models that pose as representations and interventions. As artists also performing social work, advocacy, and justice, our approach is our politics, an aesthetic practice of Political visioning.
Art practices—at least in the American context—often shy away from a political conscience often more focused on content than form. Perhaps what has kept social practice from embracing politics aesthetically is not simply a lack of sophistication in activist presentations, nor the complexity required to sustain political action, but rather a history of moral aestheticism fearful of the diminution of form to content. It would seem to be toward this challenge that Living as Form most effectively functioned: to embrace, while contextualizing within history, a survey of political projects equally present for their aesthetic, performative, formal, and conceptual approaches as they are purposeful agenda-driven work.
The Creative Time Summit exhibited art practices that articulate and perform with an eye toward real-politik and world-making visions. The extraordinarily timely Tahrir Documents' online archive exhibits and translates activist papers collected from demonstrations held in Tahrir Square in Egypt. Their online archiving and exhibition of handmade signs and ephemera from Tahrir squares makes visible the Egyptian revolution through its material history. Contradicting the utopian vision of a technologically determined, twitter revolution, their team of translators and collectors capture history in process and globally disseminate a multiplicity of voices present among the revolutionary mass. All this is communicated on a well-styled website.
Appalshop, a media collective in Whitesburg, Kentucky uses radio as the medium to address the criminal justice system. Their Thousand Kites project directed an on-air game of chess between inmates, community members and family, permeating the concrete walls of prisons. The chess game took weeks to play, and formed an engaged on-air community. As a critique of human rights violations in prison, the game brought communities out of isolation while exposing the guards reactive authority when their attempt to stop the prison's chess master from playing by taking his radio and subjecting him to isolation resulted in inmates assisting the continuation of play by announcing moves through a vocal relay.
Voina (war in Russian), a radical street art collective in Moscow, screened film of the group walking into oncoming traffic with a blue bucket on the head of one of their members. The action was a protest against the abuse of blue lights used by police to evade city traffic regulation. Both disturbing and beautiful to watch, the video posits the chance of producing a sort of snuff film to express the equally careless disregard of life by authorities.
Finally, in what was one of the more rousing moments during the summit, Mierle Laderman Ukeles delivered a manifesto exalting those who will clean up after the revolution. The performance venerated the work of sanitation workers with heroically-styled images while offering Ukeles a platform for a triumphant statement on the continued relevance of labor-politics in current social practice.
Still, the vocabulary remains inadequate to read the roughly plotted matrix of political actions and artistic compositions apparent in each project. Nor does their accumulation in Living as Form provide a coherent trace through which to thread a more general understanding of aesthetics, politics, and the deep social contexts employed by each artist. To Nato's credit, the curatorial overlay of projects—globally receptive, culturally-specific, and communally-oriented—allowed a dimension to form by which the radicalism of children running a beauty salon in Darren O'Donnell's Haircuts by Children, came into view rather than receding into a field of more pressing political concerns. Conversely, projects like NSK (New Slovenian Art), which appears to level a critique against emerging totalitarianism in former Soviet Bloc states, but uses Nazi-like imagery and performance to claim their own statehood, increase anxiety surrounding the political-aesthetic relation. The social implications of work that uses the performance of oppression to critique oppression becomes increasingly unsettling when seated in an audience of socially-engaged creatives we find ourselves laughing along with Voina's dangerous antics.
Conferences and summits are not mute platforms, and have their place in history as rhetorical catalysts for political movements and new discursive formations. Taken as a political intervention in American social practice, the Creative Time Summit labors to broaden the discourse surrounding political action and artistic practice. It is unclear how this formal survey of practices interceded in the political questions living at the intersection of art and activism. However, with the triumvirate of summit, exhibition and forthcoming book it is certain that more questions than answers will be posed. The challenge, it seems, is to better understand the living role of artists as they transition from creator to catalyst in the social sourcing of new Political visions.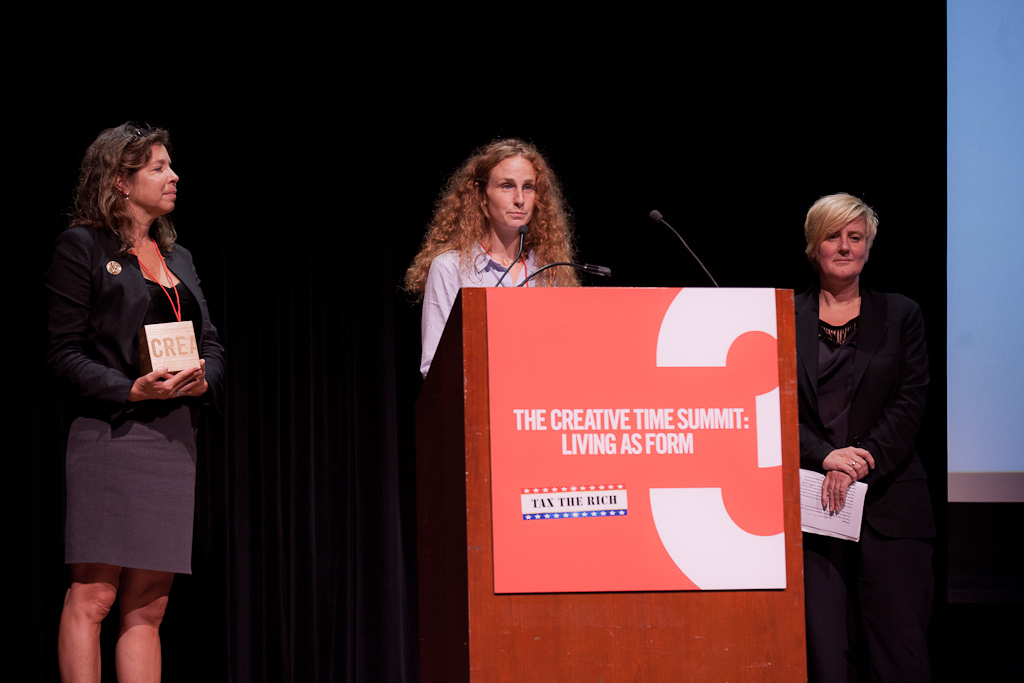 Creative Time President & Artistic Director Anne Pasternak, Creative Time Board Member Elizabeth K. Kabler, and Jeanne van Heeswijk, the 2011 Leonore Annenberg Prize for Art & Social Change recipient. Photograph by Sam Horine, Courtesy of Creative Time.
Read more about the other presenters of Living as Form and check out live recordings of the presentations by clicking here.
George Scheer is co-founder and Collaborative Director of Elsewhere, a living museum and international residency program set within a former thrift store in Greensboro, NC. He also acts as the catalogist for Musement, an artist collective animating an abandoned amusement park in East Berlin. His theoretical and artistic projects explore the aesthetic context for social change and political practice by approaching things as a language for exchanging senses of place and presence. George holds an MA in Critical Theory and Visual Culture from Duke University and a BA from the University of Pennsylvania in Political Communications. He is currently pursuing a PhD in Communication/Performance Studies at UNC-Chapel Hill. George can be found Elsewhere by clicking here.