Martha Wilson's solo exhibition, I have become my own worst fear, is up at P.P.O.W. gallery through October 8th. Lauren Bakst delves into the many faces of Martha Wilson, examining their relationships to the passing of time, the embodiment of aging, and the intertwining of the personal and political.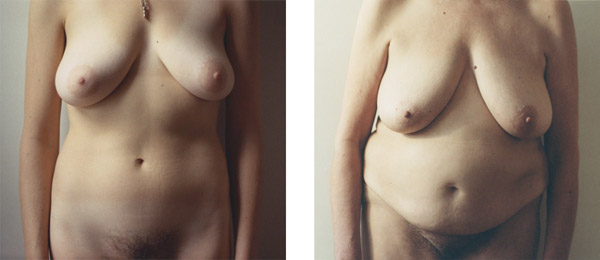 Before and After 1974/2008. All images courtesy of P.P.O.W. Gallery.
Martha Wilson's solo exhibition, I have become my own worst fear, comprises a series of self portraits that repeatedly distort the self until any fixed notion of subjectivity has utterly dissolved. Spanning from 1974 to 2011, these works reveal Wilson through specific markers in time, and invite the viewer to imagine the lived space beyond each image. Through the juxtaposition of younger and older, of before and after, Wilson makes tangible the space between these captured moments. Her images seem to ask, how did time pass between then and now? Furthermore, what was the embodied experience of that passage? In Beauty + Beastly, a profile image of Wilson in 1974 is positioned adjacent to a profile image of Wilson in 2011, a portrait of the artist peering simultaneously backwards and forwards at herself in spite of and through time. Rather than to spiral into an unending cycle of self reflection and critique, when Wilson looks at herself, she also looks at the viewer, beckoning us to examine the value systems that shape our ways of seeing. Her image and text work invoke the expectations and preconceptions that are written and re-written on women's bodies every day. The terms "beauty" and "beastly" applied by Wilson to the young and old images of herself reference the persistent intertwining of the personal and the political, bringing awareness to the cultural discourses that frame the female body.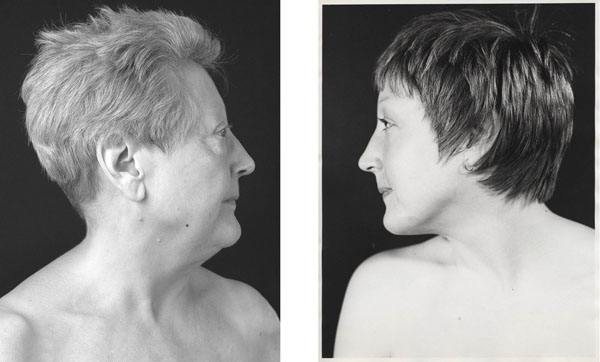 Beauty + Beastly, 2009 and 1974.
While Wilson appears in some way or another in each of her works, her images play on what it means to disappear even while remaining visible. In her photographic work Invisible, an unrecognizable Wilson is dressed inconspicuously in a light brown jacket and winter hat, hunched over with a downward gaze in what seems to be an overcrowded convenience store. Existing in stark contrast to the overabundance of mundane yet colorful objects that occupy the space, Wilson is swallowed by her environment. She appears only to disappear again. As Wilson dissolves within the frame of the photograph, she draws attention to the social currency that bodies carry—how certain bodies come to matter more than others in this hegemony—revealing the tethered nature of our value systems to the act of seeing and being seen.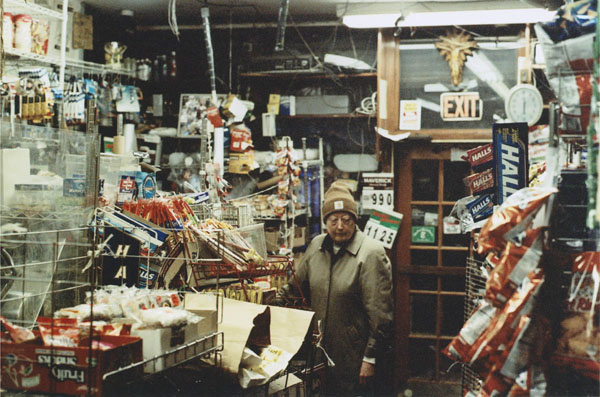 Invisible, 2011.
Growing Old is a series of profile images that span one year's time during which Wilson dyed a portion of her hair red. Walking past each image, the viewer witnesses the dissolution of dye until the red has all but disappeared into the prevailing grey locks of hair. As I imagine the red strands slowly transforming day by day, I am reminded of the process of loss that constitutes aging—the aching bones, the dwindling address books, and the bodies that fail us. Yet within Wilson's work is an undercutting humor, playfulness and tenacity that cannot be ignored, enlivening the space beyond the gallery walls. Whether it's her devilish smile in Red Cruella or her uncanny approximation of Bill Clinton in Name=Fate, Wilson is the embodiment of what Peggy Phelan describes as the "liminal trickster."1 As Wilson reckons with the weight of time and the value, or lack thereof, attributed to the aging female body in the eyes of the patriarchy, her many transformations subvert, evade, and expand beyond the supposed limitations of her subjectivity.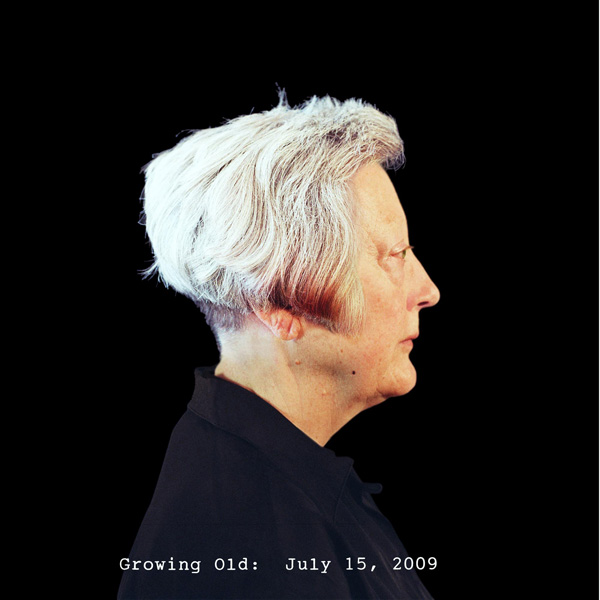 Growing Old (Detail) 2008-09.
I have become my own worst fear is up at P.P.O.W. Gallery through October 8th. Be sure to check out Martha Wilson's new book: Martha Wilson: Staging the Self (Transformations, Invasions and Pushing Boundaries).
Look out for the upcoming Web Exclusive Interview with Martha Wilson on BOMBsite.com.
Lauren Bakst is a dance artist and writer living in Brooklyn, NY.
---
1. In her introduction to Mourning Sex, Peggy Phelan introduces the "liminal trickster" as a figure whose power lies in their ability to "herald between-ness . . . queerly alienated from the law of the father." (16)
Tags: