Leah Umansky on the maritime poetics of Underwater NY's reading at Poets House, featuring Matthea Harvey, KC Trommer and Cate Marvin among others.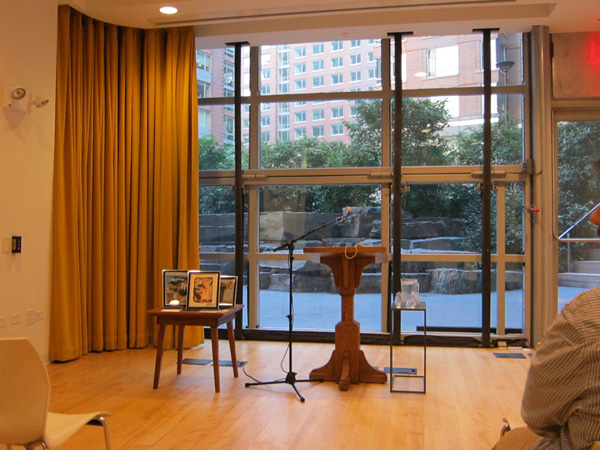 Image courtesy of Underwater NY.
Underwater NY's poetry reading on August 24—featuring Matthea Harvey, KC Trommer, Katie Naughton, Danniel Schoonebeek, Allyson Paty, and Cate Marvin—could not have anchored down a better home than at Poets House, a poetry library tucked into the east bank of the Hudson River. Underwater NY is a sort of magical organization, but magical in a dark, unsettling way, their website populated with images of found objects: purses, animal bones, and teapots. And, of course, creepy doll heads.
What washes ashore can tell a story of an earlier time, or in Matthea Harvey's case, a future time. She chose to write about "Kangamouse," who she saw as a "poem all in himself." She discusses the challenges the future has in deciphering the past. In "Kangamouse" she creates words that the future generation uses to create meaning and understanding. When she started reading from her collection of "mermaid poems" she warned the audience, saying, "these just get darker and darker." The Kangamouse could be, taxonomically, related to the mermaid, and of course, the siren—that mythological part-woman, part-fish beauty who lured sailors to their death with her enchanting song. These re-imaginings of mer-folk might remind you of the mystery of the waters around us or what might live just out of reach.
KC Trommer read a poem entitled "Heel and Key" which focused on an undetermined object that resembled some sort of shoe heel. From there, inspiration took her into a looping, an ebb and flow between the present and the past—of remembering and re-remembering, but moreover it took her into an imagined story, one so different "than the one in her head."
Cate Marvin read a new poem about what she's seen washed up or "left-to" on the New Dorp Beach of Staten Island. In it she lists, "twisted zippers; plastic tampon applicators; car engines; paper catalogs." The poem is almost a warning of ecological disaster, but has a dark, mysterious element so often associated with the sea as the speaker says, "I died here once before." It is the sea itself that produces these mysterious collections of flotsam, culled from the discarded remains of our social lives.
The ocean is always in transit; always in flux. New species are always being discovered and documented. Needless to say, there are stories to be told. Underwater NY gives life to found objects and in doing so, they live again in the world, egging on the mind of the writer, pleading, "Let me tell you a story . . . "
Check out the found objects at underwaternewyork.com and submit your own!
Leah Umansky is a teacher, a concert-junkie, an anglophile, and a poet in Manhattan. Her poems have appeared or are forthcoming in: Barrow Street, Cream City Review, Magma Poetry (UK), and The Paterson Literary Review. Visit her poetry blog, I Am My Own Heroine for more of her work.
Tags: