BOMB is proud to be the official media sponsor for the 4th Annual Lit Crawl NYC, which is set to take place September 10, from 6–9pm in three installments across the Lower East Side (plus an afterparty!).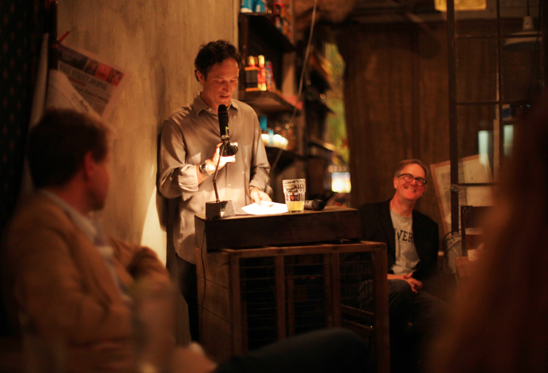 John Reed recants his literary critic misdeeds at the National Book Critics Circle's evening of "Revise and Recant."
With so many literary-based pub-crawls taking place annually across the US and Europe (a big one takes place in Dublin and has something to do with James Joyce . . .), you might be wondering what sets the Lit Crawl NYC apart from all the rest? Let these numbers do the talking:
70 authors.
20 Venues.
3 hours. Start planning your schedules now.
From the Lit Crawl NYC website: "The Lit Crawl is a madcap concept created by San Francisco's literary festival, Litquake, back in 2006. It's a bar crawl, with literature! The inaugural Lit Crawl NYC took place in September 2008 and was wildly popular, spurring its lit-loving, NY-loving crawlers to make it an annual event, growing, in true Lit Crawl tradition, with every year."
Lit Crawl is divided into three phases and will have you scurrying around the East Village and Lower East Side to such venues as Bar 82 for a reading by Alexander Maksik and some existential trivia (we're curious too); Fontana's, where you'll find the editors of The Paris Review accompanied by the Dog House Band; the White Slab Palace for a 6-Word Memoire Slam brought to you by Smith Magazine, and the Bowery Electric where you'll find BOMB and some BOMB-aoke. But it's no exaggeration to say that there's much, much more. Over a baker's dozen of literary organizations, magazines, and groups will be making their presence known at the Lit Crawl this year. Check out a schedule and map here. And don't forget the afterparty! All events are free!
More info from the Lit Crawl website here.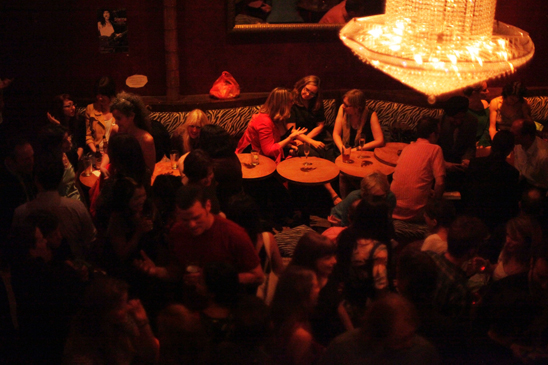 The Paris Review gave a sneak preview of its fall issue at last year's Lit Crawl NYC.
Jonathan Aprea is a writer living in Brooklyn and Lewiston, ME.