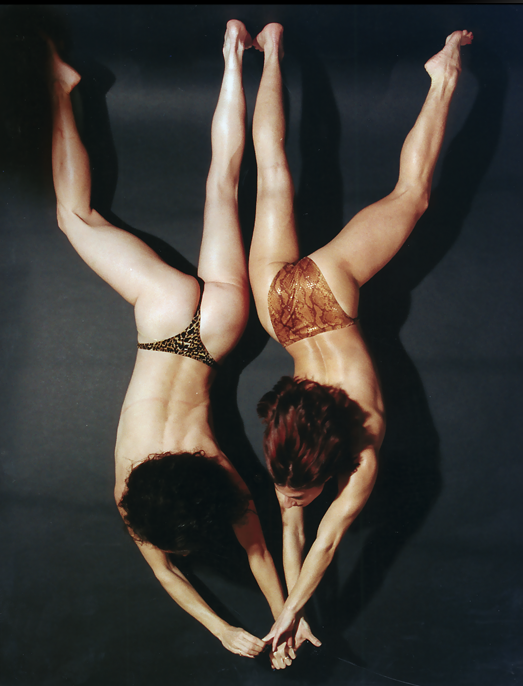 Photo by Alphonso Lingis.
Date: Wed, 9 Aug 1995 01:52:42 -0700
From: Acker@eworld.com
To: mwark@laurel.ocs.mq.edu.au
Subject: Re: portisheadspace
Oh will I remember all that you just wrote? Memory slips even more than... what?... gender (is that self? not here)... and I was going to email, I can't even remember spelling, to just quickly tell you about the movie I just saw, Todd Haynes Safe... and your email!... now I can't remember all you said 'cause I want to tell you, emotion taking over, see Safe, it is WONDERFUL hits the spot (advertisers make correctness) makes the art world into the stupid nothing it is... well it is so great seeing something that good... I saw it with RU we're friends again which is great 'cause I hate losing friends there aren't enough and it is my family, my friends... so now all is dream... Australia and this usual life melding, here where I do my emailing at two in the morning and wake up figuring out deals business how to give my publisher his share of daily grief oh will I get enough hours to write? I'm so greedy to do that... not like Sydney passing days drunk roaming through the bookstore with you... oh no please "analysis"? For me, "analysis" means "Kathy's being insecure and needs to breathe a few times." I hate it and can't remember anything anyways... except dreams... all this reality slipping and sliding... my main stuffed animals are Gulfie otherwise known as Woofie who is a feral witch I mean wolf only I just washed him so he looks almost sweet which is very disconcerting but probably needs my stinky body next to his so he can become feral again... and then there's Ratski (Rat) the star of my new novel 'cause the pirate girls' banner is RAT EATS ALL (based on certain ways of telling about the "musa" (mouse) (rat according to me) who sits at Ganesh's feet)... and then there's WITCH or BITCH who is very powerful so I tongue kiss her a lot all my animals are very penetrable including my feral motorcycles... one is still in shop and the other needs a carb adjustment but is happy I'm back 'cause he needs a lot of attention from me... is this pantheism or just spaciness?... it's two in the morning... I know what you mean about slipping roles: I love it, going high low, power helpless even captive, male female, all over the place, space totally together and brain-sharp, if it wasn't for play I'd be bored stiff and I think boredom is the emotion I find most unbearable... I'd say there's my love for Baudelaire but he's also so cool when he talks about Jeannne Duval's stinky body it makes me feel as if I'm in this danger whose name is sex... I know what you mean about slipping male/female I never know which one I am I used to get all worried about myself, I should make decisions, announce a name, and at some point I just gave up 'cause it's too difficult and, oh, I started this book by Alphonse Lingis The Community Of Those Who Have Nothing In Common, the title reminds me of Blanchot, the intro. is so great, as I was reading it I started seeing (thinking) what you said about ethics, the need... sort of the terrain of Safe... I love emailing you... last night when I went to bed I thought, oh it's strange doing this without K, what a great sudden feeling 'cause I never feel that and it's good to remember things like that again... like a sudden opening into a forgotten territory... emailing must be pure narcissism... I think I'm going to blab even more intensely now so byebye for tonight... I'm not good at saying things emotionally I guess that's one place I'm male, am pleased that you're better at it than me... I just get awkward when I should be direct and say, oh what do you think it all means? I also have a huge fat white cat who used to be the queen of the world because she was so aristocratic but now has been mashed by too much sleeping with me and looks like a rat though not feral... I also have a shark but he stays in the living room 'cause he's not furry after all there are rules of proper behavior oh byebye


---

Date: Wed, 9 Aug 1995 19:43:59 +1000
From: McKenzie Wark <mwark@laurel.ocs.mq.edu.au>
To: Acker@eworld.com
Subject: Re: portisheadspace
Greetings from Canberra, bureaucracy's answer to Disneyland. Like Washington, only even more provincial. It's a long distance call, so this is just to say hi. Watching new series The Simpsons—it's getting pretty weird. Gotta go investigate the minibar...

kxx


---

Date: Wed, 9 Aug 1995 23:26:56 -0700
From: Acker@eworld.com
To: mwark@laurel.ocs.mq.edu.au
Subject: Re: portisheadspace
Simpsons, huh? I'll check it out. Am depressed, a rarity for me, so want to blab a little. More: scream. Have already screamed at RU and my closest girlfriend here, Dianne. It's so cool: while I was away, she fell in love with this beautiful girl who owns the new fancy restaurant in town. Dianne's so happy. She's totally beautiful: won a few bodybuilding contests and works as a psychic (California life). I'm avoiding my scream. Oh, I usually feel narcissistic on email and just blab everything, but now I'm becoming shy. It's that damn Sylvère [Lotringer]. The moment his marriage breaks up, he phones me. A few months ago. Now he's in LA; phones me again. I ask, what's up. He tells me that he has the huge books coming on: a several-volume compilation of Foucault, one of Félix [Guattari's] works. Etc. A dream about Félix. Then begins talking about his wife/ex-wife, Chris Kraus. How she needs a boyfriend. Why? Because she wants to be happy (she left him). All well and fine. Finally, he asks about me and I don't want to say anything, paranoid, so I mumble something about being sick of teaching at an art college and wanting a decent univ. job with benefits. One always talks about such nonsense when one doesn't want to say anything. No, before this, Sylvère does his usual rap about the stupidity of Americans, their misunderstanding of French theory. Which always irritates me for obvious reasons. I reply something about identity, this crap about national identity, etc. He ignores my comment, as usual. OK, on to boring teaching. Sylvère, after I say I want a decent job, replies "You mean they haven't discovered you yet?" I don't know what he means by "discover," I think that maybe he's making some bad joke about no one knowing my writing. I ask him what he means by "discover." "Discovered that you're the Unabomber in San Francisco." I don't know if I can explain this but suddenly I saw, the way one sees into an opening, a large section of my past. Ten to fifteen years with Sylvère, on and off. That I had been treated like this, seen like this, then: that was my past. It was totally disgusting: that vision. I usually don't think about what I do (rationally): I mean, say to myself, I will now sleep with women rather than men 'cause men treat me like a piece of shit. I mean, one (you I) just does what one does. But suddenly I saw, this glimpse, why I had gotten away from straight men. Yuck. And always, every interview, I have always respected Sylvère and said, he taught me, he was very important to me. Now, a past that has been seen and thrown away. To be without a past. Well. Well. Is this an awful thing to tell you? I mean, invading a kind of privacy, a privacy based on our not knowing each other that long? But then, we are getting to know each other. Well, hell, sometimes one can't look at some straight men too closely, for the sight causes too much anger. What a way to put it. I'm, not pissed, no, I'm sad. I want a past I can acknowledge. It's all awful. Oh well. Reading [Elfriede] Jelinek's new book tonight; it's quite fab. Have to fax my old agent; tell her about the new one; more working until midnight; what are you doing in Canberra? Is that part of the university dignitary business? Take care of yourself, honey. (We say "honey" in America though not in New York.)


---

Date: Thu, 10 Aug 1995 17:48:52 +1000
From: McKenzie Wark <mwark@laurel.ocs.mq.edu.au>
To: Acker@eworld.com
Subject: Re: portisheadspace
That episode of the Simpsons I watched was twenty-eight minutes total critique of work, family, breeding, with two minutes tacked on the end defending the same. I love TV when it's like old Hollywood movies—in a state of complete narrative hypocrisy. I was in Canberra for a meeting of The National Information Services Council, as part of the team reporting on access issues. Five members of cabinet, two departmental heads, fifteen top bureaucrats and a partridge in a pear tree. I got to meet the prime minister, who opened the proceedings. He's so tiny! He's as slight as me and a bit shorter. Poor man wasn't well, so he ducked out after opening proceedings. This is how this country is run these days. Government flies in talent to talk up ideas, then looks it all over with a gimlet eye. My social democrat self actually believes in all this. My anarchist self took notes and laughed up its sleeve. It'll make a good scene for my next book.

I'm probably not a bad choice of person to whom to unburden yourself about Sylvère. I don't have any preconceptions and I'm a long way away. It sounds like *he's* the one with an identity problem. From your account it sounds like one of those things where he feels about an inch tall so he's making out like you're half an inch tall. It's interesting how the value of the past with someone depends on how much they keep faith with that shared past. Sounds like an unpleasant experience. Old friends should know better than to disappoint us! Makes us question ourselves as much as them, as there is a bit of them in us, us in them...


---

Date: Thu, 10 Aug 1995 22:58:17 +1000
From: McKenzie Wark <mwark@laurel.ocs.mq.edu.au>
To: Acker@eworld.com

Subject: joe delassandro
I'm watching all the Warhol/Morrissey films I can get, one after another. God joe d. was so gorgeous! Even trashed in Trash he's gorgeous. Holly Woodlawn is screaming at him "you're a mooch! Mooch! Motherfucker! Why do you have to be unconscious..."

A few things I forgot: motorcycles. (Stage direction: puts hand on hip and adopts mock shocked boy/girl friend voice) "Just exactly what is your *relationship* to those motorcycles??"

Lingis: I've got that book you mention, but haven't read it. But I loved Abuses (if loved is the right word) particularly the stuff about Mexico. I love the way he takes phenomenology to its limits, to its encounter with the universal otherness, or the universality of the encounter with otherness. Such a timely project: to find the limit to "difference."

Who's Jelinek?

Straight men: what does anyone see in them?

Straight women: I have this straight girlfriend who wants me to settle down and breed with her. And I tell her, "but honey, you know I'm queer. You know I'm gonna go find some nice boy and take it up the ass." And she says, "that's why I love you." I mean, what do you say to that?

kxx


---

Date: Thu, 10 Aug 1995 15:15:06 -0700
From: Acker@eworld.com

To: mwark@laurel.ocs.mq.edu.au
Subject: Re: joe delassandro
Oooo can I answer all your questions... First, what are "access issues"? I'm so dumb. It sounds very impressive... Canberra and Dignitaries. My earrings would make too much noise. You must write it up in a book. Now, can I remember everything, I haven't watched Warhol in years. It/he/they were so much part of my early twenties, why I returned to NYC then, they were the first people with whom I identified. Because of Warhol, we were no longer freaks, outside society. It's really partly because of Warhol that I can now get angry when people treat me as an outsider, as in Brisbane that Nicholas Zurbrugg, "tattooed and pierced," because of Warhol (to begin with) I don't even have to think to reply, if you think that, you're the freak. I am society as much as you. Oh, Sylvère. He just makes me so angry. But it's a new day. I slept for ages: I must have worn myself to bits in Sydney (and before). Motorcycles? My relation to motorcycles. Well, I'm a girl. And there's this big hot throbbing thing between my legs, whenever I want/him/her, and he/she's mine and won't reject me like humans have the habit of doing and. It is so cool. To be on/around this thing and there are trees and water all around you, flying through the country, something like freedom. That's the decent side of the American nightmare. If you visit here, come riding. I'm an almost too-safe driver. What I mean by the decent side of the American nightmare: last fall I taught at Univ. of Idaho so I rode out there, what a ride, at times eighty miles of country without a gas station, just me and high yellow plains, and I arrive in what is still the center of the Aryan Nation and here is one of the few places in this country still so wild that bikers don't have to wear helmets. I rode free. You see, dualism's never operative. I don't know about straights. I like guys, but straight guys... ? It's like oil and water. I ask them to whip me and they tell me I'm Satan. Straight women are worse. What do I mean by straight? I don't exactly mean "straight" versus "gay." This is where "queer" comes in. It just one of those things everyone I hang with seems to understand. I wouldn't worry about your girlfriend (Sydney girlfriend?) wanting babies. Rainer (that lovely Germ Nazi who almost wrecked my life) taught me something valuable. I used to ask me, "Do you love me?" Well, I asked him once and learned better. He replied, good old journalist that he was, what I feel about you is my business and what you feel about me is your business. Pay attention to your own business. I learned a lot from that one. If you want to get fucked up the ass, go do it. (I'm sure you do.) It's not your problem, is it? Me, straight queer gay whatever and where do nut cakes like me fit in who like getting fistfucked whacked and told what to do?—the only things that appall me are babies. I wonder that anyone is having them in America anymore: childhood abuse is our middle name. Better off like Lingis to find out if there really is someone/something "other." Oh, I'm not being grammatical. Such are the delights of email. I miss you.
More from Acker and Wark's two-week-long frenzy of correspondence can be found in I'm Very Into You (Semiotext(e)), forthcoming in March 2015.

Kathy Acker was a novelist, essayist and performance artist whose books include Blood and Guts in High School, The Childlike Life of the Black Tarantula, Empire of the Senseless, In Memoriam to Identity, Don Quixote, My Mother: Demonology, and her last novel, Pussy King of the Pirates. Born and raised on New York's Upper East Side, she died of breast cancer in Tijuana, Mexico, in 1997.

McKenzie Wark is an Australian-born writer whose books include Virtual Geography, A Hacker Manifesto, Gamer Theory, The Beach Beneath the Street, Telesthesia, The Spectacle of Disintegration, and Molecular Red: Theory for the Anthropocene. He teaches at The New School in New York City.
Tags: