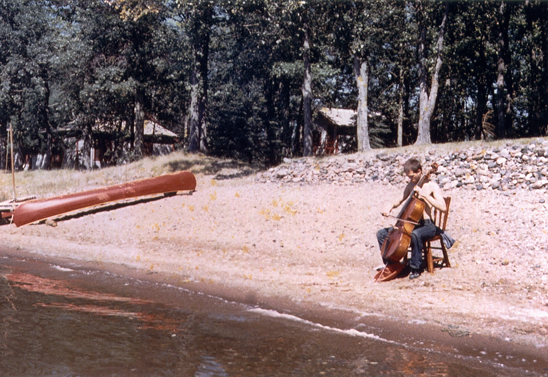 Arthur Russell was known as Charlie while growing up in rural Iowa in the '50s. As a teen he was "different," suffered from feature-distorting acne, played the cello in the Oskaloosa Municipal Band, and read Cage and Leary. One day Charlie was caught keeping pot paraphernalia in his bedside drawer—the ensuing parental run-in led him to run away and join a commune in the Haight-Ashbury. There begins the story of Arthur Russell, the avant-garde composer and dance music pioneer whose embrace of minimalism and disco might lead the unsuspecting to situate him in today's Brooklyn. In Matt Wolf's exquisitely moving portrait, his well-meaning parents still ache from losing their son to AIDS in 1992. In footage of Russell's memorial, Allen Ginsberg recounts first encountering the musician in a San Francisco park clad in a "strange composite Buddhist uniform," part military and part Mongolian. They became friends, collaborators, and, once Russell moved to NYC, neighbors, sustaining a conversation on Ginsberg's musical structures and Russell's lyric—perhaps a tad general for the poet, though Russell aimed at reaching people through "bubble gum Buddhist songs."
It didn't take long for Russell to become acclimated to the avant-garde music scene in New York: in 1974 he became musical director of The Kitchen. Yet his musical taste was also a strange composite, and The Kitchen's diehard audience was too narrow for him to explore his interest in "unserious" music. At David Mancuso's Loft he found the right audience on which to test his experiments, making irresistible trance-inducing tunes with repetitive African and Indian beats for the dance floor. His experiments worked, but the path to commercial success remained closed to him. He was too much of a perfectionist to think his songs were ever finished and had too many personae to sacrifice in favor of a signature style. Who was he? Killer Whale, Loose Joints, Dinosaur L, Indian Ocean? Overall, the unmistakable fusion of the cello and his underwater voice.
This film makes clear that the whole was infinitely larger than the sum of its parts. Message to the fellow at Warner Brothers who, when considering signing Russell upon the label, wrote on a corporate form: "Material—Who knows what this guy is up to, you figure it out." We have, thanks very much, due to the efforts of people like Tom Lee, Russell's partner, Steve Knutson of Audika records, and Matt Wolf.
Mónica de la Torre is senior editor at BOMB.