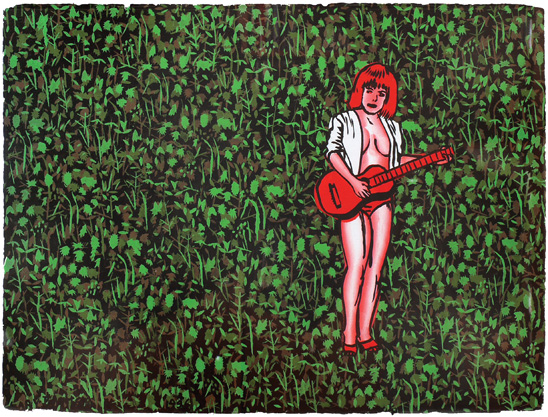 Untitled, 1996, acrylic on paper, 22½ x 30 inches.
PictureBox, 2008
Here's something revealing: If you send Gary Panter $225 and one to three keywords—sex, girls, and robots being the most popular words the artist receives—he'll make you an original six- by eight-inch drawing based on those words. (You'd expect that kind of offer from a comic artist, not an art-world artist.) But here's the catch: Panter's drawings for hire will look like whatever he wants them to look like. (You'd expect that kind of willfulness from an art-world artist, not a comic artist.)
Since the early 1970s, Gary Panter—an artist and comic illustrator—has been confusing people. His funny paintings that look like tortured comics have confused art lovers, and his heavy comics that look like abstract art have confused comics lovers. Celebrating that wonderful confusion is Gary Panter, a lush monograph from PictureBox (a newish Brooklyn-based publisher specializing in gorgeously designed artists' books and comics). Including an intro by admirer Mike Kelley, Gary Panter is 686 pages and 1,023 images (75 of them being toys from Panter's extensive collection) in two hardcover volumes.
Panter is a prolific sketcher, so one of the volumes is given over—simply, effectively—to photographs of pages from (and covers of) his sketchbooks. The other contains hundreds of reproductions of Panter's works from 1972 to 2007—paintings, comics, puppets, miniature buildings, and concept sketches for PeeWee's Playhouse (for which he designed the Emmy-winning set) among them—as well as a lengthy interview with the artist and several mini-essay interludes. As far as monographs go, this one is as uncategorizable as the artist himself.

Worshipping God without Fear, 1985–1986, acrylic on paper, 22½ x 30 inches.
BRIAN MCMULLEN, a musician, invites you to watch the YouTube music video for his song "Snaggerpants (the Daggerpants)."