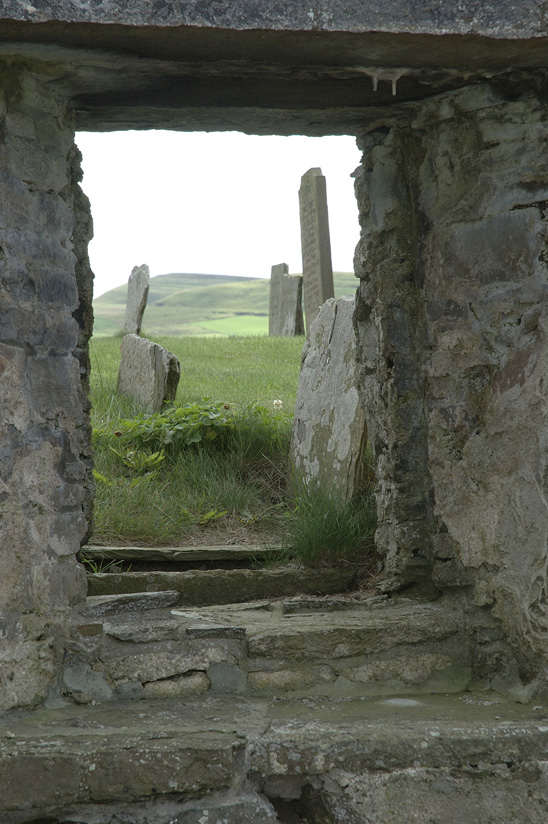 St. Mary's Parish Church (17th century), Westray, Orkney. Photo by Alistair Peebles. From Findings. Courtesy of the photographer.
There's a wonderfully understated scene in Scottish writer Kathleen Jamie's new book of essays in which her husband lies in the hospital with deadly pneumonia. A visiting friend asks with concern: "Whom do you pray to?"
"No one," Jamie replies fiercely. "Absolutely nothing."
Later she lets the reader know (with graceful subtlety) that instead of prayer, she pays a wide-eyed attention to the world. She attends. A lot of her writing takes place on foot, and in the course of walking journeys or hikes up hills, she notices things others can't or don't or won't: a nearly invisible endangered corncrake in a field, an abandoned shepherd's hut in the highlands, the Edinburgh skyline from an unfamiliar vantage. Jamie doesn't limit herself to a strictly arid human landscape, but writes as well of "things," plants and animals and places, even objects. What she finds therein is mystery, irony, beauty, humor—a kind of consciousness on many levels. What the reader finds is sharp-eyed writing in language that seems to spring autochthonously from her native highlands—you can almost taste the peat and salt and seafunk. Sometimes her verse, driven to the frontier of standard English, breaks into Scots, as in a section in "Ultrasound":
Peedie wee lad
Saumon, siller haddie
Gin ye could rin
Ye'd rin richet easy-strang
Over causey an carse,
But mostly she writes in a gorgeous that English of gravelly words—"thirled," "shawl-happed," "keek-aboot," "fank"—a language that keeps pricking. In all her work she attends to yet another endangered species: language alive to itself.
—Brad Kessler
Findings and Waterlight, Jamie's US debuts, were published earlier this year by by Graywolf.