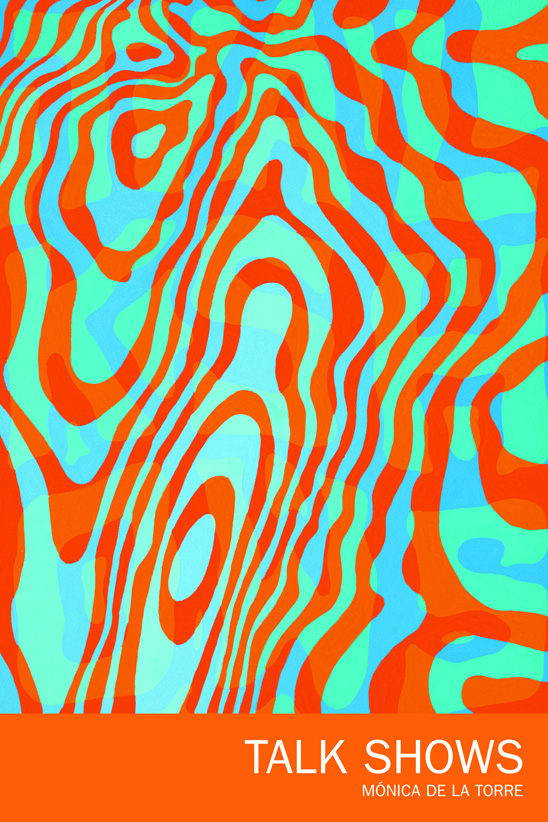 Courtesy of Switchback Books.
Talk shows: at once a parade of exploited traumas and a public forum for social issues. Either way, they are a blur of feel-good therapy and perverted voyeurism, heartfelt truths and blatant lies. Analyzing TV talk shows is like looking for "the real thing" in this sentence by Mónica de la Torre: "See that ring over there? The amber one? It looks as if it has bugs in it, or crocodiles."
Talk Shows, de la Torre's first book of poetry, is filled with these kinds of reversible meanings. Each poem is a different event. Some are driven by characters in the TV talk-show mold: Amy Vanderbilt, in step with style but utterly lacking in substance; Victor, who finds personal power in making raisins; the bride-to-be who tans herself to death. But this is not fiction, and these characters do not stand on solid ground—there is no metaphor that connects them to a larger story. Instead they dissolve into phonetic sounds, Spanish-language puns, and clever alliteration: "Garrulous gowns gave Grannie goodlooks. Ghastly gargles. Gurgling gargoyles."
Other poems mock poets who take themselves too seriously. "Soccer Dreams" parodies Ode poems that claim an "enlightened vision of what constitutes metaphor." (Of course, parody is a form of praise.) "Poem in Spanish" is made up of lines stolen from Spanish-language poets, including Huidoboro, Neruda, Sabines, and Novo, cut and pasted into phrases reflective of bad TV dialogue:
Problems. Mysteries that fasten
themselves to my chest.
All I want is not to see business
nor gardens
Nor markets nor eyeglasses
nor elevators.
Talk Shows strips subjectivity (the poetic "I") down to its language bones. Seriousness is rendered absurd and, thanks to de la Torre's fabulous sense of humor, poetic experiments—including Steinian language games—become creative satire. The subtle critique/homage of academic and poetic discourse may puzzle those not privy to the conversation, but between the lines is the reality bite: language in these Bush-times is filled with conviction but void of sincerity and truth. Should poets be writing against the time, or with it? De la Torre has one answer: "Not to search for meaning, but to reenact a gesture, an intent."
—Kristin Prevallet
Talk Shows was published by Switchback Books in February.