Alyssa Kilzer speaks with Nick Ravich and Wesley Miller, co-creators of New York Close Up, Art21's new series which exposes all aspects of the lives of artists working in New York City in the first ten years of their career. The three chat about inspiration, the creative process, and developing the series
New York Close Up is Art21's new online documentary series about artists in the first decade of their careers, living and working in New York City. The series takes a look at artists and their creative processes, the way contemporary art works with and within the diversity of New York City. By examining all aspects of the artists' lives—their homes and studios, friends and collaborators, social life, daily life, nightlife, and gallery-life, New York Close Up makes palpable a raw and often unconventional creative process. The inaugural season alone looks at the work of Rashid Johnson, who "makes things to put things on," a collaboration between James Franco and Kalup Linzy, "A Brief History of Shana Moulton and Whispering Pines," among others. The work of these artists frequently blurs the boundaries between the genres of painting, photography, sculpture, performance, design, and more, and we are given an intimate look into how this happens.
Like the work of the artists featured, New York Close Up is a continual project, adding eight to twelve artists each year, and the style of the series is as wide-ranging as the processes it explores, with the filmmakers matching their cinematic approach to the artist and the work at hand. I corresponded with Nick Ravich and Wesley Miller—the co-creators of the series—about their inspiration, observations, and the challenges involved in producing the documentaries.
Alyssa Klizer What inspired you to make this new series?
Nick Ravich In terms of filmmaking, what didn't inspire us is probably more apt. We're looking at what's happened in television, documentary, feature fiction, and experimental shorts these past forty years to try to infuse new life into how artists are portrayed. You'd be surprised how standard the broader field of "art documentary" can be—particularly when it's geared towards a mass audience—and we're hoping to spice that up a bit. We were also interested in working locally, here in New York, to a greater extent than we ever have before. Just by drawing a more narrow circumference, it changes the game of who you work with, how, and what kinds of stories you can tell.
Wesley Miller As for the principal subject matter—young artists in New York—I suppose the inspiration for me was truly born out of a frustration of seeing a number of high profile "round up" style exhibitions and then wanting to find out more information about these artists, quickly realizing that very few people were interviewing them or recording their lives or process in any depth. So this project, in its own humble way, is an attempt to create the kind of resource that we discovered was missing. Long-term, we're interested in exploring how a documentary process shifts as you get to know your subjects for greater stretches than a typical two-day shoot, and the potential for a kind of time-capsule that's an aggregate of short films (rather than one master film).
AK How is this different from what Art21 conventionally does?
NK The decision to work this way really comes out of our experience producing the television series Art in the Twenty-First Century (on PBS) and its accompanying short form series Exclusive (distributed online). The PBS series presents a kind of exemplary portrait of an artist—their "15 minutes" in a television program—that takes a relatively long time to put together. The Exclusive series expands on the themes and artists in the television show, and in the process transforms that monolithic "15 minutes" into a looser portrait that's more of a kaleidoscope. Creating an iterative process and an aggregate structure from the get-go seemed like the next natural step, particularly with younger artists whose lives tend be less fixed. So in many ways, it's actually building on what Art21 conventionally does but through an alternative and experimental-driven approach.
WM I think one of the main differences is that the project is structured as an open-ended relationship with the artists from the very start. For instance, while we get to know the artists in the television program through the arduous process of making it, that relationship-building isn't really palpable to the viewer as each film typically condenses multiple shoots into a single story. It changes the nature of the documentary process—how we plan, film, and edit—to tell stories as we get to know our subject. It allows us to think about narrative with an expanded sense of time and liberates individual films from the pressure of having to "say everything" in one go. I expect that the earlier films with an artist will telegraph a kind of mutual nervousness (which is only natural) while later films may become more strange, audacious, or even less about the featured artist and more about their friends and environment.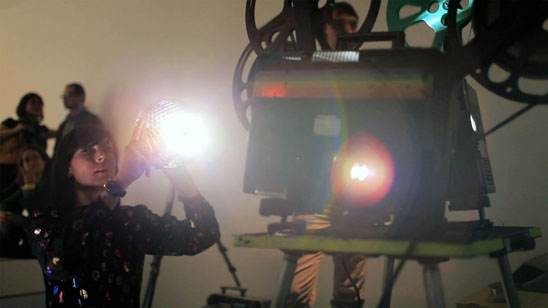 Artist Martha Colburn projects animated film on a mirror ball during a live performance at the Museum of the Moving Image in Astoria, Queens. Production still from the series New York Close Up, 2011. Cinematography by Don Edler.
AK In the past decade do you think creative process has become more or less accessible to the public?
WM I think that depends on how one defines "the public." Arts institution of all stripes—museums, periodicals, universities—are more and more incorporating access to the creative process in their programming. But at the same time, today there are far fewer producers of mass media content on art—particularly on public television—then there were ten years ago.
NK It's true. Regional outlets have all but disappeared (I used to work for an arts show at WGBH/PBS in Boston, now closed), the international community has tightened its belt, and there seems to be less tolerance for experimental approaches and visual art content in prime time. In addition to engaging a more self-selecting art audience, we're interested in reaching general viewers who may infrequently visit a gallery, pick up an art magazine, or have access to higher education. Making an online series is but one way Art21's attempting to reach a broader public.
AK Have you seen any themes emerge in the production of New York Close Up relating to how artists represent or challenge their identity or environment?
WM In terms of making the films, the greatest theme that's emerged for me is an old one: representing people and their world accurately. It was an early challenge the artist Lari Pittman (who teaches at UCLA and so is around young artists all the time) laid out for me: young artists and moreover people of this generation sound a certain way—can you capture that?
NK For instance, there's a lot more "I don't knows" from the artists in this series. We intentionally didn't scrub them out. That sense of doubt and uncertainty, whether of one's identity or sense of security, is a theme that runs throughout the first ten films and most likely the ones to come.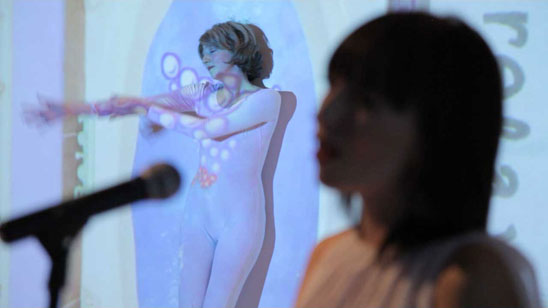 Artist Shana Moulton and singer Daisy Press performing in the opera Whispering Pines 10 (2011) at the New Museum. Production still from the series New York Close Up, 2011. Cinematography by Andrew David Watson.
AK Many of the ten artists you have chosen for the premiere of the series opt for artistic collaborations, multimedia work, and a more open creative process somewhat removed from the studio. Do you think this kind of creative process and this nearly post-studio mentality is in response to something in particular?
NK Pragmatically, I think it's both a combination of choice and circumstance. Being an artist in New York has its advantages in terms of density, diversity, and proximity. The disadvantages are clearly space, expense, and a lack of downtime. It helps to be flexible, not depend on resources, and band together to make things happen. It's also a lot more fun that way. It's similar to how we make films, which is a nice thing to have in common when you're attempting to document a new artistic process or convey the ways a person thinks about his or her work.
WM I also think artists throughout history have, more often than not, worked collaboratively and in multiple media simultaneously. The problem seems to be one of documenting and representing this accurately through art history, in exhibitions, and with media. It seems like older and deceased artists are being "rediscovered" with more frequency as embodying post-something or being ahead of their time, and I can't help but think it has more to do with how we're asking questions today than what it was really like—from the artist's perspective—to make art in their own time. So while I agree there is currently a sort of "anything goes" zeitgeist, I think what's new about it is how we're privileging this way of working today when before it was swept under the rug as being minor and too messy.
AK In many instances the conventional notion of artistic originality is somewhat lost in collaborations and more conceptual work where the artist employs other people or artists. Does this ever bring challenges for a series such as New York Close Up?
NK It does in the sense that we have primary relationships with a few artists and secondary relationships with a much larger community of people that these artists move in. New York Close Up is Art21's first attempt at telling stories about a group of people in a particular time and place. To make this a compelling portrait, we've decided to go deep with a few individuals while keeping our eyes open to the big picture. This kind of portrait takes time to unfold and a different kind of commitment to one's subject matter.
WM It's a rare thing to do in documentary, perhaps exemplified in Michael Apted's ongoing Up series. It's more common to see this kind of storytelling today in long-form televised fiction, with a show like The Wire being a recent standout of the genre. Getting to observe a community and the individuals within it change over time, close up—that's where the good stuff is at.
For more information about Art21, check out their website here.
Alyssa Kilzer is a writer and art history student at the University of St. Andrews, in Scotland. She is currently experiencing the many facets of New York City, writing short fiction and working at BOMB Magazine.