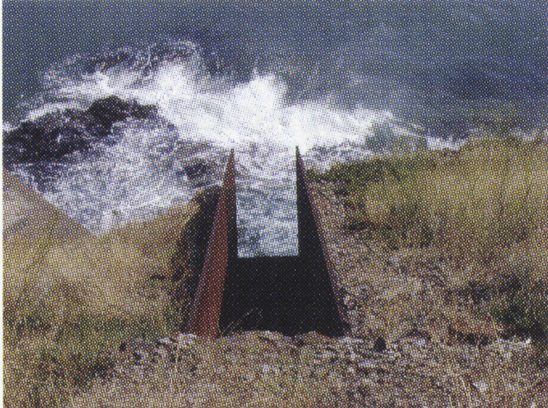 Dani Karavan, Passages, Homage to Walter Benjamin, 1990–94, Portbou, Spain. Photo by Tanaka Jun. Courtesy of Parrhesia Press. From the cover of Rituals of Truce.
Serving up a profound and subversive mix of irony and pathos, Benjamin Hollander's unique new book takes its title from two passages by Palestinian writer and human-rights lawyer Raja Shehadeh. Born in Haifa and displaced to New York at the age of six, Hollander took himself as an adult to San Francisco. Known primarily as a poet, Hollander plunges the reader into a dizzying colloquy of philosophic citation (Maimonides, Kafka, Benjamin, Rosenzweig, Amery, Levinas, Agamben) that more than meets its match in encounters with his brothers Dan and Gad, his mother, Jose (a necessary angel from Manila encountered at a San Francisco café), Vern (another angel, from the future), and George, a construction worker who helped clean up Ground Zero. Between these bicoastal memory poles, the "Middle East" can just as easily be in Haifa, Ramallah, or Palestine, Texas, a place that Hollander discovered on the Internet and that serves to counteract the Holy Land Experience offered up at Disney World: it reminds him of home but is even better since, as 80-year-old native Mrs. Fisher says, it's "nice and quiet," and, she adds, "It's not Palestine, it's Palesteeen honey, 'cause it's Southern." Along the way we meet Marx (Groucho, of course) and that pantheon of voices who supply the poetic glue holding this roller coaster together: James Baldwin, Zora Neale Hurston, George Oppen, Edmond Jabes, Edmond El Maleh, and Mahmoud Darwish. Others appear: Mark Twain, Babe Ruth, George W. Bush, Rufus T. Firefly, Donald Duck, even Dick Armey. Then come sieges, assassinations, and victims of suicide bombs. When we're not quite sure whether to laugh or cry, Hollander is there to harangue us into the realization that nothing is sacred—nothing except the need to imagine how we can transcend our own battles to arrive at truce: to "care enough to cite the question which would betray the order of the day, whatever day it was, whatever order, whatever era, in order to arrive at the insufficiency of our own claims on history."
—Ammiel Alcalay
Rituals of Truce was published this spring by Parrhesia Press and distributed by Small Press Distribution. Hollander's latest, Vigilance, is due out this summer from Beyond Baroque.
Tags: